Reading Time: 5 minutesOK, I admit, I'm incredibly excited. Possibly more so than the kids! After many years of dreaming about it, I finally bit the bullet and booked for the family to go on a once in a lifetime trip to Lapland.
After much research (about six years worth) I opt for a Magical Interlude package tour through a UK-based travel agent called Canterbury Travel and combine our visit to the Arctic Circle with a trip to London.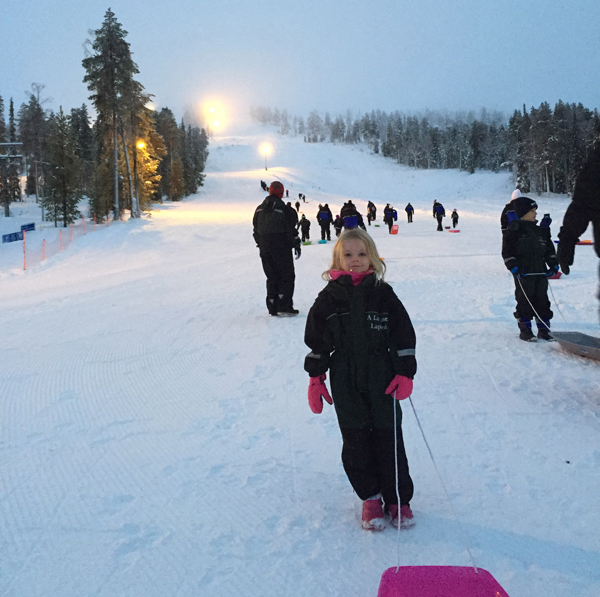 On the 20th December we finally board our BA chartered flight from London Gatwick to Rovaniemi in Finland. Every single passenger on the plane is heading to Lapland in search of Santa so the excitement is palpable. Kids of all ages (including the 39-year-old ones) are dressed in an array of Christmas jumpers and sparkles, and the cabin and flight crew don antlers and other Christmas headgear. Children are singing Christmas karaoke through a microphone at the front of the plane (possibly a bit too early in the morning for singing, but it is Christmas). This is definitely the most fun we've ever had on a flight!
As we land we add layers of clothes to brace for the freezing weather outside. The temperature can go down to around -35 degrees at this time of the year, so a bit colder than Hong Kong! We couldn't wait to see snow. Our children, Charlotte age five and Thomas age six, have never seen snow and they are beside themselves with excitement, which is apparent to everyone around. After finally wrestling Thomas out of the snow – and being pelted by a few snowballs in the process – we board our allocated coach and meet the charismatic guides who will help us on our mission to find Santa over our three-night, four-day trip. Fingers crossed we will be lucky enough to meet the big man.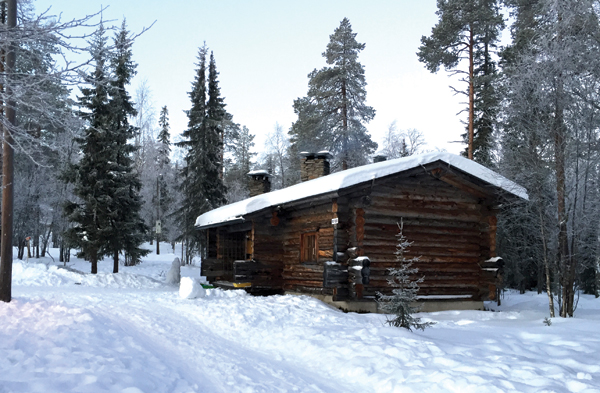 Our accommodation is a small, picture perfect log cabin in Luosto. It's pretty snug with just one room comprising a small kitchen area with a table and beds in the form of double bunks, but the wood-burning fireplace makes it incredibly cosy and it's just what I had imagined. There are hotel rooms available, too, but for us it just had to be a log cabin. The surroundings are stunning; a thick blanket of snow stretches as far as the eye can see and a ski run makes for an impressive backdrop. Two toboggans lay waiting by the cabin door, on hand to be played with or to pull the children to the clubhouse (The Merry Elf) or a local restaurant.
First things first, build a snowman and make snow angels.
Our mission, besides generally having lots of fun, is to search for Santa Claus. Each day, aided by our friendly guides and a number of Santa's 'elves', we visit different locations and participate in numerous arctic activities while looking for him.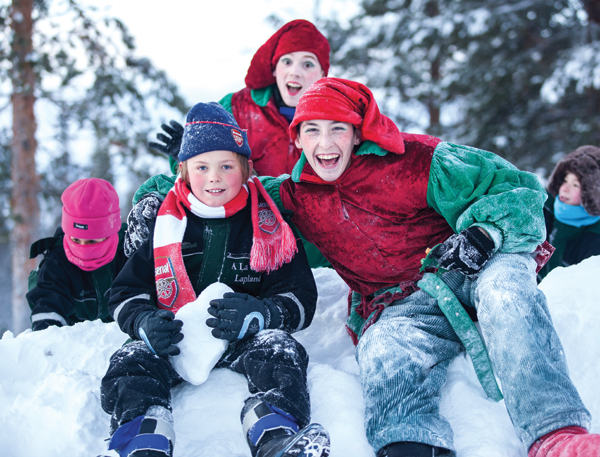 At this point I should introduce the 'elves'. There is Snowy Bowy, who enjoys placing bows on trees and building snowmen; Tricky Dicky, who is the cheekiest elf and the joker of the pack; Speedy Sam is Santa's reliable helper and is always rushing around; Wendy Wood is chief toymaker; and the ever-cheerful Noisy Nod loves Christmas carols and music. The elves appear at many points during our tour to tell us about any Santa sightings or, in Tricky Dicky's case, to play jokes and attempt to send us in the wrong direction. The children love interacting with the 'elves' and each has their own favourite; my daughter loves Snowy Bowy and my son is undecided between Tricky Dicky and Speedy Sam. They are completely hooked!
Our first stop is a reindeer farm where we get to feed reindeer; all the while trying to guess which one is Rudolf – his nose isn't red all the time, you know. We listen to a fascinating talk in front of a roaring fire (did you know there are roughly as many reindeer in Finnish Lapland as there are people?) and go on a reindeer sleigh ride through the snowy forests. Each sleigh accommodates two people snuggled beneath big fur blankets and we ride in convoy, the reindeers following along in a line. It's a slow, relaxing ride and, even though we remain firmly on the ground, it feels very magical.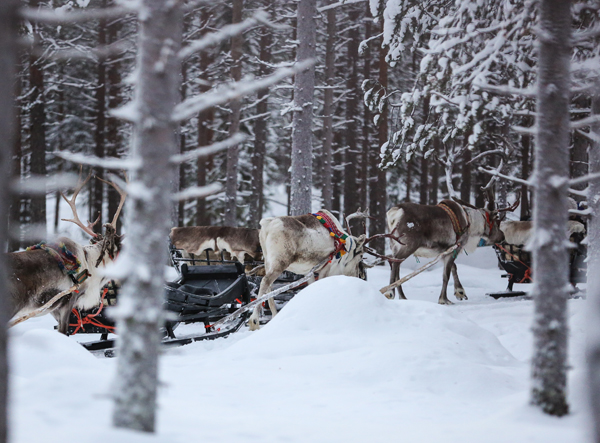 Lunch is taken with the rest of our coach party at a restaurant located between stops. The buffet style food is fairly basic, but it does the job.
In the afternoon we visit a husky farm where we see how the dogs are kept, trained and bred. We meet some puppies – a big hit with my daughter – and embark (pardon the pun) on a 90-minute husky safari. The dogs are incredibly strong and get very excited pulling the sleigh, they are literally raring to go and we travel at quite a speed. It's exhilarating, but a little scary going round the bends and they require a firm hand to control them. I let daddy take charge of this one!
Other activities during our trip include riding snowmobiles – there are adult and children's ones – tobogganing and snow games. The kids are having a blast, especially being such novices to the concept of snow. My daughter even recovers from a tobogganing wipe out surprisingly fast.
We visit the magical elf post office to see the post being sorted. We see the elf house where Wendy Wood creates many of the traditional toys for Santa. We even meet Mrs Claus and sing some Christmas carols.
And all the while we are looking for the elusive Santa Claus.
I won't give too much away but thanks to a lot of singing on the coach (word sheets are sent in advance of travel and, I promise, you'll still be singing the songs a year later) magic fairy dust for everyone and lots of help from the 'elves', we manage to find Santa.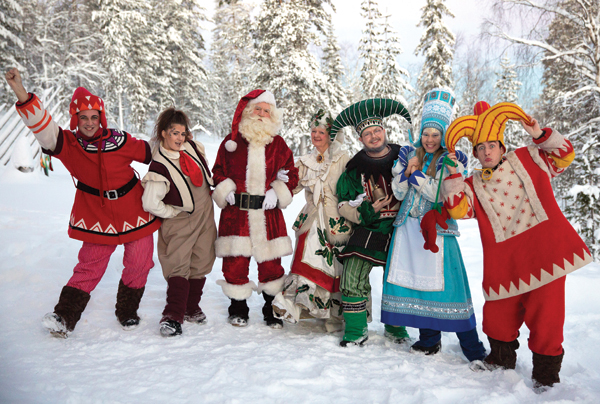 And Santa rocks!
I'm prepared to overlook the fact that I didn't get a gift because of the look of amazement on my kids' faces when they see that he is holding the actual letters they sent him (all the way from Hong Kong).
He knows lots about them, too, he knows how hard they have been working at school, particularly with their Mandarin, which is why they are lucky enough to get a toy from their list – fortunately one that is small enough to fit in mummy's suitcase.
They are delighted.
Everyone is on a huge high. Not only did the children get a Christmas present they desperately wanted, they had met the "REAL Santa Claus". So it's back to The Merry Elf clubhouse for a family disco, with the 'elves' keeping the young ones amused and hot toddies for the not-so-young ones.
Having not been on a package holiday for some 15 years we had been nervous about joining a group tour. The things that we were concerned about, however, turned out to be the things that we loved about the trip.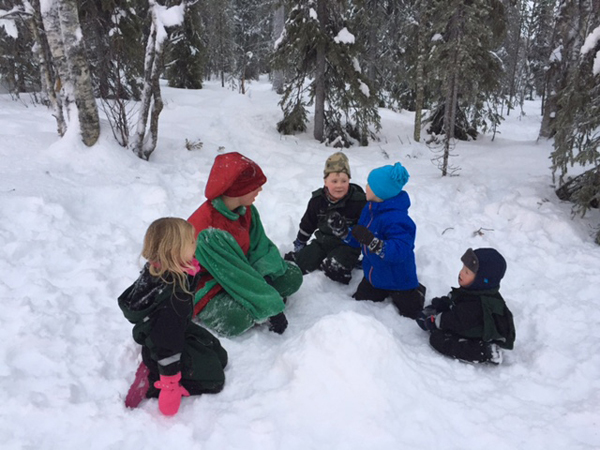 The tour guides added so much to our experience; they built up the anticipation and excitement levels for the children (and the adults) and being in a group was fun. It was great seeing other children get excited alongside our own children, and the coach journeys were an enjoyable part of the trip rather than just getting from A to B. Also, if we hadn't booked the package I'm sure we wouldn't have been lucky enough to meet so many 'elves'.
By booking a package we had no unexpected costs. We did decide to upgrade our dining option, so that rather than eating a buffet style dinner in The Merry Elf each night we walked to a pre-assigned local restaurant in Luosto to enjoy an a la carte meal as a family. We also booked an additional ski lesson for our son, but these were pre-determined decisions.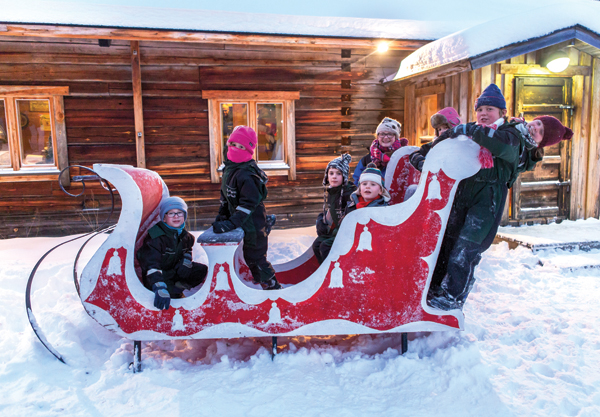 It is with very heavy hearts that we leave Luosto. The trip has been a dream come true and one we will never forget. It has reinforced the 'magic of Christmas' for the whole family. The children loved every second of it and would love to go back. I'm a little sad that the Northern Lights didn't make an appearance while we were there, but perhaps we will get to see them next time. Maybe this wont be a "once in a lifetime" trip, after all…