Reading Time: < 1 minute
Hong Kong's First In-mall Interactive Live Classical Music Concert for Babies and Kids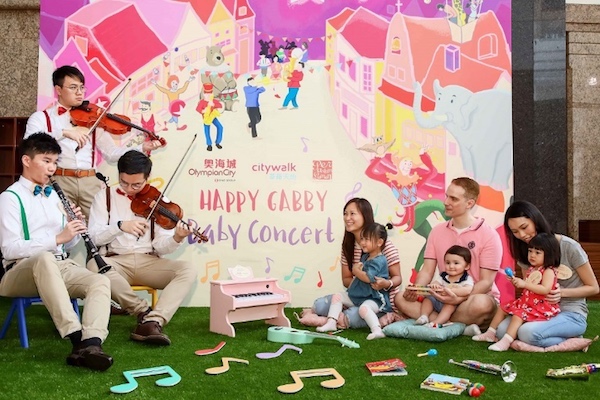 Early musical exposure is instrumental to holistic early child development and inspires a life-long love of music in children. Parents instinctively incorporate music into natal care as a way to express love and joy, and to engage and interact with their babies. Helping to sow the seeds of music appreciation among babies and children, the Happy Gabby Baby Concert, Hong Kong's first large-scale in-mall interactive classical music concert designed for babies and children aged 0-six years, will be staged live at Olympian City and Citywalk.
Adapted from the captivating music book Happy Gabby Plays Classical Music, which features rhymes, catchy melodies and alluring drawings, the concert will be conducted by Andrew Ling, Principal Violist of the Hong Kong Philharmonic Orchestra, along with other renowned musicians. Taking place at Olympian City and Citywalk between 29 June and 21 July, sprawling lawns in the atriums will provide space for families to enjoy the moment. See your children clap, dance and hum along with the music and interact with musicians and Happy Gabby.
Parents and their babies can appreciate classical masterpieces such as Richard Strauss' Till Eulenspiegels lustige Streiche, Tchaikovsky's Waltz of the Flowers, Saint-Saens'Twinkle, Twinkle, Little Star and Beethoven's Ode to Joy.
Date: 29th-30th June; 1st, 6th-7th July 2019
Time: 3:00 pm and 4:30pm
Venue: Central Atrium, G/F, Olympian City 2
Date: 13th-14th, 20th-21st July, 2019
Time: 3:00 pm and 4:30pm
Venue: Event Hall, Citywalk 2