Reading Time: 7 minutes
Jennifer S Deayton steps behind the scenes to find out about HK Ballet's 2018/2019 programme (#hKBallet).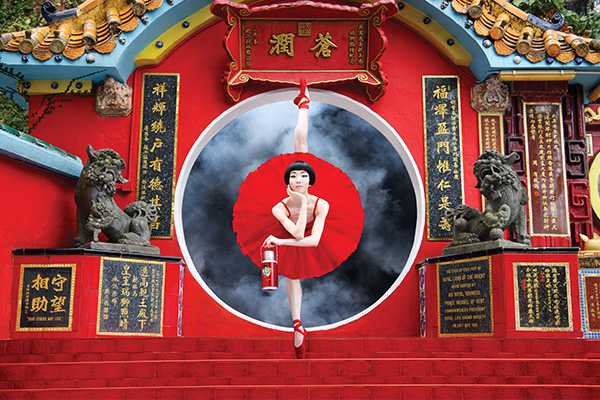 It's early July, and while many Hong Kong families are packing their bags to escape the summer heat and enjoy some time away from school and work, the 50 international dancers of the HK Ballet, along with Artistic Director Septime Webre, are reporting back to the rehearsal studio to prepare for the company's new season. After one year under Webre's experienced and dynamic leadership, the HK Ballet is primed to entice audiences with provocative new offerings such as the Asian premiere of The Great Gatsby as well as classic favorites like Giselle and Le Corsaire. In total, the new season will launch nine different productions over ten months at performing arts centres all around the city.
The high-energy spectacle of Alice (in wonderland) kicks things off in mid-August, premiering at the Cultural Centre and then moving to the Yuen Long Theatre so that audiences all over the territory can experience a giddy ride down the rabbit hole. The dual location set-up is all part of Webre's modus operandi of connecting with the community. In his previous role – 17 years as Director of the Washington Ballet – the American of Cuban-French heritage was well-known for reaching out beyond the black-tie arts crowd to bring ballet to as many groups, both uptown and downtown, young and old, as possible. He has summed up the role of the company – well, any artistic company actually – by saying,
"you must find ways to connect with the social fabric of the city."
As if to illustrate that objective in the most striking way possible – and to celebrate the new season – the HK Ballet recently unveiled a series of photos of their dancers in locations all around Hong Kong. The vivid images, crafted by the Washington DC-based team at Design Army and photographed by Dean Alexander, showcase not only the strength and talent of the young artists of the company but also the beauty of Hong Kong itself, in all its dramatic and prosaic glory.
Christened 'Never Stand Still', the concept for the visuals was to reimagine both classical ballet and our distinctive city. What materialised was a mash-up, a mixture, a funky fusion of grit and grace.
As Pum Lefebure, chief creative officer and co-founder of Design Army, explained,
"With ballet, you become enthralled watching a dancer on stage, interpreting a story through their movements. We wanted to have that same sense of escapism and fantasy when you view these images. By photographing the dancers in familiar, iconic locations with an artistic twist – it creates a wholly unique visual experience of Hong Kong."
Dancer Lauma Berga, who was one of five ballerinas photographed on the Tsim Sha Tsui waterfront, said,
"I had done some photo shoots in the city before and I have to say that shooting in the streets is always my favourite. This photo shoot, though, was nothing like what I had done before. The whole concept and idea was so well thought through."
Echoing Berga's thoughts, Lefebure said the images were designed to be nothing like previous HK Ballet campaigns, which were known more for their conservative palettes and styling. The idea with the new campaign, she said, was to "shake up the traditional perception of both Hong Kong and ballet.
" In many ways, the photos mirror Webre's own ambitions for the company, or as Lefebure described it, his "wildly unexpected vision for Hong Kong Ballet."
On his arrival in the SAR last year, Webre, whose Cantonese name Wei Seng Teen means 'one who protects talent,' said that he wanted the company to be considered
"one of the world's most forward-thinking ballet companies with exquisite classical standards."
In an interview with the South China Morning Post at the beginning of his tenure, he praised the enthusiasm and technical talents of the company, and also said that, as artistic director, his first priority must be to the dancers – helping them develop and grow, not only as artistic individuals but as professionals with careers. To that end, he has developed an ambitious 2018/19 program of modern and classical pieces, and secured a top-notch class of guest dancers and coaches to work with his company.
"There are no words to explain how excited I am about the fact that Alessandra Ferri and Julio Bocca will be coming to Hong Kong and coaching us for this production,"
said Berga.
Ferri and Bocca are world-renowned dancers and guest artists, from Italy and Argentina, respectively. And 'this' production Berga refers to is the timeless romantic classic, Giselle, which will run for five nights starting in late October. Both Berga and her fellow dancer, Garry Corpuz, cite Giselle, which tells a passionate story of love, betrayal and redemption, as their favourite classical ballet.
"The music, the choreography suits everything," Corpuz said, "and makes it one of the best classical ballets in my opinion."
For tickets to all the main shows, HK Ballet is offering single and block seats as well as specially-priced bundles under the following categories: Septime Series, Family Series and Choose-Your-Own Package. In addition to staging a whole season's worth of programmes, the company will continue its popular family-oriented events and outreach programmes and workshops, such as Open Dress Rehearsals, Ballet 360 and the Caring Community Programme for Hong Kong's elderly population. For a slightly more unexpected side of ballet, the quirky Ballet in the City events will be back, including Pop-Up Showcases, Ballet Happy Hours, films, podcasts and a photography competition.
With plenty to entertain all ages and a full calendar running from August 2018 to June 2019, the HK Ballet and its dancers don't take off much time during the traditional off-season month of June. Berga, who was born in Riga, Latvia, said she normally allows herself a week or two of complete rest, in order to recharge and recover from lingering injuries. Then it's back to the barre and the resumption of company rehearsals. Philippines-born Corpuz and Webre both took working vacations in June: Corpuz travelling to Jackson, Mississippi to partner a friend at the USA International Ballet Competition, and Webre fulfilling professional commitments in New York and Washington DC.
The workload, however, seems par for the course for artists who are literally stretching the boundaries of what the human body can accomplish. On stage, they make it look so easy – light and free and effortless – but behind the scenes it's long hours and intense focus, to get each step, each sequence just right.
Sometimes, though, the dancers get to have a little fun. Like having their picture taken while sailing through the air in front of one of the most famous harbours in the world.
When the dancers were asked, in light of the photo campaign, what they would like the public to know about HK Ballet, Corpuz said that the coming season's international guests from all around the world are sure to inspire people, not just dancers, to appreciate the beauty of ballet. Berga stressed the global flavour of the company as well as its artistic role in the community.
"I would love the Hong Kong public to know that arts are very accessible in Hong Kong. And HK Ballet is part of it,"
Berga said.
"I would like people to learn that our ballet company is very international and therefore it represents Hong Kong like no other. And I would love for people to engage more, come and see our performances and learn how many wonderful things are going on in Hong Kong, not only ballet-wise, but generally in arts, and how many interesting art collaborations are happening here all the time."
No doubt the striking new photo series and exciting 2018/19 dance calendar will help to raise the profile of these talented and industrious professionals. While our local audiences might be more attracted to the flash and evanescence of overseas musical and theatre productions, it's inspiring to be reminded that a thriving creative class exists and prospers right in our own backyard.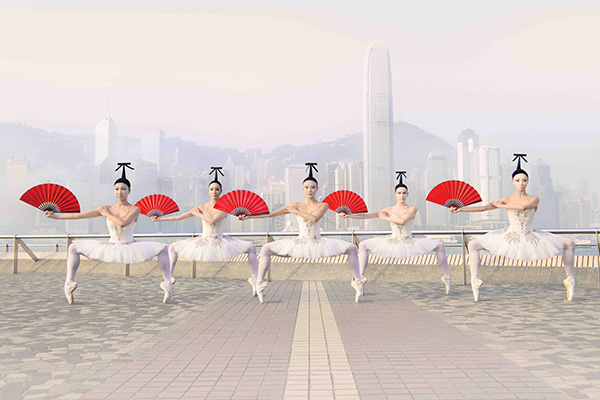 Dancing in the Streets
The brief was simple: showcase HK Ballet in a fresh, high-energy way through a series of images. The execution of said photos – capturing eight shots, in multiple locations, in a single day – was equally high-energy, but maybe not so simple.
Going behind the pretty pictures, we found out that the campaign was also a tribute to tenacity, endurance, a considerable amount of flair and absolutely no fear of water, crowds, freak accidents or random injuries! Here's what some of the principals had to say: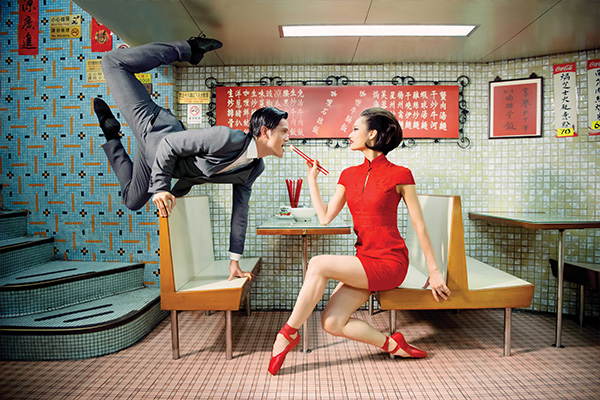 Mido Café
Garry Corpuz (Corps de Ballet, HK Ballet): This is my first time to experience this kind of photo shoot. And it was such a great experience shooting in a small restaurant with the crowd watching. The restaurant is just a normal restaurant in Hong Kong, nothing fancy, but when the photos came out it turned out to look like such a classy restaurant. Most of the passersby stopped to have a look and some of them took photos.
Pum Lefebure (Chief Creative Officer and Co-founder, Design Army): Inspired by the movie In the Mood for Love by Wong Kar-Wai, we chose a Mido Café – a chic micro 1950s café that had an incredible graphic appeal and the perfect backdrop for a modern-day romance.
Garry: For me it was hard to do my pose because first of all the position of my arm is a bit awkward and it doesn't feel safe. Then I have to try not to let my leg hit the ceiling so I have to make sure my hands are not stretched out too much and that made me feel a bit heavy in my arms.
Pum: What makes this shot so surreal is that the café is so, so tiny – Garry must have kicked that ceiling 100 times – glad Mr Mido didn't kick us out.
Garry: Because of the small time we have, we just shoot and shoot and shoot. But my partner in the photo (Wang Qingxin) is laughing every time we stop because she's sitting only while I'm doing the hard work and it feels like I'm dancing also.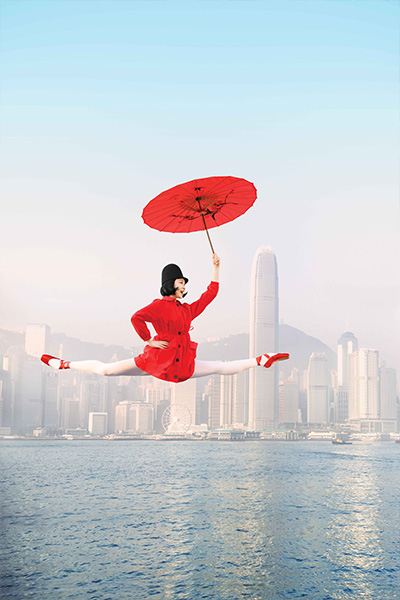 Tsim Sha Tsui Waterfront
Lauma Berga (Corps de Ballet, HK Ballet): We were shooting very early in the morning. We were the second group to be shooting that day and our call time was 6am. I was shooting just outside of the Cultural Centre, which is our work place, therefore I can say I knew the location very well. Our shoot sure did draw the full attention of a few people, who happened to be in that location at such an early hour. What I enjoyed most was the make-up van. It was like the ones Hollywood uses to prepare their actors for shooting. I had never seen one in my life before, but I had a nice and fancy (in a funny way) feeling being inside.
Sampan in front of the Jumbo Kingdom Floating Restaurant
Pum: Last shot of the day was scheduled to get the right light – which also meant we had to deal with rush-hour water taxi traffic. Shooting in a wobbling boat was not easy for our two school-uniformed dancers (Leung Chunlong and Yang Ruiqi) balancing a stack of dim sum. It was hard enough for our light crew (who were in another boat) to keep steady. After some careful boat maneuvering we caught a break as the fog machines were rolling, wind was optimal and the dancers finally got their sea legs. Later that day, we found out that one of the dancers couldn't even swim, but wanted to capture the image no matter what!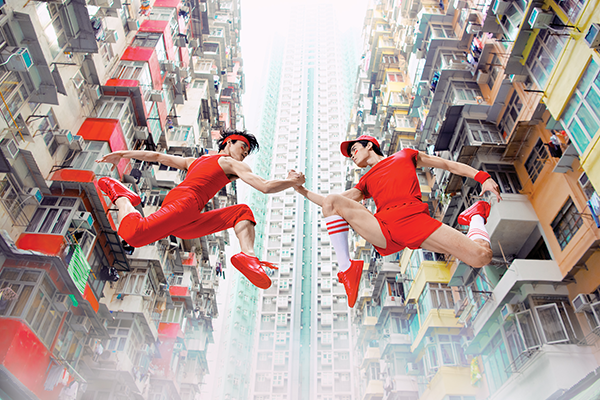 Ying Fat Buildings
Pum: While some may see the high-rise apartments as an unpleasant neighborhood, we were inspired by the graphic-ness and colours. We wanted to communicate the strength that is in the lives of those who live there by having the artistic energy of the dancers (Shen Jie and Li Lin) showcased in street wear. This lets the athleticism of ballet shine through. We then added tension between our soaring dancers with a pose that's suggestive of both conflict and unity. It's sort of like Street Fighter meets Street Flyer.
Creative: Design Army
Photography: Dean Alexander
What's on the Programme
Giselle
26-27 October, 3-4 November
1st Annual International Gala of Stars
2 November
The Nutcracker
14-16,19-23, 25-26 December
The Great Gatsby
15-17 February 2019
Le Corsaire
29-30 March 2019
HK Ballet X HK Phil: The Rite of Spring
31 May 1-2 June 2019
This article appeared in Playtimes Summer Issue 2018.