Reading Time: 5 minutes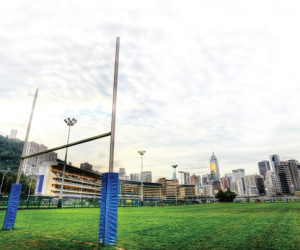 Football is a gentlemen's game played by ruffians, and rugby is a ruffian's game played by gentlemen," wrote Oscar Wilde – a quote made familiar again, thanks to the 2009 film Invictus, which detailed the events before and during the 1995 Rugby World Cup in South Africa following the dismantling of apartheid. Rugby has always played second fiddle to football as the definitive world sport, but global interest is growing – rugby will be restored as an Olympic sport in Rio after a 92-year hiatus.
The sport's growing worldwide popularity and its reputation for gentlemanly conduct are not the only reasons for its reinstatement, however. Much has to do with the particular version of rugby that will debut at the Rio Olympics, and which we in Hong Kong are very familiar with and very passionate about: rugby sevens. In fact, it would be no stretch to say that the success of the Hong Kong Rugby Sevens since it began in 1976 has had much to do with the sport's current global momentum.
At the International Rugby Board (IRB) World Rugby Conference last year, Lord Sebastian Coe spoke fondly of his experiences as a Hong Kong Rugby Sevens spectator, saying of our Sevens: "… it's a fantastic opportunity for the International Olympic Committee to reach out… it's the sort of game in the format that excites young people; a rapid and speedy sport and getting a lot of it in, in a session. Every sport now has to place an emphasis on how it engages and communicates… I think the real challenge in any sporting event is to make sure that at the end of it, you've got more young people excited, enthused and engaged, and wanting to take up the game – male and female."
Those passionate youngsters that Seb Coe speaks of are out on the pitch at clubs all over Hong Kong, with wide, multicoloured mouth-guarded grins and a fierce determination to take the ball and run with it. At the Asian Youth Games in 2013, the Hong Kong Under-18 Boys Rugby Sevens team won gold, and the Under-18 Girls team grabbed bronze. However, the sustained success of Hong Kong rugby – and Hong Kong's beloved Sevens version – on the world stage, is standing on the shoulders of today's pre-teens in the Hong Kong mini-rugby league. Mini-rugby is one of the fastest-growing sports in the territory, and the participation of girls is growing, too.
Girlz n the hood
In this year's Hong Kong Rugby Football Union (HKRFU) Prudential New Year's Day Youth Tournament, a match was played between two teams of under-12 girls for the first time. The Island Lions and the Peninsula Dragons, comprising girls selected from rugby clubs across Hong Kong Island and Kowloon/New Territories respectively, played for the Roberts Shield, with the Peninsula Dragons winning. Then, in March at King's Park, during a ceremony announcing the final team selections for the men's and women's squads for this year's Cathay Pacific/HSBC Hong Kong Rugby Sevens tournament, there was a reprise of the New Year's Day match resulting in another win for the Dragons, cementing these pre-teen girls as Hong Kong's undisputed mini-rugby champs.
The HKRFU has found a role as a bellwether for global Sevens rugby, and they are dreaming big. At the Sevens Team announcement ceremony, HKRFU President Brian Stevenson voiced the determination that Hong Kong will field a team at the Rio Olympics in 2016. And the Hong Kong Government is dreaming big, too: they are funding the sport for the first time, so current team members can quit their day jobs and work full-time training at the Hong Kong Sports Institute. The mini-rugby league also has a role to play in future Olympic success, and of course that means rugby for the girls as well.
Rugby dad Simon Bennett, volunteer coach from the Flying Kukris RFC and head coach and team manager of the under-12 girls Peninsula team says that Hong Kong mini-rugby is being managed with an eye on the Olympic prize, which is why efforts are being made to provide early exposure to the rugby "big leagues". "The Prudential tournament was the first time we had girls playing in the under-12 division. This game is standard format, 15-a-side, and full-field, [as opposed to mini-rugby, which is 12-a-side and played on a half-field]. The training offered to these girls is intense, with pitch space sponsored by the HKRFU."
See also: How much sport is too much sport? 
But it is not just getting a boost in terms of skills and field orientation that will help Hong Kong's youngest rugby players make it onto the national squad. "The Peninsula/Island matches help create the bond of friendship and team spirit between players from all the rugby clubs across Hong Kong. These girls play their games and then hang out together afterwards, to cheer on the boys in their age group, and then to watch the older teams play." And it's this team spirit that may prove to be the real competitive advantage, because ageing out of the mini-rugby league is a critical time, when many players – especially girls – traditionally drop out. "We hope this experience will help them decide whether they have what it takes to stay in the game, and also to realise just how much support is available to them."
Discovery Bay Pirate dad (and also a Peninsula coach) Ralph Ybema says, "I think the team spirit factor is the key differentiator for rugby – players don't go in to play a game, they go into battle together. They can expect some bumps and bruises along the way and, I believe, as a result, develop a much higher level of appreciation of their teammates' contributions than is the case in other sports." He also explains how all parents can support their children in the sport, over and above their usual role making sure their child gets to practice – with mouth guard! – and being head cheerleader. "As parents, we can help our kids to understand the game, so they are equipped to make the decisions on the field that will help them win."

A family affair
All of Hong Kong is getting behind rugby, it seems. The Hong Kong Rugby Sevens event is expanding. What started out as a small event in one venue 40 years ago, and mostly as an event for grown-ups,     has now become a true Hong Kong-wide family affair. In the days leading up to this year's Sevens tournament, mini-rugby players were coached at HSBC-sponsored clinics led by visiting rugby legends Waisale Serevi, Ben Gollings and Pate Tuilevuka. And in recent years, Sevens organisers created a Fanzone venue at the New Central Harbourfront, where young children could get their first taste of the sport with demonstrations from visiting and local players.
But maybe the most important boosters will prove to be the team of dedicated volunteer parent/coaches and team supporters – the mums and dads – who are the backbone of all the rugby clubs across Hong Kong. Any parent who has ever coached their own child – or any coach who has a child in the sport – is aware of the pitfalls, and it might reassure them to know that even the legendary Serevi knows all about it. When asked at this year's Sevens whether his dad liked to offer advice on his game, Waisale Serevi Junior responded only with a wry grin. Waisale Senior jumped in with a chuckle. "Of course, I like to give him advice, but then he says to me, 'Dad, I already have a coach!'" For any aspiring rugby mums and dads, all you need to do for a start is sign your child up at the nearest rugby club, and get ready for years of the thrills and spills and character development that well-organised team sports provide.
Related articles: