Reading Time: 6 minutesWe've rounded up our top picks of Easter activities, Easter egg hunts, Easter brunches and all the fun things to do in Hong Kong this Easter. Bookmark this page to check out our latest updates!
Easter Activities
Discovery Bay Easter Egg Hunt on the Beach
Date: 7 & 8 April
Head to Discovery Bay on 7 and 8 of April to take part in the annual Easter egg hunt, a great event for the whole family! Children aged 3 to 10 years are invited to hunt for colourful Easter eggs hidden at Tai Pak Beach, and stand a chance to win over 30,000 fabulous prizes. DB Plaza will also turn into "Discovery Bay x Ohpama Kids Fiesta", featuring a variety of exciting games and workshops. Both registered egg hunters and all other little guests can enjoy a day full of egg-citement at Discovery Bay. Want to extend your stay in DB? Check out the Easter Room Package at Auberge Discovery Bay Hong Kong,  which includes one-night accommodation with dining perks and an Egg Hunt Pass to "Discovery Bay Easter Egg Hunt on the Beach 2023".
Looking for a non-Easter activity for next weekend? Check out Disney in Concert, find out more here
Jumptopia Easter Carnival
Date: until 16 April
Hop over to Plaza Hollywood to enjoy an Easter themed carnival, complete with an Easter bouncy castle with slide, ball pits and obstacle courses. Play a selection of mini games or enjoy the mouthwatering selection of chocolate and desserts. Admission starts from $58 for 25 minutes. Located at Stars Atrium, 1/F Plaza Hollywood, Diamond Hill, Kowloon; Jumptopia Easter Carnival presented by Kiztopia, runs until 16 April.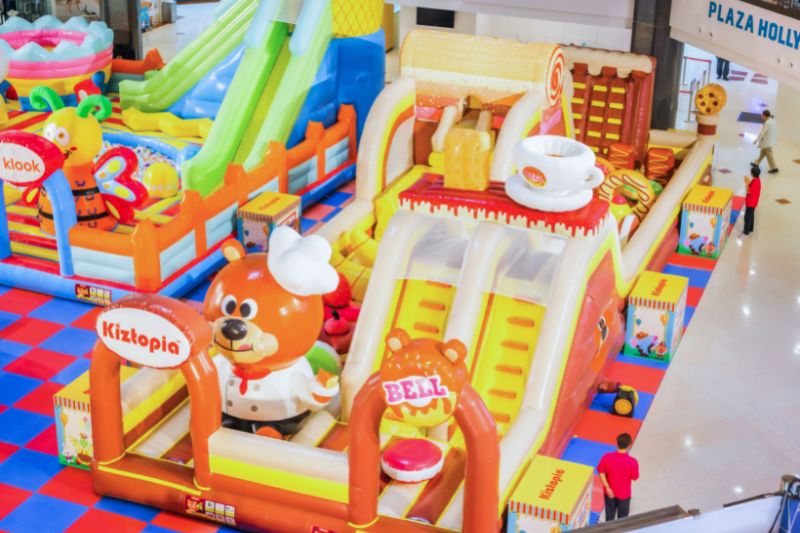 Easter Donut Hunt at The Pulse
Date: 7-10 April
Visit The Pulse in Repulse Bay between 7-10 April 2023 to join the Giant Donut Hunt. Visit the concierge to collect the club cards to hunt for the giant donut. Feeling peckish during your mission – not a problem, just visit the candy and dessert market for a sweet treat! Your kids will love these fun things to do in Hong Kong this Easter.
Looking for more fun things to do in Hong Kong this Easter: Where to buy baking supplies in Hong Kong 
Easter Family FUNhunt
Date: 7 April
Get a team of 4-8 people together to join Glitter and Gore's Easter Family FUNhunt. The hunt is led via What's App, with the organisers messaging tasks and activities to the teams. The challenges will take around two hours and participants send photos and videos of the completed challenges for a chance to win prizes. It costs $1,000 for a team to join.
Make Your Own Easter Macarons
There's more to Easter than eggs, or so say the folks at K11's Nature Discovery Park. Head there on 8 Apr to make your very own macarons from scratch. You'll create the cream cheese fillings, and decorate macaron shells at this Easter Macaron Workshop. Learn what it takes to make the best macarons from local pastry chef and decorator bearlybad. The workshop costs $600.
Easter Cruises on the aqualuna 
Date: 5th to Monday 10th April
Hop on-board Hong Kong's iconic aqualuna with a full range of activities and fun for everyone over Easter. Choose from 3 exciting Easter voyages. Join the Pirate & Mermaid Adventure Cruise where little ones can dress-up, decorate eggs, make an Easter basket and hunt for Easter eggs on-board. Tickets are HK$280 (kids aged 2-11), HK$200 (adults) and  under two years old are welcome free of charge. Sail from Central Pier 9 from 11:30am – 12:45pm. Or if you prefer a dim sum lunch, foodie-lovers can opt for the Dim Sum Cruise where you will enjoy exquisite Insta-gramable dim sum from 1pm – 2.30pm whilst sailing along Victoria Harbour. Departing from Central Pier 9, tickets are HK$399 for adults and HK$299 for kids. If afternoon tea is more your jam, go for the Afternoon Tea at Sea with yum cha delights from Dim Sum Library and special Chocolate egg tart, sweet treats, classic scones all priced at HK$399 for adults and HK$299 for kids. Sail from Tsim Sha Tsui Pier 1 or Central Pier 9 (Saturdays only) from 3pm – 4.30pm. Treat yourself to a bottle of Mini Moet Champagne for HK$130 and book in advance to avoid disappointment. Tel. 2116 8821 or www.aqualuna.com.hk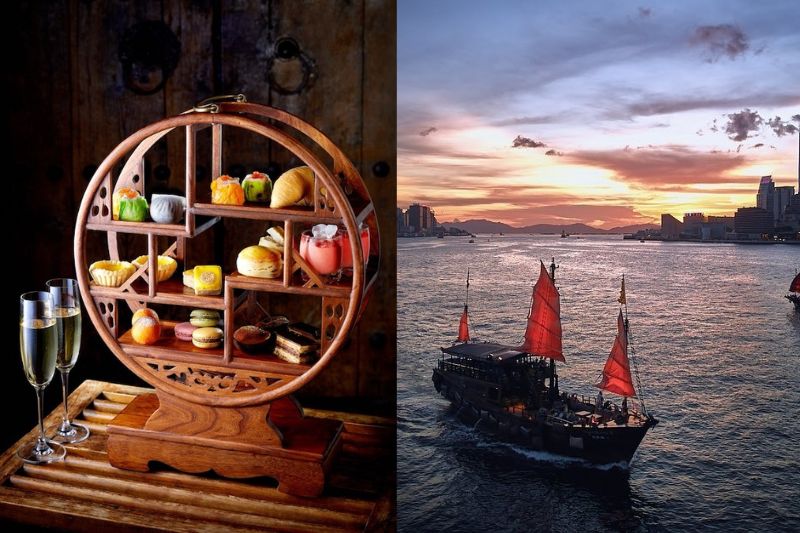 Croucher Science fair is also on over Easter. Discover more here. 
The Best Easter Brunches, Lunch and Dinners
"SomeBunny Feed Me" Easter Brunch @ Pirata Group
Date: 7-10 April
The Easter holidays are just around the corner! Join Pirata Group for a plethora of egg-citing dining options. From 7 – 10 April 2023, indulge in the "SomeBunny Feed Me" brunch feasts, with free-flow packages and extravagant chocolate buffets at Pirata, The Optimist, TokyoLima, Meats, Chaiwala, Honjo, Honjokko, La Favorita, Tempo Tempo (HK$348 – 498 plus free-flow package HK$198 – 298). Plus there's an extra warm welcome for families with young ones at Honjo, La Favorita, Tempo Tempo and Honjokko, where kids under 12 years old eat free!
Over the Easter period, TMK will serve a special menu featuring free-flow maki and Easter-inspired desserts, and Calle Ocho will celebrate its first Easter feast with a special dessert. Additionally, from 5 – 10 April, pop into Pici and The Pizza Project for limited time holiday dishes, or head down to Pane e Latte in Stanley for easter eggs, spring specials and a huge holiday display perfect for family photo ops. Hop to it!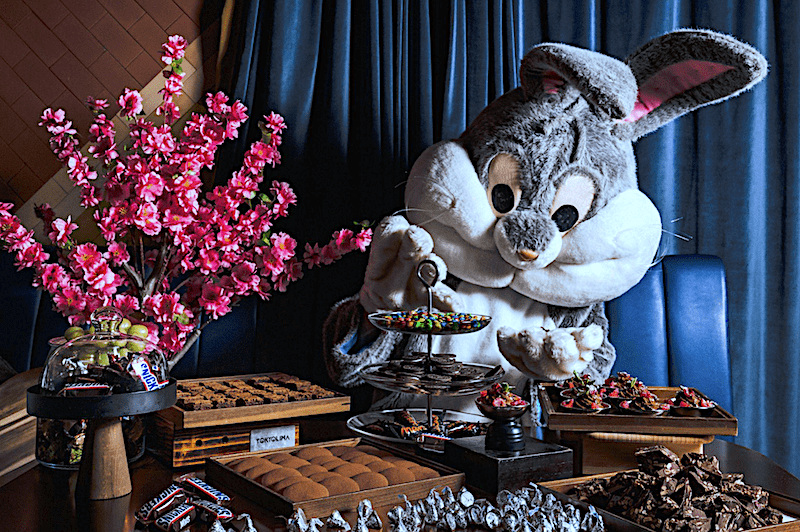 Easter Themed Dining at the Landmark Mandarin Oriental
Date: 7-10 April
There's lots of Easter themed offerings at Landmark Mandarin Oriental this Easter. Those looking for a touch of decadence should head for Bubbly MOments at the Amber Unlimited Lunch Experience. Meanwhile, Somm is offering Sommkind of Brunch over the Easter Weekend, priced at $768 the brunch includes 90-minute free-flow on Sommeliers' Selection of Sparkling Wine, Seasonal Cocktails, Fresh Juices, Coffee or Tea. Our favourite, though, is the Gardener's Spring Brunch at the MO Bar. This family-friendly brunch option, complete with a DJ, runs from 11:30am to 3:30pm between 7 and 10 April 2023. The cost is $678 per adult including 90-minute free-flow of Moët & Chandon Champagne, Seasonal Cocktails, Signature Mocktails, Juices and Soft Drinks. A kids brunch Menu is available at $408.
Check out the latest food news in Hong Kong for even more fun things to do in Hong Kong this Easter
Easter Buffet at Island Shangri La
Head to Cafe Too at Island Shangri La on 9 April to enjoy face painting and an interactive Easter egg hunt for children. The brunch features adorable Easter desserts and a Chocolate Egg counter, alongside succulent seafood and international delicacies. The Easter buffet runs 7-10 April, but entertainment is only available on 9th. Children under 3 receive a complimentary buffet (available for the first two children under the same booking, with at least 1 accompanying adult).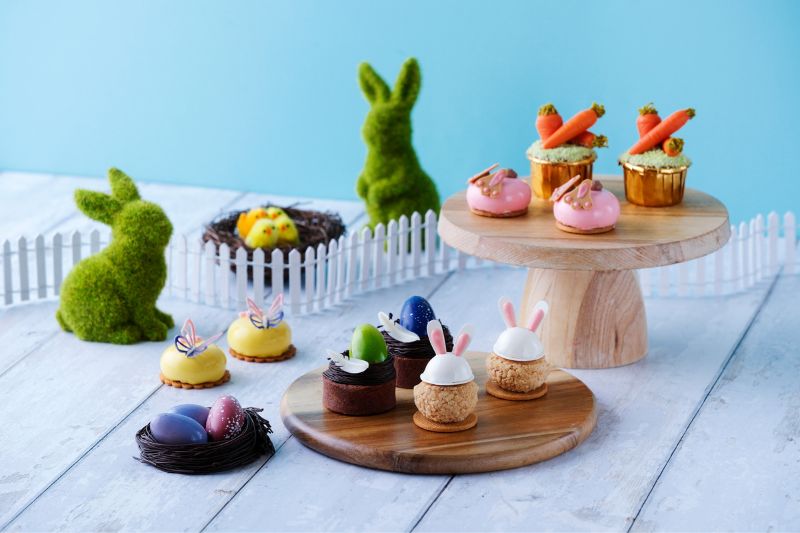 Easter Egg Hunt Brunch at Brick Lane
Date: 7-10 April 2023
Send the children off to hunt for eggs while the adults enjoy a tasty Easter brunch at Brick Lane in Admiralty. The brunch runs 12:00pm – 4:00pm. Also on offer at Brick Lane is an Easter barbecue package (requires three day advance booking).
Easter Chocolate at Cantina
Brunch the Italian way – with unlimited servings of cicchetti in the beautifully transformed Old Police Headquarters in Tai Kwun. Choose from a selection of sumptuous Italian mains and dessert at Cantina's Non-Stop Brunch for only HK$498 per person from 12pm every Saturday, Sunday and public holiday. You can also upgrade to indulge in 3.5 hours of free-flow Champagne, cocktails, wine and beer. Cantina is the perfect family-friendly hotspot in Central offering a healthy Mini Brunch for little ones, aged 5-12 years old, priced at HK$298 per person. Children under 5 years old are complimentary and colouring-in kits are provided to fuel creative minds. For Easter, Cantina celebrates its Italian roots with two limited-edition Venchi X Cantina dishes for brunch-goers to enjoy. For true chocoholics, the ultimate Chocolate Dinner is available until the 10th April.
Cantina, Police Headquarters Block 01, Tai Kwun, 10 Hollywood Road, Central, Hong Kong

Easter Brunch at The Murray
Date: 9 & 10 April
Both The Tai Pan and Garden Lounge at The Murray are offering family-friendly Easter brunches full of festive fun. Children can roam the Murray lawn hunting for Easter eggs, or enjoy balloon twisting and face painting. The brunches run 12:15pm-2:30pm and cost $898 per adult or $588 for children – under 4 years old are free. Book now.

Luscious Picnics Easter Family Beach Day
Date: 9 April
This Easter themed picnic on Discovery Bay Main Beach runs 1:30pm-4:30pm on Sunday 9 April. The cost is $320 per person and includes an Easter themed picnic – with reusable silverware, Easter egg hunt for children (and complementary baskets) and juice. Tickets available here.
Easter Treats
A French Symphony of Sweet Delights @ agnès b. CAFÉ
agnès b. spotlights the Easter bunny this holiday with a choice of agnès b. DÉLICES chocolate bonbons and French treats from agnès b. CAFÉ. There's also an "egg-citing" Easter Chocolate DIY Drawing Kit done in partnership with local artist Zoie Lam to create a one-of-a-kind chocolate celebration. Zoie Lam's vibrant illustrations are perfect for Easter. For every DIY drawing kit sold, agnès b. will donate HK$5 to local animal rescue organisation, Chi Wing Dog Base.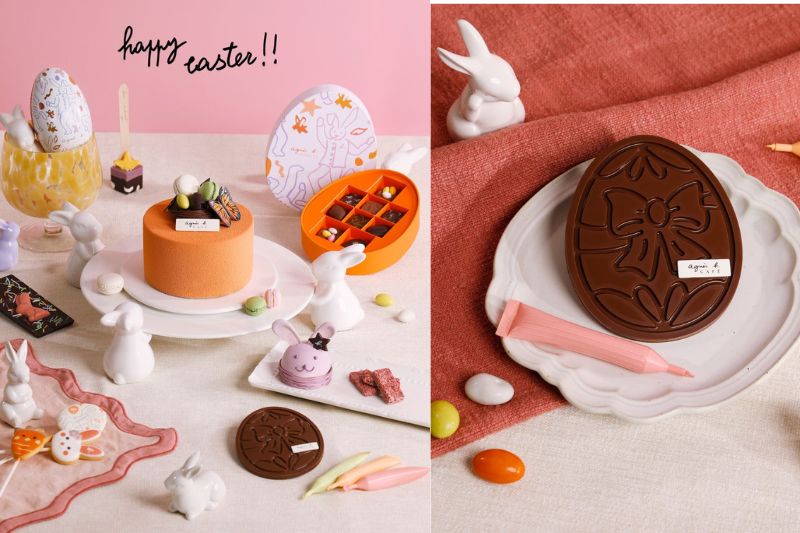 Related articles: