Reading Time: 6 minutesMaybe it's the various lockdowns we've all been through, the self quarantines at home or the joys of home schooling; whatever the catalyst, it feels like everyone we know is suddenly learning how to play mahjong.
Learning how to play mahjong is no mean feat. There are many versions of the game –  Chinese, Cantonese, American, Taiwanese, Japanese, and Western mahjong to name a few. In Hong Kong, the most common style is Hong Kong/Cantonese mahjong, while Taiwanese mahjong has also gained some popularity.
Mahjong is a tile-based game often compared to gin rummy, and the object of the game is to build "sets", as well as to get the highest point value. In order to do this, each player selects and discards mahjong tiles until an entire set of combinations has been made. Originally developed in 19th century China, it is played throughout Eastern and South Eastern Asia and is also very popular in Western countries. It was originally called 麻雀 (ma jeuk) which means 'sparrow', representing the clacking sound of the tiles being played, which sounds like the chattering of sparrows.
Also see: Five Films to Watch Over Chinese New Year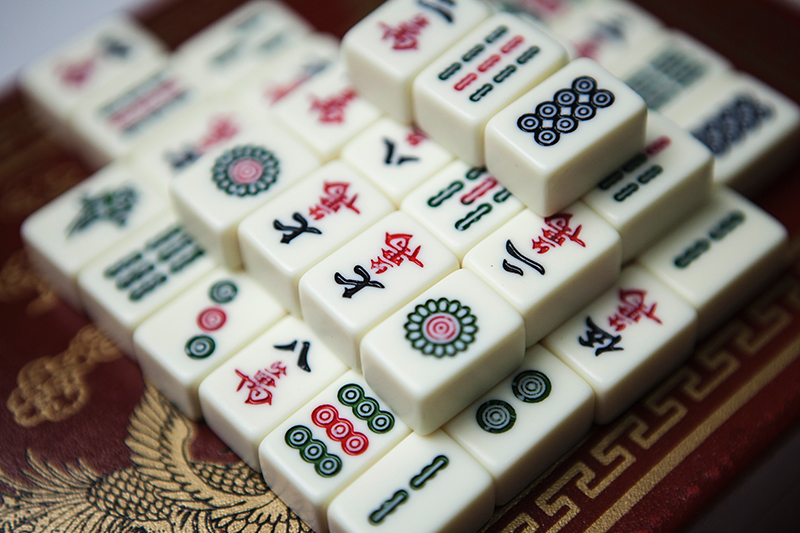 Mahjong game materials
There are 144 tiles in a mahjong set based on Chinese characters and symbols:
Three suits (108 in total) numbered 1-9, with 4 of each number, making it 36 tiles in each suit:
Circles/Dots (筒子, tung zi)
Bamboo sticks (索子, sok zi)
Number characters (萬子, man zi)

Two sets of non numbered honour tiles (28 in total):
Dragon tiles (red, green and white)
Wind tiles (East, South, West, and North)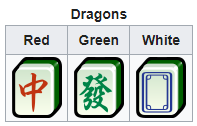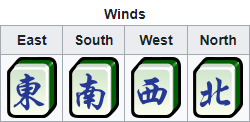 Two sets of bonus tiles (8 in total)
Four Flower tiles (Plum Blossom (梅, one), Orchid (蘭, two), Chrysanthemum (菊, three), and Bamboo (竹, four)
Four Season tiles (Spring (春, one), Summer (夏, two), Autumn (秋, three), and Winter (冬, four)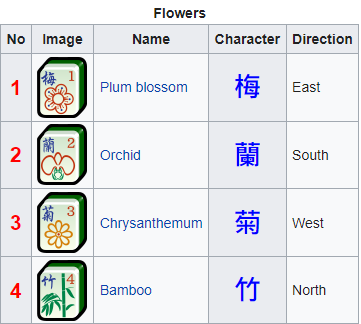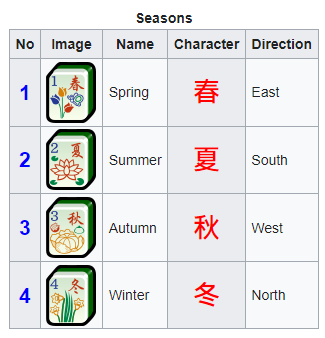 You will also need 2/3 dice, a four winds dice, a dice holder, and chips can used to keep track of points scored for each game.
What are the basic rules of mahjong?
The game requires four players, seated around a square table. The dealer position is called the East seat, and each player takes turns being the dealer. If the dealer wins a game or the game is a tie, they can hold on to the East seat until they lose. The seats rotate counter-clockwise with each game, and one round is completed once every player has held the dealer position.
You can determine who will be the dealer in a few ways – each player rolls the dice and the highest number is the dealer OR a randomly chosen player throws the dice and the rolled number is counted counter-clockwise from that player, until it lands on the number rolled and that person becomes the East seat.
The remaining seats are determined by shuffling the four wind tiles, face down, and stacked on top of each other. The East seat throws the dice again, and the number is counted counter-clockwise and the player it lands on takes a tile from the stack, and so on until each player has picked a wind direction.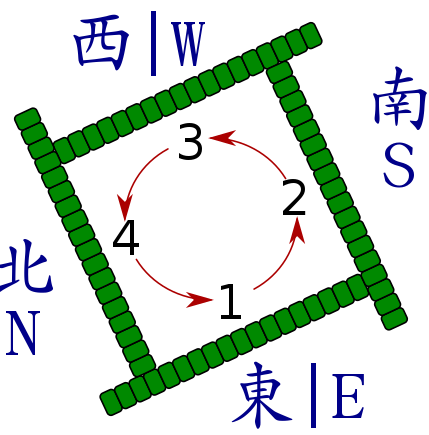 How to play mahjong
Once the seats are all filled, the tiles are shuffled and placed face down on the table. Each player selects 36 tiles and arranges them into 18 columns of two, like a wall. These rows are then pushed forwards, with space in the middle for discarded tiles. Players then takes turns choosing tiles to make a hand of 13. Players take turns to draw and discard tiles until they complete a hand using the 14th tile to form four melds (sets) and a pair (eye). A player can also win with a small series of special hands.
While many variations of mahjong exist, most of them have the basic rules of how to play mahjong in common; for example how to deal, the order of play, how a tile is drawn and discarded, how to take a piece from another player, the use of suits and honour tiles, and the basic sets allowed.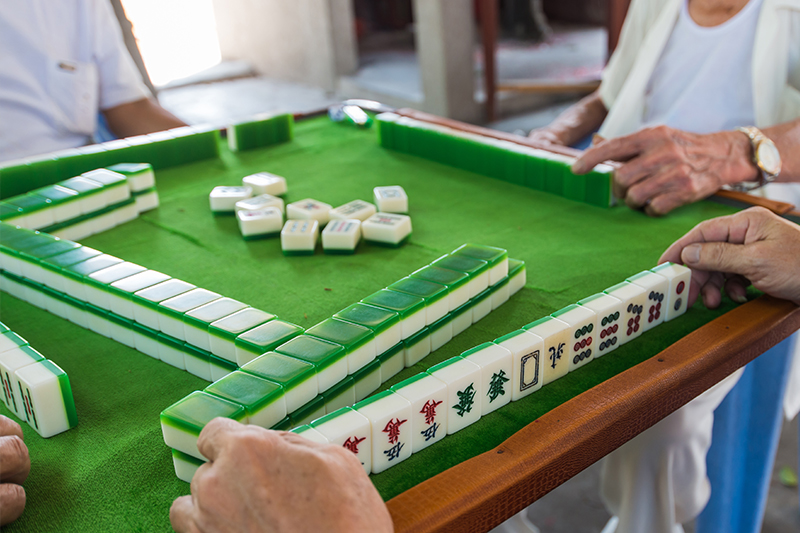 What is the object of mahjong
The goal of the game is to get 'mahjong', which consists of four sets and one pair (total 14 tiles). A 'faan' is a point and you typically need a minimum of 3 points to win. In order to win you need to form combinations of the following melds/sets:
Pong, 3 identical tiles
Kong, 4 identical tiles
or Chow, 3 tiles of the same suit in sequence
There are a number of wining hands that you can make, however to begin with a few of the basics combinations are as follows: A basic hand (gai wu 雞糊) is a mixed sequence of three-of-a-kind sets and a pair. A common hand (ping wu 平糊) is four sets of sequences and a pair. Mixed one suit (wun yat sik 混一色) a set of one suit's tiles and honor tiles and a pair. All one suit, (qing yai sik 清一色) all sets made up of one suit's tiles and a pair. All triplets, (dui dui wu 對對糊) four sets of three-of-a-kind and a pair.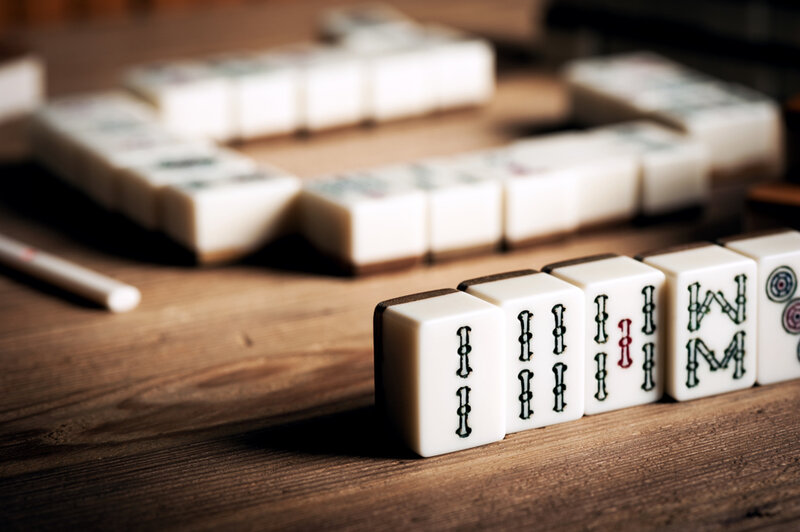 Tips and Strategy
Mahjong is a game of strategy. Once you get the hang of the basic set up and rules and learn how to play mahjong, you can vary your game play and learn how to strategise efficiently for more winning hands. Be warned, its addictive!
Have a plan in mind and think carefully about which tiles you are picking up and discarding. 

The other players will be watching and keeping track what you're doing.

The game can change very suddenly so be flexible and you may have to re-think your tiles partway through the game.
Avoid the first discarded tile, this can give your strategy away to the other players.
Keep all your tiles in a row, don't give away what you have by keeping gaps where you have combinations.
Keep an eye on the tiles other players are discarding, especially near the end of the game.
One session of mahjong is at least 16 games, so take your time.
The best strategy for mahjong is to play it regularly. The more you play, the easier it will be to remember the rules, sequences, tactics etc.
Where to learn how to play mahjong in Hong Kong
The MahJong Club – HONG KONG offers mahjong lessons for Cantonese and Taiwanese style mahjong. Lessons can be taught in English or Cantonese and the table and tiles can also be provided. Available at your chosen location and great for groups, prices start from $400. Book directly via their Facebook page.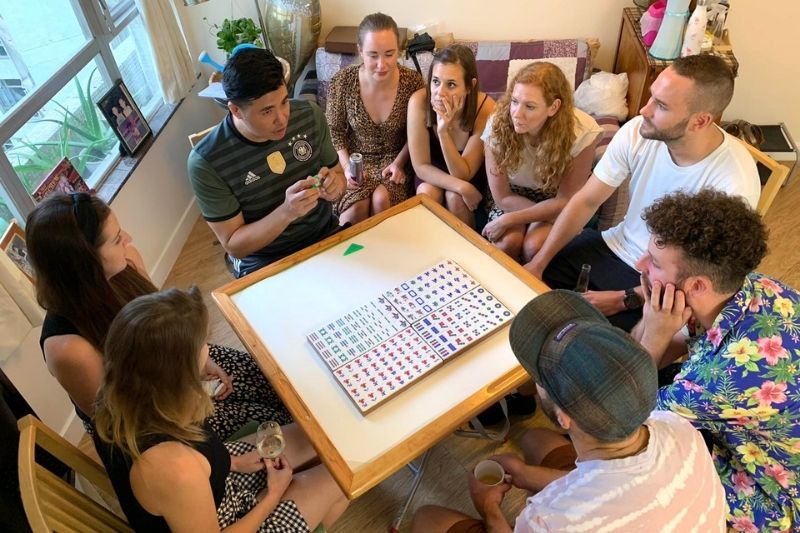 Humid with a Chance of Fishballs offers both Cantonese and Taiwanese mahjong classes. Classes run for 5hrs over 2 sessions, and typically with 4 people for a cost of $4000 (additional players $1000pp). They guarantee you will be able to play by the end of the classes or you can get 2 additional hours for free! Hosted at a venue of your choice, this is a fun way to get some food and drinks in and learn with friends. Whatsapp: +852 3916 7664 to book.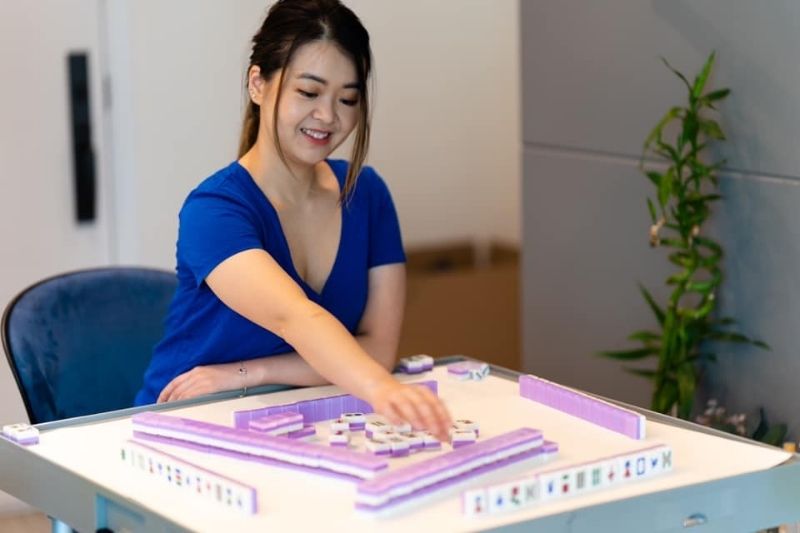 Angels for Children – Charity mahjong workshops regularly host charity mahjong gatherings with knowledgable guides making it suitable for all levels.  All proceeds from the sessions go to Po Leung Kuk Residential Children's Centre Fun Day. Contact info@angels-for-children.org for more information and to book.
Learn mahjong with Bina Datwani who believes mahjong is like meditating as it can teach a person how to focus and how to be flexible when the tiles don't go your way! She offers private mahjong lessons for small groups, including children from ages 10+. Prices start from $180 per person for 2 hours and she is available to come to your chosen location. Contact: +852 9431 1094.
American Women's Association of Hong Kong (AWA) offers a four lesson series of mahjong lessons for both members and non members. The sessions cover Hong Kong rules, and typically take place on Tuesdays from 10.30 – 12.30am. Prices start from $580 for members and $860 for guests. Contact +852 2865 7737 / Location: AWA Office Room 1105 11/F Arion Commercial Centre 2 Queen's Road West Sheung Wan. 
The Australian Association of Hong Kong host lessons at Dynasty court every Monday (except public holidays), from 10 – 1pm. Price starts from $80 for members and @130 for non members. Contact: Lynne Stewardson / Location: Dynasty Court Function Room, 17-23 Old Peak Road.
Where to buy a mahjong set in Hong Kong
Kam Fat mahjong shop
Founded in 1962 by her father, Mr Ho, Madam Mei is the only female mahjong tile carver left in Hong Kong. She keeps her family legacy alive and has preserved the tradition of making hand crafted mahjong sets. Engraving and painting the tiles by her own hand.  Prices start from $2,280 for a full set of 144 tiles. Address: 2A-4 Bulkeley St, Hung Hom / Contact number: +852 2362 8421.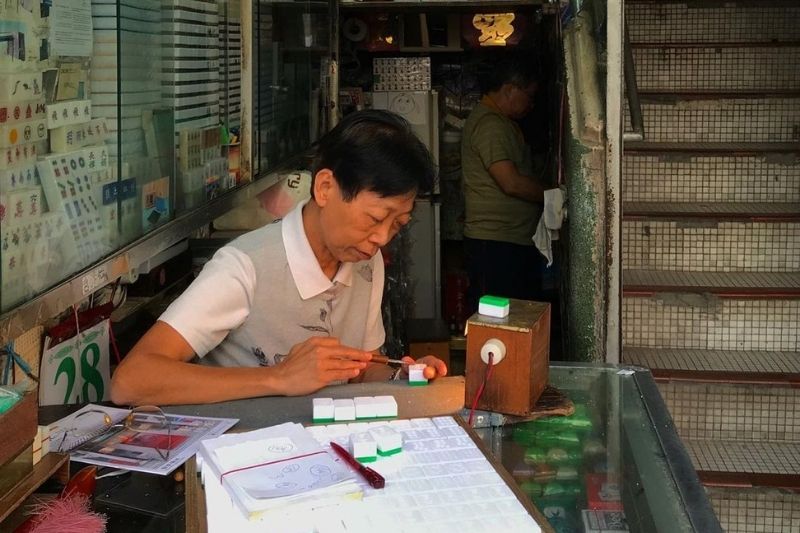 The family have been in the business for more than 40 years and to this day the shop is kept open daily providing beautiful mahjong tiles. You can even learn the art of crafting your own mahjong tiles with a unique Mahjong craving workshop with the master mahjong tile artisan Cheung Shun King himself. Address: Jordan Road, Yau Ma Tei (opposite the entrance to Temple Street night markets)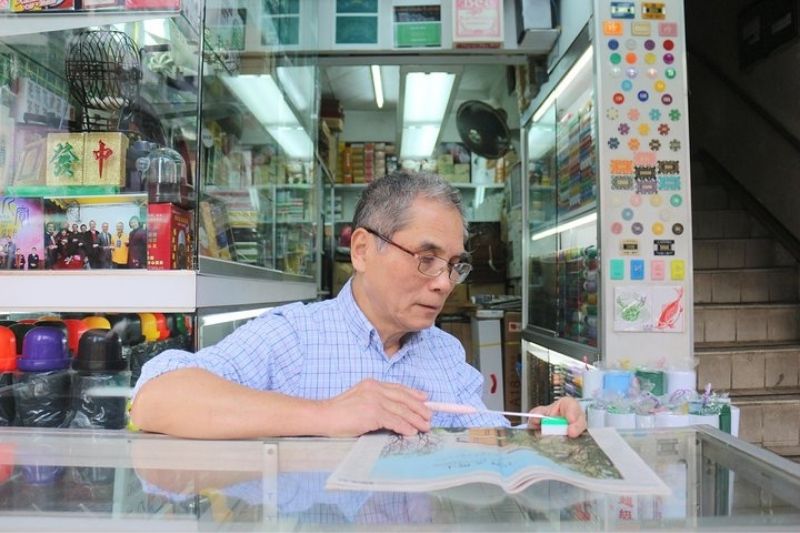 This father and daughter duo have kept the spirit of traditional mahjong tile craftsmanship alive with their hand crafted mahjong sets. Prices start from $3980 for the Canton version, whilst an American version costs $4480, prices may differ based on the quality of materials used and the master, so it's best to contact them directly at info@karenaruba.com. A unique keepsake of Hong Kong for yourself or friends who are leaving.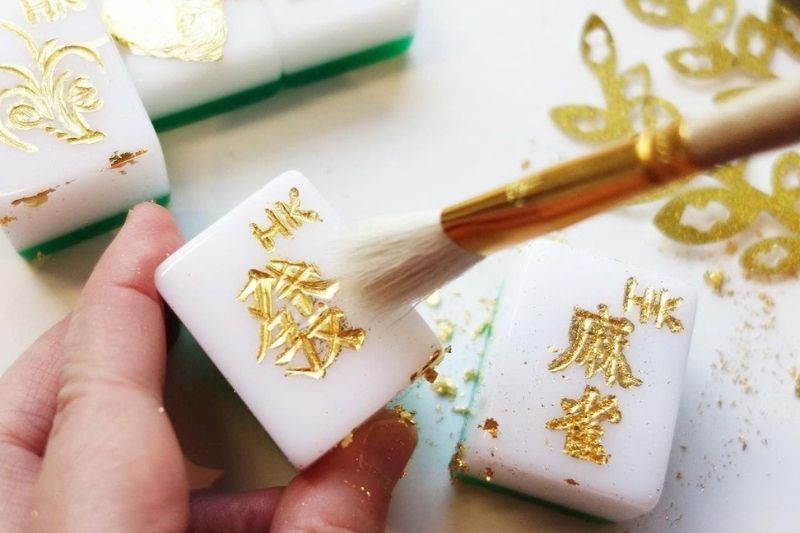 Master craftsman have been making mahjong sets at Wing Cheong since the 1940's, located at 101C G/F Wellington Street in central.
Main photo courtesy of Shutterstock; photo 1 courtesy of Shutterstock, photos 2 – 8 courtesy of Wikipedia; photo 9 courtesy of Shutterstock; photo 10 courtesy of Shutterstock, photo 11 courtesy of Mahjong Club Hong Kong FB; photo 12 courtesy of Humid with a chance of fishballs; photo 13 courtesy of evelyn_k_rose instagram; photo 14 courtesy of Biu Kee Mahjong; photo 15 courtesy of Karen Aruba Art
Related Articles: