Reading Time: 3 minutes
Hair stylist Andrea Clark explains postpartum hair loss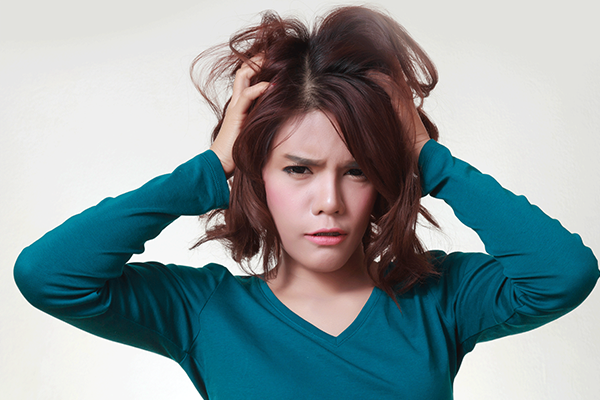 For 30 years I have been cutting and colouring hair and the most common topic brought up by female clients is the way their hair behaves during pregnancy and after the birth of their child.
Shedding hair after pregnancy is called postpartum hair loss. Not all women will experience it and just because you lose hair during one pregnancy, it doesn't necessarily mean it will occur with all pregnancies. Good news is, if it is postpartum hair fall then it should eventually return to normal.
It is hair 'fall' rather than loss because the hair is still growing and follicles aren't damaged. During pregnancy hair grows for a longer period, and strands sit in the second stage of growth for longer than usual. This whole change in the growth cycle happens due to high levels of Estrogen.
Having recently studied trichology, the science of hair and scalp, I have been taking a closer look at scalp issues and hair fall, particularly that of pregnant women.
When does hair fall start?
Postpartum loss generally starts from 12 weeks after delivery and can continue for several months. Breastfeeding may prolong the hair fall process a bit, but everyone is different.
Expect it to take a good three months again for you to notice a reduction in hair on the bathroom floor or on the pillowcase. Hormones should go back to normal once the baby is around one year.
While these changes to your hair are happening, some women report oilier than normal scalp. Treat yourself to a scalp mask, pre-shampoo conditioning or strengthening hair treatments, and use a scalp toner to reduce the oiliness. Don't be afraid to shampoo your hair daily. Cleaner hair and scalp will make you feel better and make your colour look brighter.
How to reduce hair loss
Gentle brushing prior to showering may lessen the amount of hair in your plug hole. Treating yourself to a nice soft bristle paddle brush is something I recommend, as well as taking it easy with hot styling equipment.
We have evolved not to need our hair, so hair cells are the last to be fed. Nutrients will be used first for the baby's development and our hungry hair cells come last. Hair fall problems of any kind can be helped with a balanced diet. A protein rich breakfast is very important.
Eggs are the most complete source of protein, containing all essential amino acids – amino acids being the building blocks of our hair. A delicious protein vegetarian alternative for breakfast is quinoa with fruit. Your hair cell requirements are specific. Iron is important, as is vitamin D and B12, and vitamin C, to aid the absorption of iron.
Once hair becomes hard Keratin, improvement of appearance is achieved cosmetically and requires maintenance.
Trichotherapy is a recently developed product range for thinning hair. It was developed for women with general hair fall and reduced volume, but can be beneficial in improving postpartum hair for women that find hair loss a concern after 12 months.
It is a three part regime consisting of:
A Volume Spray to give strength to the hair.
Special drops to maintain a healthy scalp.
Supplements.
The range was developed by a trichologist, the late Philip Kingsley. His hair care range is one of my personal favourites for all hair types, with a lovely range for kids too.
Hair colour
I usually see expectant mums after the first trimester and am frequently asked if it is safe to colour hair while pregnant.
There are ammonia free colours and colour technique options, like foiling, lowlighting, highlighting, balayage and ombre. With these paint on options, the colour does not touch the scalp, if this is a concern. Ammonia free bleach and tints also have little or no fragrance.
Andrea Clark is hair stylist and artistic director at The Mandarin Salon, Mandarin Oriental hotel. Philip Kingsley products are available to buy at the salon. www.mandarinoriental.com/hongkong/luxury-spa/the-mandarin-salon/