Reading Time: 2 minutes
Have a look at the array of events taking place on 8 March to celebrate International Women's Day. #wd2019 #internationalwomensday
Ms B's Cakery
In a nod to International Women's Day, style icon and taste maker Bonnae Gokson, aka Ms B, showcases her interpretation of femininity and eye for exquisiteness through her latest cake creation – "Empowerment". As its name implies, the cake is an advocate of women's empowerment: to stand for oneself; to unleash full potentials and achieve greatness; dare to be different and be confident. www.msbscakery.hk
Mr. Wolf
Celebrate International Women's Day with free flow Rose and Prosecco during the Friday set lunch menu at Mr. Wolf for an extra fun afternoon! It is Friday after all…
The DiVino Group Celebrates Women's Day
On 8 March, DiVino and Spasso celebrate women by gifting ladies complimentary Mimosa flowers. DiVino Patio and Carpaccio will be treating children aged 12 and under to Mimosa coloured smoothies all weekend in celebration of Women's Day (8-10 March).
She Can. So She Did: A Film Screening of City of Joy
Art Women and Table of Two Cities present a screening of the Netflix documentary, City of Joy, hosted with Campfire Collaborative Spaces in Wong Chuk Hang in celebration of International Women's Day. There will be a fireside chat with the founder of Art Women after the screening followed by a Q&A session. Light refreshments from the Democratic Republic of Congo will be available and products created by the Art Women group will be available for purchase. www.eventbrite.hk
I Am Woman by Kate Sparrow
Throughout the past year, Kate Sparrow has been meeting and painting inspirational women who live in Hong Kong. I Am Woman is the final product of these works. Sparrow will showcase her paintings at an exclusive exhibition on 8 March at the Fringe Club. www.facebook.com/events/2203404033016787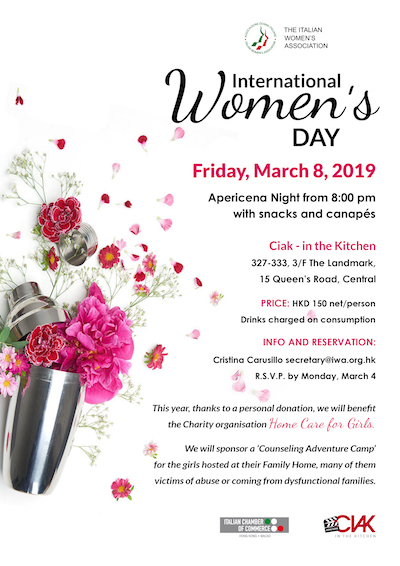 The Italian Women's Association
Celebrate Women's Day by attending Apericena Night from 8pm with snacks and canapes at Ciak – in the Kitchen in The Landmark. The event will benefit the charity organisation Home Care for Girls. It will also sponsor a Counselling Adventure Camp for the girls hosted at their Family Home, many of them victims of abuse or coming from dysfunctional families. Email secretary@iwa.org.hk for more information.
La Cabane
Celebrate Women's Day with La Cabane by joining their 100% Female Winemaker Wine Tasting at 7pm on 8 March. The wines that will be showcased include Champagne Marie Courtin (France), Domaine Gramenon (France), Domaine YOYO (France) and La Stoppa (Italy). HK$200 includes wine, cheese and charcuterie. RSVP at info@lacabane.hk