Reading Time: 5 minutesIf relocation to Brunei is on the cards, or you're looking for an excellent boarding school option in South East Asia, Jerudong International School Brunei Darussalam (JIS) could be just the place.

"I never expected the school to be like this!" This is the frequent reaction of parents being posted to Brunei who discover Jerudong International School (JIS). Brunei is something of an enigma – a small Sultanate of just over 435,000 people situated on the northern coast of Borneo. It would be understandable that many would not expect to find an 'Outstanding' British international HMC school of 1670 students here! The teachers, pupils and parents take great delight in welcoming new families and helping them to discover all that is on offer.
The School is proud of its links to the UK and has had a longstanding relationship with the British Armed Forces due to the British Garrison located in Brunei and also the 'Loan Service' programme which exists between Brunei and the UK Armed Forces.
"I recall arriving in Brunei in 2012 and coming to the school with my three children and thanking my lucky stars that I had been able to come to such an amazing place to work and educate my own children" says the Principal Nicholas Sheehan.
Mr Sheehan started his time in JIS in the Geography Department and since 2020 has been Principal of the school. "As an educator and as a father, I am proud to lead this amazing school" he says, continuing "after all, where else in the world can children study on a campus which is located next to the sea and the rainforest? My children have had unique, formative experiences which will remain with them for their whole lives."
School Campus
Surrounded by rainforest, the school campus covers 120 acres, situated right on the South China Sea within walking distance of the Tungku beach and Bukit Shahbandar national forest. It is just 10 minutes from the airport and 90 minutes from the Brunei Garrison in Seria.
The state of the art facilities include a superb Performing Arts Centre with a 725 seater full size theatre, dance studio, drama classrooms and bespoke orchestra rehearsal rooms. Recent productions include The Wizard of Oz, the annual Music Gala and Alice in Wonderland.
The sports facilities are extensive with 3 pitches for football and rugby, 3
air conditioned sports halls for Basketball and Badminton, two swimming pools and a racquet sports centre for tennis and squash. The school places great value on community and has regular community sports events for football, netball and fun-runs.
The classrooms are well resourced and include 27 science laboratories. The School's 10,000m2 Outdoor Discovery Centre has been recognised internationally for the plethora of activities it offers as an outdoor classroom space. A bespoke Health Centre is on site with a small international team of nurses who care for the community.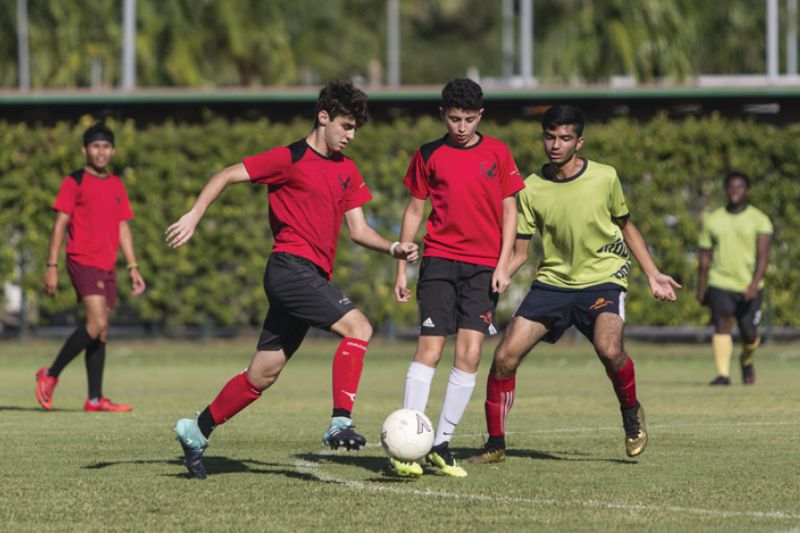 Curriculum
The school offers a British based curriculum from Nursery – Year 13. Time is spent investing in the children's smooth transition into their first year of Senior School. "Inquiry based learning is important with children learning to take responsibility for their studies" says Mr Sheehan.
Children in the Middle Years are offered a broad range of subjects – English, Maths, Sciences, Geography, History, Art, Design & Technology, Drama, Computing, Music, a choice of languages and PE. Year 9 acts as a foundation and preparation year for the IGCSE programme.
Years 10 and 11 follow with the two year IGCSE programme building upon the Middle Years subjects and also introducing the opportunity to study new subjects too.
In the Sixth Form (Years 12 and 13), students are able to choose between the A Level programme or the IB Diploma programme. A third pathway is being launched in August 2022 – a two year BTEC Diploma in Creative Media.
Graduating students have consistently achieved exam results above the UK national average, paving the way for further studies in the UK, Australia, USA and Canada primarily. However, the school is not a hothouse for academic excellence and places as much emphasis upon a well-balanced co-curricular programme as the academic.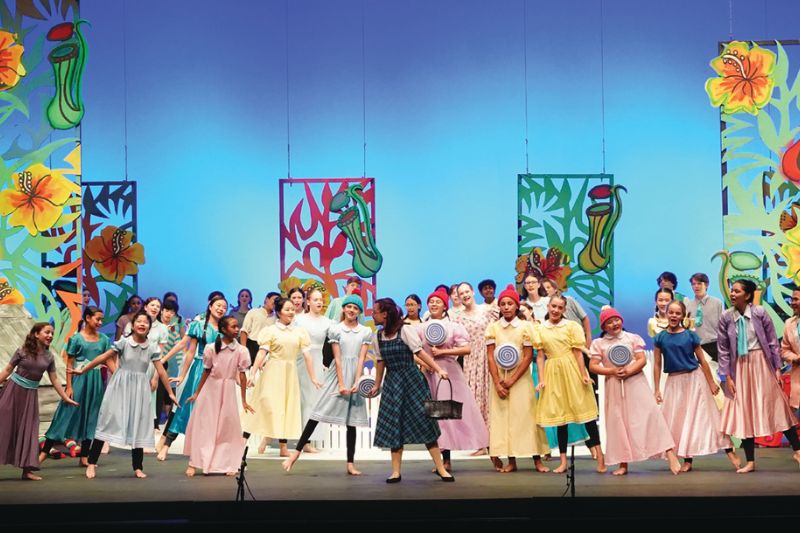 Boarding
There are presently 220 senior school boarders living in the boarding community, a short walk away from the main teaching areas, but still within the safe and secure campus. A recent inspection report commended the school saying "The quality of boarding provision and the care that the boarders receive at JIS is outstanding. Students of all ages stated that the provision is excellent. They speak highly of the family atmosphere that permeates the boarding houses."
There are four boarding houses, 2 for boys and 2 for girls, with a communal dining hall and recreational facilities. Boarders are able to use the school facilities too. The Boarding Houses are all led by experienced Boarding Housemasters and Housemistresses who are also teachers within the school. They are supported by Deputies who are also teachers and a team of matrons, including nurses to care for the children after school.
Both weekly and full boarding is available with the children of the Brunei Garrison usually opting for weekly boarding so they are able to return to their families at the weekends.
"Fantastically amazed with JIS, we are a military family on our first ever posting… The whole network of JIS has been so helpful and reassuring… any concerns, however trivial, are answered. Teachers and boarding staff are engaging and caring… we are thrilled that our children have been able to experience such a great school. I know they don't want to leave already…!" JIS Parent with children in Boarding (February 2022)
Pastoral Care
The senior school delivers its' pastoral care through the well-established 'House' system. Modelled on traditional British boarding schools, there are sixteen Houses named after birds of Borneo. The four boarding Houses are complemented by twelve Houses for day students. Each House is about 65 students from Years 7-13. A strong sense of community and care is nurtured within the School. One example is the 'Polio Points' charity project linked to the student rewards system. Students evidencing one of the six school core values – effective communication, engagement in tasks, integration into the community, developing resilience, critical thinking and leadership are awarded a 'Polio Point'. Upon achieving a set of six Polio Points – one for each school aim, the school will give a donation of $1 to UNICEF for one polio vaccine. Thus students are encouraged to do their best not just for self-promotion but for the wider good. In 2021, the students were able to donate over 10,000 vaccines.
"The value of such an undoubtedly good school is that for parents coming to Brunei, you can happily bring your children with you rather than having to seek alternative boarding choices. It also means that as parents you can share with your children in the community life of the school. Indeed, as one parent put it, JIS is a community at school, not somewhere you simply send your kids off to learn everything by rote."
Review in The Good Schools Guide
"The school nurtures responsible students and is highly successful in meeting their social and personal needs and embracing cultural diversity. They display a high level of self-awareness and self-confidence."
PENTA (UK INSPECTION) REPORT 2019
LEADERSHIP
In addition to the House leadership opportunities, there are further leadership initiatives across the school. These range from year level councils to leadership in co- curricular activities such as sports, eco-JIS, the polio points council.
The School has a well-established Duke of Edinburgh International Award programme for students in Years 10-13 offering Bronze, Silver and Gold Awards and is one of the largest providers in Asia with a significant percentage of students participating. Younger students are able to join the outdoor education programme and also the school Scouts troop.
Jerudong International School looks forward to welcoming your family and your children to join its thriving, caring community!
ADMISSIONS AT JERUDONG INTERNATIONAL SCHOOL
The academic year starts in late August but JIS welcome enquiries throughout the academic year. The school recognises that families coming from different countries may need to start during the school year on occasion and so it works with families to ensure the child quickly adjusts and settles into school life. Moving school is a big decision and can be quite stressful especially if you are moving from overseas, when finding the right school for your son or daughter will be one of your highest priorities. The Admissions team is on hand to do everything they can to help your child's smooth transition.
Address: Jalan Universiti, Bandar Seri Begawan BE 2119, Brunei Darussalam
Email: admissions@jis.edu.bn
Website: www.JerudongInternationalSchool.com
You might also be interested in reading: Questions to ask a Boarding School