Reading Time: 6 minutes
One of my earliest memories is of being given a new frying pan when I was three by my grandmother. She taught me how to fry an egg, bake bread and make cakes. It triggered a life-long love for cooking. Not long after, my brother and I were roped into helping prepare vegetables and wash rice by my mother for family meals. That was it – we were then often found frying, baking and chopping away, learning to make our own specialities for the family. Cooking with your child can be a nice way to bond – it is often said that parents and children alike open up and chat more freely whilst occupying themselves with a simple task like chopping or mixing.
Playing around with food is one of life's greatest pleasures and I am a firm believer in involving kids in preparing meals early on in life. From my own experience of learning to cook, teaching my own child and seeing friends' children cook, it is clear to see that it benefits kids to have a healthy appreciation for the amount of preparation that goes into a meal and to see where their food comes from. Even when kids get to handle the sticky, gooey, raw, oozy stuff while cooking, there comes a morbid fascination and the urge to touch.
Very young children can get involved and can wash and arrange food items; they can help set the table and place dishes. Baking is always a lovely introduction to the kitchen, learning to measure out ingredients and stirring up goodies for cakes, muffins and bread. Mature and careful five- to six-year-olds can take up knife skills with guidance – I gave my son a normal table knife to use on soft vegetables and fruits like mushrooms, cucumbers and strawberries. From there, it's only a short hop to the stove top, learning to gently poach, boil or pan fry ingredients under a watchful parental eye. Once they've mastered that, there is not much else stopping them from creating a feast! And who knows? Being exposed to kitchen skills might just make your little one the next junior Masterchef!
Here are some of my favourite brunch recipes that would make a perfect start to Mother's Day – and they are all child-friendly (with a teeny bit of parental guidance…).


Basic breakfast muffins
Little ones can help measure, pour and stir ingredients, while older ones should be able to manage all parts of this recipe, even spooning the mixture into paper cases and placing them in the oven (with oven gloves and a parent standing close by).
Ingredients
2 cups flour (if using self-raising, then only add 1 tsp of baking powder) – for a nice, savoury version, you can use half cornmeal and half flour for cornbread muffins
½ – ¾ cup of sugar
2 tsp baking powder
½ tsp salt
1 egg
¾ cup of buttermilk (I've also used plain yoghurt, or milk soured with 1tbsp of vinegar to make a buttermilk substitute – thank you to Pioneer Woman for the tip!)
1/3 cup of vegetable oil, or melted butter
1 cup of any additional optional ingredients, such as walnuts, dark chocolate chunks, mashed banana, raspberries, coconut.
Method
Preheat the oven to 400F/200C, and put muffin cases into a muffin tin. Stir together dry ingredients in a large bowl. Add wet ingredients and the optional ingredients and stir just until moistened. Don't over-mix it. You want all the ingredients just combined. Place a good sized dollop of the mixture into muffin cases, as much or as little as you like, but be warned that anything that goes to the rim of the case will likely overspill and burn. Bake for 15-25 minutes or until high and golden brown. This makes 12-18 muffins, depending on the size of your muffin pans and cases.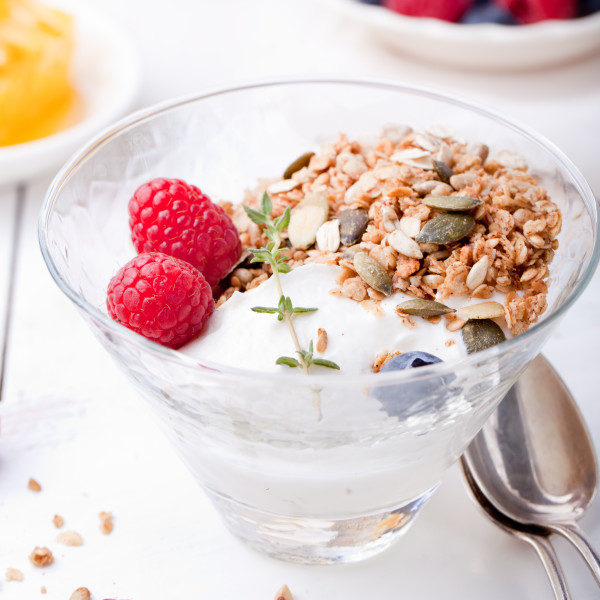 Yoghurt and granola parfait
This recipe is lovely for very small ones to assemble as it requires absolutely no cooking, only layering yoghurt and granola on top of each other. Use very good quality Greek yoghurt for extra creaminess and nutrition. For the granola, store bought is fine, but home-made is always better – and cheaper!
Ingredients
A few handfuls of granola
A few tablespoons of very good Greek yoghurt (per person)
Honey to drizzle
Method
Little helpers can place a handful of granola first in a glass bowl or cup, and then place a large dollop of yoghurt on top, then another handful of granola, and another dollop. Top with dried fruit or seeds and drizzle with honey. Children will then get the pleasure of creating something both visually satisfying and totally delicious!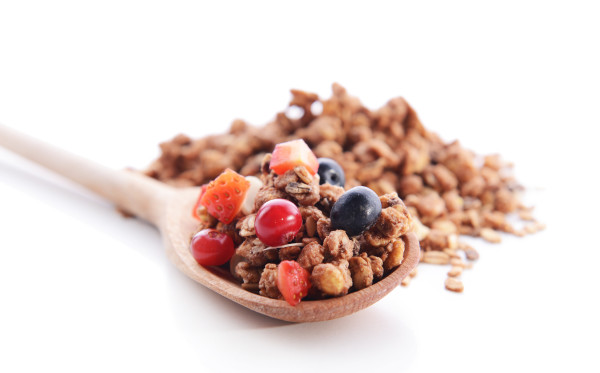 DIY granola
Even the smallest of helpers can make and mix granola and, best of all, you can really add anything you want! If you don't have an oven to toast the oats, leave it plain as muesli instead. This keeps well in an air-tight container.
Ingredients
One packet of rolled oats (usually 4-5 cups in a large bag)
1 tsp of cinnamon or allspice
½ teaspoon of salt
3 tablespoons of light brown sugar
1 cup of any dried fruit (diced small) of your choice, such as figs, dates, raisins, cranberries, blueberries or apricots
1 cup of mixed seeds or nuts of your choice
1/3 cup of light vegetable oil
Method
Pre-heat your oven to 325F/160C. Get your kids measuring and mixing all the dry ingredients in a large bowl. Carefully pour the oil over the top and get hands involved, rubbing and mixing until all the oats are well coated. Carefully spread the granola mix in a thin layer over a baking sheet covered in foil. Bake for 10-15 minutes before checking and carefully stirring. Bake for another five minutes, or until the granola is golden brown.


Poached eggs on toasted brioche with bacon-wrapped asparagus
This dish is a lovely way to introduce older children to stove-top cooking. With very careful supervision, children over seven years old can do this simple and tasty breakfast all by themselves. 
Ingredients
4-6 asparagus spears per person
2-3 bacon slices (½ a slice per asparagus)
2 eggs per person
1 tablespoon of white vinegar for egg poaching
1 slice of good quality brioche
Salt and pepper for seasoning
Method
Everyone can help wrap the asparagus with the bacon slices, and older children can be introduced to using a frying pan. Heat the pan to low-medium and add a touch of olive oil to stop the bacon from sticking. Gently place the asparagus spears in a wide non-stick pan or skillet. Fry gently until one side of bacon is brown and crisp. Using tongs, turn them over carefully to brown the other side.


While the bacon is frying, crack the eggs into a small bowl or cup, two at a time. Poach the eggs by bringing a pan of water and the vinegar to a gentle boil before lowering the heat to barely a simmer.  The vinegar helps to set the whites quickly. Stir the water very carefully, and then lower the eggs, two at a time, directly into the centre of the swirl. Poach eggs for 2.5-3 minutes, before removing them with a slotted spoon. Toast the brioche while the eggs cook. Cut off any frilly bits of egg white and place the eggs gently on top of the brioche. When the bacon is cooked, turn off the heat and remove carefully from the pan with the tongs and place next to the brioche and eggs. Season and serve.
Pan-fried egg in toast with crème fraîche and caviar, and ponzu avocado mash on toast
This is another lovely brunch dish that older children will be able to master quickly. Again, use good quality bread or brioche as the base. This recipe is for one person but can be upped easily for larger appetites and more people. Ponzu sauce is a fruity vinegar is made from Japanese yuzu fruit. It gives a lovely tang and can be found in Japanese supermarkets, delicatessens and some of the bigger supermarkets.
Ingredients
1 slice of bread
Butter for frying
1 egg
½ an avocado
1 tbsp of ponzu sauce
2-3 small cherry tomatoes
1 spring onion
A dollop of crème fraiche
1 tsp of caviar
Carefully cut a heart shape out of the slice of bread with a table knife and set aside. Place the bread in a small non-stick frying pan with a little butter and fry very gently until the slice is nicely toasted on one side. Flip over and crack the egg into the heart-shaped hole. Cover and fry on a low heat until the white is just set (around 2 minutes). Meanwhile, spoon the avocado half into a bowl and mash with the ponzu sauce. Chop the cherry tomatoes and spring onion finely and mix them into the avocado mash. When the egg is set, carefully place the egg toast on a plate, and gently toast the heart-shaped bread in the pan for a few minutes until golden on each side. Remove and spread the avocado mash onto the heart and place with the egg toast. Season the egg toast and spoon some crème fraîche on the top of the egg, before topping with a teaspoon of caviar.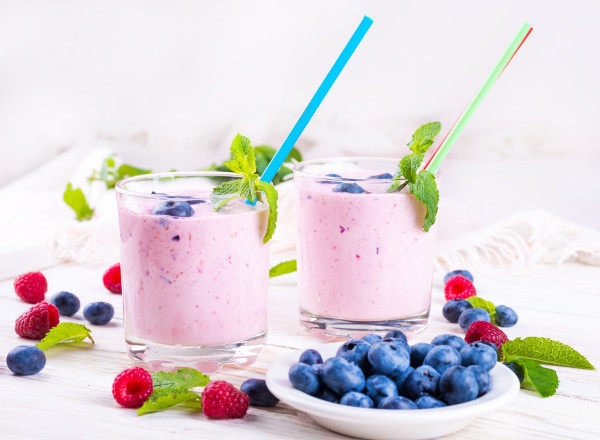 DRINKS
Fruity milkshakes
Little hands can prepare the fruit by washing, peeling and carefully chopping soft fruit (bananas, not blueberries) with a normal table knife. Substitute blueberries for strawberries, raspberries, peaches or other soft fruit for something different.
Ingredients
1 small tub of blueberries
1 banana
2 cups of any type of milk, such as nut, soya, rice or dairy
Method
Put the fruit in a blender with the milk, and blitz or pulse for a few seconds until everything is nicely blended. Serve in a tall glass with a straw!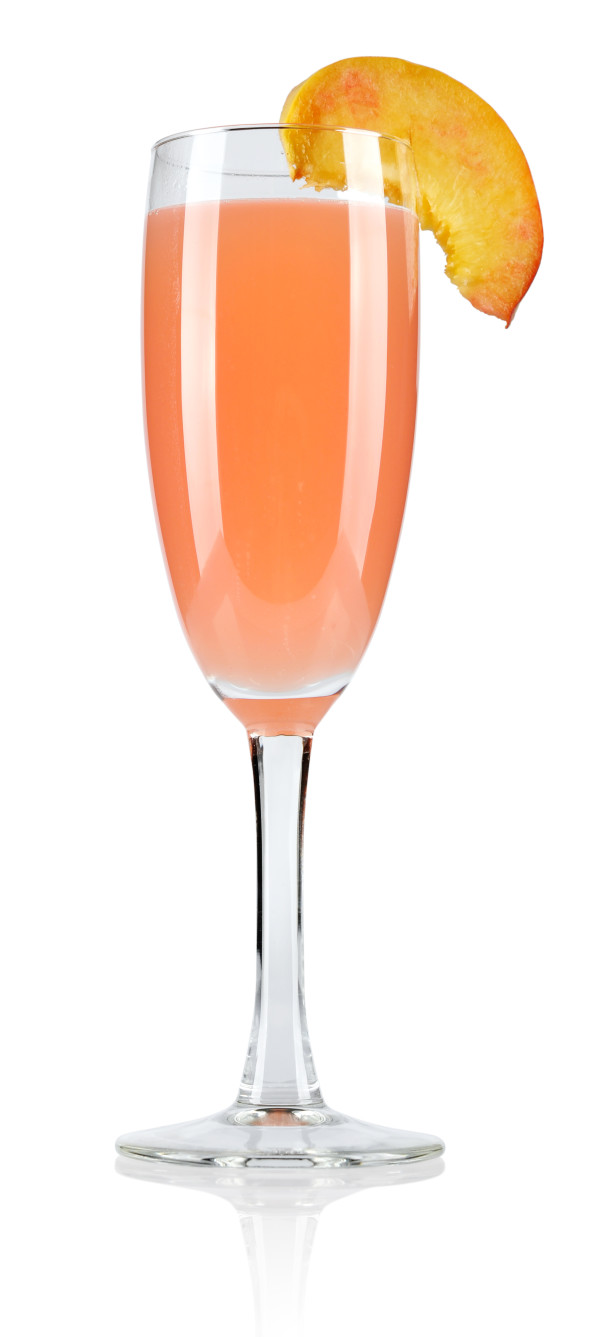 Champagne cocktails
What better way to wake up than with a glass of bubbly to celebrate motherhood? Little ones can join in the toasting too – just swap champagne with soda water or      
lemonade.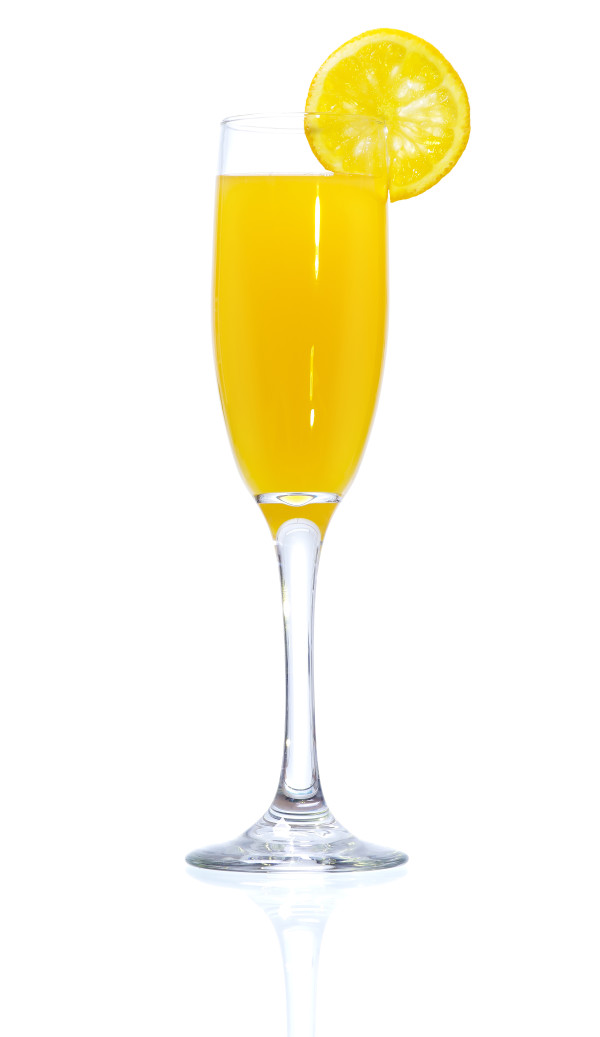 Mimosas – fill a champagne glass with freshly squeezed orange juice, and top with champagne. Stir gently.
Bellinis – fill a champagne glass with ½ peach purée or juice, and top with champagne. Stir gently.