Reading Time: 3 minutes
Party Supplies

Poppy's trunk
If you'd like to give your little one (or yourself) a truly individual party, look no further than Poppy's Trunk. Specialising in candy bars, party packages, personalised cards and detail oriented customer service, Poppy's Trunk will give you a unique party that runs seamlessly. www.poppystrunk.co.
Big bouncers
Bring a new dimension to your event by hiring a bouncy castle from Bouncy Kids. There's a whole host of quality shapes and sizes to choose from, including castles and jungles, as well as water slides. The company also offers entertainment, from clowns and magic to bubble shows. Jump to www.bouncykids.hk.
Party on
Partytime caters for parties for all age groups and has a wide rage of imported items including balloons, giant pinatas, party bags, favours and imported sweets. Hot items at the moment are Shopkins, Pokemon and Happy Jackson party supplies. Partytime stores are located in Prince's Building, Central and Times Square, Causeway Bay and in November two new stores will be opening in Repulse Bay and Discovery Bay.  www.partytime.com.hk.
Boutique offerings

For something special try Simply Love for masses of boutique options and international brands. This one-stop party supply store specialises in decorations, balloons, goodie bags, tableware, decorations and more, all with a touch of uniqueness. Their staff will happily offer advice to ensure an unforgettable event. Visit their store in Lan Kwai Fong or click www.simplylove.com.hk.

Easy option
Another favourite one-stop shop is EezyPeezyParties who make party planning a piece of cake. They organise the event from start to finish, including invites, caterers, entertainers, gift registry and even pictures. In fact, all you have to do is choose the theme
and the guests! Make it easy at www.eezypeezyparties.com.
Party festivities
For convenient online shopping The Party Boutique is hard to beat and delivers direct to your door. Shop in comfort to make your special occasion extra special with party hats, balloons, banners, tableware and even piñatas. They have a vast range of styles and themes to suit any occasion. Make it special at www.partyboutique.com.hk.
Food glorious food
Shamrock has been catering all sorts of occasions since 1994. They offer a wide selection of reasonably priced, tasty treats for children's parties. All you have to do is fill in the online a la carte order form, tick whether you'd like it delivered and you're sorted. www.shamrock.com.hk.
Let them eat cake
Complete Deelite is well-known for their fabulous, show-stopping cakes. There are cute cake pops, colourful cupcakes and centrepiece cakes (including castles, pirates and animals). Rest assured only crumbs will be left! They also sell balloons, cookies (great for party bags) and baking supplies. Get sliced at www.completedeelite.com.
Classic cakes
BallinBakes specialises in quality, classic cakes, which can be paleo-friendly (with no sugar, gluten or dairy). Eat your heart out with the classic Carrot Cake or opt for a Super Hero or frosted rainbow option. Chocoholics will adore the chocolate ganache with themed fondant decoration. Make life sweet at www.ballinbakes.com.

Party Entertainers
 Disco diva
Kids too old for princesses and magic tricks? This might just be the party for you – RF Discos is the latest venture from Rumple and Friends. Aimed at tweens and teens, it provides a professional disco set up with PA system, DJ mixer, lighting rig and special effects. Younger kids are catered to with air guitar and limbo competitions, while older kids are fully chaperoned and watched, but allowed to spend their time freely (without parents). RF Discos travel all over Hong Kong and can set up at any venue. Packages start from HK$6,000. Rock your socks off with www.rfdiscos.com.
Drama
Chunky Onion is a local specialist events management company that helps create truly theatrical celebrations. Their fully trained performers will thrill with themed parties, arts & crafts, henna painting, magicians and more. Add some drama to your event and create amazing, awesome fun. Check out www.chunkyonion.com.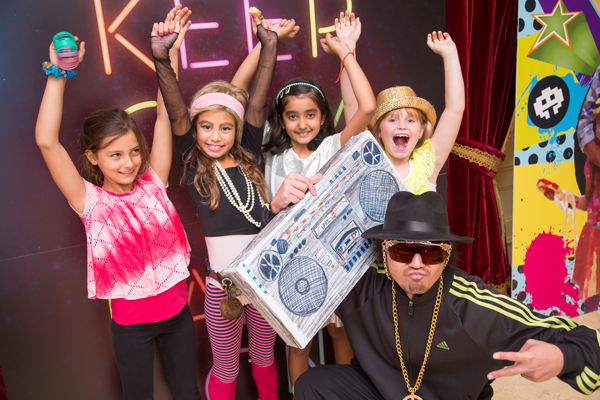 Party boppers!
For the past 18 months, children across Hong Kong have been partying and dancing – or bopping – to a new kind of beat, courtesy of the popular entertainment company NattyBop. NattyBop provides party entertainment for children aged one to eight years. Each child is different so NattyBop tailor makes a list of activities to perfectly suit the birthday boy or girl. Guests are encouraged to dance to the best of their ability and participate in fun, friendly competitive games. Every party promises to be a unique and memorable celebration with the help of NattyBop. To get your groove on visit www.nattybop.com.