Reading Time: 4 minutesWhatever occasion you're celebrating, we want to make it special and – in these busy times – easy to organise. With Hong Kong homes being on the small side (to say the least), the trend is to host parties at an external venue. Many places offer activities, catering and some little extras, so read on to see what piques your interest. We've also compiled a list of entertainers and suppliers to help the party go down a treat!
Best Kids Party Ideas and Venues
Pizza Perfection
Everyone loves pizza so why not host a party where kids can make their own? At a Pizza Express celebration, guests customise their own pizza while sporting a chef's hat and apron. Parties cost $198 per child (plus service) for two hours, complete with cake and invitations. Find more information at their website.
Ryze Above
If you've got a little daredevil, Ryze might just be the venue for you. Party experiences start from HK$2,700/ party of 10. Basic parties include time on the trampolines, a dedicated party space, a host and a special gift for the birthday boy or girl. You can even bring your own food. Find more information at their website.
Arty in the Dark
Let your little artist go wild with an art party in the dark at Hong Kong's blacklight art studio, Sketch Studios. They hold blacklight/UV art sessions for kids that contain a mixture of painting, music, drawing, using chalk on walls, creative accessorising with neon items like masks, headbands, bracelets, sunglasses, face paint and wigs. They also welcome parents and will open their rooftop for the oldies to hang out while the kids go crazy inside. You can even bring your own wine!  Parties here start from HK$250/person for a standard package and $300 for a deluxe package. Find more information at their website.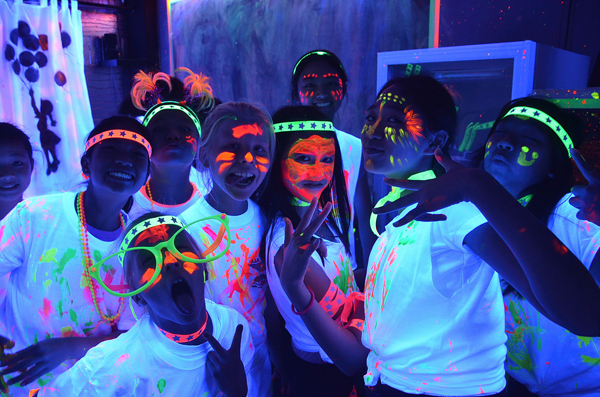 Ready Steady Laser
Laser tag is an ideal activity for when it's raining or when it's simply too hot to do anything outside. It's ideal for teens' parties, as it requires team work, stamina and a good eye! Laser Woods is only available for group events and bookings. Find more information at their website. You need to Whatsapp the team to set up a party.
Arty Party
Create a unique colourful canvas, t-shirt, sculpture, craft, 3D model or collage at Anastassia's Art House. These creative venues have packages from $380 per child (minimum of 10 guests) for two hours of memorable arty fun. Extra add-ons include party bags and invitations. Find more information at their website.
Murder Mystery
This one is for the budding actors and actresses! Harbour Secrets offer unique murder mystery parties where you can dress up, get into character and figure out whodunnit! Find more information at their website.
Sing Your Heart Out
Enjoy a singing at one of Hong Kong's many karaoke venues. We like Red Mr, where party packages for 20 kids on a weekend start at $4,000. Find more information at their website.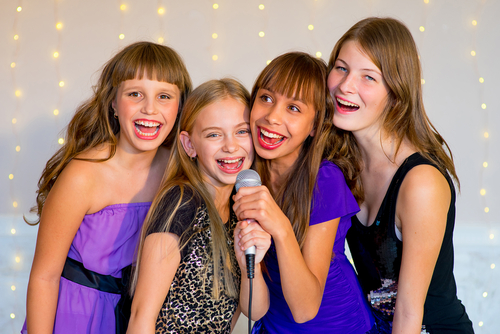 Sweet Success
Children can get their hands messy, but lick-able, while crafting cookies at family favourite Frites. Frites' kid's parties are available weekend afternoons with meals and drinks (perhaps a sneaky glass of wine for the parents?), plus optional entertainment add-ons. Frites restaurants have dedicated play areas where partygoers can even be mini baristas. Find more information at their website.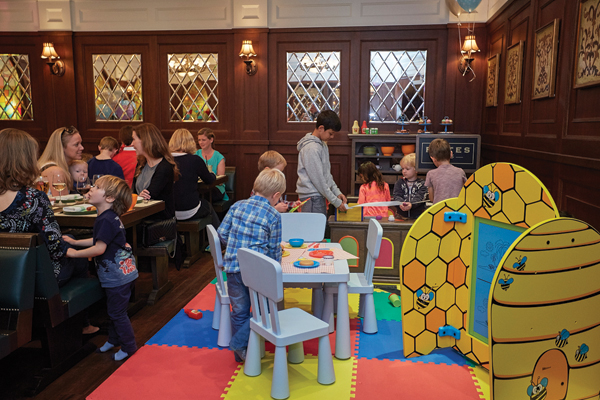 Ding Ding!
It's all aboard a traditional Hong Kong Ding Ding with a tram tour. See the city's sights from atop a vintage tram on a trundle along the tracks. Their catering service, with a variety of choices, will add to the celebrations. Otherwise, take your own picnic for the ride. Prices from $1,300 per hour (minimum two hours hire). Find more information at their website.
Use Your Brains
Escape rooms are a unique party idea where guests use their intellectual and physical skills and have to work under pressure to solve puzzles based on pre-set scenarios. They're really fun for teens- even if they can't escape! There are various escape room party venues scattered around Hong Kong; we like LOST, which has venues in Central, Causeway Bay and Mong Kok. Find more information at their website.
Get Some Height
For the athletic and brave teen, why not go rock climbing? It's a fun (and healthy) way to spend an afternoon and your kid's friends will love it! GoNature is popular for kids' parties, and for good reason- boasting over 300 climbing routes in its 6,000 square foot gym, you're guaranteed a day of fun! Find more information at their website.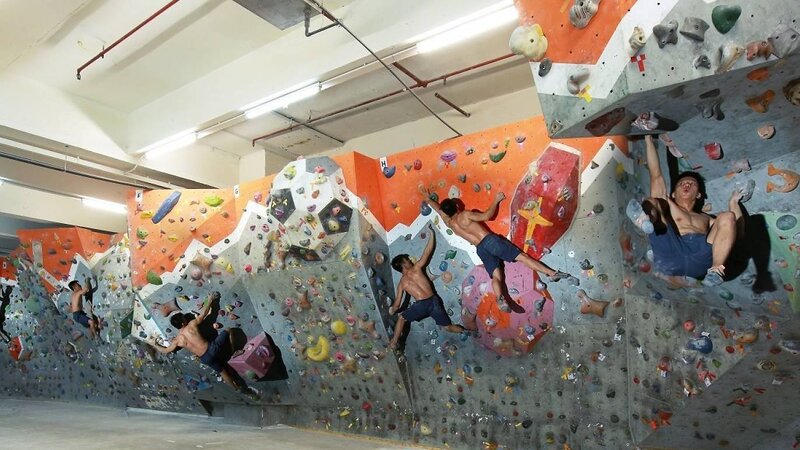 Rock Star Party
Budding musicians will be delighted to party at the Drummers Ark. This is your child's chance to be inside a real-life music studio and taste the life of a rock star. It's a great option for big kids, too. The spacious 1000 square foot space comes with a stack of party gear including a stage, great audio system, Playstation 4, massive projector, musical instruments, games and more. Find more information here.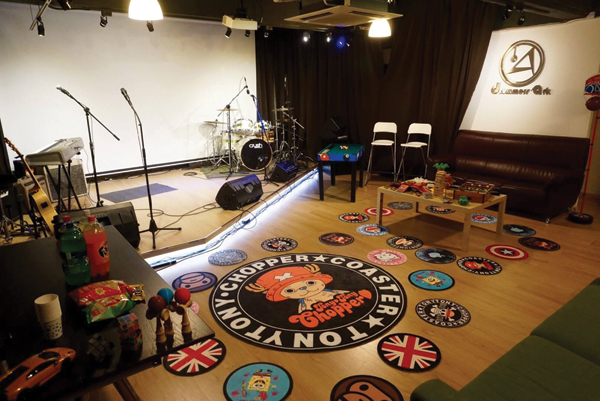 Ocean Park
Ocean Park offers special VIP Premium Tours as well as up-close animal encounters (including penguins, dolphins and pandas). Combine excitement with education, along with rocking those rides. Eat at Neptune's Restaurant and be enthralled by the marine life before your very eyes. Learn more at their website.
Make Sweet Music
Hosting a musical party at Baumhaus will certainly hit the right note! Celebrations at this creative venue include private studio hire, playroom access and a special Kindermusik or Drama class for the group. Open daily and conveniently based in Admiralty. Learn more at their website.
No matter what your child is looking for for their party, we've got your covered with this list of party venues in Hong Kong!
Related articles: