Reading Time: 5 minutesThere's an inspirational story behind Cambodia's first island resort, Song Saa Private Island, and it reveals a whole new archipelago to explore, writes Laura Miller.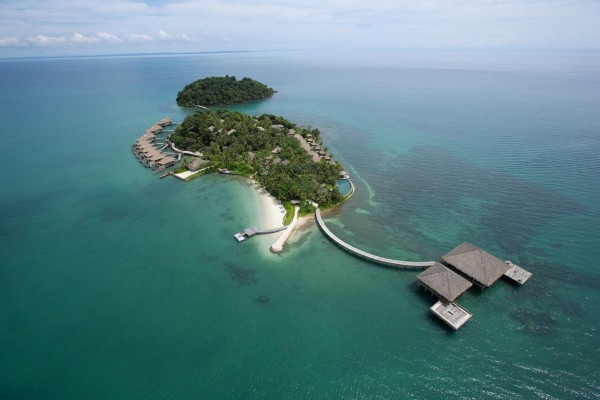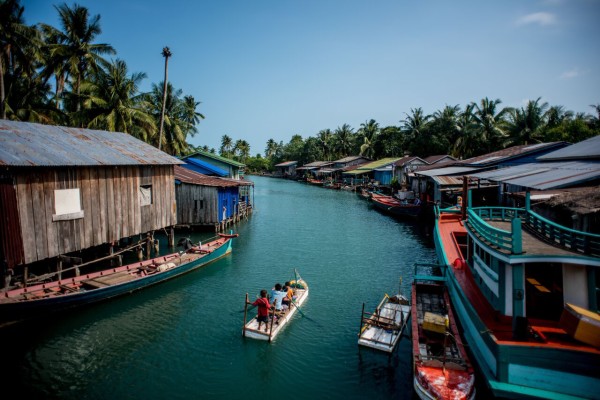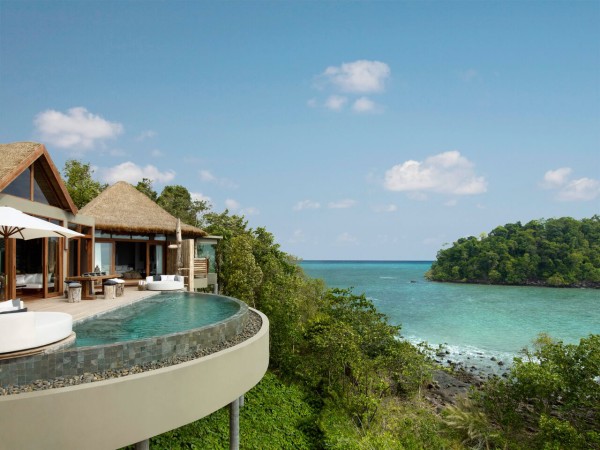 We all dream of changing our lives sometimes: moving somewhere exotic, starting a charitable foundation, buying a remote tropical island – or two. Most of us stick to planning a holiday when daily life becomes a little humdrum, but Rory and Melita Hunter went the whole hog, including creating a destination you'll be itching to escape to the next time you have a few days off.
Now based in Hong Kong, the dynamic Aussie couple moved to Phnom Penh in 2005, planning an experiential year out before settling in New York. Little did they know that this spur of the moment decision to run an advertising agency in the Cambodian capital would lead to the adoption of their son, the establishment of Cambodia's first marine reserve, a working relationship with Prince Albert II of Monaco and the founding of Song Saa Private Island.


Beyond the ruins
A private island resort in Cambodia? Yes, Cambodia. Long since associated with ruins and backpackers, there is in fact much more to the country than Siem Reap's Angkorian relics and Phnom Penh's harrowing reminders of Pol Pot's cruel regime. Vast tracts of jungle remain almost unexplored, endangered Irrawaddy dolphins ply the waters of the Mekong River near Kratie up north, and the coast offers quaint seaside towns such as Kep and Kampot, their shores lined with convivial crab shacks. And then there is the little-known Koh Rong Archipelago. An hour's speedboat ride from the town of Sihanoukville, the archipelago consists of 15 forested islands with beaches rivaling Thailand's – sans the tourists.
As Cambodia opens up and travellers venture beyond Siem Reap, it's inevitable that some things will fall victim to tourism's fast-buck mentality. Just inland from Kampot for example, Bokor Hill Station – a 1920s colonial ghost-town atop a verdant escarpment – has already been ruined by a monstrous resort. Luckily there are those with a longer-term view: the Hunters and their Song Saa Foundation are determined that this will not happen to the Koh Rong Archipelago.
Koh where?
Lying off Cambodia's coastline almost directly across the Gulf of Thailand from Koh Samui, the Koh Rong Archipelago is the country's new travel frontier. The biggest of the islands in the archipelago is Koh Rong, almost exactly the same size as Hong Kong Island at 78 square kilometres. Elongated in form, stretching from southeast to northwest, it is predominantly hilly with a small mountain in the northwest. Almost completely forested, with countless streams and waterfalls, the island is fringed by approximately 43 kilometres of sandy beaches. The island is also rich in mangrove swamps, and is home to four villages. The main livelihood of inhabitants is fishing, as the reefs surrounding the islands support an abundance of marine life. An increasing number of locals have found jobs in the growing tourism sector however, particularly in the villages of Koh Tuich and Sok San.
This development is very recent, as when the Hunters first heard of the islands in 2006 from a fisherman friend, even Wikipedia had nothing to say about them. After proving their existence via Google Maps and with curiosity well piqued, the Hunters decided to see the islands for themselves and hired a boat from Sihanoukville. (Named for Cambodia's late king, this port town is less than royal in appearance today due to a very backpacker-centric tourism model).
Four hours from the mainland by fishing boat or long-tail ferry (but only one hour by powerful speedboat), the islands are truly remote, and the Hunters were completely taken by their beauty and potential. They were equally dismayed by the lack of waste management and the toll being taken by unrestricted fishing and farming practices. Mangroves were being ripped out to make charcoal, forests cleared to plant palms, sea grass removed to expose sandy banks, and said sandy banks covered in plastic trash. And at the time, none of this was tourism related.
On the last day of their holiday, the couple stopped on the beach of Koh Ouen, one of two tiny islands off the northeast shore of Koh Rong. Half cleared for a coconut plantation and marred by a rubbish heap of epic proportions, Rory and Melita nonetheless jumped at the chance to purchase the islands when the resident family offered to sell, wishing to move to the mainland. Well versed in purchasing property in Cambodia, having restored 27 colonial buildings in Phnom Penh, the Hunters were able to successfully navigate the relentless red tape involved. By 2007, they were the proud owners of the twin islands they named 'Song Saa' – Cambodian for 'sweethearts', but the work had just begun.
A foundation of hope
Restoring Koh Ouen to its natural glory (Koh Bong had luckily never been touched) was going to require serious manpower and a number of services that didn't yet exist in the archipelago. The Hunters approached the villagers of Prek Svay, the closest village to Song Saa, to recruit assistance in clearing the rubbish from Song Saa. This collaboration led to the founding of Koh Rong's first waste management centre, which subsequently undertook the clearing of approximately two decades' worth of rubbish from Prek Svay itself. Needless to say the villagers gave the Hunters their full support in future endeavours. These included the designation of fishing zones for the four villages and the establishment of Cambodia's first marine reserve. This was expanded to 400 square kilometres in early 2015 with the endorsement of the Prince Albert II of Monaco Foundation.
As the replanting of Song Saa's indigenous forests began to bear fruit (today you would never know it had been necessary), so other projects developed, including conservation, education, healthcare and community initiatives. Mangrove nurseries were planted, children were vaccinated and the local school celebrated their star pupil winning a scholarship in Phnom Penh. But all these initiatives (which culminated in the establishment of the Song Saa Foundation in 2013) needed funding, and so the idea for a resort to generate that income was born. In 2008 Rory and Melita started building Song Saa Private Island, ensuring that every aspect of the development was underpinned by a deep commitment to sustainability.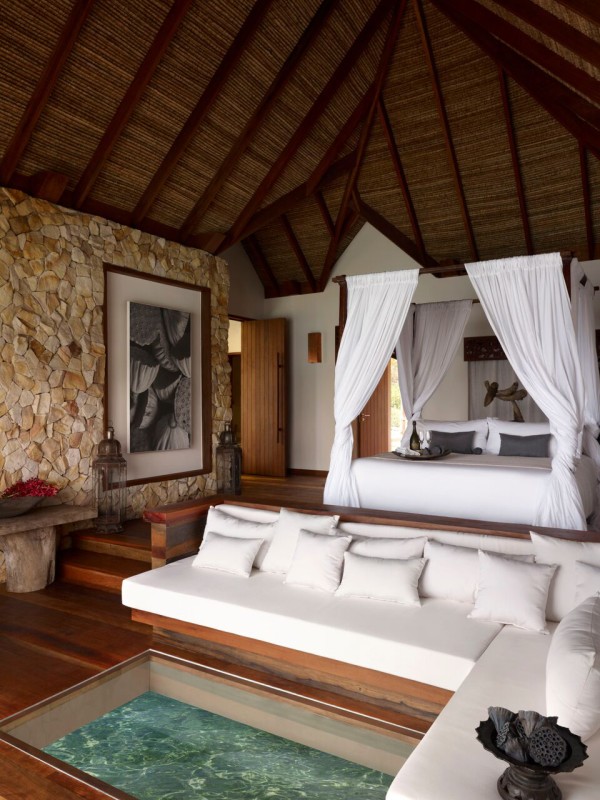 A new type of luxury
Designed by Melita and built with sustainable materials, Song Saa Private Island opened in March 2012 and has since won international recognition and a host of key industry awards. The islands of Koh Ouen and Koh Bong are connected by a wooden footbridge, but Koh Bong remains completely undeveloped – a haven for local songbirds. Koh Ouen is also lushly forested, with 27 villas set over the water or tucked amongst the foliage on the hillside – all with private plunge pools, sundecks and expansive ocean views. Lucky enough to stay for three nights, I'd happily have spent all that time in our breathtaking Jungle Villa, except that there is so much else to do.
Eating is always high on my list of priorities, and the all-in rates structure offered by the resort proved ideal. An open-sided restaurant and lounge are set at the end of a boardwalk, surrounded by the sea, while another more casual restaurant offers feet-in-the-sand dining with a menu ranging from fresh sushi to authentic wood-fired pizzas. All the food is sublime, and the private dining experiences with exquisite multi-course menus were a real highlight of our stay. As was kayaking through the mangroves and hiking to a waterfall on Koh Rong, visiting the village of Prek Svay, sailing a Hobie Cat from Song Saa's white-sand beach, lazing by the main swimming pool, doing early-morning yoga and relaxing in the spa. I also loved interacting with Song Saa's staff members, who are as passionate about the resort and foundation as the Hunters themselves.
There is no doubting the spectacular natural setting of Koh Rong for a high-end luxury resort. Consider that the popular Survivor series has filmed a number of international seasons on the island, and they tend to choose the most photogenic (and remote) destinations possible. But if I had to choose where I was sleeping when exploring this beautiful archipelago, it would be Song Saa Private Island for sure: luxury with a conscience, and an inspirational story behind it. I might just think about moving somewhere exotic…