Reading Time: 2 minutes
Southside mum Corinne De Castro was a picture of success – great marriage, three wonderful kids and a full-time job as a commercial television lawyer. Corinne had always enjoyed good health and maintained a balanced diet. She certainly wasn't prepared for the news that blindsided her after a routine mammogram at the age of 43.
"A shadow in my breast led to a biopsy which revealed I had developed cancer," says Corinne. "I was completely shocked, it was just so unexpected and so, so frightening."
What followed was surgery to remove the tumour and six weeks of daily radiotherapy treatment.
"Lying completely still for hours on end in the treatment tube is not only physically draining but takes so much out of you emotionally as well," says Corinne. "I felt like my life had been placed in the hands of teams of doctors and endless tests, that I had essentially lost all control over my future."
It was then that Corinne made a life-changing decision to empower herself through nutrition and self-love.
"I began to do as much as I possibly could to recover from cancer, and to do what I could to ensure it wouldn't return, by reducing inflammation at a cellular level within my body," she says. "When I began to educate myself about nutrition, I found that it can be a major part of staying disease-free."
Corinne gave up her career and focused on becoming a certified health coach. She took up meditation, yoga classes and learnt to be calm, mindful and live in the moment.
"That just didn't exist in my previous life," she says.
The experience has led to a new career path – assisting others to live with health and vitality. She has also developed a range of organic products including her signature protein smoothie blends.
"MOXO Living is a platform for me to share my knowledge and inspire others to live their lives to the max," says Corinne. "After overcoming the shock of my diagnosis, I needed to move forward and turn it into a positive part of my daily life."
Now four years on from her treatment, Corinne no longer fears what the future may hold.
"As we get older our bodies change, and we need to accept that change and embrace it," she says. "It will lead to more personal power than you can imagine."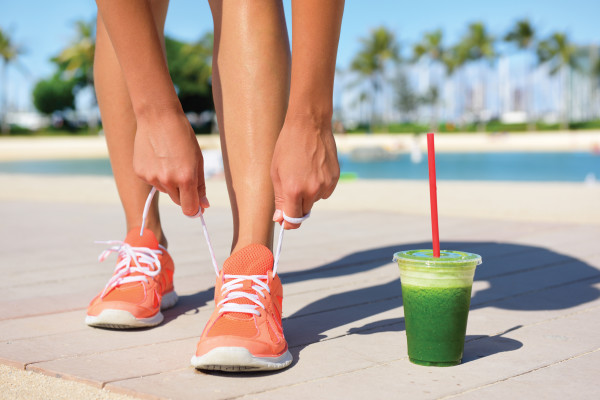 ---
Live better: 

Corinne's top tips for a healthier life
Start the day with a mug of hot water, fresh lemon juice, slice of ginger and two teaspoons of apple cider vinegar

Increase vegetable intake and buy organic
Decrease intake of wheat, gluten, dairy, sugar, red meat, alcohol and caffeine
Drink more water and herbal teas
Do some form of physical activity every day, even if it's just walking the dog
Meditate daily, even just for 20 minutes
Attempt 7-8 hours sleep per night
Listen to your body; be more forgiving of yourself and learn to say "no" more often!
For more information, go to www.moxoliving.com