Reading Time: 5 minutes
You've probably planned the kid's packed lunches for the week ahead, but have you spared a thought about what you're going to eat? Bec Dickinson shares some recipes from her book Love Your Lunches to give you inspiration.
Lunch is a mid-day sanctuary. A well-justified moment to stop, refuel and recharge. The promise of a delicious lunch to come gives us the eagerness to make it through the morning shuffle and onto our well-deserved meal break. So, when the time of day rolls around, rather than turning to a questionable frozen meal, or picking at your child's plate of fridge paraphernalia, it's time to build your own little plate of lunchtime heaven.
To prepare a lunch with ease, a small amount of prior planning can make the world of difference, giving you more time for the actual eating and enjoying. Making sure your pantry and fridge is stocked with the classic staples will mean a delicious lunch is never far away. Your freezer is also your greatest ally. Cook ahead or in large batches then simply skip to the fridge and defrost when lunch time rolls around. If you're a desk lunch frequenter, creating a small drawer of lunch essentials such as dressings, dried herbs, nuts and seeds, and of course, salt and pepper, will mean your lunch will never verge onto the dull track.
After all, it's all about the small touches that will keep your lunch a little extra special.
The days of the soggy sandwich are over, and lunch is back to reclaim the day. These quick and simple recipes aren't taxing on your time and better yet, work well with the help of little hands. After all, many hands make for light work!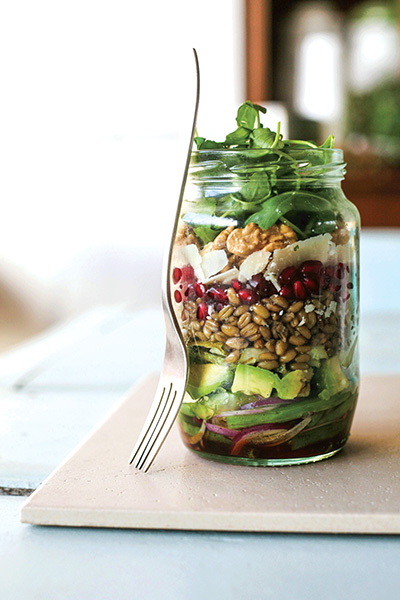 BALSAMIC,POMEGRANATE & ROCKET JAR SALAD
This has all the elements a salad should: acidity, crunch, freshness, bite and sustaining power so it can stand alone as a meal. It can also last up to three days in the fridge as an added bonus.
VEGETARIAN | MAKES 1 LUNCH PORTION
FILLS 1 x 1 LITRE (34 FL OZ) JAR
Ingredients
1 tbsp balsamic vinegar
3 tbsp olive oil
50 g (1 oz/scant cup) green beans
¼ small red onion, sliced
½ avocado, peeled, stoned and cubed
½ pear, finely sliced
1 tsp lemon juice
3 tsp pomegranate seeds
70 g (2 oz/generous cup) cooked freekeh
small handful of Parmesan shavings
4 tbsp walnuts, halved
small handful of watercress
small handful of rocket (arugula)
salt and freshly ground black pepper
Method
Dressing: pour the balsamic and olive oil into the bottom of the jar and swirl to combine, then sprinkle in the seasoning.
Hard vegetables: blanch the green beans by bringing a small pot of salted water to the boil and cooking for two minutes or until bright green, then immediately remove and shock in ice cold water (this can be done the night before). Add the green beans and onion to the jar.
Soft fruit: add the avocado and pear, with lemon juice on top to prevent both going brown. Then add the pomegranate seeds.
Grains: spoon in the freekeh.
Protein: sprinkle over the Parmesan.
Crunch: add the walnuts.
Leafy greens: pack in the watercress and rocket.
Seal: tighten the lid, and store in the fridge. Tip into a bowl to serve.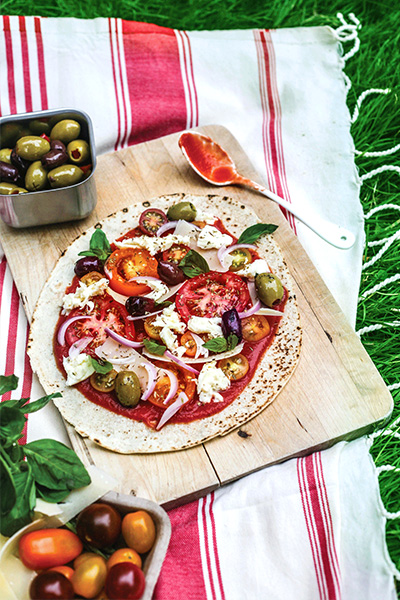 NO-BAKE MEDITERRANEAN FLATBREAD PIZZA
Pizza that is ready in seconds is always a win. Aim for a good-quality passata and flatbread for the tastiest results.
VEGETARIAN | MAKES 1 LUNCH PORTION
Ingredients 1 large wholewheat flatbread 2 tbsp passata 1 tomato, sliced ½ red onion, finely sliced handful of shaved Parmesan handful of mozzarella, torn 100 g (3 oz/ cup) pitted olives handful of basil leaves 1 tsp dried oregano
Method
To pack: fill a large lunch box with flatbread wrapped in cling film (plastic wrap), a small container filled with passata, and tomato, red onion, mozzarella, Parmesan, olives, basil and oregano sealed in separate small bags.
To assemble, spread the passata over the flatbread, then lay the tomato slices on top. Evenly sprinkle over the red onion, Parmesan, mozzarella, olives, basil leaves and oregano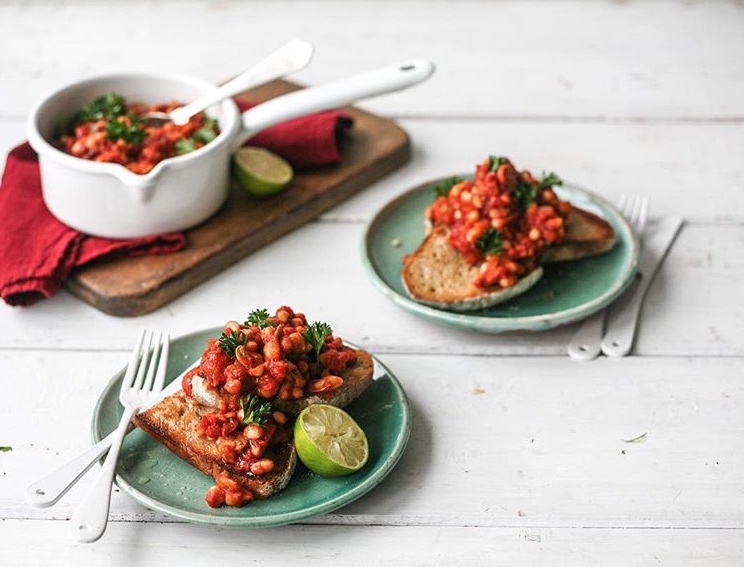 SMOKY PAPRIKA BAKED BEANS ON GARLIC TOAST
Once you've made baked beans from scratch, you'll never look at the supermarket ones in the same way. As a bonus, this tastes even better the next day. You can serve these on fresh slices of sourdough to add a crunch to your lunch.
VEGETARIAN | VEGAN | DAIRY-FREE
MAKES 4 LUNCH PORTIONS
Ingredients
2 tbsp olive oil, plus extra for drizzling
1 brown onion, finely diced
3 garlic cloves, finely sliced
1 tbsp smoked paprika
2 tbsp brown sugar
2 tbsp white wine vinegar
150 g (5. oz/1 cups) button mushrooms, sliced
2 x 400 g (14 oz) tins chopped tomatoes
400 g (14 oz) tin cannellini beans
400 g (14 oz) tin haricot beans
8 sprigs of thyme, leaves only
2 tbsp parsley leaves
8 slices of sourdough bread
1 lime, cut into wedges, to serve
Method
Heat the oil in a medium saucepan, add the onion and two-thirds of the garlic and sauté for five minutes.
Stir in the paprika, sugar, vinegar and mushrooms. Then add the tomatoes, beans and thyme. Simmer for 20 minutes or until the sauce has thickened. Stir in the fresh parsley.
The beans can be frozen at this point. Portion between containers and freeze. Defrost in the fridge overnight before serving. If not freezing, store the beans in lunch boxes in the fridge.
To serve, reheat the beans in the microwave until heated through. Toast the bread until crisp and firm, then rub on remaining garlic. Drizzle over a little olive oil then spoon the beans on top. Serve with a wedge of lime.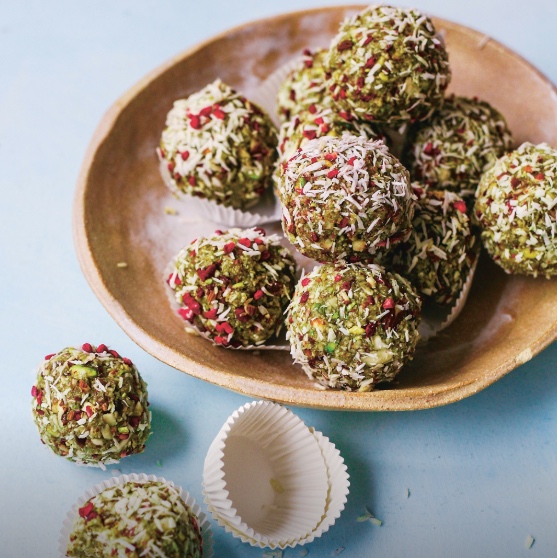 MATCHA, ALMOND & RASPBERRY BLISS BALLS
Perfect to make on the weekend in preparation for the week ahead (if they aren't all consumed by Sunday night).
VEGETARIAN | GLUTEN-FREE | DAIRY-FREE
REFINED-SUGAR-FREE | MAKES 20 BALLS
Ingredients
120 g (4 oz/scant cup) coconut oil
200 g (7 oz/generous cup) clear honey
300 g (11 oz/2 cups) raw whole almonds
150 g (4 oz/scant cup) pistachios
260 g (9 oz/scant 3 cups) desiccated coconut
70 g (2 oz/generous cup) dried dates
3 tsp matcha powder
2 tbsp almond butter
1 tsp vanilla extract
pinch of sea salt
4 tsp freeze-dried raspberries, plus 1 tbsp for decoration
Method
In a small saucepan over a low heat, melt together the coconut oil and honey. Remove from the heat, and set aside.
In a food processor, combine the almonds, pistachios, 160 g (5 oz/1 cup) of the desiccated coconut, dates, matcha powder, almond butter, vanilla extract and salt. Pour over the melted coconut oil and honey, and blitz on high speed until the nuts are roughly ground down, but still chunky and the mixture sticks together. Add the freeze-dried raspberries and pulse until they are dispersed throughout the mixture.
In a small bowl, toss together the remaining coconut and freeze-dried raspberries.
Line a small baking tray with baking parchment. Take heaped tablespoons of the mixture and roll into 20 equal sized balls. Coat in the coconut and raspberry mixture and place on the lined tray.
Leave in the fridge for four hours or overnight to set. Store in a lunch box to transport to work. Lasts for up to one week in the fridge.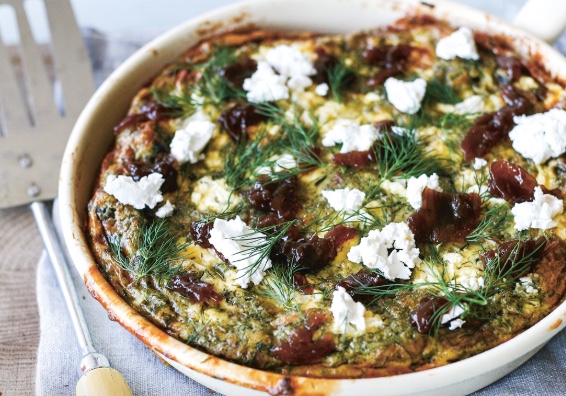 CARAMELISED ONION, MUSHROOM & GOAT'S CHEESE FRITTATA
You can also cook your frittata in individual muffin cases to make quick-grab meals that will defrost in time for lunch! Simply pour the mix into 10 mini muffin cases and bake for 12 minutes or until lightly golden and just set.
VEGETARIAN | GLUTEN-FREE
MAKES 4–6 LUNCH PORTIONS
Ingredients
3 tbsp olive oil
300 g (10 oz/3 cups) mushrooms, sliced
small bunch of thyme (about 10 sprigs)
2 red onions, sliced into fine wedges
1 tbsp brown sugar
1 tbsp balsamic vinegar
9 large eggs
3 tbsp milk, semi-skimmed or whole (full-fat)
3 tbsp chopped dill, plus extra to garnish
100 g (3 oz/ cup) goat's cheese, crumbled
salt and freshly ground black pepper
Method
Heat 1 tablespoon of the oil in a deep ovenproof saucepan (22 cm/ 8 in) over a medium heat. Add the mushrooms and thyme and sauté until tender. Remove the mushrooms from the pan and set aside.
In the same saucepan, heat the remaining oil over a low heat. Add the onions and cook for ten minutes or until softened and lightly golden, stirring regularly. Stir in the sugar and vinegar and cook for a further five minutes or until caramelised.
Preheat the oven to 200C (400F/ Gas 6). In a bowl, whisk together the eggs and milk, stir in the dill, mushrooms and half the goat's cheese, then season to taste. Pour this into the saucepan with the caramelised onions, making sure no onions are stuck to the bottom of the pan, stirring gently.
Cook the frittata mixture for two minutes or until the edges start to set. Sprinkle over the remaining goat's cheese and cook in the oven for 15 minutes or until golden and set. Allow to cool.
Cut the frittata into portions, wrap in cling film (plastic wrap), place in containers and freeze. When ready to eat, defrost in the fridge overnight, and reheat in the microwave until warm. Garnish with fresh dill, to serve.
This article appeared in Playtimes September Issue 2017 and updated August 2019