Reading Time: 4 minutesThis emerald strip on the south-western tip of India is extraordinarily exotic: endless stretches of paddy fields, the giddy aroma of spices blended into the warm tropical air, Portuguese-styled churches and dark monsoon clouds that rush in from the Arabian Sea to cloak this coastal state in thick drops of torrential rain. It's easy to see how the languid beauty of Kerala has earned it the well-deserved title of God's Own Country.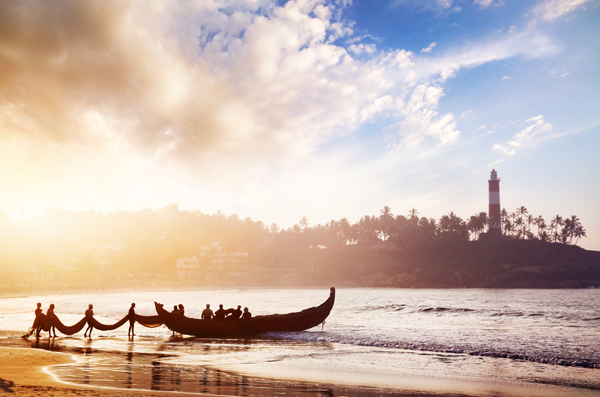 Legend goes that Kerala was formed when Parusurama – an avatar of the mighty Hindu God Vishnu, threw his axe into the Arabian Sea to fight back the advancing waters and reclaimed the land of present-day Malabar. Although predominantly Hindu, Malayalis (the people of Kerala) are a diverse population including Christians, Muslims and Jews, some of whom have historic connections dating as far back as the year 52. 
Kerala has long been a land sought out by ambitious traders. This spice-rich coast attracted Arabs, Jews and Chinese traders in droves. In 1498, the Portuguese explorer Vasco da Gama charted a sea route to Kerala, setting the stage for European domination for the next four centuries – including by the Dutch and British – all of whom brought in waves of cultural influences still evident in the cuisines and architecture of the state.
"Kerala is the perfect destination for families. It's safe, quiet and relaxed. Within a two-hour radius, you can go from beaches to hill stations, or switch between trekking and culture-infused city walks," says, Maneesha Panicker, a Malayali and founder of Silk Route Escapes, an experiential travel outfitter offering custom-crafted expeditions. 
Picking a season
May to September is the monsoon season, which according to Ayurveda, provides patients with the sensory insulation and suppleness to make the most of holistic treatments. It can bring relentless rain for days on end, but it's a magical time to visit Kerala and see it transformed from a vibrant world into a muted watercolour one. Christmas to New Year is peak tourist season, so expect to see popular attractions thronging with tourists and holiday revellers.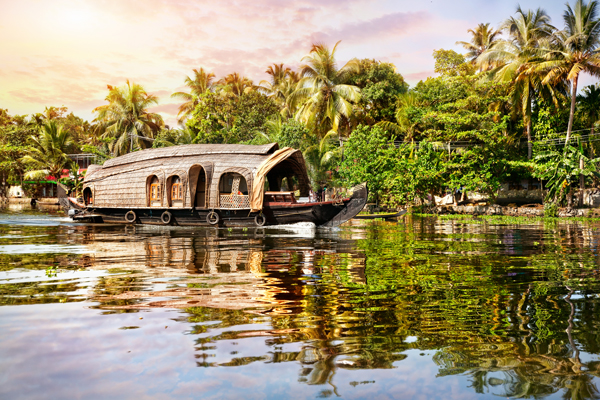 Labyrinthine backwaters 
The intricate network of backwaters, lagoons and channels is symbolic of Kerala, consistently making it to every "Journeys of a Lifetime" list. The 600-mile-long stretch of waterways is best experienced on kettuvallams, traditional thatched houseboats that ply India's largest lake – Vembanad Kayal. These wooden barges once carried grains from the fertile paddy fields to the numerous villages dotting the backwaters, but now come outfitted with modern amenities, air-conditioned bedrooms and a personal cook, all beckoning visitors for overnight stays. Although the government has made attempts to regulate the standards, the houseboat experience can be perfunctory. "Choose reputed houseboat providers that have been consistently reviewed well on TripAdvisor," or risk being stuck with a dilapidated rusty boat that reeks of diesel fumes, says Maneesha, who adds, "Definitely do a day cruise on a kettuvallam, and mix it up by staying overnight at one of the many idyllic resorts along the backwaters. Houseboats have to stop plying at 6pm and will dock alongside a sandbar or island for the night, which sometimes means stagnant water and mosquitoes." When choosing a houseboat, ask if it can navigate the many narrow canals that feed off the lake, or alternatively, whether they'll provide a canoe to row into smaller inlets. It is the best way to observe the everyday lives of villagers who call the backwaters home.
Kochi's old-world charm  
Fort Kochi is a tiny port and at the epicentre of Kerala's colonial history. This little island is dense with stories of settlers who arrived at its shores and fought for control of the global pepper trade, the black gold of its time. It is easily covered on foot or by bicycle, and delights visitors with its red-tiled colonial bungalows, cantilevered Chinese fishing nets, the Dutch Palace (originally built by the Portuguese) and narrow lanes lined with spice shops. 
Fort Kochi's most visited site is the historic Jewish Synagogue, the oldest functioning synagogue in the Commonwealth. Malabari Jews were original settlers who migrated to India from Mesopotamia during the reign of King Solomon and assimilated into the local population. The 16th century saw the arrival of the Paradesi Jews, who were fleeing persecution in Spain and the Netherlands. Today, only a handful of Jewish families remain, most having emigrated after the formation of Israel.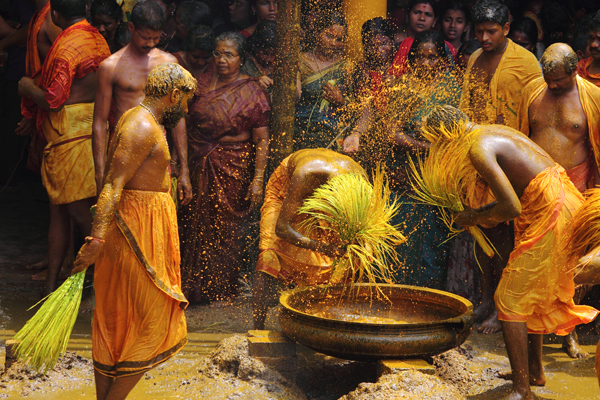 Heritage homes
It's hard to miss Kerala's distinct architectural style, easily identified by low sloping roofs and gabled windows, which have evolved to counter heavy humidity and wet monsoons and are built using principles of vastu shastra, the ancient science of architecture and construction. Maneesha recommends having a vastu expert guide you through ancient building techniques when visiting architectural masterpieces such as the Padmanabhapuram palace. Traditional homes do not use any iron joinery and craftsmanship is passed on from one generation of skilled asaris (carpenters) to the next by singing instructions in verse. 
In the last two decades, there has been a revitalisation of these traditional homes, with conservationists buying entire crumbling tharavadus (traditional homes), and reassembling them back, timber-by-timber, like a big jigsaw puzzle. There is no better way to appreciate the detailing and skill of Kerala's architecture than by staying in one of these charming heritage homes and resorts. 
Ancient folk arts
Kalaripayattu – Kerala's ancient martial art – is a combination of grace and power. It predates all other martial art forms, and was later adapted by China and countries further East. At the peak of its popularity, kalaripayattu was given equal importance as reading and writing, and was practised by all castes, genders and religions in Kerala. "You can catch a performance at a kalari school, where you see this graceful martial art practised on traditional red clay pits," says Maneesha. "This is a great opportunity for interaction; children as young as eight can be taught the basics of self-defence by a private kalari instructor.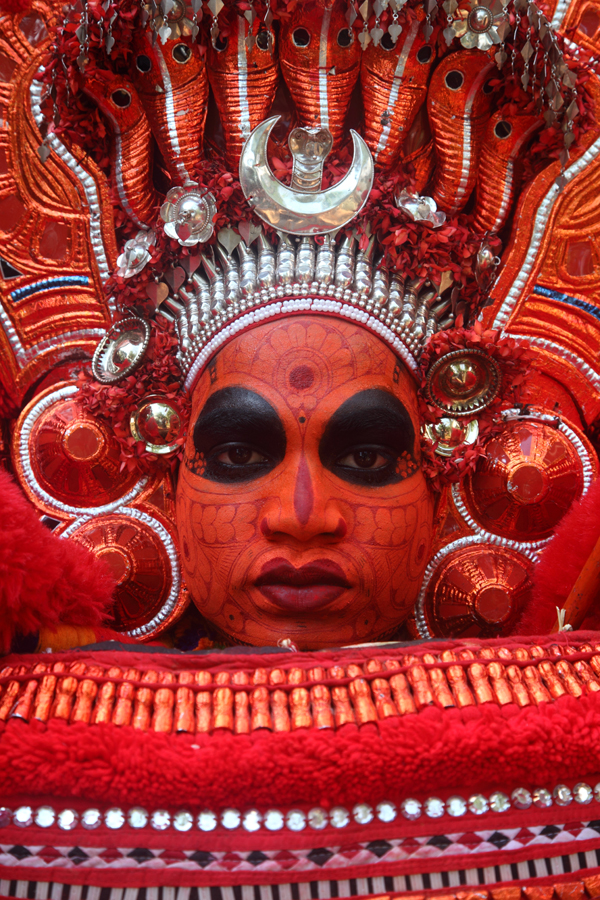 "Another experiential activity is to get up close and personal with a kathakali dancer. This stylistically rich dance-drama requires hours of elaborate make-up and costume preparation. We arrange back-stage access for visitors to meet the performers who explain the stories, facial expressions and hand movements, which makes the kathakali performance engaging for young children," says Maneesha.
Temple festivals and famous boat races of Kerala are a sensory carnival. If your trip coincides with these popular festivities, you will be rewarded with ceremonial processions of tusked elephants, the rhythmic beating of drums and clanging of bells, mixed in with the heady smell of incense and jasmine flowers.  
Complete with hikes
The dense rainforests and hills of the Western Ghats are a treasure trove of bio-diversity with two national parks and 12 wildlife sanctuaries. There are plenty of child-friendly hikes through mist-shrouded valleys, rubber plantations and coffee estates, and opportunities to meet mahouts who teach you how to care for elephants. It doesn't take long to realise there is nothing subtle about Kerala; the beauty of this mystical land lies in its rawness and unadulterated verve.