Reading Time: 3 minutes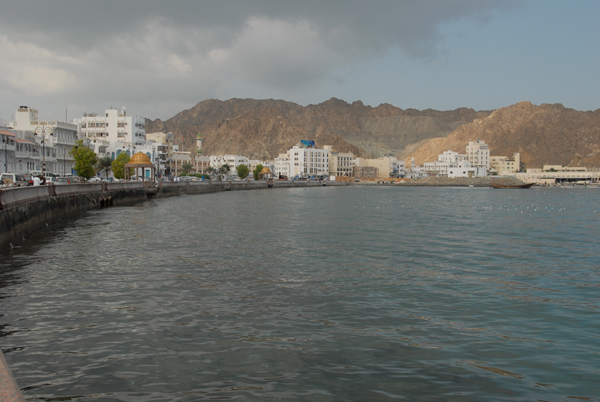 I know the first thing you are thinking, but are too embarrassed to ask: Where exactly is Oman? After we clear that up, your second thought is probably: With kids? Is she serious?
Absolutely. Oman is a developed and stable Arab country. We have all heard so much about Dubai, but Oman is the real deal. It is a relatively unknown spot, wholly different from any place you have likely been before. Moreover, there are beaches, pools and unique experiences that will delight the younger set as well.
The Sultanate of Oman is located in the Middle East and borders the United Arab Emirates (UAE), Saudi Arabia and Yemen. A nine-hour flight to Dubai and then a one-hour flight gets you to the capital city of Muscat (No relation to the grape unfortunately, but be assured that alcohol is available in licensed hotels and restaurants).
Speaking of Dubai, we spent three nights there before flying to Muscat. It's a perfect way to break up the journey and is a marked contrast to Oman. The Atlantis is a mammoth hotel built on the manmade Palm Island with a water theme park that includes water slides, an aquarium, pools, beaches and even a dolphin interaction programme. Additionally, if you'd  like to expose your children to snow skiing before coughing up tens of thousands of dollars to fly to Japan, a few runs down the slopes at nearby indoor Ski Dubai might just do the job. But after all of the glitz and glamour, you will be hankering for some authenticity – a taste of the real Arabia.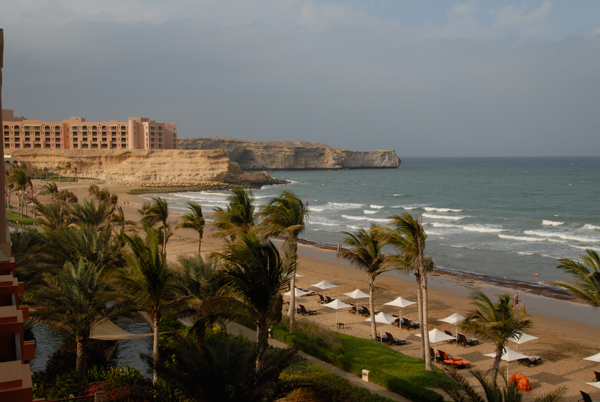 Muscat love
After a short flight from Dubai to Muscat, it is only another 45-minute drive to several excellent family-friendly hotels. We chose the Shangri-La's Barr Al Jissah, which is actually three hotels within one and located on a beautiful one-kilometre barr of private golden sand on the Gulf of Oman. The lazy river winds its way in front of the hotel for half a kilometre, complete with inflated double inner tubes that are perfect for floating alongside a young child. There is an indoor/outdoor playroom, pools and camel rides that will wear the young ones out. And depending on the time of year, you can go scuba diving, snorkelling, dolphin- and whale-watching, and see turtles nesting.
It's tempting not to leave the hotel, but seeing the city of Muscat is a must, with its fascinating culture and history that dates back thousands of years. Take a walk down the waterfront on the Corniche (a three-kilometre-long beach road), drink cardamom coffee and then enter the Mutrah Souk, where you can bargain for frankincense, perfumed oils, nuts, spices, incense, silver, leatherwork and pottery. The kids will enjoy buying the local garb – boys wear an ankle-length shirt called a dishdasha with a beautifully hand-embroidered hat; girls wear the colourful national dress (until puberty when they begin to wear the black abaya). Frankincense and myrrh from Oman = Christmas gifts for all our family and friends. Check.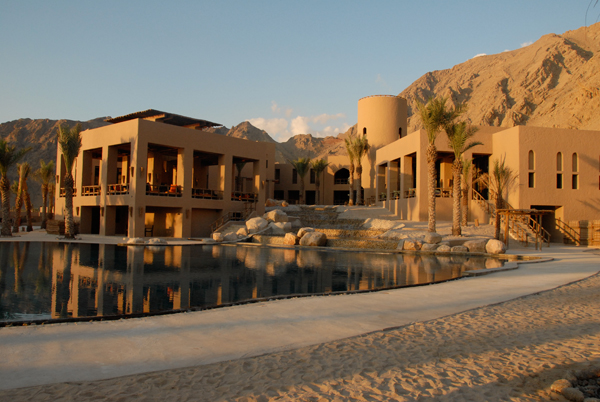 Private oasis
The highlight of our visit to Oman was our stay at the Six Senses Zighy Bay. The four-hour drive from Muscat was not ideal; however, all criticisms were silenced when we crested the mountain overlooking Zighy Bay. Hotel guests have a choice of arriving by speedboat from the nearby port, snaking down the road by car or paragliding into the resort … for real. Looking down at the resort from the top of the mountain, we all held our collective breath. It is absolutely stunning to see the desert landscape meet the turquoise water.
The hotel is styled like a traditional Omani village with 79 luxurious pool villas. Our son spent 100 per cent of our time there barefoot; they even sift the sand for any uncomfortable rocks. While the hotel is not marketed as a family hotel, children are very welcome. Each villa comes with bicycles and a butler. Although there is a kids' club of sorts, this is not the type of location where you want to spend any time there. Instead, children will run free on the private beach, chase crabs, bicycle around the resort and disconnect from entertainment overload. You simply must get away for one night to dine at the cliff-top restaurant that gives "dining with a view" a new meaning. The bar called Drinks On The Edge is exactly that. The Six Senses Zighy Bay is an expensive but unforgettable place that will leave you wanting more.
After several lovely holidays in Cebu and Phuket, our adventure in Arabia made us feel alive again. I caught a glimpse of the adventurous couple we used to be before having three children in five years. It's safe to say that very few people from "home" have been to Oman. So, if you do decide to visit, do your friends a favour and explain where it is, because you know they'll be too embarrassed to ask.