Reading Time:
4
minutes
A Day In The Life Of The Covid-19 Pandemic
If, like me, you are spending your weekdays managing home schooling & online learning schedules, you might appreciate some tips and tricks (and maybe a few rants). Feeling like a full-time chef, teaching assistant, time keeper, referee, tutor, emotional support counsellor and police officer at home? Home learning is no joke. Thankfully, kids will be heading back to school in person in the coming weeks.
Amongst dropped Zoom calls, patchy internet, a bit – or a lot – of whinging, endless requests for snacks and scavenger hunt items, there is hopefully some learning going on. Most days I have my doubts.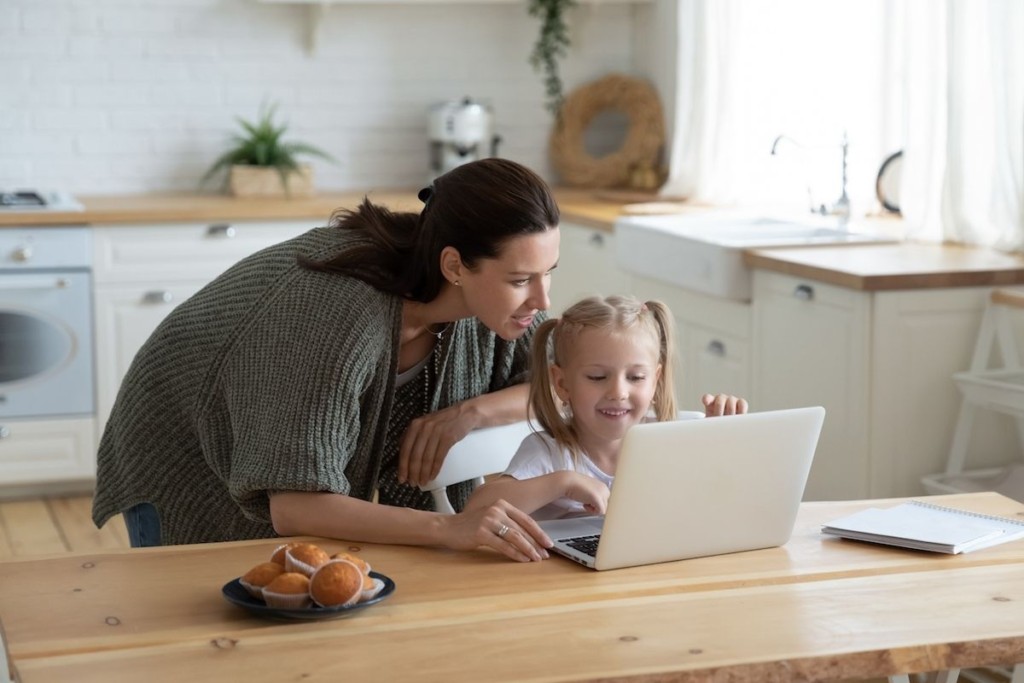 When schools in Hong Kong migrated online back in February, it was a totally unplanned situation and it was done very quickly. Teachers may not have had adequate training or resources and certainly didn't have much preparation time. It was unquestionably a struggle in the beginning but for the most part it worked. By now, half a year later, all of us are getting more adept at it.
How to manage a typical day of online learning?
Here's what a typical day looks like for us, with a few tips thrown in:
Computers on and schedules open 15 minutes before the first lesson. This means 8am and 8:15am in our house, if everyone feels like cooperating.
Have the children get their notebooks, pencils, erasers, rulers, coloured pencils and other supplies they need at hand.
Registration Zoom calls – Make sure you're dressed and ready for this. Otherwise, your child's entire class and their teachers may catch you in your PJs or worse…trust me on this one.
Lessons – This is a mix of Zoom meetings, narrated Google presentations, educational videos on Brainpop and other educational sites, links to edit Google docs, slides or worksheets, breakout sessions on Zoom, printable worksheets and word lists to transfer to workbooks and so on.
Break time – I insist this is a screen-free time and ask my children to go outside even for a few minutes. By this time of the morning they've typically already asked for and consumed multiple snacks and several cups of water so break time is spent stepping away from the computer.
More lessons – These can be a challenge after a break so may require a little encouragement (or some firm demands if you're in my house).
Lunch – Again this is a screen-free time and one in which to relax or run around if needed, do cartwheels or whatever is seemingly required to get through the rest of the afternoon. Of course, it's also time to eat some lunch. My kids are usually full of snacks and tend to eat lunch towards the end of this break. Earlier, they've had a chance to chill for a bit.
After lunch lessons – This is the final stretch! By this time of the day, patience may be wearing thin(ner) so it's important to find a positive attitude to get through. Find your green zone, if you know what I mean.
After school – If possible and after a few moments of downtime, get your children to find some friends and socialise. Everyone will be happier.
How Not To Lose Your Sense of Humour
While I have not engaged in traditional "homeschooling" before, I suspect the current online learning situation is a bit more intense. The schedules are full and dense with more work than what I've witnessed happening in classrooms. This is good and bad. Children are able to move through lessons without some of the distractions they may have at school. Such as a class clown disrupting the flow of what's being taught.
Time is then afforded to reflect on learning materials while your child is working at their own pace. There's also no queuing up for a group trip to the school library or gym class. This saves time and allows for more work to be done on any given day, which if you ask my children, is a disadvantage.
Online learning is not without some blunders. We hear you. There have been times when one child is unmuted on Zoom and the other child is singing in a music Zoom lesson. There are times when both children are unmuted and everyone else in the house has to tiptoe around.
We have days when Zoom won't open, the link doesn't work, there is a Zoom call but no link was sent, the internet drops out, screen sharing shifts something in Zoom and now the sound isn't available…and on it goes. I've lost my sense of humour and a small portion of my sanity in those hours. Nevertheless, we persist and try our best. Hopefully one day this will all be funny, long after the pandemic is over.
The best advice I have for online learning
Try your best. This is an unprecedented time and one we can find the good in.
Ask your children to try their best.
Don't fret over every single lesson.
Keep a regular morning routine just as if getting ready to go to school – get dressed, make beds, eat breakfast, brush teeth. For more advice on developing and maintaining a structure https://www.playtimes.com.hk/advise-on-maintaining-structure-at-home-while-your-kids-are-off-school/
Ensure computers or other devices are charged and ready for use each day.
Have what is needed within reach at workspaces.
Put a large bottle of water with some cups somewhere handy.
Get healthy snacks out ahead of time so they're ready when needed. For ideas, check out https://www.playtimes.com.hk/snack-attack/
During breaks, ensure your children step away from the screen.
Get outdoors each day, as much as possible.
When the going gets tough, take some deep breaths in a quiet place and come back ready to help.
More about online learning here.