Reading Time:
7
minutes
Whether it's something you've always wanted or a recent decision, once you have decided that you want your child to learn Chinese you might think your role in their bilingualism is complete. In fact, you couldn't be further from the truth. When the decision has been made, you need to set off on an educational journey of your own to glean as much information as you can on how and at what age your child should get started, which school to pick, how else to expose your child to the language – and how you (yes, you!) will support them. This is not something that can be achieved only at school.
If you've moved to Hong Kong with young kids and assumed that one of the most obvious benefits of living in the Fragrant Harbour is that your beloved offspring will grow up fluent in one of the world's most important languages, you are not alone. But while it's true that the opportunity is here, mastering Mandarin is no walk in the park and success cannot be taken for granted.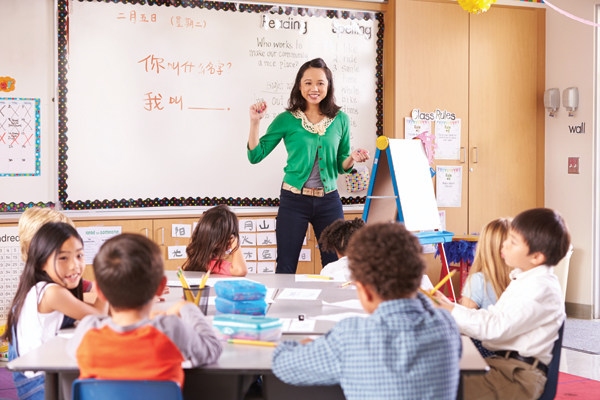 Get a head start
As with many skills, the golden rule is 'start 'em young'. Peilin Lee, director at Jumpstart Mandarin Learning Centre, recommends that parents expose their child to Mandarin as early as the infant stage. To master Mandarin, she suggests parents start with simple activities such as playing Mandarin nursery rhymes and songs at home but she also recommends signing them up for a structured playgroup or parent-child Mandarin class at around 18 months and then exposing them to more Mandarin by playing, and learning the basics with flashcards at home.
Anita Shum, Founder of Mini Mandarins, agrees that you should introduce your child to the language as early as possible. She says languages do not have a minimum 'entry' age, as even in the womb we are constantly exposed to language and sounds. "Each language has its unique tune and sounds, which actually help to expand the child's tonal spectrum, helping them in their language learning in the long run. Introducing more languages at an early stage (between two to three years old) helps to build better bilingual literacy."
Which school?
The next step is when your child reaches school age. It is vital that you are very clear on your priorities.
Hong Kong's local schools cater mostly to Cantonese speakers. They support Chinese language learning (both Cantonese and Mandarin) well but are not so strong with English. Conversely, international schools support English well but are generally not so strong in Chinese. There are exceptions, but most schools prioritise one over the other.
How and where English fits into the picture depends on your family's background, situation and priorities – but it is early, frequent and consistent exposure to Chinese that is the foundation on which to build fluency and literacy.
Some expat families, who see Mandarin as the priority over Cantonese, start off simply seeking total Mandarin immersion, with native teachers to engage and arouse their children's interest. Teaching approaches and priorities vary from school to school.
Ruth Benny of Top Schools explains: "In many international schools, Mandarin is taught as a second language and children are often streamed by ability. This is understandable since these schools often accept children aged anything between seven and twelve years old without any background in learning Chinese." You'll need to make sure your child is in the right environment and has all the support he or she needs to stand a chance at truly mastering the language.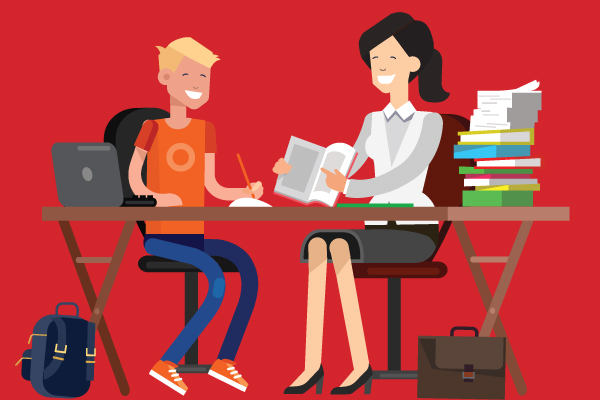 Up close and personal with two schools strong in Mandarin
Independent Schools Foundation Academy
In the early years at ISF, a pre-school and primary school, 70 per cent of the programme is delivered in Putonghua and 30 per cent in English. Teachers are specialist early childhood educators and the school has a wealth of experience educating young children whose home language is often not Putonghua. ISF supports children's Chinese literacy development with resources developed especially for families with diverse backgrounds. Children are immersed in a bilingual, language-rich environment. Not only are they taught Putonghua and English, both are used throughout the school as the children socialise and interact with peers, teachers and staff.
Victoria Shanghai Academy
VSA is one of the few 'through-train' bilingual IB schools in Hong Kong. It takes an inquiry-based, learner-centred approach to Putonghua, ranging from communication skills in its Primary Years Programme (PYP) to literature analysis in its Middle Years Programme (MYP) and Diploma Programme. PYP students are co-taught by native Chinese-speaking and English-speaking teachers, giving them almost equal exposure to both languages.
In MYP, they can choose to take up to ten Chinese lessons a week. VSA also organises Chinese cultural events both on and off-campus, while trips to China allow students to experience Chinese communities where they can polish their Putonghua.
Schools offering strong Mandarin programmes
Below are nine of the most popular schools for children seeking to learn Mandarin:
Chinese International School, Braemar Hill
The first school to teach an international curriculum using a 50/50 mix of English and Putonghua. Two teachers – one English, one Chinese in class most of the time. They also have English and Mandarin-speaking support staff.
Independent Schools Foundation Academy, Cyberport
English 30 per cent, Putonghua 70 per cent. All teachers are native speakers. The balance of English/Putonghua adjusts slowly until it reaches 50/50 at G5 and is reversed to English 70 per cent and Putonghua 30 per cent at Upper Secondary.
International Montessori School, Stanley
English and Chinese teacher in the class at all times plus daily Mandarin lessons streamlined to ability
Singapore International School, Aberdeen
Designed for Singaporeans, the Putonghua is strong (with written Chinese in simplified characters)
Po Leung Kuk Choi Kai Yau, Kowloon
Students are mainly from Cantonese-speaking families and the school uses Cantonese in P1 to teach Chinese. Thereafter, more is taught in Putonghua.
English teaching is strong and by native English speaking teachers.
Kingston International School, Kowloon
Feeds into International College for Secondary, which is not bilingual. An IBPYP school. English and Putonghua are the languages of instruction.
Kiangsu Chekiang Primary School, North Point
The first school to use Putonghua as the medium of instruction. It follows the local curriculum. English – up to an hour a day – is taught by non-native teachers.
St Stephens College Preparatory School, Stanley
Officially, the languages used are English and Putonghua with a little Cantonese used in P1 and for religious studies classes.
Victoria Shanghai Academy, Aberdeen
Two teachers – one English, one Chinese in the class most of the time.
How you will need to support your child
Clearly, a class or two here and there will not be enough to learn the language properly. Peilin believes a third of the child's waking time should be spent in a Mandarin-speaking environment. If you can't provide some of that at home, you may need to supplement their schooling. Conversing in Mandarin is a big challenge for children in Hong Kong. Because the traditional approach to learning Chinese usually focuses on reading and writing, it is important to provide your child with additional speaking and listening opportunities outside of their regular school setting.
Ruth Benny stresses that the mission to master mandarin truly is a big family commitment. "It is a lifestyle choice as well as an educational choice," she says. "Inevitably, your kids will be doing homework every school night, at weekends and even during holidays. You may need a tutor, parent or other helper some, or all, of these nights. You may take the kids to mainland China or Taiwan for summer camps, and it is likely that you will be constantly looking for ways for them to "keep up". This will hopefully ease off as the kids get older and they are more organised and responsible."
While it is possible for a determined child to become fluent in Mandarin without parental assistance, it will help for you to learn the basics so that you can understand a little and help with homework. It will also inspire your child if they see you learning, too.
More on Mandarin Learning here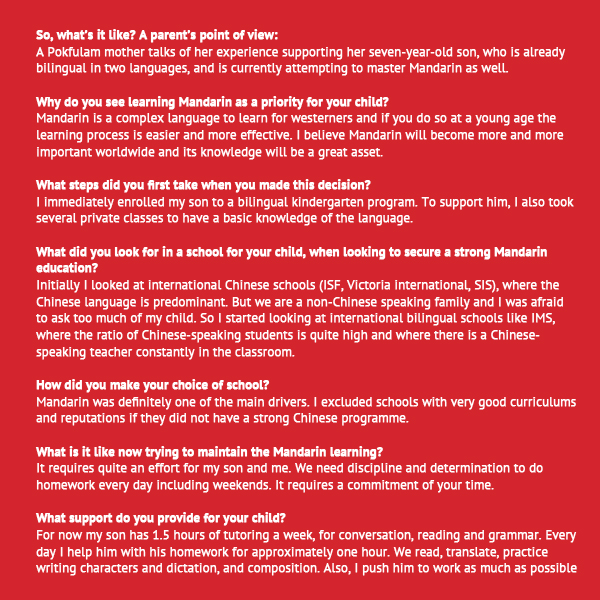 Kindergartens, pre-schools and centres offering Mandarin
If you're planning on introducing your child to Mandarin at an early stage, it may help to choose a Mandarin playgroup, a bilingual kindergarten or preschool, but there are also many language centres providing extracurricular activities in Mandarin as well as tutoring support centres, all of which can be used to supplement the Mandarin schooling you go on to choose at a later stage.
There are numerous options in Hong Kong before and after your child reaches school age. Some of the most popular are listed here:
Arts Plus
Bilingual immersion programme for children aged eight months to four and a half years in One Island South, Wong Chuk Hang
Baby Buddies & Alison's Letterland International playgroup with Mandarin bilingual programme for children aged three months to six years located in Causeway Bay
Beijing Mandarin
Chinese language school in Wan Chai
Berlitz Languages limited
Language school in Causeway Bay, four years +
Better Chinese/MSL Centers
Mandarin classes in Causeway Bay, three years +
Bilingual Education
Language classes in Causeway Bay, for toddlers and older children
Blossoms Education Centre
Playgroup and language courses in North Point, 12 months +
Discovery Montessori School
Offering bilingual Putonghua playgroup and preschool for 12 months to six years in Discovery Bay and Central
Eton House
Bilingual preschool, nursery, playgroup and kindergarten in Providence Bay
Highgate House
Parent and child and parent and baby classes in Mandarin at The Peak
HK Kidz
Mandarin lessons for kids aged one and a half years to 12 years in Wong Chuk Hang
Jumpstart Mandarin Learning Centre
Mandarin playgroup in Sai Kung
Kids Land
Mandarin playgroup and classes for toddlers and older children in Central
Kids Talent Learning Center
Private tutors (P1-P6) and classes in Kowloon
KinderU
A pre-natal and 'right-brain' early learning centre designed for children before birth and up to 6 years old in Causeway Bay
Little Sun Mandarin Centre
Playgroups and lessons in Wanchai for children aged one and a half to six years
Mandarin Munchkins
Playgroup in Central, Sheung Wan and Discovery Bay
Mini Mandarins
Kids' Mandarin lessons and tutoring for children aged one year and up in Causeway Bay and Central
Mulberry House
Creative Mandarin Immersion education, Reggio Emilia inspired. Playgroup (eight months, if able to sit, to three years) and preschool programmes (three years to eight years) available in Central
Peas n Pods
Mandarin classes for children aged 12 months to six years in Wanchai
Safari Kid
International kindergarten and preschool with bilingual and immersion programmes available in Pokfulam and Happy Valley for children aged six months to six years
Southside Mandarin
Playgroups and immersive on programmes at One Island South for kids from six months to seven years
Spring
Mandarin classes in Wanchai for one to four year old children
Sun Kids
Mandarin playgroup for children aged six months and up, in Happy Valley
Sunshine House
International pre-schools offer bilingual and Mandarin immersion programmes at Happy Valley, The Peak and Discovery Bay
Tutor Time
International nursery and kindergarten in Mid Levels, Central, Braemar Hill, Kowloon Tong and Tai Tam
Woodland PreSchools
Offer bilingual streams and full Mandarin immersion in Midlevels, Repulse Bay, Kennedy Town, Pokfulam, The Peak, Happy Valley, Harbourside, Beachside and Sai Kung
YALC
Offers Putonghua programmes in Kowloon Tong for children two years +
Related articles: