Reading Time:
6
minutes
As well as pursuing other projects related to wildlife conservation, Kamakshi Bhavnani and Ben Lisse from West Island School, lead a group of students mapping wildlife in Hong Kong for a city-wide competition. This competition, known as the Inter-School Nature Challenge, takes place each year across schools in Hong Kong. Playtimes Magazine had a chance to go out into the field with Ben and Kamakshi on one of their trips to map wildlife in Pui O, on Lantau Island. We were astounded by their knowledge, interest and motivation. Meet Hong Kong's young environmentalists and learn about how you too can get involved with Citizen Science.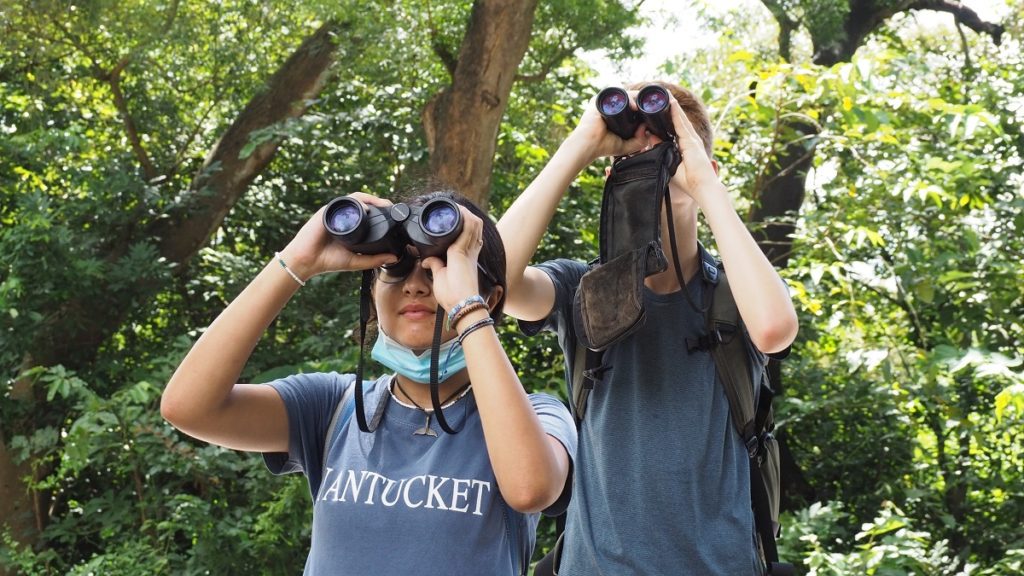 How did you get involved with Citizen Science?
Ben: Well, I've been doing citizen science for a long time now. I would go out bird watching and document the species I found using the eBird app. My dad's an avid bird watcher so we were just out a lot. By looking closely, you see things you haven't really noticed before and that's the power of citizen science. It's become more of an educational tool for me.
Kamakshi: For me, I think I started when I was around eight years old. I went to a Jane Goodall talk where I met and spoke to an inspiring attendee who got me involved. He was running a citizen science program at The Harbour School in Hong Kong. I got involved with a project to test water in Bangladesh. Later I started doing biodiversity mapping in Hong Kong. But well before that, my parents took me out to explore nature from the time I was three months old so I feel I've always been exposed to it. When you observe or you just like being in nature, you notice little things everywhere.
How is your work helping HK's scientific community?
Ben: By using the iNaturalist app, the information goes directly to scientists so they can see and learn more about the species and their ranges. Even if it's just for the photographs, they can use that information for scientific purposes to show people examples of species. Regarding eBird, maybe not as much for scientists, but just for the general community as well, you can see exactly where different species have been found, and if you want to see them, then you know where they are.
Kamakshi: For me, I think the concept of citizen science is great because one of the biggest things that it was designed to do is get more people interested in the environment, fall in love with it and get more involved in it. We can see the value in this. It's an amazing way for people to get involved on an individual level and I think it definitely helps a lot of research in conservation projects. People who want to take action may be trying to figure out where things are happening, what's happening, and why it's happening, and they can join the efforts of others.
How much did you know about HK's biodiversity before you started with Citizen Science?
Ben: I think I knew quite a bit already because I've just gone out a lot birdwatching with my dad. But now I've started to look at all the small creatures like insects and butterflies and have noticed how much there really is. The power of citizen science got me more interested. It's great because people are able to go right out their door and see for themselves what's out there.
Kamakshi: I think it's the much the same for me. It's so interesting going out, and I think since I have gone out in nature so much, I kind of have an eye for these things like biodiversity. The more you notice, the more you see, and then you just build from there.
Have you learned anything new or surprising about HK wildlife?
Ben: Yes! There's such an abundance of wildlife and I've discovered just how many different species are here. Because it's Hong Kong, you don't think of it as a diversity hotspot, but there are actually a ton of endemic freshwater species like turtles, fish, crabs.
Kamakshi: Only a small percentage of Hong Kong is developed, and the rest is mountains and nature. There's so much to see, and I think it's just a matter of actually going. In Hong Kong, when you go diving, you can see all these different species. In the 1990s there were humpback whales here. There are so many species and we have to protect them.
Do you have any advice for others who might be interested in helping out?
Ben: Just go outside and see what you can find. Download the iNaturalist app and maybe get a pair of binoculars if you're super keen and these tools allow you a closeness with the animals. You won't see very much just staying inside and not looking for anything.
Kamsakshi: I would say go for it. You'd be surprised by the number of people doing citizen science and the people you'll meet when you go out and about. You can look for different projects by talking to people and networking.
Ben: On eBird you can find maps of species and if there's a specific species you're looking for, then there are places known as hot spots where you'll find quite a lot. Maybe go to a hot spot, meet new people and see what they've found and where they're looking. There are people out there and you might find a group to join or a project to get involved with.
Is this something you see yourselves doing in future? What's on the horizon for studying and possible environmental work?
Ben: It will always be a hobby for me but I'm looking for this to be more than that. I'd be interested in pursuing a career in something related to conservation or biology. I'm thinking of studying biology.
Kamakshi: Yes. I think I want to do Marine Biology. I know that I want to do something related to the environment but I'm not sure which focus…education, conservation or science and research. It's definitely always going to be a hobby, but in terms of a career of field of study, I will pursue this.
Words of wisdom to carry us into the future
Through our conversations with Kamakshi and Ben, it's clear to see the future is in good hands. There is hope for our planet after all. It just takes some appreciation of what we stand to lose.
Kamakshi: I have this concept that I like to live by. If you're advocating for social issues, you just have to convince people to change their mindset, but if you're advocating for environmental issues you have to get people to change their lifestyle. If you really want to protect the environment, you have to change your lifestyle and even how you perceive the world. This is easier to grasp if there's something pushing you that has a personal connection to a statistic or some information which affects you directly. If you see some data saying that carbon emissions are terrible and this impacts the air you breathe, it logically makes sense for you to take action. You might decide to stop using private transportation and instead rely on public transportation because you have a personal connection.
Another motivator is a real love and appreciation of the environment. I think this is probably what we have so we act out of love and see what we want to protect and save. Like us, maybe you discover something that's going push you because you've seen these beautiful things and you don't want to lose them. But for some, action comes out of fear. Maybe you've experienced or observed large tsunamis or wildfires. If you've been impacted in your personal life, that kind of fear can also drive you to make a change. Act from your heart, not just your mind.
Inspiring Change
Ben: I think when we see all this horrible news it makes people have a sense of hopelessness. They feel that they can't do anything. Of course the planet is suffering, but we can't just give up now. That's not going to help the situation at all. Just don't lose hope.
Kamakshi: People might think, how can one person changing one little thing in their lifestyle change the world? Collectively, we can change the world if more people make an effort to change their lifestyle.
Ben: Even if we inspire just one person to change their mentality, that's creating a movement for making positive change, even if it's just small things. That one person can influence another person and on it goes.
How You Can Learn More And Get Involved:
Kadoorie educational programs, membership and volunteer information.
World Wide Fund for Nature (WWF) is one of the world's largest and most respected conservation organizations, with a network active in more than 100 countries including Hong Kong.
Check out the student based website Us For Planet.
WildAid works to reduce global consumption of wildlife products and to increase local support for conservation efforts.
Plastic Free Seas is a Hong Kong based environmental charity focused on changing the way we all view and use plastics in society today. See their Take Action page.
Take a look at Conservation International. They're working to ensure a healthy, productive planet for everyone.
The Ocean Park Conservation Foundation is committed to advocating, facilitating and participating in effective conservation of Asian wildlife through community and education programs.
Go hiking with the iNaturalist app to keep kids entertained and learning while out and about.
Hong Kong's Agricultural, Fisheries and Cultural Department is full of interesting information.
For further information on the City Nature Challenge.
Read More: Learn more about the Inter-School Nature Challenge
This year, quite a few schools participated in the Hong Kong Inter-School City Nature Challenge (HKISCNC), competing against each other to log the most species of plants and animals in their geographical area using the free app iNaturalist. Results from last year's HKISCNC amassed 21,000 observations of over 1,400 species in just one week. That data was the accumulation of compiled information from 1,100 students at 35 Hong Kong schools.
The HKISCNC project, funded by the Environment and Conservation Fund and the Environmental Campaign Committee in Hong Kong, is a terrific way for students to find appreciation for and gain a better awareness of the nature surrounding them. The project also provides an opportunity for young people to contribute valuable observations about Hong Kong's urban ecology to assist the scientific community. Not only that, being involved with these projects puts nature in perspective and could be the impetus for positive change to protect natural resources.