Reading Time: < 1 minuteCelebrate Easter in style with these bunnylicious savoury serves from leading children's cookery author and food expert Annabel Karmel.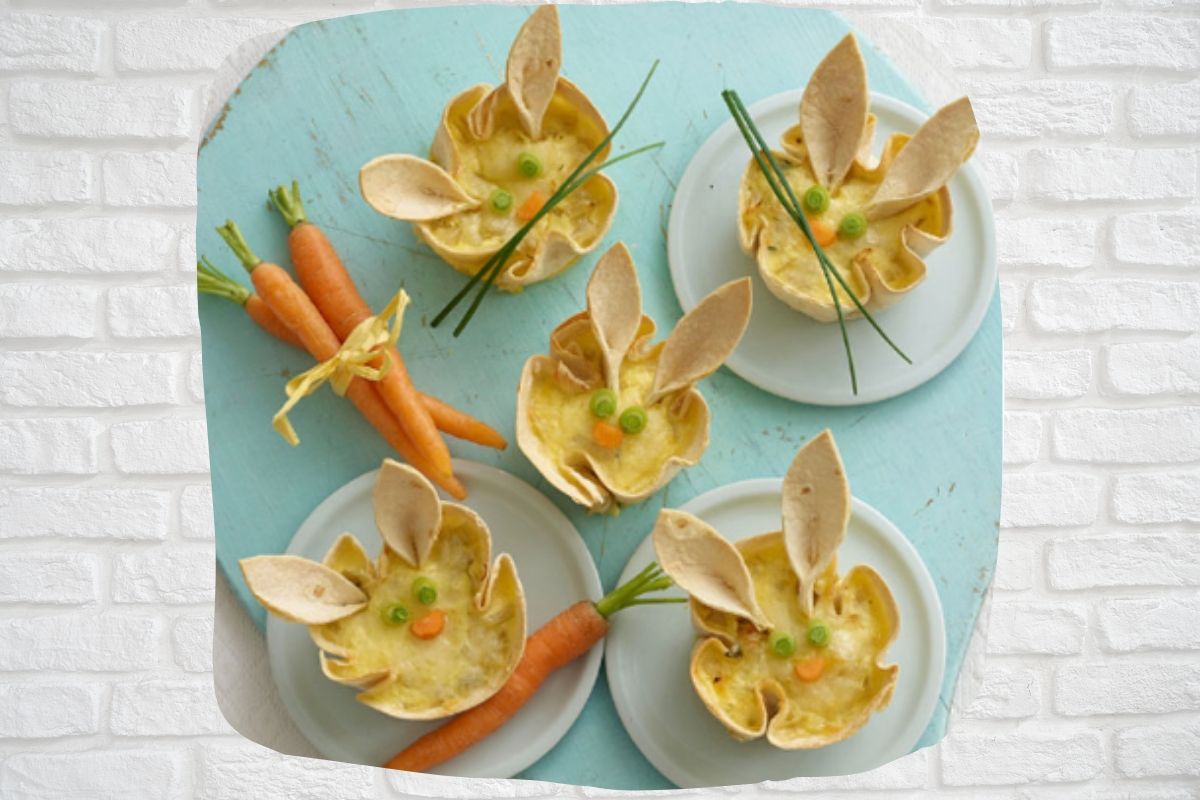 Prep Time: 45 minutes
Cook Time: 30 minutes
Makes: 6 quiches
Ingredients
8 mini tortilla wraps
Olive oil
2 onions, chopped
1 tsp fresh thyme – chopped
2 eggs
150 ml double cream
150 ml milk
120g Gruyere cheese – grated
To decorate
Carrots, chives, spring onions
Method
Preheat the oven to 180C Fan. Grease 6 size 1 ramekins with oil. Trim the tortilla wraps to 14cm diameter circles. Line the ramekins with the wraps, pushing them into the bases and up the sides.
Heat 1 tbsp of oil in a saucepan. Cook the onions for 10 minutes until soft. Spoon into the ramekins. Sprinkle with the thyme, mix the eggs, cream and milk together in a bowl. Season. Divide the Gruyere between the cases. Pour the custard on top. Bake for 20 minutes.
Cut out the bunny ears from the remaining 2 wraps. Brush the ears with oil and place on a baking sheet. Bake alongside the ramekins for 8 minutes until golden.
When the custard is set, remove from the oven and insert the ears into the quiche. Decorate with carrot for the bunnies' nose, chives for whiskers and spring onions for the eyes.
You may be interested in The Best Easter Camps 2023
For lots more recipe inspiration, special content, insider news, competitions, plus a host of great offers join the AK Club for free today at www.annabelkarmel.com