Reading Time: 5 minutesThere's no shortage of choice when it comes to kindergartens and schools in Hong Kong, so much so that it can become quite overwhelming trying to figure out what type of education
is best for your child.
The Montessori Method has been popular worldwide since it was developed in the early 1900s. But what makes it popular here in Hong Kong? We're here to tell you what it is and why it may be a good fit for you.
The Montessori Method
Italian physician and educator Dr. Maria Montessori pioneered the method to help children to develop real-world skills, working with their natural interests rather than using formal teaching methods. As a child-centred method of education, activities are student-led and hands- on, encouraging independence and working off the premise that children are naturally eager to learn and develop their interests.
Common elements of Montessori schools include mixed-age classrooms, student choice and long periods of uninterrupted work time. Teachers are often specifically trained via a certification called the Association Montessori Internationale (AMI), and the environment is carefully constructed to reflect the method's ethos.
Montessori drew from the work of Friedrich Froebel, who started the first kindergarten in 1840. His vision for early childhood education included lessons from nature and learning through play. Similarly to Froebel's perspective, Montessori believed that the teacher's role was to encourage a child's self-expression and collaboration through play, both individually and in group activities. She felt that learning materials should be child-sized and designed to appeal to all the senses, so, just as Froebel had done, she created her own set of materials designed for being handled and explored with all the senses, such as letters and numbers made of sandpaper which the child can trace with their finger. The Pink Tower is a key element in every early years Montessori classroom. What, at first glance, appears to be just a tower of blocks of increasing size, is actually a carefully calculated instrument designed to introduce the decimal system and the notion of cubing when learning more complicated counting and maths.
Although the learn through play philosophy of the Montessori Method lends itself to younger children, it has evolved to include children all the way through primary school. It also shares a similar educational approach to the IB framework with its emphasis on student inquiry and active exploration with the student at the centre of their learning. The Discovery Montessori Academy was accredited as the first Montessori IB World school in Hong Kong and SouthEast Asia in early 2022. "After years of successfully leading three Montessori schools in Hong Kong and being passionate on different approaches in education, we wanted to connect these two outstanding curriculums", says school supervisor, Christie Leung.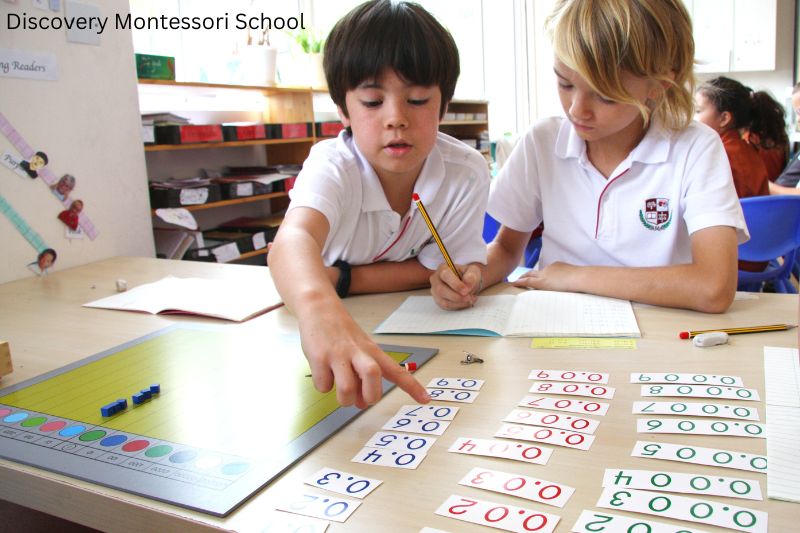 How Montessori Works
A Montessori classroom functions like the world in miniature. Providing a safe space where educational tools are built for purpose and intended for self-directed learning, students naturally engage in trial and error, finding their own solutions to problems and learning from their mistakes. There are even built-in controls for errors such as shapes that intentionally won't fit a hole, so that the child can see for himself what the problem is without intervention. Each carefully constructed learning tool has a clear purpose and progression to the next level from the teacher's point of view. Learning to take the lead from a young age encourages flexible thinking and builds confidence, relieving children of the pressure to get to a certain point in a certain amount of time. Allowing for greater responsibility, self-management and creativity has been linked to better academic outcomes and even increased wellbeing in later life, as evidenced in a contemporary study published in Frontiers in Psychology.
Furthermore, as automation and AI play an increasing role in our world, there is an increasing need for people to complement these technologies in the workplace. The caring community of a Montessori environment fosters the emotional intelligence and social- emotional skills necessary for this to occur. "The need for life-long learning to enable pivoting of skills from one job to another has never been more important," says Sawyer. Self-motivated students will be more confident, resilient and able to create their own employment and to manage their careers in new ways.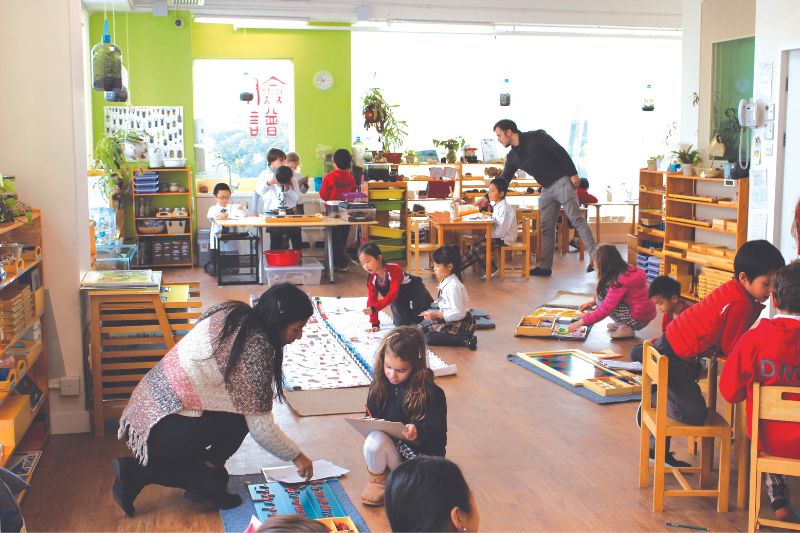 The Montessori Classroom
Unlike in a conventional classroom setting, each child is allowed to move and act freely, working at their own pace and using their creativity and problem-solving skills as and when
they develop. There are generally no distinct short subject lessons that you would often see in a classroom; instead sessions run for longer periods, allowing children to immerse themselves in what they are doing. Contrary to how it may seem to the untrained eye, however, it is not a free-for-all, but a rigorous interdisciplinary curriculum.
Montessori educators are facilitators and gentle guides, supporting the children to complete activities as needed, maintaining clear ground rules, but not enforcing strict demands on the children's time and activities. Montessori classrooms are intentionally kinesthetic, experiential environments, where movement is encouraged. "The link between movement and cognition (learning) is becoming well known, hence the increasing emphasis on maker bay spaces and experiential learning opportunities in other curricula" says Anne Sawyer from the International Montessori Schools group in Hong Kong.
Mixed-age classrooms facilitate the expectation that children should cooperate with and learn from their peers. Using real-life practical tasks such as laying the lunch table for their classmates, older children share their experience with younger students, giving them a greater sense of autonomy and satisfaction. A student who is more gifted in Maths may be learning with older peers and then helping explain to same-age peers. Educators at IMS feel this is a more natural way of learning, citing the example that we put adults into project teams by ability not by age. Collaboration rather than competition is encouraged and children progress organically rather than through more traditional structured assessments. At IMS each child keeps track of their own progress in their daily work diary, and has an individual meeting with the teacher every week to discuss progress, make plans for the following week, and track larger, longer-term project work, and discuss challenges.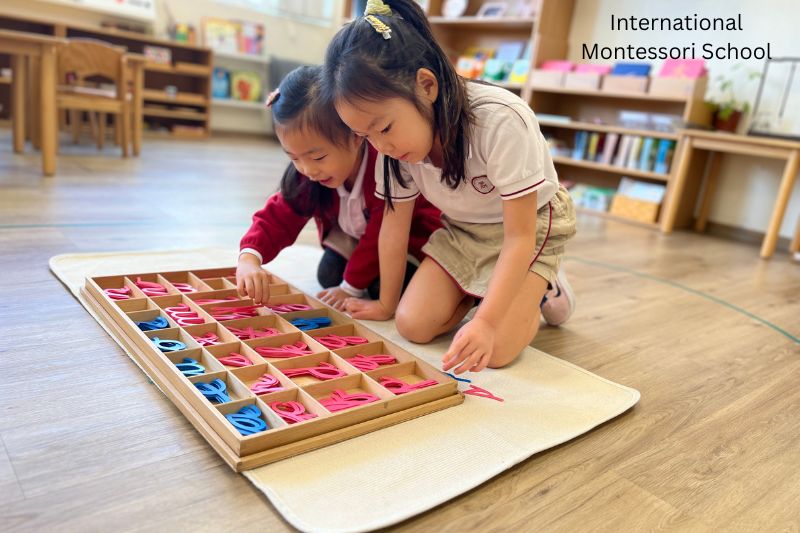 Montessori Toys: Enhancing Learning Through Play
Montessori education emphasizes the importance of hands-on learning and sensory exploration, and this philosophy extends to the toys and materials used in Montessori classrooms and homes. Montessori toys are designed to promote child-led learning and exploration, encouraging children to engage with their environment and develop their own interests and skills.
Montessori toys are typically made from natural materials, such as wood or cloth, and are often simple in design. They are designed to promote open-ended play, allowing children to use their creativity and imagination to come up with their own games and activities. Unlike traditional toys that may have a specific purpose or goal, Montessori toys can be used in a variety of ways, promoting flexible thinking and problem-solving skills.
Montessori Education: A Good Fit for Children with Special Needs
One of the strengths of Montessori education for children with special needs is the focus on individualized learning. In a Montessori classroom, each child is able to work at their own pace, allowing for flexibility and customization to meet the specific needs of each child. This approach can be particularly helpful for children with learning disabilities, ADHD, or autism spectrum disorder, who may struggle with traditional teaching methods or need more individualized attention.
Montessori classrooms are designed to promote sensory learning, with a focus on hands-on activities and materials that engage all of the senses. For children with sensory processing disorders or other sensory challenges, this can be particularly beneficial as they are able to learn and engage with the materials in a way that feels comfortable and non-threatening. Additionally, the mixed-age classroom setting allows children to interact with and learn from their peers, fostering a sense of community and promoting social skills development.
Read more: Montessori: What Does it Mean?
If this seems like a good fit for you and your child, here's a list of schools to consider:
Montessori School Options in Hong Kong
• Woodlands Caine Road (Mid- Levels), Pokfulam. www.woodlandschools.com
• Discovery Montessori Schools Discovery Bay and Central. www.montessori-ami.edu.hk
• Guidepost Montessori Pokfulam, Kennedy Town, Discovery Bay, Clearwater Bay,
Chai Wan. www.guidepostmontessori.com
• Hong Kong (Ascot) Pre-School and Playschool Shatin. www.hkpreschool.edu.hk
• Island Children's Montessori International Kindergarten Tin Hau, North Point   https://icms.edu.hk
• Infinity Montessori Academy Kowloon Tong. www.infinitychildren.com/en/
• The International Montessori School of Hong Kong (Casa dei Bambini) South Horizons, Aldrich Bay, Mid-Levels, Stanley. www.ims.edu.hk
• Little Montessorian Sheung Wan. https://littlemontessorian.com
• Oaktree Chinese Montessori, Happy Valley. www.eceoaktree.com
• Rosaryhill School Wanchai. www.rhs.edu.hk/Kindergarten/en/montessori
• Sai Kung Montessori – Read our article about Sai Kung Montessori School
Read more about: Discovery Montessori Academy; International Montessori School
Additional articles you might like to read: Pre-School Curriculum Options in Hong Kong 
Main photo courtesy of Shutterstock; photo 1 courtesy of Discovery Montessori School; photo 2 courtesy of Discovery Montessori School; photo 3 courtesy of The International Montessori School