Reading Time: 5 minutes
If you are lucky enough to be heading to faraway shores this summer – visiting "home", relatives or for a general holiday – and amongst the chaos of travelling and catching up are hoping to squeeze in some "me shopping", then read on. Expert shopper and wardrobe consultant Sheryl Bolden has some great advice on how to make the most of your shopping time.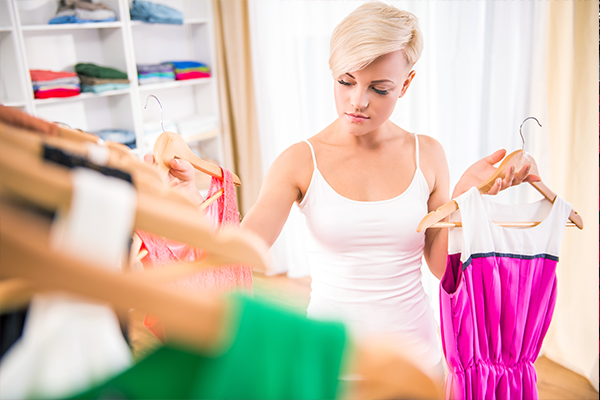 With Hong Kong prices ever-escalating and the choices somewhat limited, many women refresh their wardrobe when they head back to their home country or on vacation, but how many of those pieces bought in a rush, during a sale, online or because all the other mums were wearing it have you actually worn? This month we help ensure you come back from your trip with clothes you actually love and wear.
Top tips
Edit your wardrobe before you go, so you know what you need. Stay focused with your list, this will help you to avoid the whim purchases. We've all left the mall with yet another pair of jeans and some statement heels when what we actually needed was easy day dress for the school run and layering pieces to protect from the office air con!
Have a budget and approach the sales with caution – you can save you money, if you loved or needed it at full price. Too often clients tell me how much they saved, but with the price tags still on the item a year later, I question if it's a saving if you don't wear it or love it. If that one dress costs half your budget and you'll wear it lots of ways and feel fabulous, then maybe it's worth the cost of five others. I am a huge fan of the "cost per wear" strategy, think; do I love it on me? Will I wear it? Will it last? The more of these boxes you tick the lower the cost per wear.
Plan ahead and make time to shop, few items bought in haste end up being great buys. Have an idea of the shops that you like and plan your trip based on some research. If it's denim you are after, go somewhere with a lot choice of different brands and even a specialist assistant to help you. Try before you buy, you'll save hours and money on returns, speaking of which make sure you know the policy. If getting to shops is going to be hard, don't be put off by online shopping, but again read the small print, how much will it will cost to return, some of the most common items we edit out are pieces bought on line but couldn't be bothered to return. Make time and space to try these on during your holiday, too.
Happy Shopping !
Pre-trip edit – case study
Lisa Beattie is a mum of two boys and lives in Mid Levels, she has a busy summer coming up so before she departs Hong Kong for the long summer in Europe she needs a little bit of sartorial support.
What I will do is review her wardrobe and give her a mini edit to her wardrobe. We'll remove all the items she doesn't love nor wear – re-styling or tailoring where we can to get the wardrobe working hard. I'll help her to plan for her summer trip. With a jam-packed summer including; a wedding in Rome, a girls city break, a family holiday at Centre Parks as well as the time with the family in Scotland. I'll create easy stylish outfits using the pieces she already owns and compile a wish list for her UK shopping trip.
Overview
The session was two hours long so we focused on her summer wardrobe, what she should pack for her upcoming trip and how she could maximise a few key pieces across numerous locations. Lisa has a lot of clothes; three wardrobes, a few sets of drawers and a cupboard for knitwear. She is fortunate enough to have space so that was not one of the challenges.
Key challenges for Lisa
Lisa has so many clothes she can sometimes forget what she owns. Some items even have the tags on.
She is often gifted clothes and, despite loving them, not always sure how to wear them or if they suit her.
She always over packs just in case she might need it, she is not an outfit planner in general.
Last year Lisa re retuned to HK after a stint in the UK and has found her wardrobe a little bit UK centric, too much mum on the run, a lot of colder weather pieces, and so on.
What the session involved
Pre-session we discussed how my sessions work, in terms of rating your clothes and only having the ones in the wardrobe that you truly love and feel fabulous wearing; it saves time, effort and money. This session was not about re styling Lisa, but about maximising what she has.
Lisa had done her "homework" which was to pull out the pieces she does not like and also items that she wasn't sure how to wear or if they suited her. We worked on these – a spotty jump suit is now being turned into a short play-suit (comments from her son was she was wearing PJ's!). A short leg version makes it more versatile for Hong Kong summer and perfect for her trip to Centre Parks. An M&S striped top gifted from Granny was stifling around the neck and she had always tried wearing it out, by tucking it in we got rid of the loose baggy effect and emphasised the waist, a trip to the tailors to open up the neckline will give a much more flattering look across the bust. (Note this is not always worthwhile on cheaper clothes if tailoring is more complex, but this was sentimental and so worth doing) Also note this item is a classic and can be worm with all four key bottoms we selected for the trip.
We talked about the pieces Lisa didn't like. Many fitted into the pastel pink/beige and blush palette which competed against her skin tone and so were never flattering. A few items were just past their best and she felt she had other items she'd rather wear. Some things were from many years ago and just not "her" any more.
Lisa had ordered a beautiful cream jump suit for the wedding in Italy, so we set about accessorising that and then pulling together looks for the rest of the trip. She is going for five days with just her husband while the boys have some grandparent's time, so the looks are glam and gorgeous. However, it was important to be able to incorporate many of these pieces back into the other aspects of her trip.
Lisa was keen not to plan each and every outfit but wanted to have ideas, inspiration and combinations that would enable her to mix and match key pieces during her whole trip. The looks I put together were often combinations she had never considered.
Lisa's shopping list
Lisa wants to do some shopping in the UK, so to keep her focused we discussed the kinds of additions she wanted to make.
Metallic heels, she wants some new shoes for the wedding and possibly something more special to wear in general, we went through her shoes together and there was definitely a gap
Denim shorts, usually a wardrobe staple but Lisa did not have any, we felt this would be a good casual addition for the family time and give those tops another outlet.
Skirts – In general Lisa had few, this is an area she wants to experiment with, give the number of dresses and jumpsuits she has for going out, I suggested to look at options that have a more casual or semi casual feel, full skirts with pockets for example.
Altered Image – recommended shops to alter your clothes
Professional Clothing, Miss Lisa Chan – 9153 6590
· Sincere Alteration
Shop 113 Melbourne Plaza, 33 Queen's Road – 9210 1967
· Ann & Bon
Shop 201A Melbourne Plaza, 33 Queen's Road – 2522 8838
· Fashion Altering Co
Shop 330 World-Wide Plaza, 19 Des Voeux Road – 2522 9657
Shop 215 Melbourne Plaza, 33 Queen's Road – 2868 1713
Sheryl Bolden is founder of Make My Wardobe. She has years of experience as a buyer, retail insider and Fashion lover. Sheryl's frustration that so many women buy clothes they don't love and never wear ensure her sessions get the most from the clothes you already own.
This article appeared in Playtimes June Issue 2017