Reading Time: 2 minutes
Fans of My Little Pony can visit the colourful characters at the HK Observation Wheel and AIA Vitality Park.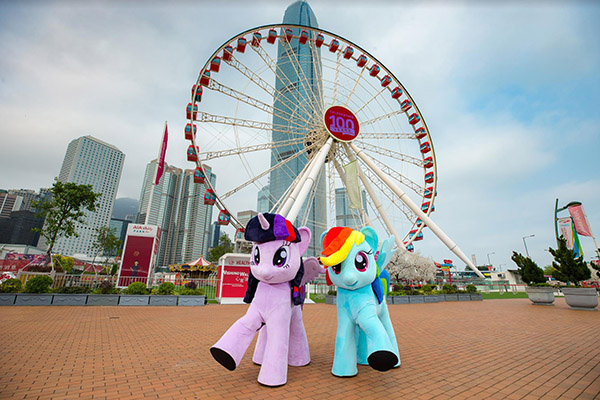 Event Details
Venue: Hong Kong Observation Wheel & AIA Vitality Park
Date: 19 April to 5 May
Time: 11am – 9pm*
Ticket information
Tickets are now available from HK$150 from Zicket. The combo ticket includes one adult and one child entry to experience the seven zones. Additional tickets are available for adults ($50 per adult) and children ($120 per child). Free admission is granted to children under 18 months.
Carnival Information
The My Little Pony Friendship Carnival consists of seven zones, each one showcasing the talents and hobbies of the six pony friends.
The Library with Twilight Sparkle
Pick your favorite book from the bookshelf and listen to the ponies' adventures through storytelling sessions. Don't forget to make a wish at the pony wishing tree after reading your favorite Pony's stories!
The Forest Maze with Fluttershy
All six ponies have their own animal friends, but unfortunately, they are all lost in the forest! You will get a special stamp if you find one of the pets. Can you help the ponies find their Ponyville pets?
The Sweet Apple Acres with Apple Jack
She loves apples and taking care of her farm! However, some of her delicious apples have gotten lost! Can you help Apple Jack find her prized apples in the sandpit?
The Pinkie Pie's Party with Pinkie Pie.
She is very busy organising parties for all her pony friends and she needs your help to prepare yummy desserts for her guests! Decorate your own cookies and cupcakes with your favourite toppings!
The Rainbow Gym with Rainbow Dash
She has prepared five magical bikes that you can pedal to charge up the pony rainbow. Bring your family and friends to cheer you on!
The Dressing Room with Rarity
Filled with colourful mirrors and wardrobes, "ponify" yourself with the coolest pony outfits in all of Ponyville.
The Pony Workshop
Enjoy DIY fun with colourful pony scratch paintings, clay dolls, stained glass art and more!
In addition to the seven zones, you can visit the face painting corner, DIY workshop and game booth at the carnival. In the face painting corner, artists will create a unique pony or princess painting on your hand or face. The painting fee depends on which option you select!