Reading Time: 2 minutesEmerging from an 18-month long complete redesign and renovation, Le Meridien Hong Kong is showcasing its sophisticated French style alongside sustainable modern living. The complete transformation of the hotel includes newly designed guestrooms, restaurants, meeting and event spaces, plus pet-friendly areas. Le Meridien, a chic 5-star lifestyle hotel, is embracing sustainability and smart technology like never before.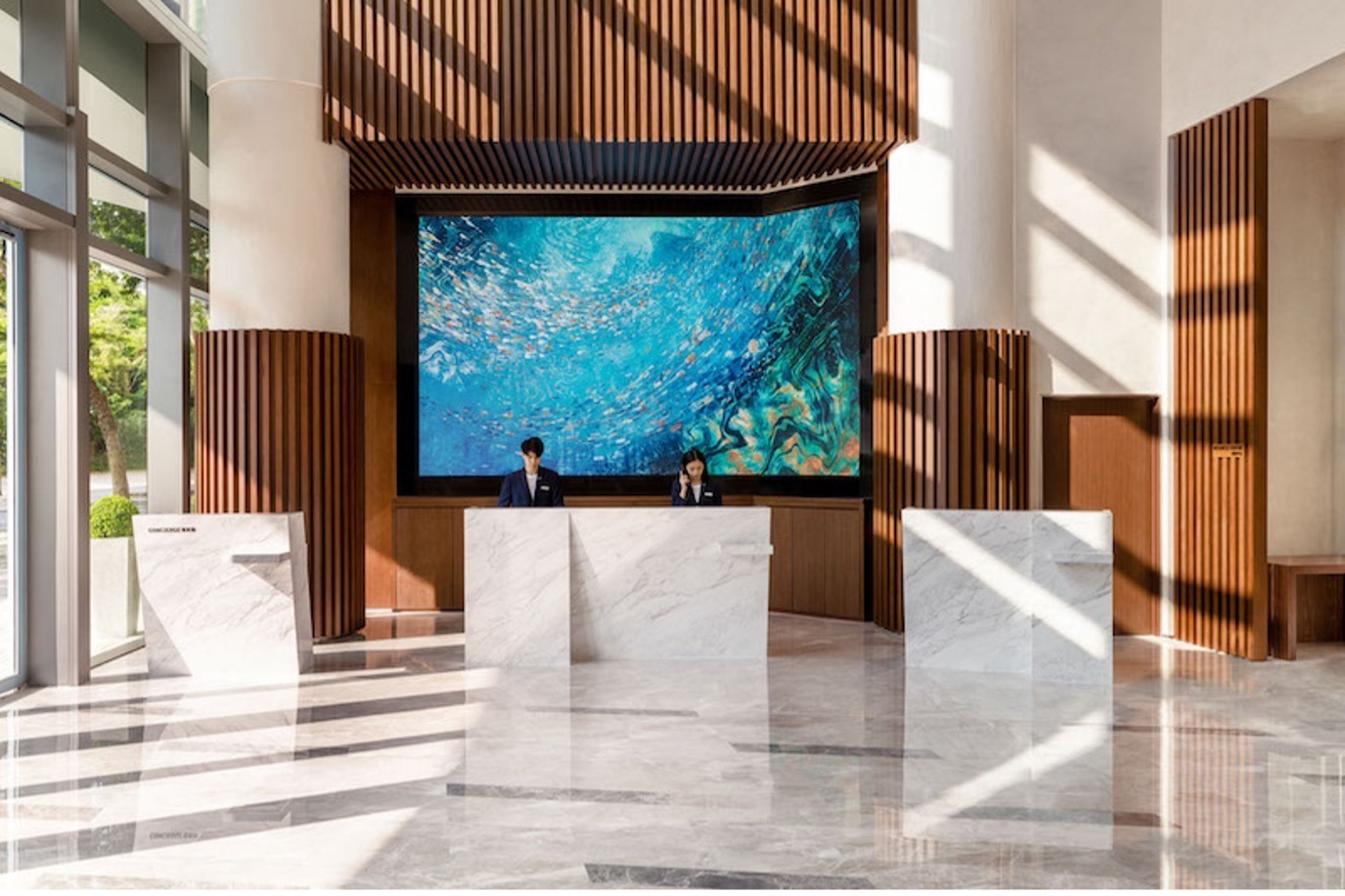 What's new at the chic 5-star lifestyle hotel?
Guest rooms and suites have been updated with a contemporary, thoughtful design. Filled with streaming natural light, rooms are complemented by ocean views and the surrounding greenery of the nearby hills. Guests enjoy premium bathroom amenities and products from apothecary-led beauty brand MALIN & GOETZ.
Working guests benefit from a standing level desk and access to complimentary illy coffee from the in-room espresso machine. Guests on a longer stay can opt for a room with a fridge/freezer, microwave, robot vacuum, extra storage space and the Kara Smart Fitness Mirror with in-built virtual trainers and workout programs.
Sustainability features in the hotel include the Waterlogic slim water tap (a highly certified UVC water purifier) paired with in-room glasses and jars made from recycled glass. Plus, there's a farm-to-table hydroponics 'green wall' in the Level 4 lobby which grows micro-greens and herbs for the restaurants and bar. And guest transfers are via a fleet of electric vehicles.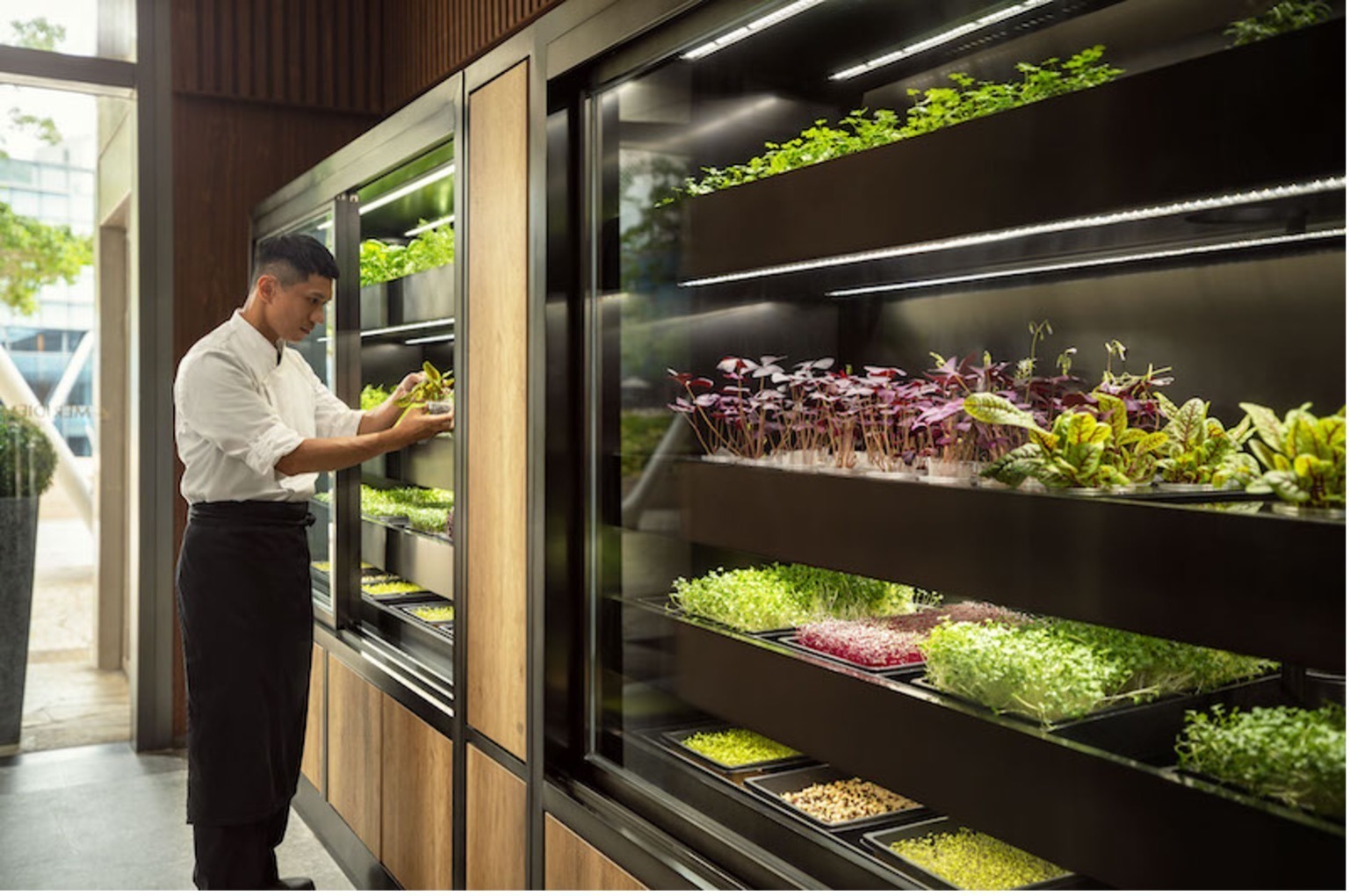 You may also like Family Friendly Staycations in Hong Kong
An 'Arrival Art' experience awaits you! A digital art piece on large LED screens in the lobby by local artist Rocky Fong evokes Hong Kong's unique identity and history as a fishing village, transformed to shipping port and global metropolis. Abstract art and wallpaper of maritime shipping routes extends to guest lifts, floors and rooms.
The outdoor swimming pool, state-of-the-art fitness hubs, spacious function rooms, meeting facilities, bridal room and multiple outdoor green spaces leave no detail out. The property and surrounding area are also pet-friendly for those looking for the perfect staycation. The 170 pet-friendly rooms are equipped with welcome amenities provided by Buddy Bites for the dog boxes and Whiskers & Paws for the cats' and even a dedicated pet menu. It is one of the few hotels in Hong Kong to accept any size of pets.
Updated Dining
 Le Méridien has four inspired restaurant choices: Nam Fong serves up creative Cantonese cuisine by award-winning Michelin starred chef Quentin Leung. Japanese izakaya Umami offers donburi, sashimi, teppanyaki and tempura, and has a private room that can host exclusive omakase experience and a pet-friendly bamboo garden. Southside Bistro is a classic International  brasserie and authentic pan-Asian restaurant with a beautiful outdoor terrace which also accepts pets. Check out their set lunch, tea sets and weekend buffet offers. Latitude 22, the signature bar and lounge of Le Méridien, transforms from a day-time coffeehouse to an evening cocktail and wine bar.
Special Re-opening Packages
In celebration of the re-opening, a selection of special packages is on offer. The brand new 'LM Experience Package' offers the first guests of the hotel a delightful Afternoon Tea and dining experience, while the 'LM Family Discovery Getaway' and 'Pawcation' packages invite those with kids and pets to try out life on the South side.
Le Méridien
Hong Kong, Cyberport
100 Cyberport Road, Hong Kong
All images courtesy of Le Meridien Hong Kong