Reading Time:
3
minutes
Read on to discover Exclusive Offers for Hongkongers
Good news! Ocean Park will be reopened as of this weekend, 13 June 2020. With a whole new array of local resident offers and a brand new edutainment experience, you can come explore what's new and exciting in the park. The first 100 visitors entering the Park on 13 June will receive a welcome gift.
The Park will be open six days a week (except Tuesdays) during the initial phase of resumption (13 June-31 July) and there will be precautionary measures in place to ensure the health and safety of visitors. Additional cleaning and disinfection at rides, attractions and facilities; body temperature screenings and face mask wearing policy (except when eating) for all visitors and staff members; and a reduction of Park-wide capacity to 25% in the first two weeks of reopening. Come enjoy some fresh air and plenty of outdoor space at the Park.
Promotional Park Offers for Hong Kong Residents
Children aged 11 or below will enjoy free admission which comes with a "Buy HK$50 Get HK$50 Free" coupon for skill games. Adults receive a 30% discount on admission and receive the equivalent of a full rebate in the form of cash vouchers valued at HK$350 for spending at the Park's designated food kiosks, restaurants and souvenir shops. Senior citizens aged 65 or above receive complimentary admission as well as a 30% discount on designated items and priority access to the Cable Car, in addition to the "Buy HK$50 Get HK$50 Free" coupon for skill games.
Local residents who missed out on their complimentary birthday admission offer during the Park's temporary closure can enjoy free admission from 13 June to 12 July upon presentation of their Hong Kong identity card or birth certificate. For SmartFun Annual Pass holders, membership validity will be automatically extended and an additional one-month membership will be awarded to compensate for Park closures on Tuesdays in June and July.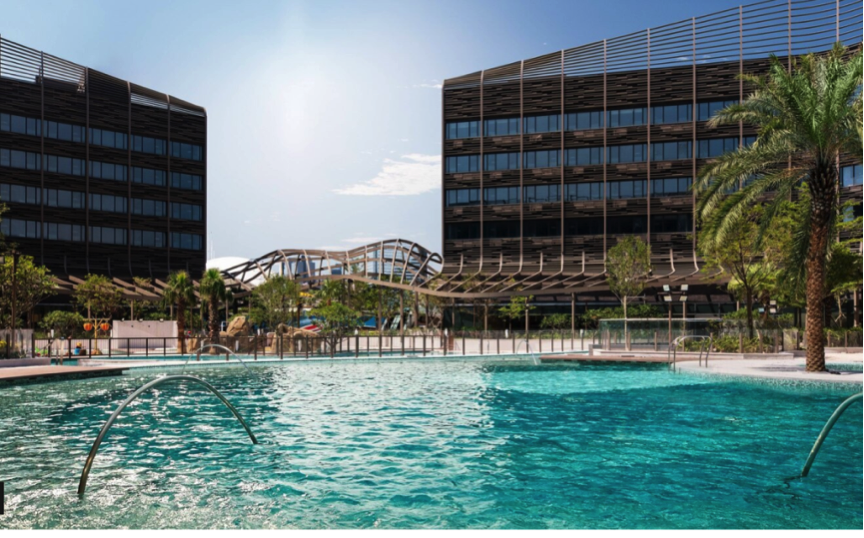 Promotional Hotel Offers
Hong Kong Ocean Park Marriott Hotel is launching the Home Kong Amazing Moment Room Package, offering residents of Hong Kong a one-night deluxe room, breakfast buffet and Ocean Park admission tickets for two adults and one child, as well as dining vouchers valued at HK$1,000 for use at the Hotel or designated restaurants at the Park. 
Book Online
To prevent overcrowding and allow for social distancing, all visitors are required to make reservations online with admission tickets for their dates of visit. Book for up to eight persons per group and up to 14 days in advance (www.oceanpark.com.hk).
What's New?
Discover Nature through the Five Senses
Coinciding with Ocean Park's reopening is the launch of Redd's 5 Senses Discovery, a free edutainment programme curated to stimulate curiosity and encourage children to discover the wonders of nature through nature play and experimental learning under their parents' guidance. Visitors will receive a discovery pack for exploring different Discovery Zones located throughout the Park's Waterfront, with a wide array of recommended activities to help children learn through the five senses of sight, hearing, smell, taste and touch as they interact with the objects, animals, plants and environment en route.
Equally exciting is the brand new Nature Art on Bread Workshop to be introduced in July. A fun baking experience for children that promises to keep both their hands and brains busy, participants will be able to create their own unique bread masterpieces with seasonal vegetables, fruits, herbs and edible flowers – exploring the features, textures, smells and colours of the ingredients and the transformation process while they acquire some baking skills.
New Animal Exhibit – Little Meerkat & Giant Tortoise Adventure
Apart from the adorable animal ambassadors that everyone has been missing, visitors will soon be able to meet new members of the team at the Park's new African-themed animal exhibit, Little Meerkat & Giant Tortoise Adventure, to be unveiled at the Whiskers Harbour in July. Visitors will get the chance to learn about how meerkats and giant Aldabra tortoises adapt to the environment, as well as how to live in harmony with nature by loving and respecting all living creatures on Earth.