Reading Time: 2 minutesThe day many Hong Kongers have been waiting for is finally confirmed – Water World Ocean Park will officially open to the public on September 21, 2021! Tickets are now available.
Water World is Asia's first and only year-round, all-weather seaside water park! Water World has something for everyone, promising fun for all ages.
Water World will adopt dynamic pricing, where admission prices will vary according to seasonality, and days of the week over the next 60 operating days, with limited daily early-bird offers.
To celebrate the opening, Hong Kongers can access special ticket prices from HK$400 for adults and $225 for children during the opening period.
Water World has five zones, each with its own unique identity and spirit of fun and adventure. Within the five zones, there are 27 outdoor and indoor attractions, including Hong Kong's first ever surf rider, nine water slides and an all-weather indoor wave pool. 
One of the most exciting attractions unveiled is the Rainbow Rush slide, an eight-lane, 17-metre slide (see featured image) that will take riders on a high-speed and exhilarating water race ride.
Your Water World adventure begins at Splendid Reef, an open area on the shores of the South China Sea. Adventure seekers can enjoy the twists and turns of the slides at Torrential River while those looking to take on challenges can opt for the Thrill Valley, set atop the mountain overlooking the valley and sea below, and its mind-blowing extreme slides and free fall experiences. 
For the more laid back, relax under the sun and indulge in some treats in Adventure Coast. 
The Hidden Village is open for all ages and includes the city's first-ever all-weather indoor wave pool, Horizon Cove. The area will also be used to host both day and night entertainment, such as concerts and events on the performance stage.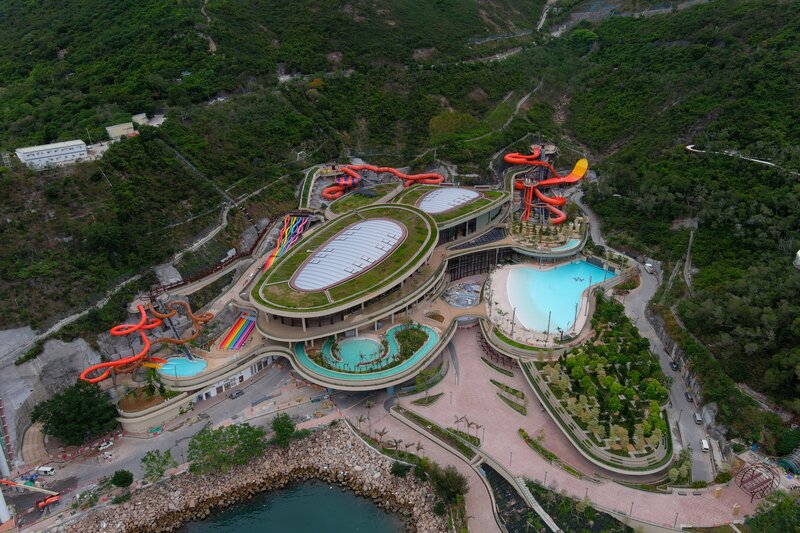 Horizon Cove at the newly-opened Ocean Park Water World. 
All images courtesy of Ocean Park
Related Articles: