Reading Time:
11
minutes
For online grocery shopping, Hong Kong has a wealth of retailers selling high quality produce, meats, seafood, specialty foods and more. It's all at your fingertips and can be delivered directly to your doorstep.
We've rounded up a long list of our favourite online grocery stores in Hong Kong. Whatever your grocery needs, there's a shop for you.
Meat, Poultry and Seafood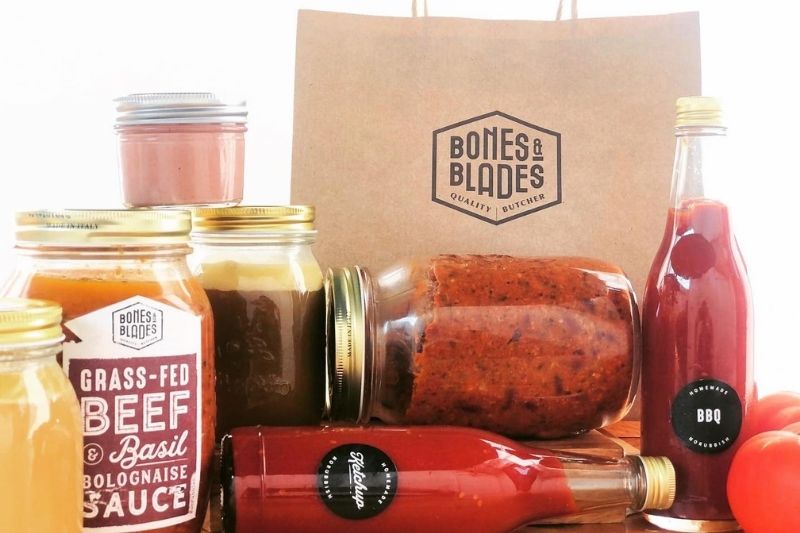 Bones & Blades makes the connection between the farm, the meat and what we eat. Their philosophy embraces sustainable farming and emphasises farmer's ethics. All products (except poultry products) are not pre-frozen and they guarantee cold chain delivery. Bones & Blades is a butcher as well as a restaurant with 4 locations across Hong Kong in Sai Ying Pun, Sai Kung, Yuen Long and Discovery Bay. Free delivery is available on the island for orders over $800, otherwise delivery service is $130. Orders are delivered within 48 hours (no deliveries on Sundays and public holidays). 
To Order Whatsapp +852 5200 3900 or email ordering@bonesandblades.com
Aussie Meat is a leading online butcher in Hong Kong, delivering premium quality grass fed, organic, naturally farmed, hormone and antibiotic free Australian and New Zealand meat and ocean-caught seafood from Australian, NZ, European, UK and US farms jet fresh to your office or home. Place your order before 12pm midday for earliest next-day delivery, or another day of your choice. Orders can be placed up to 30 days in advance and orders over $700 receive free delivery, otherwise there is a $70 delivery fee. There is no minimum order requirement and they deliver to Hong Kong Island, Kowloon, New Territories, Tung Chung and Ma Wan. Delivery hours: Tuesday to Saturdays from 9am to 7pm. Get 10% off your first order when you join the loyalty program.
Delivery info available HERE 
Farmer's Market brings restaurant quality products to your home. The company was established with the aim of providing exceptional meat products and fine foods to Hong Kong families. Products including fresh Australian beef, lamb, pork, salmon, fish, duck, chicken, sausages and more. New customers can sign up for $100 off the first order. Place your order before 12 noon Monday to Friday for NEXT DAY delivery (except for DB who have deliveries on a Wed, Fri and Sat only)
For special delivery requests or info contact info@farmersmarket.com.hk or add it to the notes section when checking out.
Recipes and E-books can be found on their website: 
Start shopping: www.farmersmarket.com.hk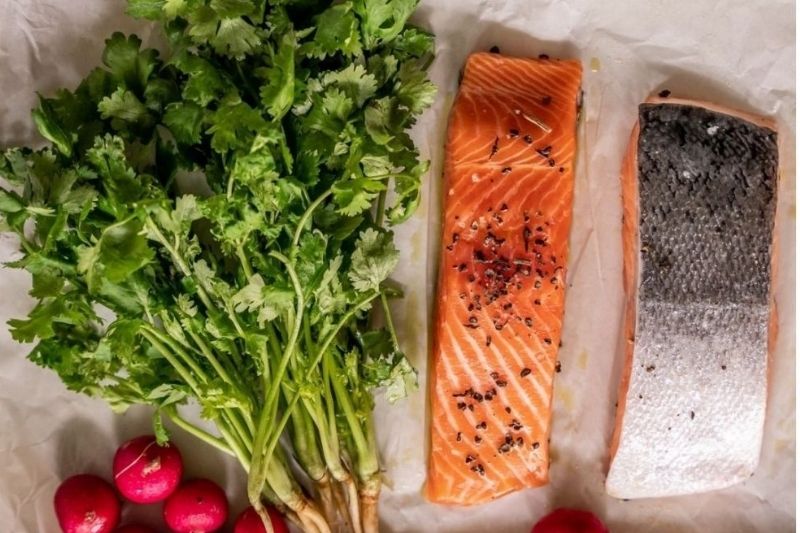 Jett Foods
Jett Foods delivers quality premium meat, seafood, snacks, vegetables, wine and condiments straight to your doorstep at the fairest prices in Hong Kong. They are a one stop shop for premium food needs. Jett Foods sources products from all over the world including the US, UK, Canada, Australia, New Zealand, China and Spain. Without a retail shopfront rent to cover, they can pass savings on to you. Free delivery (Monday to Saturday) is available for orders over $700 or pay an $80 delivery fee.
Contact Jett Foods: 2428 7832 or 2428 7833, cs@jettfoods.com, www.jettfoods.com
The Fishwives has a real passion for healthy unadulterated, sustainable clean fresh food. They source only healthy and clean products for delivery to Singapore and Hong Kong.
On offer – NZ King Salmon, line caught snapper, pasture fed Angus Beef and pasture fed lamb all from New Zealand. They also source delicious fresh barramundi from one of the best fishing areas close to Singapore. All products are hormone, antibiotic, mercury, steroid, vaccine, growth enhancer and GM Free. Keep in mind, orders open on a monthly basis and delivery fees depend on location.
The Fishwives, info@thefishwives.com, hk.thefishwives.com. Find them on Facebook 
My Meat Man
Brought to you by the same people behind My Wine Man, My Meat Man is your source for beef, chicken, duck, lamb, pork, seafood, plant based items, seafood, cheese, some smallgoods and personal care items too. My Meat Man only stocks meat following the Australian Meat Standards. Next day free delivery across Hong Kong with an order of $800 or more, some exclusions apply. You can also collect your order at the showroom.
My Meat Man, Unit A, 4/F, Yally Industrial Building, 6 Yip Fat Street, Wong Chuk Hang, Hong Kong, 2554 5553, www.mymeatman.com
High Quality and Gourmet Groceries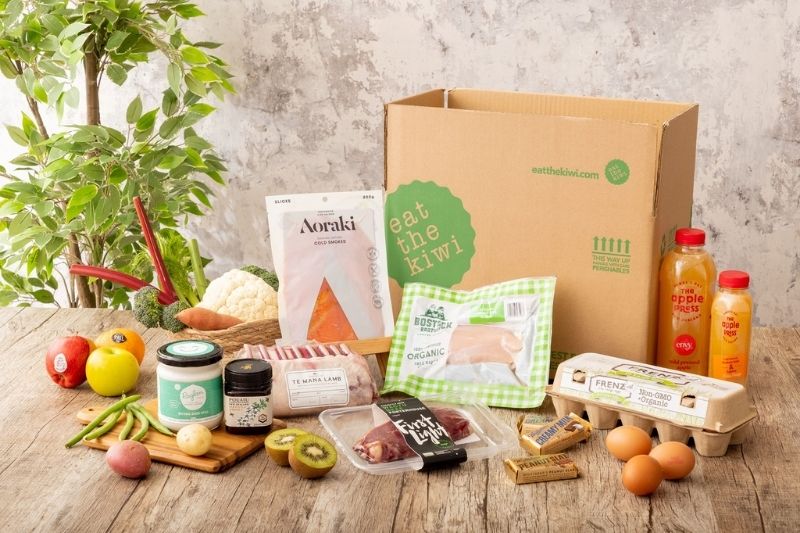 Launched by the founders of The Produce Company, a NZ based food distributor, Eat The Kiwi brings high quality ingredients directly from New Zealand to Hong Kong. All food is sourced directly from New Zealand farmers and producers. The vegetables are flown in fresh twice a week and all of the proteins and eggs are raised outdoors and are antibiotic-free, hormone-free and sustainably farmed. The online store offers over 300 high quality New Zealand products. Packaging is minimal. They avoid plastic, using recyclable cardboard boxes for delivery. When possible, they pack goods loosely in in the boxes but use paper bags where this is not possible. They deliver online groceries in  Hong Kong in all areas expect for Ma Wan. Get 10% off your first order.
Order online: www.store.eatthekiwi.com, +852 6390 3823, Email hello@eatthekiwi.com
Feather & Bone, a premium butcher, grocer and deli, work directly with farmers and artisans, giving you access to quality meats, produce and pantry items for everyday prices. Stock up on top-quality, 100% grass-fed meat sourced directly from Australian farmers, other premium cuts of meat, market fresh fruits and vegetables, as well as handpicked seasonal products, gourmet items, household goods, deli items and more. Delivery service is available in Hong Kong Island, Kowloon and New Territories and delivery is free for all orders over $500. For online orders below the minimum spend, a $100 delivery fee is applicable. You can also order online and then collect at any of the Feather & Bone stores (11 locations across Hong Kong) with their click and collect service. Order before 3pm for next day delivery, for more info visit the website here.
Shop Online
South Stream only imports the best products from providers with high standards. Their wild catch fish are from the cleanest environments in the world and sustainably sourced. The South Stream butcher receives weekly shipments from New Zealand and Australia in order to provide the freshest quality meats. Operating in Hong Kong since 1992, South Stream Market is a well known and loved online importer. Offering a wide variety of fresh & high quality products including meat, seafood, veggies & fruit, bakery items, dairy & eggs, drinks & beverages, groceries, home products, personal care, pet foods and much, much more. South stream delivers to most areas in Hong Kong. They can make special arrangements for country parks, outlying islands and some remote areas. The minimum order amount is $300 (+$55 delivery charge) and orders over $500 have free delivery. Start by registering here.
South Stream even has their own in-house nutritionist, recipes and nutrition blogs too.
Order online: www.southstreammarket.com, 2555 6200
Specialty Shops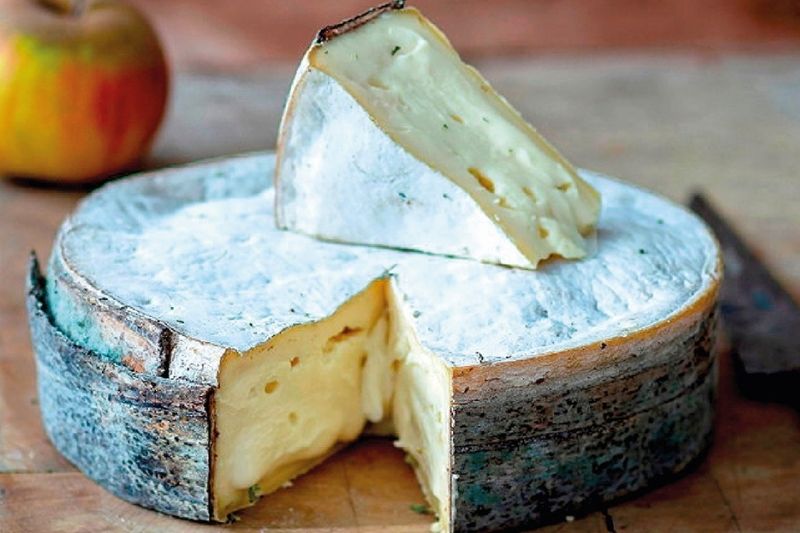 Cheese Club has become the biggest importer and distributor of premium cheeses in Hong Kong. Cheese Club's mission is to provide "premium imported food, at the same price as it is sold in Europe". They import cheese, wine and gourmet foods. Once a month, Cheese Club organises a group order of premium cheese from Europe at an attractive price. Once the products arrive in Hong Kong, they are delivered straight to your doorstep. With the finest cheese selection from the best cheese mongers in Europe, friendly pricing (up to 50% less than the usual Hong Kong retail prices) and optimal freshness from farms directly to your home, what's not to love?
Browse the shop HERE. Email cs@cheeseclub.hk or WhatsApp +852 6576 4221
At FoodCraft you will find something to cater for every dietary need – from raw to keto, wheat-free, vegetarian, vegan, paleo, gluten free, lactose free – you name it, they've most likely got it! Shop the range of handmade items such as GF sourdough bread, pistachio butter, immune boosting bliss balls, coconut water kefir and more. Or check out the rest of the online store with over 800 hand selected products, focusing on overall well-being and gut health. They also offer natural cleaning products, bathroom staples and much more. Delivery is free on orders over $700, or there is a $100 delivery fee on orders that do not reach the minimum. Delivery is available on Hong Kong island and new territories (on selected days). Store pick up is free. Shop online. 
16A, Yiu Ga Factory Building, 62 Victoria Road, Kennedy Town, Hong Kong (Entrance on Sai Ning Street). Email: yummy@foodcraft.hk, WhatsApp +852 5539 0014

Mercato Gourmet by Giando sources and imports produce directly from small family farms and producers in Italy and beyond. They aim to provide the best seasonal produce of the highest quality, including cold cuts, cheeses, meats, sausages, fruits, vegetables, wines, liqueur, pasta and more. The burrata is a must buy! 
New Flagship Store, 3-11 Wing Fung Street, Wan Chai, Hong Kong, +852 2511 1252
Bella Ciao is an Italian grocer full of high quality imported fresh foods and pantry items. Shop for delicious Italian cheeses, olive oil, salmon burgers, sweets, salami, seafood, pasta and more. Tired of cooking? Try the handmade lasagna, spinach and ricotta cannelloni or focaccia. Yum! Free delivery on orders of $500 or more.
Contact +852 9731 0959
Supermarkets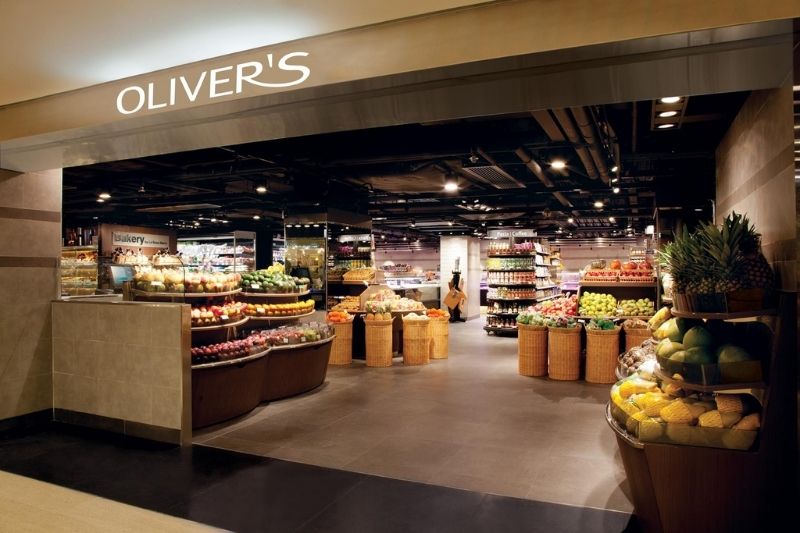 In addition to the popular supermarkets like ParkNShop, Wellcome and Marketplace (by Jason's) a number of other supermarkets are great for online grocery shopping in Hong Kong. Check out the offerings from CitySuper, 3HreeSixty, Great, Sogo and Oliver's plus those listed below.
Get all your M&S favourites right to your doorstep with the Marks & Spencer food delivery app now available to download for free on IOS and Android. All the great produce and products you love at M&S can be delivered to you with a few clicks. Order by 4pm for free next day delivery when you spend over $1000. They offer 10% when you sign up to receive email notifications.
Download the APP and start shopping  
All your favourites from the UK! British Essentials is a dedicated online grocery store in Hong Kong and a completely independent business affiliated with some of the biggest grocery distributors in the UK. All groceries are imported directly from the UK and all items are fresh and have long expiry dates (where possible). Delivery is free for orders over $290, and anything below is subject to a fee of $16-18 unless you're on an outlying island where it's $650 for free delivery or $38 fee. Delivery is available in Hong Kong, Kowloon, New Territories and selected outlying island (Discovery Bay, Tung Chung, South Lantau and Park Island).
Shop online HERE 
Whatsapp: +852 9818 5323
Last Minute Orders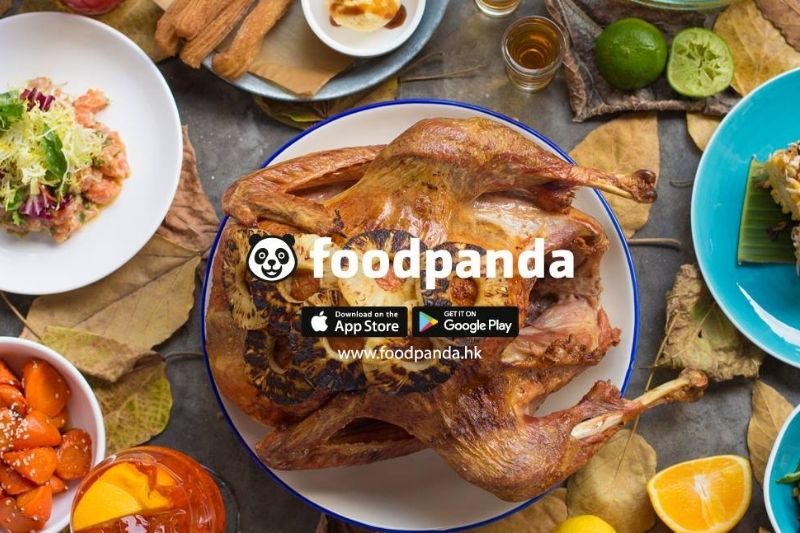 Did you forget something at the store and need it right now? Are you working through a recipe only to discover you're missing one ingredient? When you need something right away, look no further than foodpanda to deliver in just 20 minutes. Simply go to 'foodpanda mall' on the foodpanda app and explore thousands of products from the shops you love. Pandamart has stocks everything from groceries to kitchenware and more. The foodpanda mall has a list of grocery stores, including USelect, YATA, Yamazaki Bakery, M&S, PARKnSHOP and many more.
Enter your address HERE to see which shops deliver to you: 
One Stop Shop
From local produce to imported pork mince and fresh fruits, Jou Sun stocks a huge variety of grocery and pantry goods. You can shop their Asian Food and Western Food specialty sections, although they seemed to have some crossover. Stocking gourmet and fresh items, Jou Sun could be a one-stop shop. Check out their blog for recipe ideas, health and a collection of other stories. Get free delivery with orders over $300.
Have a browse of their website www.jousun.com
There is a dizzying array of items for sale on the 'shoppertainment' platform known as HKTV mall.  You can use the app to shop for more than products you can imagine from over 100 brands. Buy groceries, skincare items, makeup, electronics, housewares and more. Get free delivery on orders over HK$500.
Get ready to spend a lot of time ONLINE 
Fresh Fruits and Vegetables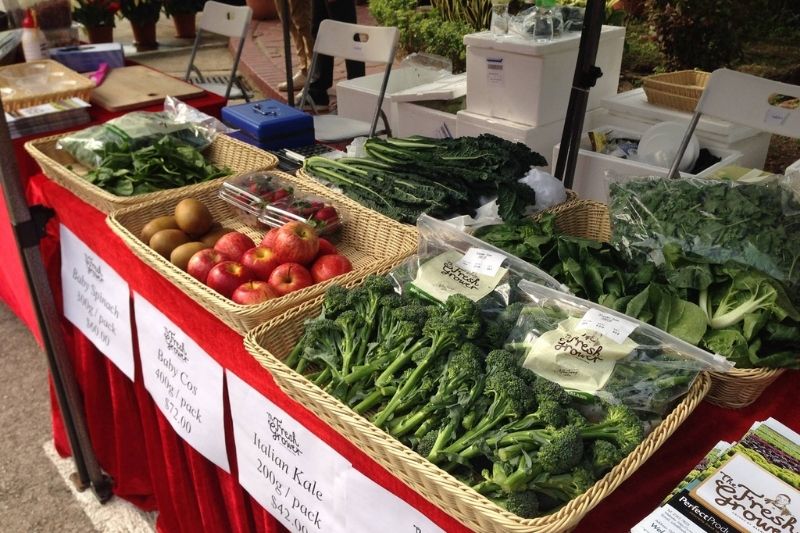 Homegrown Foods has fresh fruits, vegetables, herbs and spices from local farms plus a small range of vinegars, teas and personal care products. You can opt for fresh veg and fruit subscriptions to save yourself the hassle of ordering each week. Homegrown Foods promises "premium clean food at its peak". They are dedicated to promoting healthy lifestyles by offering food that is at its nutritional peak by partnering with local family farms that use a convenient and economical system to harvest crops at their optimal ripeness. Free delivery for orders over $458 or it's a $100 delivery fee.
Email Homegrown Foods: info@homegrownfoods.com.hk 
Shop Homegrown Foods: www.homegrownfoods.com.hk
Started by 3 concerned and health-conscious mums, Eat FRESH is now an organic e-green online grocery store in Hong Kong. With an ever-expanding range fresh produce and healthy products. Organic farmers in the New Territories are the source of the fresh offerings. Choose your fruits, vegetables, salads and herbs individually or opt for a subscription service. They also have a small offering of personal care items and other groceries. Orders over $345 have free delivery, otherwise it's $80. Shop in advance for delivery on Tuesdays and Fridays (Hong Kong Island) and Wednesday (Kowloon and New Territories).
 Find Eat FRESH online: www.eatfresh.com.hk or email them at order@eatfresh.shop

Delivered fresh in under 24 hours on Mondays and Thursdays, Magic Season Organics is a great choice for super fresh veggies online groceries in Hong Kong. They also have 3 collection points (Admiralty, Central and SaiYing Pun) if you are out and about.
Magic Season Organics online 
Airflown quality fresh vegetables from New Zealand twice a week (Thursdays and Sundays)– that's The Fresh Grower. Stocking leafy greens, fruits, beans, veggies, mushrooms and honey, you can get free delivery on orders $400 or more ($600 for outlying areas). All delivery info is on their website.
Find The Fresh Grower online: www.freshgrower.com.hk, WhatsApp +852 6382 5378, Email: info@freshgrower.com.hk
With a selection of the best varieties from each region and by season, What'sIN sources from the best farmers. They strive for fresh online grocery delivery in Hong Kong, minimizing the harvest-to-delivery time to only a few days. With WHAT'sIN fruits and vegetables, they take pride both taste and freshness of their products. Choose individual fruits and veggies try a surprise box. They also have a few biodynamic and organic pantry staples.
WHAT'sIN, Unit 4B, 13th Floor, Cable TV Tower, No.9 Hoi Shing Road, Tsuen Wan, 
New Territories, Hong Kong, +852 2178 2229
Health and Eco-Friendly Online Shops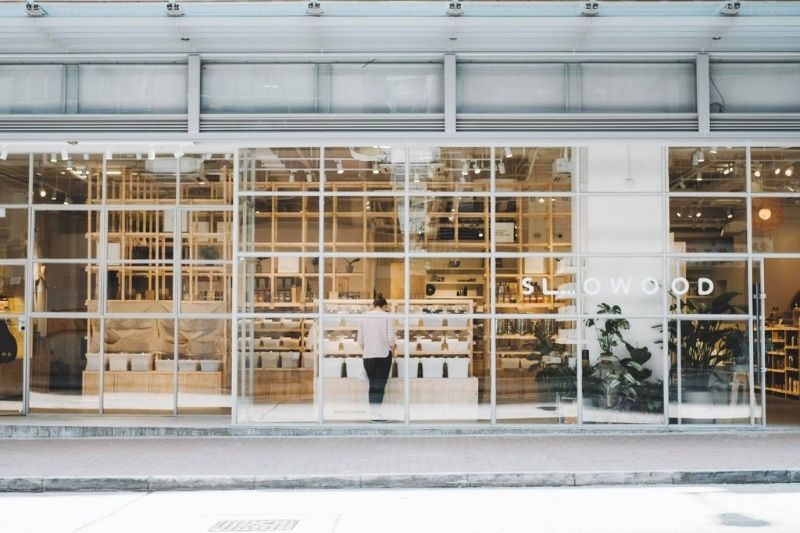 Sustainable lifestyle products, bulk items, organic grocery and more can be shopped online at Slowood. Stock your pantry, refill your shampoo, grab some snacks and buy your eggs and dairy in one convenient place online. Free delivery for orders over $300 or you can collect your order from Kennedy Town at their beautiful shop.
Slowood (Kennedy Town), Shop 1-3, G/F, The Hudson 11 Davis Street, Kennedy Town, Hong Kong, www.slowood.hk
You may also like: Our Kennedy Town Neighbourhood Guide
Apart from being an organic market and café, Spicebox is an awesome shop full of healthy food, personal care and natural home care products that can be delivered to your door. Check out their veg box subscriptions, pantry staples, herbs and spices, fresh fruits, tea, snacks, frozen meals and more. You can also buy items in bulk at a savings…both in dollars and in packaging. Spicebox has 3 locations in Central, Kennedy Town and Tsuen Kwan O in case you're out and want to grab a fresh snack.
Spicebox Organics Website 
Shop for the best and most health-conscious baking goods, nuts, seeds, dried fruits, superfoods, kids snacks, supplements and pantry items. Chock full of eco-friendly products, The Store delivers your goods the same day (if ordered before 2pm) for free with orders over $450. Also have a look at their vitamin and sports supplement section.
Call The Store: 9848 5974, Email: goodforyou@thestore.com.hk, Shop: www.thestore.com.hk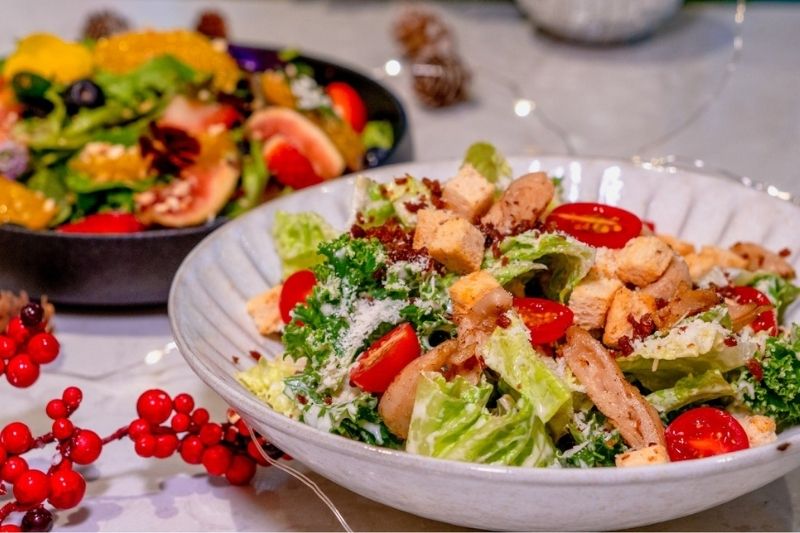 Plant-based and health-focused, Green Common is your shop for all things vegetarian and vegan. Need a vegan egg replacer for your baked good? Love a yummy burger as a treat? Try cooking the Beyond Burger at home. Green Common stocks all the best in plant based milks, cheeses and healthy snacks in addition to loads of grocery items, personal care and more. They even have a recipe section online to get some inspiration. Get free delivery with orders of $350 or more or pay a $55 delivery fee.
Green Common, WhatsApp 2263 3152, Email: eshop@greencommon.com, Web: www.greencommon.com
Organic Plus stocks rice, grains, pasta, cereal, honey, oil, frozen fish and meat plus snacks, drinks and many more organic and health food items. They also carry gluten-free, non-GMO, dairy-free, non-hydrogenated oils and chemical-free products. Free delivery is available for orders of $500 or more, otherwise pay an $80 delivery fee or collect your order from one of the shop locations.
Organic Plus 2755 1880, Email: info@organicplus.com.hk, Web:www.organicplus.com.hk
Live Zero is Hong Kong's original zero-waste store offering a wide range of natural and organic brands, free from packaging. From pantry staples like oats, flour, legumes, herbs & spices, to household, personal hygiene products like hair wash, body wash, laundry and multipurpose cleaning, Live Zero is a great choice for a green lifestyle. They can arrange a home delivery service for online orders via GogoVan Couriers and SF Express. Monday – Friday deliveries are available at this time and will be made between 6-10pm for GOGOVAN courier. Delivery fees range from $80 – $130 depending on where you live. Don't forget to stock up on sustainable and eco-friendly items like shampoo and conditioner bars, cleaning products, reusable menstrual cups, lunch boxes and stainless steel straws.
Live Zero Bulk Beauty, 20 High Street, Sai Ying Pun, Hong Kong
Live Zero Bulk Foods, 22 Yi Chun Street, Sai Kung, New Territories, Hong Kong, 2567 6696, orders@livezero.hk, www.livezero.hk
You may also like: Your Guide to Plant-Based Foods & Meat Alternatives in Hong Kong 
Look no further for your pantry staples, snacks, supplements and personal care products than iHerb. They deliver to your door for free (with a minimum order price). You'll find oil, honey, chocolate, spices, tea, cereal, baby snacks, oatmeal and baking items on iHerb plus all your immune boosting vitamins and more. Look out for weekly specials and collect rewards too. 
Start shopping HERE
Featured image courtesy of Shutterstock; picture 1 courtesy of Blade & Bones; picture 2 courtesy of The Fishwives; picture 3 courtesy of Eat the Kiwi; picture 4 courtesy of Cheese Club; picture 5 courtesy of Food Craft; picture 6 courtesy of Foodpanda; picture 7 courtesy of The Fresh Grower; picture 8 courtesy of Magic Seasons Organics; picture 9 courtesy of Slowood; picture 10 courtesy of Green Common
Related articles: