Reading Time: 3 minutesPlanning a party any time soon? Playtimes' little black book of contacts can help you plan a celebration to remember.
Great giving
Twopresents offers an innovative online invitation platform that allows you to turn your celebration into an occasion to do good and get your perfect gift at the same time. It's simple: send your invitations through the Twopresents website and let your guests know that instead of bringing gifts, they have the option to contribute money online towards a charity your child is supporting and one meaningful gift he/she is saving for. When the party is over, you will receive one portion of the funds to buy your child's chosen gift and the other portion goes to your nominated charity. Visit www.twopresents.com to plan your perfect party!

Charitable celebrations
Using the Charitable Choice online platform, you can set up a personalised giving page to raise funds to support up to three charities of your choice. Celebrate your special occasion in a meaningful way by appealing to friends and family to support your favourite cause. A variety of Charity Gift Cards are also available to suit every occasion. Gift Cards are a great way to make a charity donation on behalf of another person, yet enabling them to select the charity that benefits. All donations made are tax deductible in Hong Kong. Visit www.charitablechoice.org.hk for more details.

Party supplies
Partytime is a boutique where you will find everything you need to organise the perfect party. From invitations to tableware and helium balloons, or toys and sweets to fill your party bags and piñatas, you will find everything you need to create magical parties under one roof. They also offer all kinds of services to make party organising a little easier. They can cater to parties for every budget. Visit www.facebook.com/partytime852 or visit one of the shops at Shop 225-226, 2/F, Prince's Building, 10 Chater Road, Central; or Shop 1301A, 13/F, Tower One, Times Square (opening soon).
Halloween inspired treats
Give your cupcakes a Halloween feel with Twinkle's Halloween cupcake picks set. The set includes a variety of themed picks including skeleton party, red eye balls, pumpkin butcher, sea monster and the undead, which all include cupcake liners, sprinkle and cupcake topper. Besides decorating with simple picks, you may join Twinkle's Cupcake Decoration workshops in October with Halloween Theme. Their pastry chef will teach you how to use Twinkle's products to decorate the cupcakes. Visit www.facebook.com/TwinkleBaker for more information.
Putting on a party
Swoon Soirées is Hong Kong's sweetest online partyware boutique filled with creative inspiration and must-have accessories for hosting your next event. Design your own whimsical party to create a truly personalized event or select from many adorable themes and matching accessories ready to be shipped.  If you need a party planner, their stylist will create an amazing event that your guests will surely be giddy about for months. And if you're attending a party, you can find everything you need to wrap your gifts in style from gorgeous papers and ribbons to beautiful designer gift boxes and bags. Visit www.swoonxoxo.com, www.facebook.com/swoonxoxo or email info@swoonxoxo.com
Cook up a storm
FRITES offers a selection of kids' party packages starting from $175 per person with a minimum of five kids. With a separate kids' playground area at the venue, choices of a special cookie making and decorating session or a pizza making session are offered. A fun kids' menu is served in a sharing style, with a selection of spaghetti bolognaise, mini fish and chips, and mini burgers. Party hats, blowers, table decorations, balloons and a Happy Birthday banner are included for the kids' birthday celebration. Enquiries can be made to Jessica@conceptcreations.hk.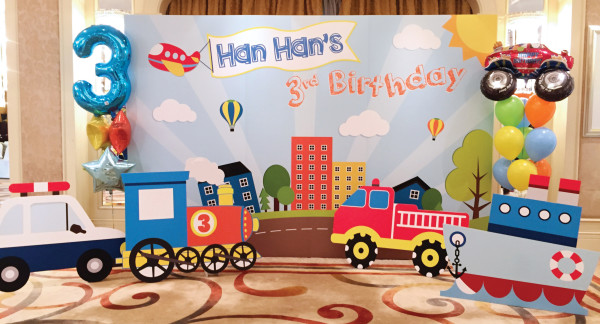 Personally speaking
The latest party trend is to create personalised parties. Simply Love can design personalised items such as backdrops, banners, standees, party favours, stickers and goodie bags, all with your child's name and age with matching theme. They also offer party planning and venue decoration services to help you with all your needs. Visit their website for more details visit www.simplylove.com.hk.
Partyware
Happy Moments is a one stop party supply store, located in Wanchai, conveniently next to MTR Station. It provides a large range of party supplies – themed tableware, decorations, party bags, games, balloons and costumes. It is a perfect place to get party supplies for kids and adults to celebrate occasions from baby showers and birthdays to special events such as weddings, bridal showers and festive events. Party planning and entertainment services to cater for all your needs are also avaialble. Let the team create a unique and unforgettable experience for you and your guests. Call 6575 8232 or visit them at 2/F, Shun Lee Mansion, 153 Hennessy Road, Wanchai.