Reading Time: 7 minutesConsidering a plant-based diet? This comprehensive article looks at why eating plant-based foods and meat alternatives is not only better for the environment, but for your health, too!
Here, we offer advice on meat-free alternatives in Hong Kong, from where to source the tastiest plant-based products to our pick of the city's very best vegetarian restaurants. We've even included a tasty recipe for you to try at home.
So whether you're looking to transition full-time to a plant-based lifestyle or simply contemplating giving Meatless Monday a go sometime, be sure to read this first.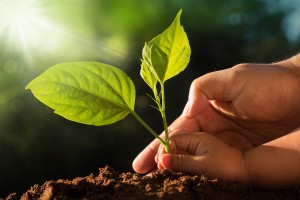 Why is a plant-based diet better?
We know animal agriculture has an impact on climate change and in order to dampen these effects, a diet with little to no meat could make a big difference to the environment globally.
Compared to beef, plant-based alternatives use approximately 96% less land, 87% less water and generate 89% fewer greenhouse gasses, according to Impossible Foods. Getting your nutrition through vegetarian sources is far more sustainable and can therefore help re-establish natural balance to our ecosystems.
By choosing to eat plant-based meals, you can also have a positive impact on your health. It is well established that people who follow a plant-based diet are less susceptible to conditions like obesity, diabetes, heart disease, colorectal cancer and high cholesterol than those who consume meat. So why not do your body some good and try eating more plant-based foods?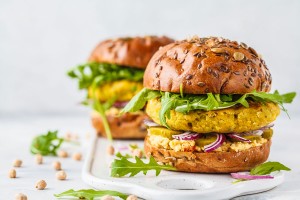 Meat-free Alternatives in Hong Kong
Looking for meat alternatives in Hong Kong? You're not alone. And luckily for you, the options for a meat-free (aka plant-based) diet have never been more diverse and appealing than they are today.
With the recent introduction of Impossible Foods, Beyond Meat, Gardein and Karana (among others) to Hong Kong, there has been a big shift to adopting plant-based diets. And it's become even easier with so many Hong Kong restaurants embracing these products and making them an integral part of their regular menus. This Earth Day will see around 170 restaurants in Hong Kong, a 70% increase from last year, putting Impossible products on their April menus. How amazing is that?
While vegetarian 'burgers' have been around for quite some time, they have not enjoyed the popularity they do these days. In 1981, restaurateur Paul Wenner in the USA created the "Gardenburger" after crafting patties from leftover vegetables and rice pilaf. He officially introduced vegetarian alternatives to meat at a neighborhood cookout and went on to create a multimillion dollar company (and industry) in the process. In 2002, Burger King launched the BK Veggie Burger in partnership with Morningstar Farms, a subsidiary of the Kellogg Company making meat substitutes. Beyond Meat and Impossible Foods launched out of Silicon Valley, California in 2009 and 2011, respectively. These companies both aspired to take on the Big Beef industry and so far they're knocking it out of the park.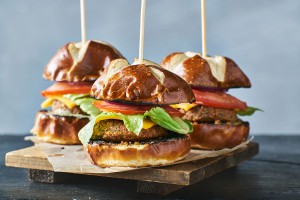 Are meat alternatives healthy?
While there are some really tasty choices of alternative plant-based "meats", and why not try them all, it's a good idea to keep in mind just because something is meatless, if doesn't mean it's automatically good for you.
"I'm definitely a fan of plant-based meals, and it's great to cut down on your consumption of red meat, but take a close look at what you're substituting it with. Some of these meat substitutes are over-processed, loaded with saturated fat, and contain excessive amounts of sodium," says Good Housekeeping Institute Registered Dietitian Stefani Sassos, MS, RDN.
A Harvard Medical School study sums up the topic. Their research concluded that plant-based meat alternatives provide protein as well as limited vitamins and minerals, however, these products are highly processed and contain high levels of saturated fats. Although plant-based diets have positive impacts on the environment, these new meat alternatives may not be the healthiest for our bodies. Choosing to consume these products on occasion or for a treat is probably fine but it's best not to consider them to be a health food.
The truth is, you can have a really satisfying plant-based diet full of healthy protein by including lentils, tofu, chickpeas, black or other beans as well as nuts and seeds in some of your favourite recipes. In some cases, you can add these in place of meat. A delicious way to incorporate lentils is in spaghetti 'Bolognese', for example. Kids love it and meat eaters won't miss the mince one bit. This way of eating is beneficial for your health and there's no need to actually substitute meat at all unless it's for a treat like having a burger would be anyway. There are so many options when it comes to preparing plant-based food that you would likely not miss having meat at all.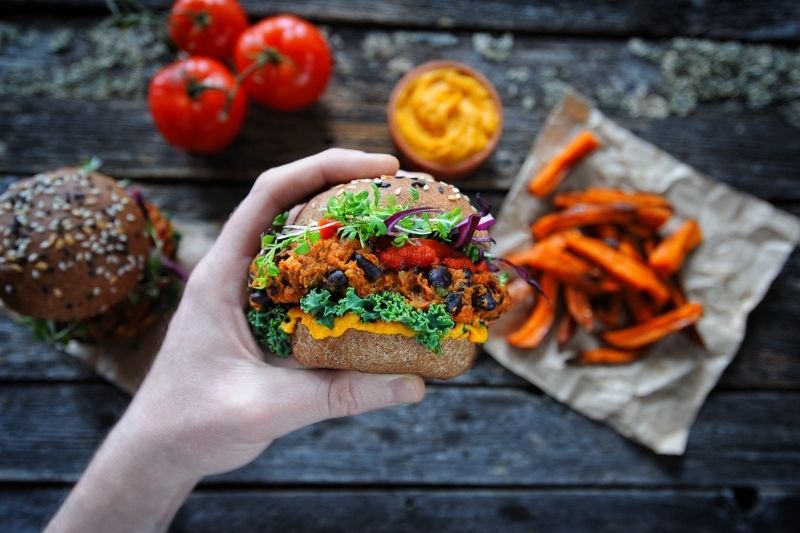 Meatless Monday Ideas
You may have heard of Meatless Monday and perhaps even participate regularly, but did you know its history is rooted in wartime conservation? The international campaign encouraging us all not to eat meat one day a week, on Mondays, was originally conceived during World War I. While the aim these days is to improve your own health and the health of the planet, historically the goal was to reduce consumption of key staples to help the war effort and avoid food rationing.
Fast forward to 2003, Meatless Monday was restarted as a public health awareness program in the US. It is a non-profit initiative of The Monday Campaigns Inc. in association with the Johns Hopkins Bloomberg School of Public Health Center for a Livable Future. Worldwide, quite a few countries participate in meat-free days as a way to promote a healthy diet and healthy environment.
But why on a Monday? Monday, being the new start of a new week, is thought to be the best day to make healthy choices. If you've had an overindulgent weekend, why not start fresh on Monday with a healthy day of eating to reset yourself?
Cooking Light has a whole year of meatless Monday recipes to get you started. Try a new recipe each week and build up your repertoire of veggie recipes the whole family will enjoy.
Plant-Based Recipe – Lentil Spaghetti Bolognese
For your first meatless Monday, give this amazing Lentil Spaghetti Bolognese a go! Plant-based and delicious, it could very well be your gateway to a whole new lifestyle!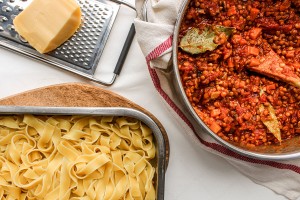 Ingredients
½ cup dry lentils (French green lentils or regular brown lentils), or 1 ½ cups cooked lentils from a can, rinsed and drained
1 bay leaf
2 Tbs olive oil
1 large garlic clove
1 carrot, finely chopped
1 zucchini, diced
½ capsicum, diced
½ white onion
¼ teaspoon salt
2 cups vegetable broth or water
2 cups of your favourite marinara sauce
Spaghetti pasta of your choice
Top with grated Parmesan and chopped fresh basil
Instructions
Saute carrots, zucchini, capsicum and onion with garlic and olive oil then set aside.
In a small saucepan, combine lentils, bay leaf, garlic, salt and broth.
Bring the mixture to a simmer over medium-high heat, then reduce heat to maintain a gentle simmer. Simmer until the lentils are cooked through and tender, which will take somewhere between 20 to 35 minutes, depending on the age and variety of the lentils. Drain the lentils, discard the bay leaf and garlic, and set the pot aside, uncovered.
Bring a large pot of salted water to boil. Cook the pasta until al dente, according to the package directions. Drain, then return the pasta to the pot and set it aside.
Stir the marinara into the lentils and add the cooked vegetables. Heat them all together over medium heat.
Divide pasta into bowls, top with chunky sauce and garnish with Parmesan and basil.
Adopted and modified from Cookie & Kate
Plant-Based Lunch Ideas For Kids
The plant-based diet isn't just for adults! Get the whole family involved and consider one (or all!) of these healthy and kid-friendly lunch ideas.
You might also like: Vegan Pad Thai and Vegan Chocolate Mousse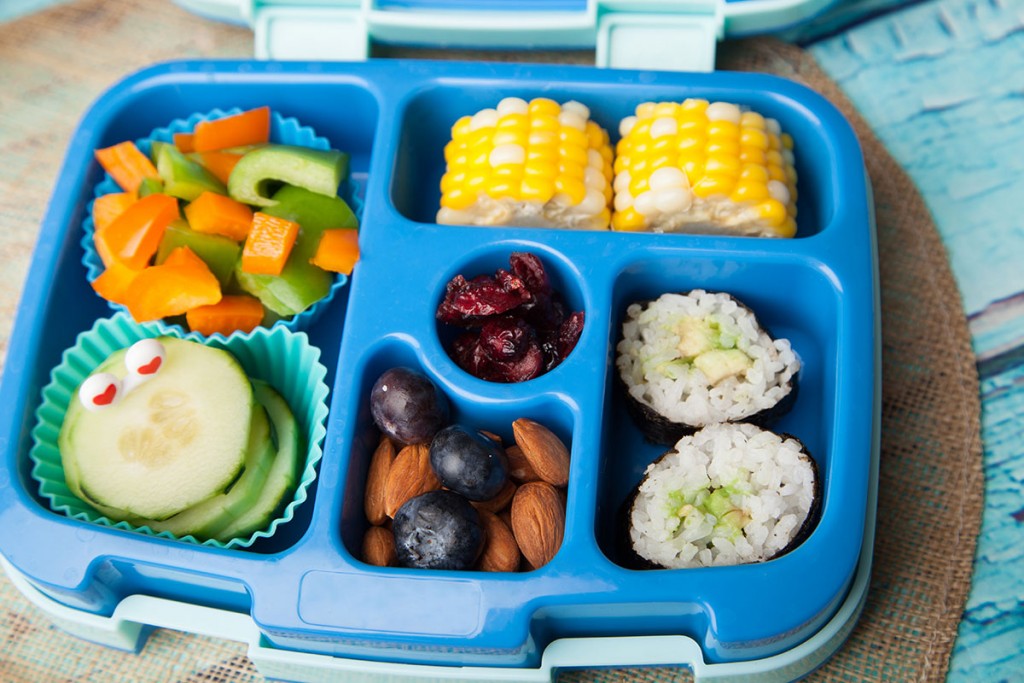 Vegetable Fried rice
Homemade vegetable patties (chickpea, beet, lentil etc)
Quesadillas – cheese and veg
Avocado sushi rolls
Falafel wraps
Cheese and hummus sandwiches
Pesto pasta (we add grated zucchini, carrots and chopped spinach)
Bagel sandwich
Margherita pizza
Left over veg enchiladas
Egg muffin cups with cheese and chopped veg
Lentils with carrots and onion over rice
Stir fried noodles with veggies
Risotto with broccoli
Where To Eat Vegetarian Food in Hong Kong
Being a vegetarian these days isn't actually that hard given the number of restaurants that now pride themselves on offering delectable meat alternatives in Hong Kong. Here are some of our favourites.
Olive Leaf The best brunches and late lunches I've had in Hong Kong were at Olive Leaf on Lamma Island. I've been there a couple of times and left so full of amazing food, I had wait a while to go back. And it was…vegan. You'll be amazed, I promise.
Shoreditch cooks up a mean Impossible Burger.
Veggie SF 1950s American decorated Veggie SF has a completely vegetarian menu offering an interesting range of foods. Their 'burgers' are very appetising. Very sadly, Veggie SF is closing at the end of October 2021, but apparently the new owner will keep the same menu!
Winston's Coffee serves meatless baps which are a nice compliment to their awesome coffee.
Pure Veggie House has a full vegetarian dim sum and Chinese food menu that's rather delicious.
Green Common is not only a plant-based grocery shop but has a café too, serving eastern and western specialities.
Hemingways bar and grill in Discovery Bay has an entirely vegan menu (even the drinks menu denotes which drinks are vegan-friendly).
Treehouse is another favourite veg spot. They have a yummy variety of organic, customisable 'burgers', flatbread wraps, salad bowls and some very lovely desserts and unique drinks.
Veda inside the Ovolo Hotel Central, is Hong Kong's first vegetarian hotel restaurant boasting a "a menu that is meant to be shared."
Alvy's is the place to go if you're craving pizza. Their Alvygan is, you guessed it, a vegan pizza topped with Impossible meat, vegan cheese and veg. It's quite delicious indeed.
Sip Song, Beef & Liberty, Chaat, Cheung Kung Koon, Elephant Grounds, Emerald, Hot & Meen now feature Karana – the jackfruit based, whole-plant pork product – in their menus.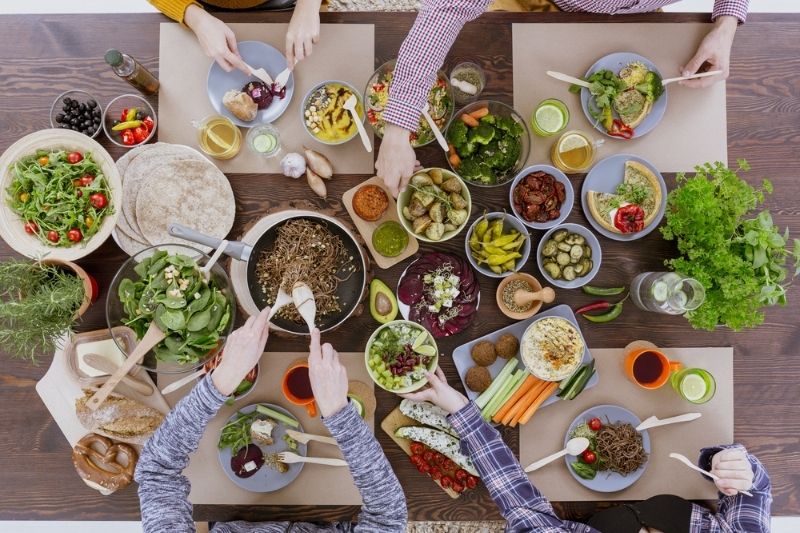 Where To Shop For Plant-Based Foods in Hong Kong
Amazingly, you don't even have to venture to a restaurant to enjoy meat alternatives in Hong Kong anymore. You can now find the biggest players in the plant-based foods market at your local shop. Here's where to shop if you're on a plant-based diet.
Eat The Kiwi, recognising that it has become more important than ever for us to work (and eat) towards a healthier future offers a wide variety of plant-based foods from plant-based mince to vegan dumplings, veg curries and more.
SouthStream Market carries vegetarian and vegan options (like Omnipork and Beyond Beef) plus plenty of fresh fruit and veg and vegan sauces too.
M&S has expanded in recent months! Pop in and peruse their Plant Kitchen selection which includes ready meals and snacks. The Plant Kitchen Vegan range has a variety of non-dairy milks, sauces, dressing, readymade meals and 'chorizo puppies'. Yum!
Nature's Village has also expanded recently and carries a variety of plant-based snacks, oatmeal cups, vegan peanut butter cups, plus some meat alternatives in the fridge.
SpiceBox Organics market and café is full of healthy vegetarian foods and pantry items. They also offer informative talks on a wide variety of health topics. Try their catering menu for your next gathering. 
The Store has nuts, seeds, sauces, snacks, superfoods and more at affordable prices (for Hong Kong). They also carry a nice selection of quality wellness products.
Fusion and Wellcome have jumped on the plant-based bandwagon too. They have freezers full of meat alternatives, vegetarian dumplings and even vegan cheeses.
So, there you have it! All you need to know to kickstart your journey into plant-based foods and meat alternatives in Hong Kong. Whether you're in it for the long haul or just ever so curious, why not start by giving Meatless Monday a go this upcoming week? Wet your palate at one of the many restaurants now offering plant-based dishes on their menus. Even better, pick up your favourite plant-based meat and whip up something spectacular from the comfort of your own home!
To learn more about all-things-green, definitely check out Green Queen. She has released some interesting news lately which indicates the shift towards much more plant-based consumption. Jump in!
Related articles: