Reading Time:
6
minutes
Three years ago, I devoted one long weekend to helping my daughter ditch her diapers. She was two years and three months old at the time. It was Easter break, my brother was due for a visit, and the start of the school year, in which I was told she would need to be nappy-free, was looming. I did my best to learn all the potty training tips and tales ahead of time. Scroll on to discover my best potty training tips for your little one.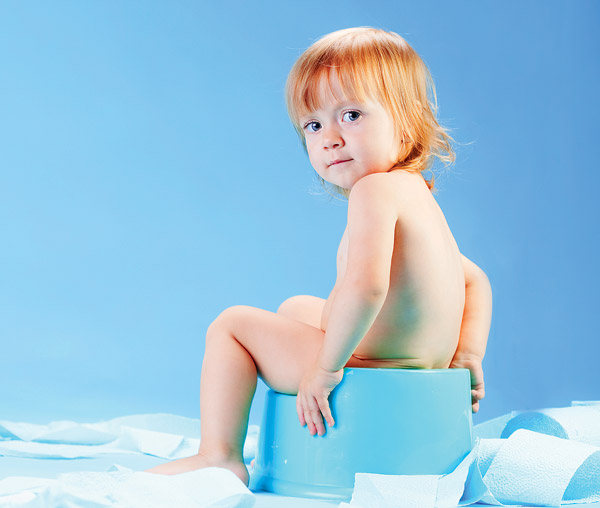 How It Went In Our House
I prepped by reading her a picture book on potty training and by letting her choose a potty and her own cute, new princessy underpants. Then, on the designated day, I first demonstrated with her doll. I pulled the pants on her doll down, stuck the doll on the potty, shot some water underneath and threw a huge celebration giving the doll high fives, kisses and candy for the pee she'd made.
I led my daughter to a table of celebratory potato chips (salty to induce thirst) and fizzy drinks (a rare exception that I knew she'd devour) and told her she'd get her own potty party when she went in the potty too. Then I waited. That first time, urine gushed out across the floor like Niagara Falls. I ushered my aghast husband off to fetch more knickers, and I escorted my daughter to the potty. After that, I led her back to the treat table.
The second time, she made it to the potty and I handed her the telephone. On the line was her favourite hero, Minnie Mouse (I'd enlisted a friend to play the role). Fake-Minnie told her how fantastic it was she'd been to the loo like a grown-up girl. My girl still talks about that moment today.
The next day, we took her out and about. My brother had arrived and there was sightseeing to do. She asked to go to the posh hotel bathrooms numerous times. I indulged her. She was, after all, a newly trained and dry big girl.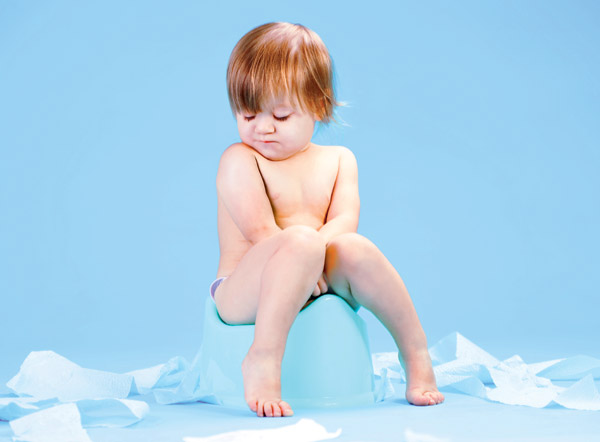 Potty Training Guidelines
Depending on who you listen to, potty training should be attempted anywhere from the age of zero to three years, or whenever the child tells you he or she is ready. It can take one day (bootcamp-style, like above), a week (British parenting guru Gina Ford's method suggests taking time off work), six weeks (Britain's national guidelines), or a few months. The only thing that's certain is some confusion.
Learn more: How Long Does it Take to Potty Train a Toddler?
Louise's Experience
Mum-of-two, Louise Kane Buckley, was perplexed when her daughter didn't take to potty training in the way she'd hoped. Eva, an alert little girl who was considered advanced in her development, just couldn't seem to communicate a desire to go. Like many, Louise felt a certain pressure to begin training and brought a potty into the house when Eva was a year old. By gradually introducing her to the potty's uses, Louise was able to coax Eva to go, but found she'd never take the initiative by herself.
Diapers-off days were wrought with many accidents. "She'd pee all over the house because she just didn't realise it was time to go. I'd ask why she'd done a poo and she was just nonplussed," Louise recalls. "I got frustrated because she was so bright and so articulate in other ways."
Louise read Elizabeth Pantley's The No-Cry Potty Training Solution, which stresses patience. She took the pressure off, put the pull-ups on and waited. "A month before her third birthday, she decided that was it," says Louise. Eva announced her days in nappies were over, and from that day on, she was dry.
Jane's Potty Training Tips
Other kids are hyper-aware. When mum Jane Rees' young son stood crying in a pool of pee, it was enough to put her off training until he could tell her he was ready. "It upset me seeing him like that. He didn't know what had happened," she says.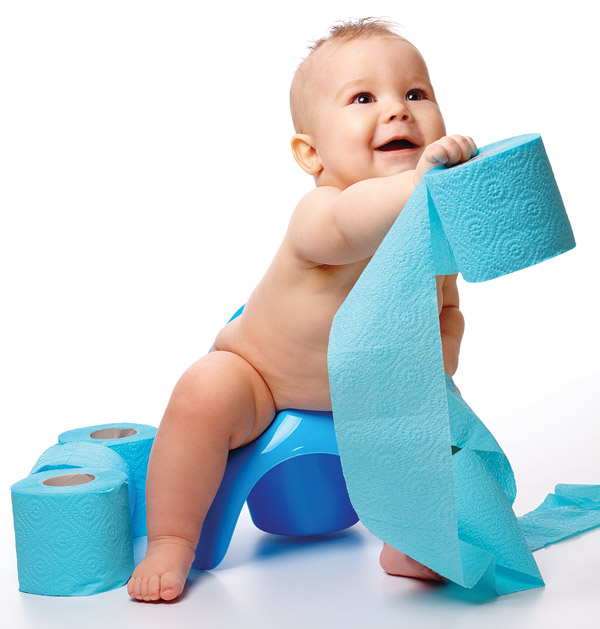 3 Different Ways To Potty Train
There are essentially three ways to introduce a child to his toilet. Louise and Jane adopted a child-led approach, essentially waiting for them to say they are ready. The "train in days" or "in a week" methods are parent-led. Whichever you choose should ultimately come down to what suits your parenting philosophy and lifestyle. While Louise acknowledges faster-track potty training is possible, she found the method just didn't sit well with her. "If you are willing to take five changes of clothes out with you then I'm sure you could do it in a week, but that wasn't for me," she says.
There's a third method that can be introduced from birth. Elimination Communication – or "EC" as it's commonly known – is an ancient practice, used throughout developing nations but gaining traction in the West. Essentially, babies are left without nappies on and in time parents learn the cues of when their baby needs to go. Reports show training in the Western world is happening later than ever before.
Elimination Communication
"Within days of his birth, my husband was holding my baby diaper-free and making 'shhhh' noises, at which point my son would urinate. I had never seen anything like that before," says Siobhán Thomas, a mum to two boys. Her husband, a stay-at-home dad, left the baby diaper-free for much of the day and looked for signs that he might need to go. By 12 months, the baby walked himself to the potty and tugged at the cloth diapers he wore. "He never liked urinating in a diaper. From him I learned that babies know the sensation of needing to eliminate, and once we attune to our child's signals we can help them eliminate away from themselves," says Siobhán.
Siobhán says it took her almost nine months to feel confident reading her baby's signs – which vary with each child. Thankfully she experienced very little mess at home during the process. Not everyone finds the method so straightforward though. Susan Norton, another EC-er living with two boys on Lantau, says combining old- and new-world parenting techniques can be a challenge.
For more potty training tips and advice, check out this comprehensive guide to potty training, courtesy of Pampers.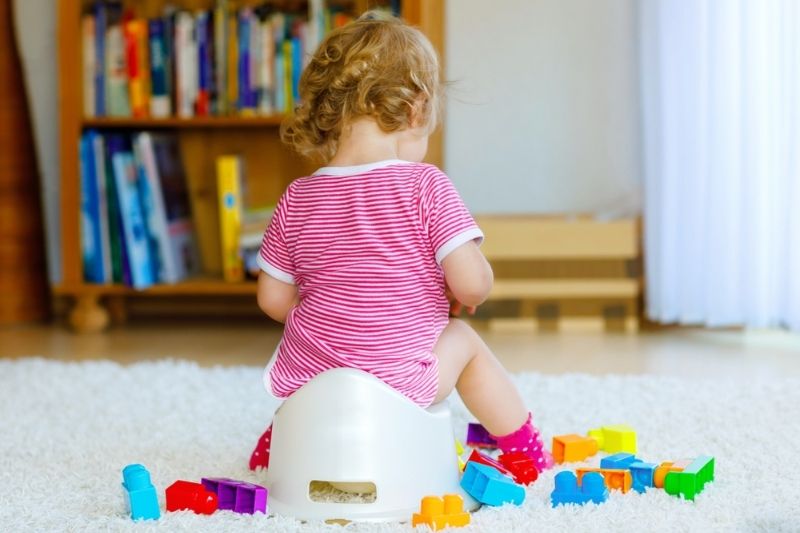 Old and New World 
In developing nations, where disposable nappies are an out-of-reach luxury and washing cloth nappies can cost too much money or manpower, EC is the norm. Often children receive the kind of attachment parenting that ties in well with EC. These babies do not pee while being held, for instance, says Susan, because they know an opportunity to urinate will soon be offered. That's not always so for Susan's sons, who are expected to sleep independently and are not constantly worn in a sling. "My baby pees on me because I've ignored his need to go enough times," she says, with a gentle laugh.
Yet Susan, a Chinese-Australian, feels some part of her is honouring her heritage – it's common for babies in China to be held in a squatting position to pee and this was the method her grandmother used – and she has the peace of mind of knowing she isn't adding nappies to Hong Kong's already overflowing landfills. Her piecemeal approach of old- and new-world methodology isn't always easy, she says, but she persists. "It can be an art juggling the two, but I'm happy to do that because I want the best of both worlds."

Looking For Signs And Timing
Experts point out that the so-called infant potty training which Susan and Siobhán describe is not really "training". Some EC babies will still need to transition – making the decision to go to the toilet by themselves rather than being prompted. "True potty training is communicating a need. Children need to be able to say 'wee' and 'poo'," says Yvonne Heavyside of The Family Zone.
Parents can be intimidated because they don't know how to go about training. Timing can be everything, says Yvonne, and tell-tale signs indicate readiness. Children might take an interest in their mum's going to the toilet, or start explaining when they are going. Conversely, some kids hide in a closet or behind a sofa when doing their business, which shows self-awareness.
Our top potty training tip? Try, Try and Try Again!
But don't be put off if, when you do start, all doesn't go to plan. "Parents expect results very quickly. When there are stops and starts, people think, 'I'm doing it wrong.'" That isn't so, says Yvonne. Some children respond quickly, others take longer. Don't be scared to call it quits. "Just start again every couple of weeks, until it works," says Yvonne.
Jane Rees went through a long trial and error period of over a year before she could finally call her oldest son dry. Looking back, Jane says she felt pressure to begin training when others did, and it was probably too early. It wasn't until her son, Thomas, was three and asked to wear underwear to school that she was brave enough to ditch the diapers full-time.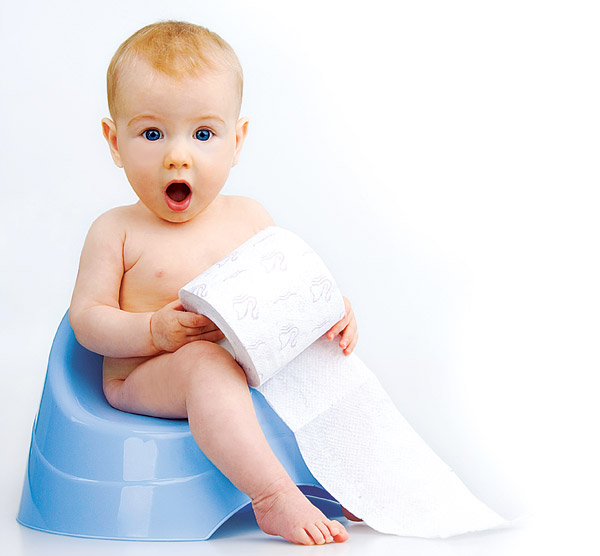 Brittany Cazel Brett also took a leap of faith when her son asked to don his big boy pants, also aged three, through the night, despite months of accidents since his potty appeared in the house. "I could have said, 'No, honey, we'll wear a diaper tonight,' but I thought the worst that would happen was I'd have to get up at 3am to change some sheets." That never happened, says Brittany, who had previously ignored suggestions by a pre-school to train her son at 18 months. That night, and every night after, he stayed dry. How did she know he was ready? "I'd say my number one sign was dry diapers after naps and in the morning."
At The End Of The Day
Both mums say that, in hindsight, they'd worry less about potty training. After all, they say, it's rare that a child gets through pre-school without becoming trained. Sometimes other trained kids are the best motivators. Tell the school about your situation and look for support, they say, and keep relaxed. Before you know it, you'll be home dry.
Article updated February 2021
Related articles: