Reading Time: 7 minutes
In Hong Kong, we are fortunate to have access to a plethora of pre-schools, offering a variety of educational approaches and curricula to enable you to find the right one for your child. But do you understand the differences between the pre-school curriculum options in Hong Kong?
Choosing the right curriculum and educational establishment for your child can be tough. As a parent, you know it's your responsibility to give your child the best start in school life, laying the foundations for a bright future, but sometimes it's tricky to work out where exactly that would be.  
Influential educator, Dr Maria Montessori, described children as "travellers just entering the great world of human thought," with parents and educators as their guides. While traditional pre-schools tend to be more teacher-led and focused on knowledge transmission, there is an increasing appreciation of progressive child-led, play-based programmes, which emphasise the individuality of each child and aims to foster a love of learning.  
Reggio Emilia

The Reggio Emilia approach was created by the psychologist Loris Malaguzzi and the people in the surrounding areas of the Italian town. It is an educational philosophy with no set curriculum. Reggio-inspired pre-schools adapt the original approach to better fit the needs and interests of children in the local community. 
This child-led approach views children as strong, competent and independent learners, who have 'a hundred languages' to express themselves. Teachers and parents are partners, collaborating and learning together with the children. To preserve each child's insight and track their learning journey, teachers meticulously document every child's work and words. The classroom is considered the 'third teacher' and is prepared with care to provoke the child to explore and engage in longer-term projects, guiding their own learning. 
Pros: The Reggio Emilia approach helps children to build a strong sense of self and develop at their own pace. This nurturing approach fosters a love of learning and children are not pressured to attempt activities which they are not ready for. 
Cons: It can be difficult to determine the relative progress of a child without a set curriculum, and some parents may not feel comfortable without more tangible evidence of their child's learning.
Reggio Emilia-inspired pre-schools in Hong Kong:
Hong Kong International School (Reception)
Italian International Kindergarten
Montessori
Through scientific observation, Dr Maria Montessori found that children learn best by doing, not passively accepting pre-existing knowledge. Children are viewed as having an inherent love of learning and being capable of initiating their own education in a carefully prepared environment. The emphasis is on self-directed learning, where the child mainly interacts with the classroom materials, reaching out to the teacher when support or guidance is needed. While the name 'Montessori' has been widely used, the essential elements of an authentic programme include multi-age classrooms, guided activity choices, uninterrupted periods of work time, a specially prepared environment with Montessori materials and a Montessori trained teacher.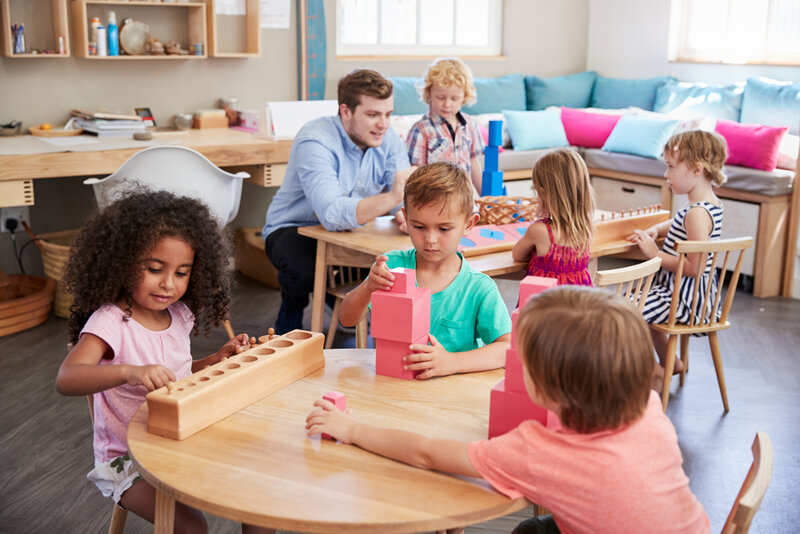 At the International Montessori School (IMS), one of the largest Montessori schools in the world, the classroom is set-up into several workstations featuring 'practical life', 'sensorial', 'language' and 'cultural' activities, in varying degrees of difficulty. The teachers demonstrate the proper use of the materials, and guide children to make appropriate choices for their learning stage. Children work on the materials individually or in small groups, only beginning a new task when the previous one is completed.
A Montessori education encourages collaboration across the ages as older children become role-models and reinforce their learning through educating others. 
Pros: Children are free to learn in different ways and advance at their own pace, cultivating a love of learning, independence and self-discipline. The process of self-discovery also creates a deeper understanding of a concept or issue. 
Cons: Parents might be hesitant about the non-traditional classroom structure and some children might have difficulty transitioning to a traditional classroom, at a later stage. 
Montessori in Hong Kong:
International Montessori School (IMS)
Island Children's Montessori School and Kindergarten
Oaktree Montessori Chinese Education
Woodlands Montessori Pre-schools
Early Years Foundation Stage (EYFS)

The EYFS framework was launched in 2008 as the U.K. national curriculum for all schools of children below the age of five years old, including those with special educational needs. Four themes underpin the EYFS guidance: Every child is 'A Unique Child' and a competent learner who needs the opportunities to interact in 'Positive Relationships' and 'Enabling Environments', to 'Learn and Develop' in his or her own way. According to the EYFS Framework Guide, "Children learn by playing and exploring, being active, and through creative and critical thinking … both indoors and outside". There is strong collaboration between practitioners, parents and carers.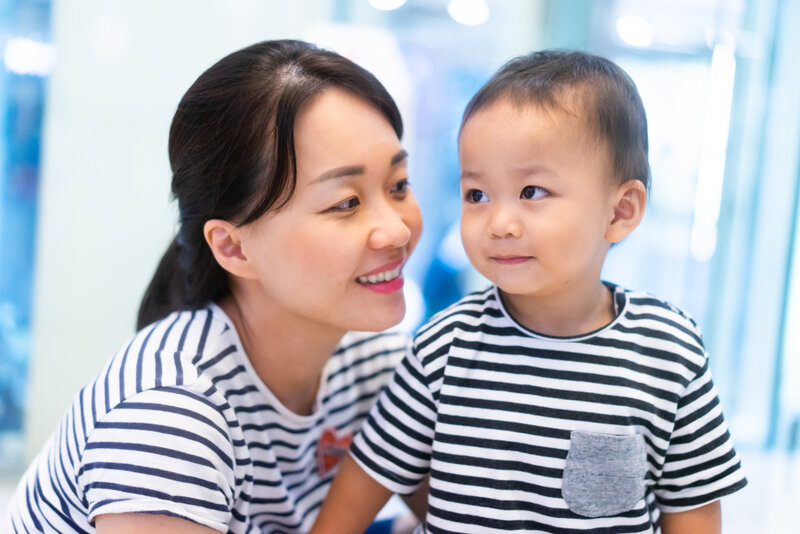 The EYFS programme has seven key areas of learning and development. Initially the child's development is focused on the 'prime' areas of communication and language, physical development and personal, social and emotional development. These form the foundation for the child to develop skills in the 'specific' areas of literacy, mathematics, understanding the world and the arts. Age-specific objectives are set for each area. For example, the literacy expectations of a five-year-old child include being able to phonetically write words which match their spoken sound, and to read and comprehend simple sentences. Assessments are conducted when children are two to three years-old, and again at the age of five, through classroom observation by the teacher or a qualified practitioner. 
Pros: The knowledge from assessments helps identify each child's learning progress to better plan their educational journey, and signals to parents and educators about any learning or behavioural concerns to be addressed early on.
Cons: Critics of the programme view this as potentially too prescriptive, and are concerned about assessing and placing too much pressure on children too early. 
The EYFS pre-schools in Hong Kong
Anfield International Kindergarten
German Swiss International School Kindergarten (English Stream)
Kiangsu & Chekiang Kindergarten
Mills International Pre-school
YMCA International Kindergarten
International Baccalaureate Primary Years Programme (IB PYP)

The IB PYP is an inquiry-based learning approach specially designed for young children from three to twelve years old. The three key features of the programme are the 'Environment', 'Relationships' and 'Play', as children explore their environment and learn about the world through play and their relationships with teachers, peers and family. The IB PYP's curriculum incorporates local and global issues, focused on six universal transdisciplinary themes around which learning is planned. These themes include 'Who we are', 'Where we are in place and time' and 'How the world works'. 
IB PYP aims to develop all aspects of a child, from academic and cultural, to social and emotional. By focusing on 'how', instead of 'what' students learn, the programme cultivates inquiring, knowledgeable and caring people, who are independent thinkers and life-long learners.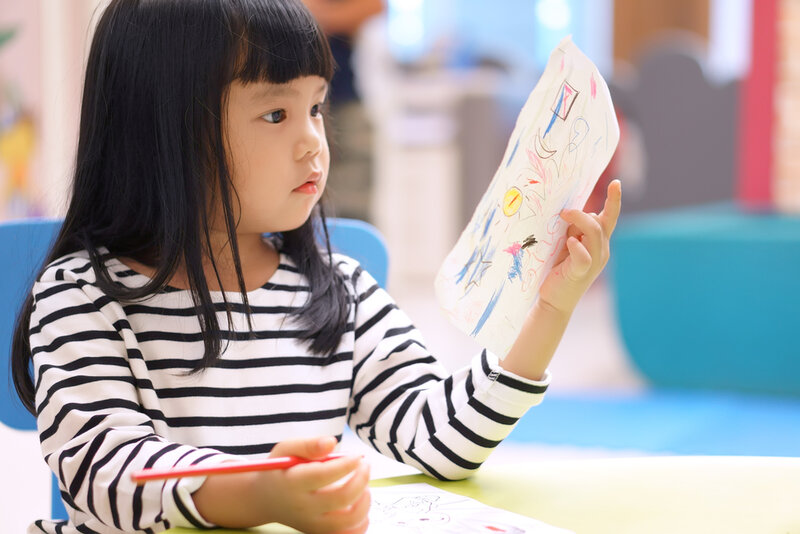 The long-term aim of IB education is to nurture learners to become: Inquirers; Knowledgeable; Thinkers; Communicators; Principled; Open-minded; Caring; Risk-takers; Balanced; Reflective.
Parkview International Pre-school (PIPS) follows an inquiry, play-based approach to teaching and learning with a program that allows learners to observe, explore, collaborate, reason, problem-solve and evaluate through inquiry.
Pros: The international focus builds early awareness in students of cultural differences and global issues, and the standardised international curriculum makes it easier for students to integrate into new schools abroad.  
Cons: Depending on the programme's implementation, which differs between institutions, some children might feel pressure from the potential workload.
Pre-schools in Hong Kong which offer the IB PYP
Parkview International Pre-schools (PIPS)
Waldorf
Developed by Rudolf Steiner in 1919, the Waldorf programme aims to educate the whole child, 'head, heart and hands', integrating the intellectual, practical and artistic development of pupils in a holistic way. Artistic and practical activities such as painting, music, gardening and cooking, which might be considered peripheral elsewhere, are central to the Waldorf education. The early years are centred on experiential education which allows children to learn by example, and emphasises imaginative play. Classrooms resemble homes with toys and equipment usually sourced from natural materials. The use of electronic media is discouraged, as they are viewed to negatively impact a child's imagination. 
The Waldorf approach seeks to provide children with age-appropriate learning in a non-competitive environment. This is well-suited to many young children who prefer to co-operate with their peers and not be frequently assessed. 
Pros: Teachers typically progress with the same class, providing continuity and a safe and familiar environment, which is conducive to learning. 
Cons: There might be concern about a child's preparation for future school assessments as academics are not emphasised in the early years, as they are not considered age appropriate.
Waldorf pre-schools in Hong Kong
Garden House Pre-school & Kindergarten
Combined Curriculums
Several pre-schools have also used a combination of educational approaches to develop their own curriculum. 
Malvern College Pre-School Hong Kong offers the EYFS curriculum, in a campus inspired by the Reggio Emilia philosophy. It is also one of the first schools in Hong Kong to operate a Forest-Beach School programme, managed by Level 3 certified Forest School leader.
Little Dalton is a progressive, bilingual kindergarten guided by The Dalton Plan, a child-centred educational model focused on "nurturing children through giving them appropriate freedom, responsibility, and opportunities for cooperation". Its curriculum integrates the EYFS with a Chinese curriculum developed in collaboration with the Tsinghua University Primary School.
Little Sprouts' curriculum was inspired by the pedagogical philosophies focused on play and exploration, including the EYSF, Reggio Emilia, Montessori and STEM (Science, Technology, Engineering, Mathematics). Similarly, Safari Kid's emergent curriculum incorporates elements from Reggio Emilia and Montessori, with the addition of Waldorf, to foster creativity, imagination and a love of learning. Essential, establishments select what they consider to be the strengths of the various curricula.
Combined Curriculum Schools
Malvern College Pre-School Hong Kong (EYFS and Forest School)
Mulberry Tree (Montessori & Reggio-Inspired)
Mulberry House International Kindergarten (Reggio Emilia, underpinned by EYFS)
Selecting the right option for your child can be a confusing process, with advocates and arguments for and against each option. It is important to do your research to understand the numerous choices, and the different implementation of the various programmes, which can vary widely. 
Ultimately pre-school choice is a very personal decision, unique to each child, and to each family's priorities, preferences and plans. A school might have a 'good' reputation, but should also be well-suited to a child's personality, needs and learning style, as each child thrives in different environments. Regardless of approach, location or educational mantra, the centre of everything is your child's happiness – if it works for them, then that's what matters.  
This story originally appeared in Playtimes – The School Book 2021-2022.
Related articles: