Reading Time:
7
minutes
How and when to get involved with your child's journey of mastering the wonderful skill of reading.
Read a child a book and they'll be amused that day; teach a child to read and they can entertain themselves for life. 
Reading Skills Development
Reading plays a different role with different children at different ages in their lives. The age they start to read, gain proficiency, and choose to read for pleasure varies greatly among youngsters. This variation often frustrates and worries parents who simply want their children to master a skill seen by many as vital to all academic areas.
But instead of fretting where your child is on the reading spectrum relative to their age, it is perhaps better simply to look at what support would benefit your child at his or her current stage. Helping your child develop as a reader at their speed means you are more likely to ensure that they grow into a lover of reading rather than someone who dreads it.
Babies
Even with a newborn, you can actually get started with reading straight away. Newborns benefit from the experience of hearing stories. Research has shown that the number of words an infant is exposed to has a direct impact on language development and literacy. So, read to your baby out loud, every day. You can read absolutely anything – from a recipe book as you prepare dinner or the newspaper as you have your morning coffee.
Turning on the TV or the radio for your baby to listen to will not have the same effect. For a baby to benefit from exposure to language at this stage it has to be live and in person.
‪As you read to your baby, you may find that he or she grabs for the book or wants to touch the pictures or the page. Babies take in information using all of their senses. For this reason, if you're sitting together to share a story, choosing a board book is the way to go. These books are designed for babies as they can't be ripped and will survive being sucked on. There are also plenty of books specifically designed to appeal to the senses, with parts of the page to feel or crinkle, buttons to press or flaps to lift. These all add to the experience for a baby and hold their interest a little longer. Even if your baby loses attention quickly (which is very likely), don't give up; try another time. You will find that over time, your baby's attention span grows, and they may even find a favourite book and present it to you to read together.
‪At this stage, babies sometimes start making their own sounds in response to your reading – sounds that you have repeated several times or noises they recognise. Looking at them and responding positively to their verbalising encourages them further. Reading regularly together often is what spurs on the first exciting steps towards communication.
‪Bring Me a Book, the leading advocate for family literacy in Hong Kong, has been working with the local Hong Kong medical community (public hospitals, paediatricians and nurses) to raise awareness of the importance of reading aloud.
"Reading aloud to babies stimulates developing senses, and builds listening and memory skills that can help babies grow up to be readers. Reading to your child is the best investment of your time as a parent," says Pia Wong, executive director of Bring Me A Book.
‪Great board books for this stage:
‪The Very Hungry Caterpillar by Eric Carle
‪Dear Zoo by Rod Campbell
‪We're Going on a Bear Hunt by Michael Rosen and Helen Oxenbury
‪Peepo! by Janet and Allan Ahlberg
Toddlers
As your baby becomes a toddler, the role of reading books becomes more important. Reading regularly is beneficial for a toddler's intellectual, social and emotional development.
Strike a balance between listening to what books they are naturally drawn to and books that will introduce new ideas and themes, vocabulary, colours, shapes and useful information. Try exposing your toddler to books featuring protagonists of the opposite sex, as at a later stage they may well be resistant to this. Choosing books that reflect the diversity of the world can open up important discussions with youngsters.
‪Questions and queries from a child may disrupt the flow of your reading but it's worth the time to explore and consider what you are saying, if they need it. It can be frustrating for a parent who wants to finish a chapter and get out of the door for a night out, or wants to have a glass of wine and allow the 'adult time' to begin, but it is important to remember that it is perhaps the questioning and responses during a reading session that help a child to learn and grow the most.
Inspiring books for the toddler stage:
‪Where the Wild Things Are by Maurice Sendak
‪You Choose by Pippa Goodhart
‪Harold and the Purple Crayon by Crockett Johnson
‪StoryBox Magazine – introduces toddlers to the love of reading. It includes a book-length story to read aloud, sections on science, picture stories, comic-strips, games and fun activities, and it arrives addressed to your child in the mail box each month.
Emerging readers
‪Children become interested in letters and recognising words themselves at different ages. Many parents find that it can start off as a vague interest and develop in fits and starts, with quick bursts of sudden comprehension. It is so important that you don't fret if your child is not the first to read a few words; children pick up on parents fretting and it only serves to introduce stress to the situation. Reading should be fun and your child will learn to read.
If it's a few months later than little Johnny next door, who cares? In any case, late readers often grow up to be better, more enthusiastic consumers of books. When your child is interested, support them, but try not to force it and risk introducing a negative association with reading. Having said that, it is wise to keep open communication with your child's teacher because if she suspects there could be a reason for a reading challenge, it may be a good idea to have your child evaluated in case of dyslexia, poor eyesight or other conditions.
‪Some tips:
‪Do not rush your child. Allow them to start picking out words, reading alternate pages or reading some of the time. Over time, they will build up their ability and stamina for reading.
Don't approach your child's learning to read as work or a job. Your most important job is to foster a love of reading.
Early readers
‪When your child starts learning to read, don't suddenly stop reading aloud to him. If you abruptly replace something they've grown to love with something that is a struggle, they may well resent it. And continuing to read to your child allows you to explore more advanced books together, which stretches your child's comprehension and knowledge of vocabulary at the same time as they are learning to read with more simple texts.
‪Reading with your children is not only about teaching them to read, it also brings many other benefits to the parent/child relationship.
‪Tatiana Joly, deputy general manager at Bayard Publishing Hong Kong, believes that at this stage, you should continue to read out loud to your children even if they know how to do it themselves. "Reading a book together creates a great moment to communicate," she says. "There is no other activity that bonds me and my children with the same intensity. Very often it is a moment where they will talk about something that happened during their day or something that worries them. My son is 10-years-old and I still read stories to him. He loves those special moments as he probably feels how much I enjoy them."
‪Linking reading with maturity can be a motivator for young readers, so consider extending your child's bedtime by half an hour for bedtime reading. As your child begins to read independently, make sure you supply a steady stream of books. At this stage it becomes vital that you find the right material to engage your child.
‪Inspiration for early readers:
‪Waiting is Not Easy! by Mo Willems
‪The Cat in the Hat by Dr Seuss
‪Oxford Reading Tree books
‪I Spy Fly Guy by Tedd Arnold
‪*available at Bookazine and Book Depository
Reluctant readers
‪Raising a reader can be hard, especially when it's so easy for children to find a game or device to distract them. Many children also struggle with their reading skills, so finishing (or even starting) a book can be a huge challenge. But the right book can help convert even the most reluctant reader into a child who will beg to read one more chapter before bedtime. It is worth searching for a relatable character or story, or thinking outside the box with a comic or graphic novel.
Tatiana explains that, "many children are also a bit intimidated by fiction. Some really do prefer non-fiction books and magazines. They like learning while reading and find learning about the world and history more captivating and more interesting than a story."
‪Tips for reluctant readers:
Resist bribery. If you start rewarding your child for reading, it will then be seen as a chore.
Some reluctant readers are fact-gatherers, who may be more inspired by reading non-fiction. Look for books and magazines about history, space, animals or any other topic.
Don't dismiss comics; many children become avid readers through their love of them.
Start a parent-child book club. These are a great way to strengthen your child's relationship to reading – and to you. Being in a book club together increases the opportunities for you to start conversations about books, which may lead to deeper conversations about other subjects.
‪Consider a family rule of finishing a book before anyone sees the film.
Stick to good old-fashioned books to hold, rather than tablets. Studies have shown that people, especially children, absorb and retain stories better when they read them in print. Moreover, screen time interferes with melatonin cycles, which make it harder to fall asleep.
‪Books to try – graphic novels, magazines and history books:
Roller Girl by Victoria Jamieson
‪AdventureBox is a magazine designed to get kids hooked on reading. It includes comic-strips as well as stories divided into manageable chapters for newly independent readers.
‪Horrible Histories – a series of amusing (and disgusting!) books about historical events.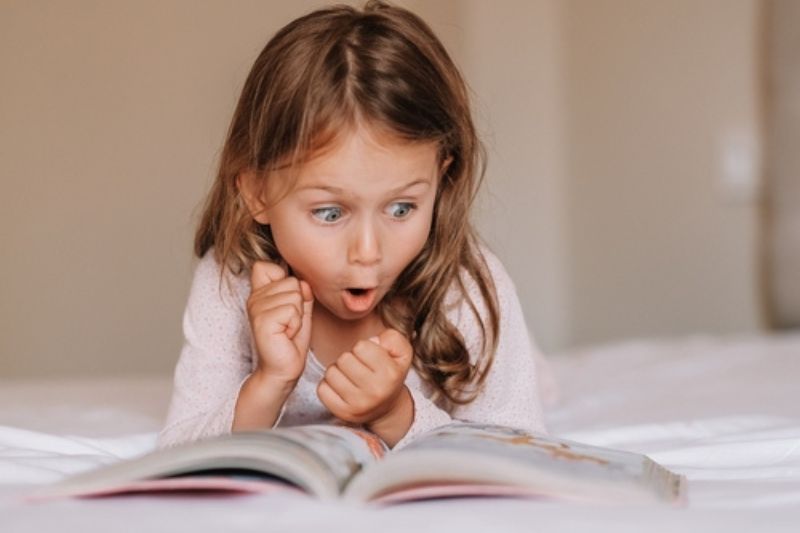 ‪Reading pointers from Bring Me a Book:
‪Create a quiet, safe space, snuggle together and read.
‪Make reading to your child part of your daily routine.
‪Have a bag of books with you all the time so you can read anytime, anywhere.
‪Relax and never rush your special reading time.
‪Have fun and allow your child's imagination to run free.
‪Sometimes your child will want to read a book over and over again. This is common and creates fond memories of childhood so go with it.
‪Continue reading to your child through primary and even secondary school. Reading aloud develops new vocabulary, exposes children to new experiences and cultures and brings up opportunities for discussing topics that might not come up naturally in conversation.
More info on reading here: https://www.playtimes.com.hk/reading-with-your-little-ones/
The Best Children's Books by Hong Kong Authors
Where to Donate Second Hand Books in Hong Kong