Reading Time: 8 minutes
Taking your kids to the Rugby 7s in Hong Kong?
The Hong Kong Rugby 7s is the preeminent sporting event in Hong Kong, and some would argue in the world (of rugby). Unrivalled in its festive atmosphere, the HK7s is something all Hong Kongers should experience at least once. If you've been in the past, you know how fun the whole event can be – three days of fast paced rugby, cheering in the stands, enjoying the party environment. It's a lot to take in. To share this with your children for the first time is super exciting but might feel a little daunting. We hear you!
When kids are in tow, planning ahead is key. If you know what to expect, where to go, how to get there, what to bring and what not to, you're one step ahead. We've got some helpful details to help you plan for taking your kids to the Rugby 7s in Hong Kong. So go revel in the joy of sharing one of the world's premier rugby events with your kids and it's right in your own backyard. After all, people come from around the globe to attend so it's a must if you're in Hong Kong. This year promises to be full of non-stop music, dance and fun.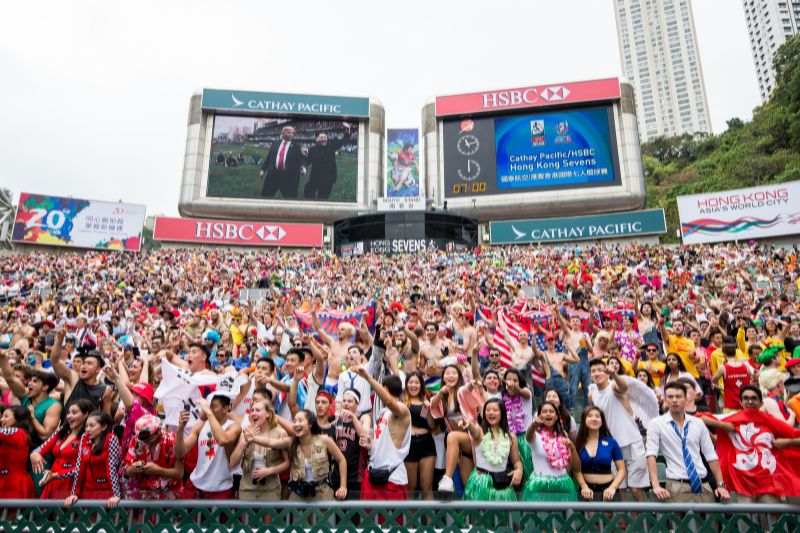 Some basics
Rugby fans will know all this but kids may not. Rugby 7s is a fast-paced game with two 7-minute halves with 7 players per team as opposed to 15 players. The team scoring a try gets 5 points and a chance to get a conversion (post-try kick) for 2 additional points. Teams are aiming for a place in the World Series and at the Olympics. It's all very exciting and cheering is highly encouraged.
Adding to the excitement in the 2023 games, both the men's and women's teams of Hong Kong China will appear side by side for the first time in an HSBC World Rugby Sevens Series event. There will be 28 international teams, including the elite sides in women's sevens for the first time in history. Themed 'Play On!' the tournament will carry the momentum from last November's Sevens (the first since the pandemic), but without the social distancing.
The 15 top men's teams in the world return to battle it out with defending champions Australia (celebrating their first Hong Kong cup since the 1980s); Argentina; Canada; Fiji; France; Great Britain; Ireland; Japan; Kenya; New Zealand; Samoa; Spain; South Africa; United States of America and Uruguay.
Brian Hui of HSBC (a major sponsor of the 7s) said, "We look forward to experiencing a bigger and better Hong Kong Sevens in 2023." Get out and enjoy the show!
When: 31 March – 02 April
Where: Hong Kong Stadium
www.lcsd.gov.hk/en/stadium/ hks/locations-directions.html
Tickets: www.tickets.hkrugby.com, your local Mini Rugby team or see below for info on packages with discounts
Ticket help and inquiries: hkruticketing@hkrugby.com,
+852 2504 8311, info@hkrugby.com
Kids under 2: Free entry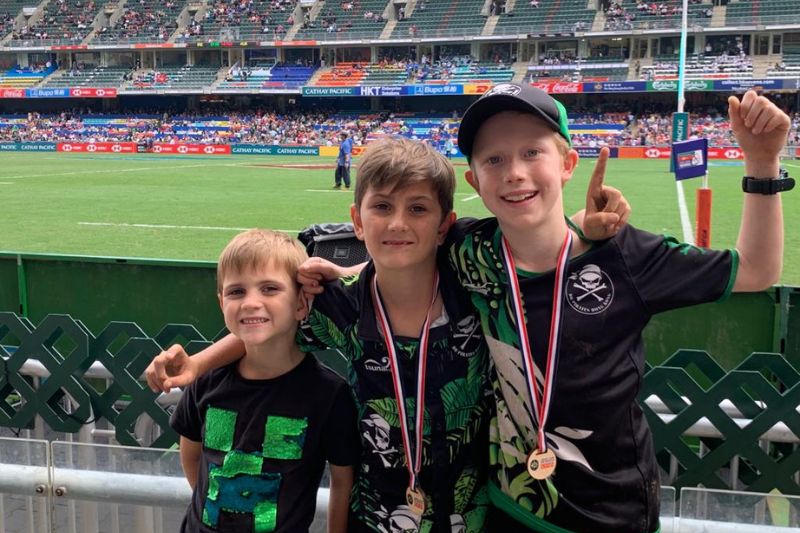 "The 2023 Cathay/HSBC Hong Kong Sevens is the event where people from all around the world come to Hong Kong to play," said Edward Bell of Cathay (the other major sponsor).
Best place to sit
If you've been to the 7s in the past, you'll know all about the South Stand. It's notorious for fancy dress and debauchery, so not really a place for kids. It can get a bit wild over there so maybe best to look from afar. The North Stand is great if you want a closer look at the players or to sit with the infamous Fijian fans in their signature light blue. Keep in mind the North Stand might be a bit of a party scene too. The East Stand is probably your best bet as it is a little more civilised. The West Stand is good for more serious rugby fans intent on watching the games. If you arrive early, head to the unreserved lower-level seats and set up camp. Or you might want to head for higher ground to get more of a bird's-eye view. Alcoholic drinks aren't allowed to be taken to the seats on the upper tier, though.
Between the North and West stand, some years there is a Meet & Greet area where players will meet fans and sign autographs, although many teams are happy to sign autographs for those in the stands, especially if your little munchkins look super enthusiastic!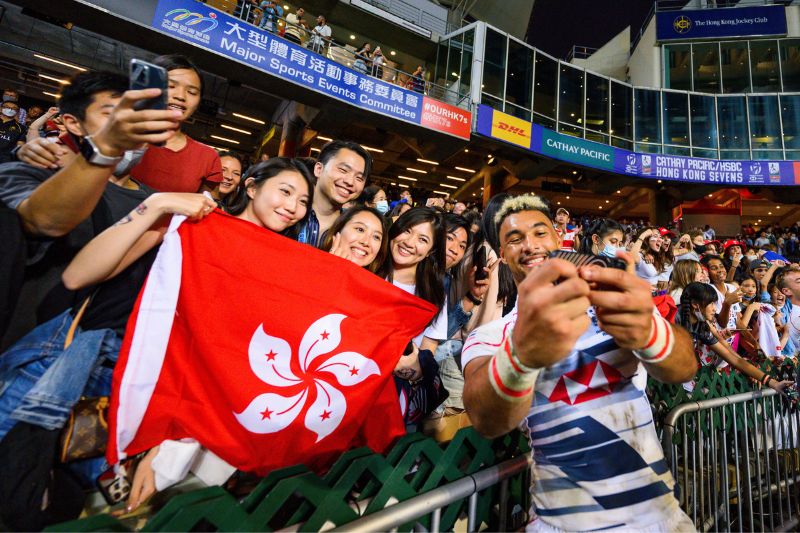 Dressing up
While the South Stand is always full of fancy dress, the tradition goes beyond just that stand. Since kids love a reason to put a costume on, why not go for a family theme? Pottinger Street is open all year. Just keep in mind kids might want to wear something more comfortable after a couple hours of dress-up. Be prepared with a change of clothes and wear comfortable, closed shoes for comfort. In case you don't manage to dress up, there may be face painting booths by the North, East and West stands.
What to bring
It's a long day out! Bring along what you need to keep the family happy and comfortable for the day. Just a few ideas: medication, sunscreen, hats, sunglasses, wet wipes, your Octopus Card, rain gear, phone charger/battery pack, cash for drinks and a taxi home. As for food and snacks, it's good to have some on hand if you want to avoid too much junk food and/or extortionate prices. Bring along easy to eat and share snacks. This year, full food and beverage service will be offered with all stadium concessions open and in-seat and in-box consumption allowed.
If you need to duck out for a meal, you can leave the stadium and re- enter. Restaurants near the stadium (Cali-Mex, Jaspa's, Classified) might be busy so if you can manage to pack a lunch, you might be better off. Bring water too but check the list below for the best way to do this.
What not to bring
Cans, glass bottles and plastic bottles are not allowed in but you can bring a collapsible water pouch. You also can't bring in rugby balls, selfie sticks and electronic music equipment or fireworks. There are a few more items on the Sevens website so check ahead. https:// hksevens.com/prohibited items.
Three full days of rugby and entertainment
There are mini rugby showcase matches early on each day of the Sevens featuring players aged 7–12 years, which are always popular with young fans. The mini rugby games on the Friday run 8am-10am. The highlight of Day 1 is the Opening Ceremony after 5pm. This is always a great show with marching bands and dancing lions and dragons, guaranteed to keep the attention of even the youngest fans. Friday is a great family day!
Saturday and Sunday gates open early (7am) starting with the mini rugby showcases on both days. Qualifiers and pool matches dominate Day 2 with the entertainment a highlight in the mid- afternoon. Day 3, which is semi-finals and finals day, also has entertainment in the mid-afternoon. Check the Sevens website for the latest schedules at www. hksevens.com.
As for entertainment, get ready for an all-star set list over the three days. Belgium's greatest ever pop star, Plastic Bertrand (of Ca Plane Pour Moi fame) will be there. Along with the return of the world-famous Teams and Minis march past on event weekend, another special performance will be featured on Friday from 30 members of the PLK ONE23 Dance Troupe performing a dance routine especially choreographed for the Hong Kong Sevens.
The city's own Ska band, The Red Stripes, will kick off the party on Saturday, and throughout the weekend the Sevens' resident DJs, the Two Simons (Southgate and Willison), and Ben Cullen, will keep you dancing. This year the South Stand welcomes South Korea's sensational DJ Soda on Sunday. If you are going to the 7s on the Sunday, watch out for her signature "flute dance".
Also, for the first time ever, Ocean Park's beloved Whiskers & Friends will make an appearance on 31 March and they will be joined by about 6,000 kids and teens participating in the sporting jamboree through the Mini & Youth Rugby Showcase or the Leisure and Cultural Services Department's School Programme. Don't miss this opportunity to get to know the game of rugby while taking some nice snaps with the cheerful Ocean Park mascots!
Getting there
You can take a taxi and get fairly close but it's worth considering the MTR. Take the MTR to Causeway Bay (Exit F), then walk up Caroline Hill Road. Simply follow the crowds, you can't miss them. If you are taking a taxi, ask the driver to take you to "Dai Kau Cheung, Tung Lo Wan", but be prepared to sit in traffic as you approach the final stretch towards the stadium.
Venue Information
There is a breastfeeding room inside the Board Room of the Stadium Office. If you need to use it, register at the Main Level East Customer Service Counter, then the Stadium Assistant will lead you to the room. There is a ramp for wheelchair users at the west side of the main entrance. A total of 200 seats for wheelchair users are provided on the Main Level of the spectator stand. For more information on venue facilities, check the LCSD Government website www.lcsd.gov.hk/en/stadium/hks/ facilities-disabled.html.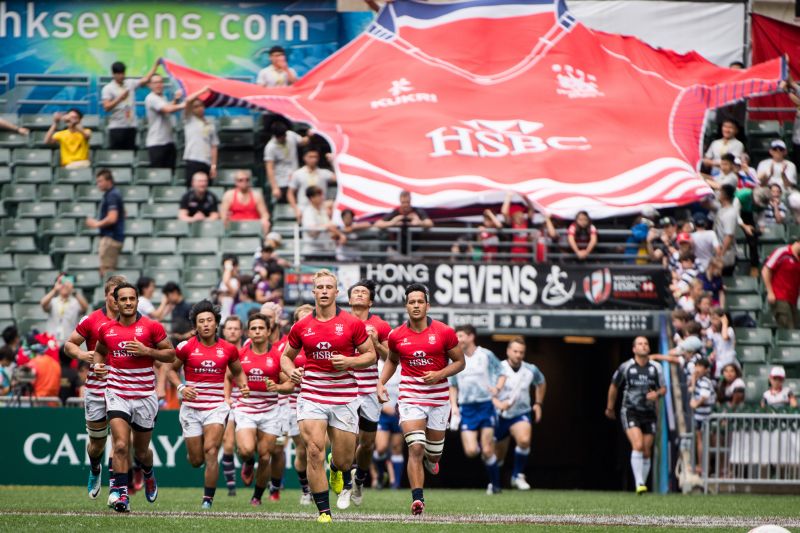 When you're looking for a cold drink, reusable cups will be available from booths and roaming sellers throughout Hong Kong Stadium. This is part of the Green Sevens campaign. You just have to pay HKD $10 deposit for your first cup. When buying another drink, hand over your cup and it will be exchanged for a clean one. If buying jugs of drinks, keep your own cup throughout the day and get your deposit back at the end of the day. Amazingly, this reusable cup campaign has cut waste in half and re-purposing event food has provided meals for thousands of underprivileged Hong Kongers. rom 8 march to 2 April 2023, visitors can purchase the bundle package one-stop at the Hong Kong Rugby Union's website (Link). Ticket holders of Cathay/HSBC Hong Kong Sevens may use the designated hyperlink distributed by the Hong Kong Rugby Union to enjoy exclusive discounts on Ocean Park and Water World admission tickets.
More rugby fun in the city
HSBC is setting up a HSBC Try Rugby zone at D ‧ PARK from 16 to 19 March. Get into the spirit and excitement of the Sevens in the local community with interactive games. Children will be able to experience rugby and get a first-hand feel for the sport. Part of HSBC Try Rugby zone at D ‧ PARK will be the first ever HSBC 4×4 Primary School Touch Tournament from 17 to 18 March, where a total of 16 teams from 12 schools will compete.
HSBC will select two most valuable players, one from the boys and one from the girls divisions, to be ball carriers at the opening ceremony on 2 April. Find more details about this event in Things to do in Hong Kong This Month.
Ticket packages and discounts
Ocean Park and Water World have joined hands with the Hong Kong Rugby Union to offer special Hong Kong Sevens bundle deals for locals and visitors from all over the world. You can enjoy up to 20% off tickets at Ocean Park and Water World with your Rugby 7s ticket. For $2,356 (adult) or $1,175 (child) you get a three-day pass to the rugby weekend, one full day Ocean Park pass plus a HK$30 in-park shopping e-cash voucher.
If you already have your 7s tickets, you can still cash in on Ocean Park and Water world discounts! An all day Ocean Park pass with HK$30 in-park shopping e-cash voucher is only $288 (adult) or $173 (child). Or if you want to head to Water World, get an any day pass for $239 (adult) or $167 (child). What are you waiting for? Dive in.
Missed out on tickets?
Various venues around Hong Kong will have games on a big screen, some will also offer food stalls and family- friendly entertainment for spectators who don't make it to the stadium. However, if you're really set on going and still want tickets, keep an eye on the various HK Facebook groups for swaps and sales. Every year there are tickets going spare in the days leading up to the event, as people's plans do change. Don't give up hope.
The final word from the HKRU
"We were all very excited to see "Our Sevens" return last November, and now it's time to "Play On" and go even bigger and better! For the first time, we will see the top women's and men's Sevens teams in the world, and our very own Hong Kong "Home Town Heroes", in a fully integrated tournament, which means 3 packed days of rugby action. As usual, there'll be plenty of entertainment for the whole family throughout the weekend, so get yourself down to So Kon Po for Hong Kong's Mardi Gras…See You at the Sevens!" – Robbie McRobbie, CEO Hong Kong Rugby Union.
You might also be interested in:
Mini Rugby in Hong Kong
Your Guide to Clockenflap