Reading Time: 3 minutes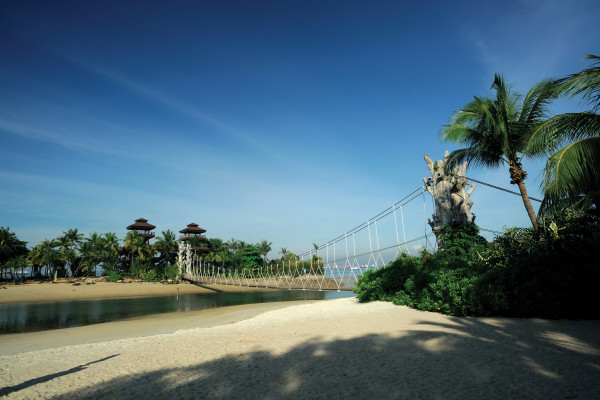 When planning a family holiday, we sometimes find ourselves looking for the next big thing or the latest hot spot. But sometimes, the best, simplest family holiday is no further than our own doorstep: We recently spent a week on Sentosa Island, Singapore, which was not only very relaxing, but wonderfully effortless.
Having ventured to Singapore several times before, we were once again struck by the lush, green surroundings that guided us as we took the easy taxi ride from the airport towards Sentosa. With its avalanche of stunning tropical flowers and exotic rain trees, we felt immersed in nature before we'd even arrived at our hotel.
Entering the resort island of Sentosa is a bit like entering a fantasyland: a vast expanse of über-modern development melds with lavish gardens and winding roads. On arrival at our family-friendly hotel (Shangri La's Rasa Sentosa Resort), we were greeted by smiling staff who were only too happy to guide my six-year-old towards the pool for inspection at his polite insistence. No sooner had we checked out our newly renovated room, we were down by the pool bar and restaurant, munching on fish and chips and soaking up the sunshine.
Cool for kids
As is often the case in Singapore, it wasn't too long before the heavens opened and the rain began to fall. We weren't too concerned until a lightning storm made its way towards us and the whistles sounded: out of the pool! Every parent's holiday nightmare suddenly came true: what would we do with our child?
Fortunately, the hotel had a Cool Kids Zone, complete with a games arcade and organised activities for children. By this time, our son Maximilian had already made a friend and the two boys were more than happy to spend some time testing their skills on the games machines – not an activity I'd usually encourage whilst on holiday, but any port in a storm, I say!
If electronic machines are off limits (even in the rain) the Cool Kids Zone runs activities ranging from arts and crafts to circus skills to ball games. They're even happy to take your kids for a whole day (including meals) and entertain them until 9pm.
Happily, our son was content to spend many of the remaining mornings or afternoons playing in the pool and honing his skills on the water slides. The novelty water fountains provided hours of leisure and he even joined in the water aerobics lessons, which he thoroughly enjoyed. Observing the resident peacocks in flight and monkeys scampering along the balconies were all part of our daily routine and we loved it!

Thrills and spills
The great thing about Sentosa is that there are plenty of entertainment options available even if you choose never to leave the island. Our strategy was to spend either a morning or afternoon by the pool and to venture out to enjoy some of the island's offerings during alternate times of the day.
Getting around Sentosa is simple thanks to the colour-coded buses and beach trams that provide a hop on/off service to all of the surrounding attractions. If you'd rather explore on foot, there are beach walks, board walks and nature walks. For some novelty sightseeing, try hiring a bicycle or a Segway (helmets provided) and cruise at your own pace.
For a bit of a thrill we decided to test our "driving" skills on the Skyline Luge, which is described as part go-cart, part toboggan. Our son met the age and height requirements, so he was encouraged to go it alone (with Mum and Dad on either side for protection). We boarded the Skyride (chairlift) and took in the amazing views of the island and its surroundings. With helmets clipped and some quick pointers from the guides, we let loose with our luges and careened down the jungle path at full throttle, squealing with delight. I must admit, it was harder than I'd anticipated and, although our son coped well, I decided to stick to a more sensible speed for the next couple of rounds. Kids can always ride with an adult for extra safety.
Underwater World is a magical place to get up close and personal with marine life. The Touch Pool at the entrance provided a giggly, "I can't believe I just did that" experience before we headed into the observation area and became captivated by the amazing sea dragons and other creatures. Our son loved the aquarium tunnel and managed several rounds on the "travellator" while admiring wondrous creatures from the ocean's depths.

Showtime!
Of course a family holiday to Sentosa wouldn't be complete without a day at Universal Studios. Once again, we were a little dampened by the onset of rain, but thankfully there were plenty of indoor shows to keep us entertained until the clouds parted and the outdoor rides were fully functional again. While there are lots of attractions on offer for all ages, I would strongly advise parents to take note of the posted warning signs – several rides are indeed far too scary for youngsters.
Singapore is a very family-oriented place and whether you stay within the comfort zone of Sentosa or head out for a peek at the hippest new spot in town, you'll find a warm and inviting attitude towards adults and children alike.