Reading Time:
3
minutes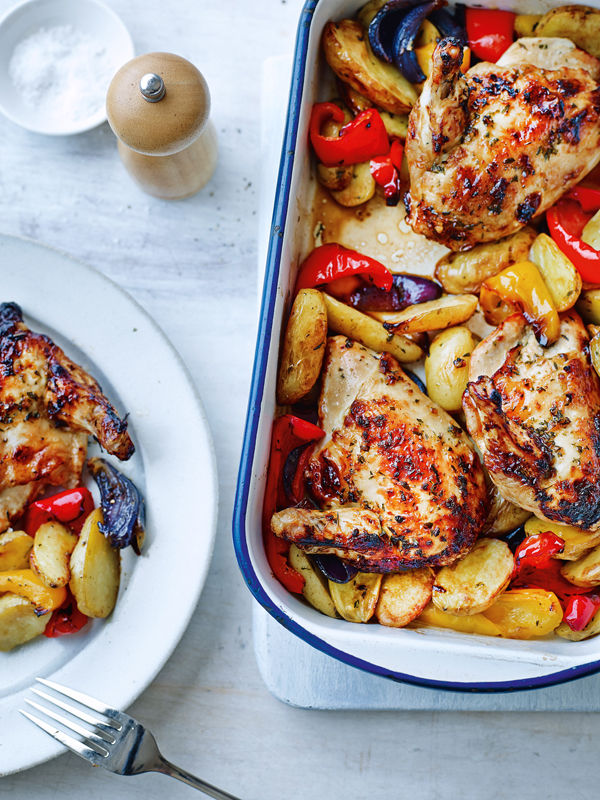 Roasted Chicken with Sweet Peppers
Makes 4 portions
Ingredients
• 500g baby new potatoes,parboiled
• 1 red pepper, sliced into large pieces
• 1 yellow pepper, sliced into large pieces
• 1 red onion, sliced into wedges
• 3 Tbsp olive oil
• 2 Tbsp fresh thyme, chopped
• 1 Tbsp honey
• 2 cloves garlic, crushed
• 150ml white wine
• 100ml chicken stock
• 4 chicken breasts, skin on
Method
• Pre-heat the oven to 220°C.
• Slice the potatoes in half or into quarters if they are quite large. Put the potatoes into a roasting tin along with the peppers and onions. Drizzle with 2 Tbsp of olive oil and 1 Tbsp of thyme. Season. Roast for 30 minutes.
• Mix the remaining oil, honey and thyme with the garlic in a small bowl. Rub over the chicken breasts and under the skin.
• Pour the wine and stock over the vegetables, then place the chicken on top. Roast for another 25 to 30 minutes until the chicken is golden and cooked through, and the vegetables are tender.

Chicken Satay Skewers
Makes 2 portions
Equipment required: 10 bamboo skewers
Ingredients
• 2 chicken breasts
For the marinade
• Small piece of fresh ginger, peeled and grated (about 1 tsp)
• 1 clove garlic, crushed
• Juice of 1 lime. Reserve 1 tsp
• 1 Tbsp soy sauce
• 1 Tbsp runny honey
• 1 tsp peanut butter
For the sauce
• 100g peanut butter (crunchy)
• 75ml coconut milk
• 75ml water
• 1 Tbsp sweet chilli sauce
• 1 tsp soy sauce
Method
• Soak the skewers in water for 30 minutes to stop them from scorching when grilling.
• First, mix the marinade. In a bowl, combine the grated ginger, crushed garlic, lime juice, soy sauce, honey and peanut butter and whisk together.
• Put the chicken breasts into a sealable plastic bag or cover with cling film and use a mallet or rolling pin to bash them until they are about 1/2 cm thick.
• Marinate the chicken. Slice each chicken breast into 5 strips and marinate for about 30 minutes.
• Whilst the chicken is marinating, you can make the sauce. Put the peanut butter, coconut milk, water, sweet chilli sauce and soy sauce in a small pan. Warm gently, stirring constantly, until everything has melted. Simmer for 1 to 2 minutes until the sauce thickens. Remove from the heat, then stir in the reserved tsp of lime juice and set aside.
• Thread the chicken strips onto skewers and put on a foil-lined baking sheet. Grill each side for about 5 minutes or until the chicken is cooked through.
• Serve with the dipping sauce.

Chocolate and Toffee Cheesecake
Makes 8 portions
Ingredients
• 100g digestive biscuits
• 50g butter, melted
• 150g full-fat cream cheese
• 200ml whipped cream
• 150g milk chocolate
• 2 Tbsp toffee sauce
Method
• In a sealable plastic bag, crush the biscuits using a rolling pin. Transfer the biscuit crumbs to a bowl and mix with the melted butter.
• Line a 7" (18cm) round loose-bottom tin with nonstick paper. Press the biscuit mixture onto the base and smooth with a spoon. Leave to chill.
• In a bowl, combine the cream cheese and cream. Whisk until thick.
• Melt the chocolate bain-marie style. Set aside to cool.
• Divide the cream mixture in half. Add the chocolate to one half and the toffee sauce to the other. Then mix
each well. Spoon into the tin and gently swirl to make a marble effect.
• Chill for 3 hours before serving.