Reading Time: 5 minutes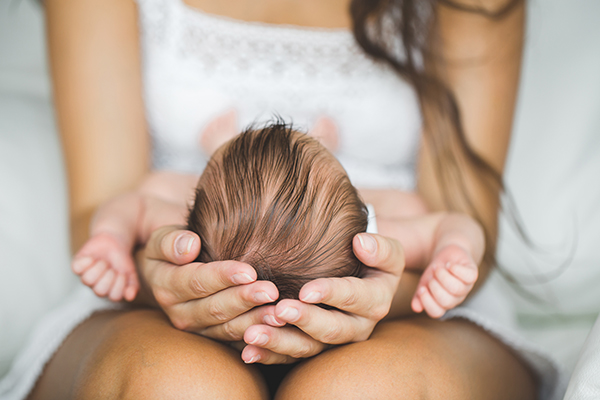 When Kate, the Duchess of Windsor, gave birth and only hours later proudly presented her daughter to the photographers, looking as stunning and glamorous as ever, she set off an avalanche of comments in China. While Western mums mainly discussed how unrealistically polished and perfect she looked, Chinese mothers concentrated on the fact that she had already stepped outside to make a public appearance. "How could she? What's wrong with her?" ranted and raved the mother bloggers from Beijing to Shanghai.
For in China, mums of newborns traditionally opt for strict enclosure for four weeks. "Sitting the month" or "zue yue zi" is sacrosanct. According to popular belief, the dramatic physical strain and loss of blood during birth weaken a woman's health. So in order to restore it, she must stay indoors.
The tradition started 2,000 years ago, and Chinese ladies all over the world deeply believe in it and fear that by ignoring it, they will contract many diseases later in life, such as rheumatism or arthritis.
The month is long and tough, and full of rules: Ideally, a new mother shouldn't wash her hair, shower, brush her teeth, exercise, use the air conditioning, lift any heavy weights, and she should avoid cold as well as negative emotions. And to be 100 per cent sure that she doesn't make any mistakes in that labyrinth of instructions, her mum or a special "confinement lady" moves in, looks after her and the baby, and cooks dietary meals with lots of ginger. In a post on the Hong Kong Moms Facebook group, one mum wrote: "I didn't think I'd survive it, but to be honest if I survived a natural childbirth without an epidural, I think I can survive anything!"

Sitting in style
But for Chinese families for whom money is no object, there are more pleasant ways to do it nowadays – at least in Taiwan and on the mainland, where more and more rich ladies prefer spending their month in a specialised clinic, with five-star comfort. Care Bay is the most famous of around 100 postpartum clinics in Shanghai, where old trees stand in front of the house, the atmosphere inside is dignified and the light is dimmed. The centre of the lobby is dominated by a neo-classical marble statue of a mother with her baby. A young student with her daughter is posing here. She is done, it's her last day today, her bags are packed, she just wants to have a souvenir picture taken. Asked how she found the month, she replies, "It was great, absolutely great". She didn't miss anything and was even allowed to go out for a tea with a friend!
And this modern approach to sitting the month seems to be successful. Care Bay has four houses in China – two in Shanghai, one in Shenzhen, and one in Beijing – where famous actresses are said to have spent around HK$1,000,000 for a month in the presidential suite. Compared to that, Shanghai is quite reasonably priced: prices per month range from HK$80,000-HK$380,000, which includes a stay in a spacious room or suite, dietary full-board plus a personal confinement lady, called a yue sao.
For many young mums, the yue sao is the best part of the package. Upon request, the yue sao can be present during birth, and will be there for her all the time. Over four weeks, she will take care of her, providing instruction in childcare and careful yoga lessons.
A family affair
The escorting husbands are charged extra – guys like Mr Wong. He works as a freelance trader and didn't hesitate for a second when he heard he could be there to make his wife's stay more pleasant. Now he is sitting in camouflage shorts, working at the desk of his wife's suite. Ms Wong is visibly weak after her c-section, but she is happy with the arrangement and is especially proud of her son, Sun, who has a baby swimming lesson every day. He is only 15 days old, but has already had 10 spa treatments.
The parents are particularly grateful for their introduction to baby care. Since most of today's mainlanders have grown up without siblings or cousins, they are simply not used to babies. Even Sun's grandmother – who is going to pay for all the expenses – expresses her gratitude. "I'm a better business lady than nurse – so I'm glad that I needn't look after her during her confinement period. I don't want to stay in for four weeks either."
Traditional Chinese Medicine practitioners make regular checks on the ladies, and paediatricians are available, too, to check on the babies. The Chinese doctor often prescribes different herbal drinks according to the lady's condition – it's one of innumerable little details that might justify the high costs. The wholesome meals can be chosen from a menu, and are presented as if from a five- star restaurant. The yue saos seem extremely knowledgeable and friendly, especially next to some of the nervous and inexperienced mummies.

"We emphasise a very friendly, familiar atmosphere", says Johnny Han, the CEO of Care Bay, who was formerly a banker. "And we keep up with the times! Washing hair is supposed to be a standard here." He mentions that only recently a woman in Shanghai died because she had taken her confinement rules too seriously. On hot summer days she wouldn't let go of her winter blankets, nor would she switch on the air conditioning or leave the bed. The origin of these rules date back to the Middle Ages when people were living in cold houses built of mud, and they got their water from dirty wells. Nevertheless, supposedly more than 50 per cent of all mums in China still respect the old, strict rules, depending on how their mum or their chosen yue sao interprets them.
People who prefer to do their month with a yue sao at home have to hire her four months before giving birth. Most mummies-to-be choose a yue sao via established agencies like "Xin Bei", where they can choose from big photo albums. The office of Xin Bei is in a converted apartment of a residential building in the central district of Shanghai. In the middle of the room is a huge dining table where expecting families meet their yue sao for the first time. Zhao Hui Ming, a resolute lady with a short grey pixie cut, is always there to make sure a couple finds the right person. She used to work as a sociologist, but she realised that, sooner or later, the grandmothers would be too busy or too far away to take care of their daughter's confinements. That's why she has trained over 200 yue saos in the last 10 years. Her minimal requirement is that her yue saos have a general certificate of secondary education and must have children themselves.
The average rate for an experienced yue sao in Shanghai can go up from US$1,200 to 2,000, per month. Here in Hong Kong they can make even more. Maggie Lai is such a highly skilled yue sao who is self-employed, works without an agency, and gets all her work via word of mouth recommendations. Previously she worked in Beijing, but since coming to Hong Kong she has doubled her salary. When she works in a house, on call 24 hours a day, she is paid HK$40,000 a month.
And having a yue sao all day round means you needn't lift a finger. During the night, the yue sao brings the child for nursing. Cooking is also one of her main duties. The meals are created depending on the amount of blood a new mum lost during birth, and depending on which kind of delivery she had, a natural birth or c-section. Traditionally in the first weeks a new mum should eat a lot of soups, and later she can have chicken and steamed fish with very little salt and oil. Consequently, most yue saos start their days in the supermarket, buying fresh fish, tofu, veggies, lots of ginger and dates – highly nutritious food, but not always tasty.
Mums on the Hong Kong Moms Facebook group are convinced it's a great experience. "My confinement lady was lovely during the two times I hired her. I felt so pampered the first time round as all I did was sleep, eat and feed", wrote one. Another mum posted: "The most difficult thing for me to live with was not washing my hair. So I bargained with my confinement lady and, with my research done, I got to wash my hair after 10 days, with Chinese herbal boiled water. After that, everything else was a breeze."