Reading Time: 2 minutes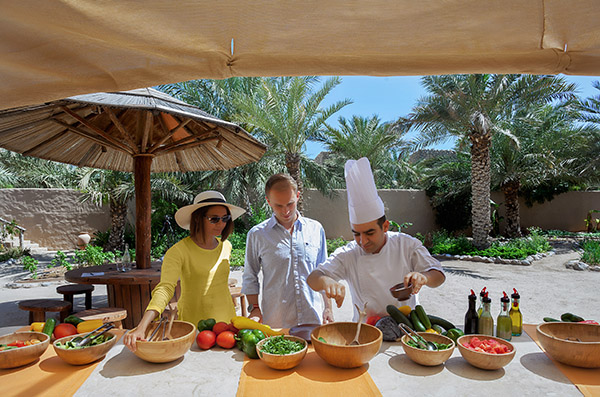 Well-being is not just for grownups. Six Senses Zighy Bay takes its little guests on an incredible learning experience through the "Grow With Six Senses" programme, which features an array of activities that suit both adults and children. Children can interact with animals and plants at Six Senses Zighy Bay's own farm and organic garden. Housing baby goats, camels, chickens and cows, children can collect their own breakfast food when visiting the farm in Dibba. They also learn how the resort cares for the animals and about the different kind of produce growing there.
Head to the organic garden to learn about the different herbs and their benefits – from seeing how to reclaim the seeds of different fruits and vegetables to sowing those seeds and caring for plants. They get to explore the garden and get their hands dirty.
Budding chefs can learn how to prepare their own healthy food, and also understand the correct meaning of organic and how to shop for the right food for them and the environment.
An interactive session can be arranged at Earth Lab, where kids and parents can learn about recycling and upcycling, they can even take their experiments and handiwork back home as mementos. Kids can explore how to make soap at home with different herbs and botanicals and what each ingredient can do for them. They can also go to the Alchemy Bar and create fun products that are organic and sustainable to use on themselves; such as scrubs, and masks. And while they're at the spa maybe even enrich their souls through animal yoga poses surrounded by nature's music.
Water babies can enjoy exploring the underwater residents when snorkeling in the calm Gulf of Oman and find out a whole lot more with the resident marine biologist. They will learn about ocean clean-ups and how harmful human waste can be to marine life especially the friendly sea turtles and manta rays in the gulf. For those a bit more adventurous, the family can even experience diving and get up close and personal with some of the rich underwater fauna of the region.
www.sixsenses.com