Reading Time: 3 minutes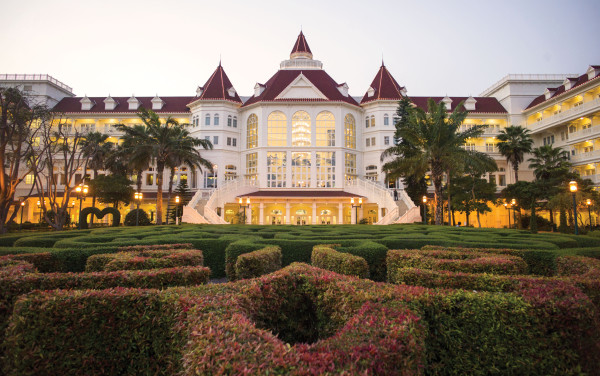 When my parents came to visit this past November, we were looking for somewhere to take them and our 11-month-old daughter, Holly. So, we headed off for a one-night staycation at the Hong Kong Disneyland Hotel.
We booked a one-night plus two-day pass package, for four adults (two rooms) and one baby. It was not cheap, but if you know the dates, I advise you book as far in advance as possible – the prices went up by about $1,500 per room between the time I thought about it and the time I booked.
We booked the sea view room with balcony, on the basis we would need somewhere to sit and drink wine once Holly was in bed. The balconies do not come with any furniture however, so we had to haul out the armchairs from the room and use a footstool as the card table! I booked a cot in advance and this was set up in the room – for older kids in a twin-bed room with their parents they offer bed guards which they will set up for you.
You can only check in from 3pm, which suited us as we knew not everyone would be able to spend the whole day in the park and keep awake for the fireworks as well, but if you want two full days, you may need to see if you can pick the tickets up earlier. There was ample car parking, and the hotel is only a 10-15 minute walk from the park – the signs say 30 minutes but as it is well under a kilometre, we did it in half that time, even with two OAPs and a stroller!

Lights, camera, action!
Having checked in, we set off for the park at about 4.30pm. This was on a Tuesday, but it was wonderfully empty and we left Holly with her grandparents while we went on the grown-up rides as there were no queues. As the sun began to set, we headed to It's a Small World, which is just enchanting when lit up. In fact, the whole park looks gorgeous under lights. After that it was time to line the streets and wait for the Paint the Night parade: Bright lights, dancers, characters and very, very loud music. Then we had a quick bite to eat (the food is not fantastic, be warned!) and a wander around the shops (which are everywhere, and at the exit of every single ride and attraction) followed by taking our position for the fireworks. We stayed towards the top end of Main Street, closer to the exit, but the view was still excellent. A short stroll back to the hotel, and Holly fell fast asleep in seconds.
My parents tried in vain to find somewhere to grab a drink at the hotel, but it may be because the resort was not very busy and parts were shut. We had an early night, followed by an early start to tackle the character breakfast. This is wonderful for children (though a bit wasted on Holly at her age) and all the kids looked enchanted as they met Mickey, Minnie, Pluto and Goofy. It's not cheap at $388 per adult, but well worth it for the photo ops.
We then had time for a quick swim – there are indoor and outdoor pools – although the water was not very warm (and the lifeguard was asleep), before heading out again into the park to explore more, in daylight.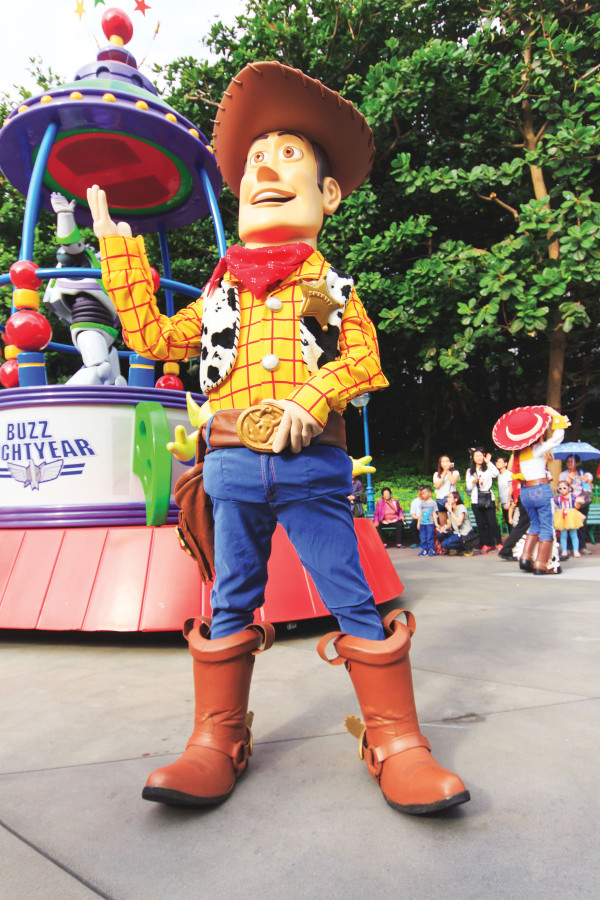 Kids at heart
I was surprised at how many rides accommodated Holly, and she loved Buzz Lightyear and wasn't at all fazed by the Mystic Manor. The Many Adventures of Winnie the Pooh was another highlight, although we were very disappointed there were no cuddly Piglets (my favourite character) for sale – about the only thing we would actually have bought! Lunch and the afternoon parade finished up our day, and we headed back to the hotel to collect the car.
This is a lovely, stroller-friendly option for a staycation for kids of any age – my dad enjoyed it more than anyone! I don't think I would stay at the hotel again (and you can book the character breakfast without staying), but the annual passes for Hong Kong-based families are well worth the money. But no doubt you'll just end up spending the savings in the shops; I'll make the most of it before Holly starts obsessing over Disney princesses!