Reading Time:
4
minutes
Dance, Sing & Act Your Way Through Summer
If your little one loves the stage, have we got some summer camps for you. Choose from music, drama, singing or dance and prepare to be amazed at their blossoming performance skills. Scroll on to discover our pick of Hong Kong's best summer camps for little performers.
Improve your acting, singing and dancing skills this summer with CentreStage. Delve into week long workshops in Public Speaking, Singing, Dance and Musical Theatre with industry professionals. Build confidence, courage and creativity through speech and drama. Courses run 17 June – 9 August at various locations. For ages 4 – 13 years.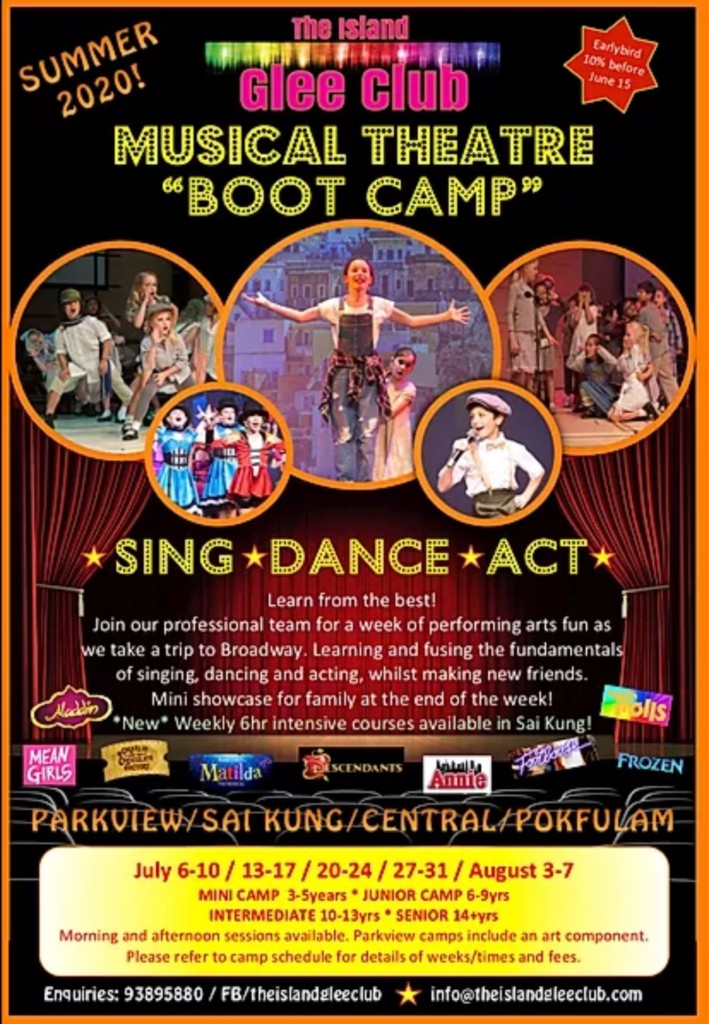 Run by a talented team of professionals, The Island Glee Club teaches the fundamentals of singing and movement. This summer why not try out a Musical Theatre Bootcamp or Vocal Masterclass? The ever popular 2 – 3hour Camps will have your children singing and grooving all week, unleashing their inner performer. Enjoy a short "mini show" at the end of each camp. If you're in Sai Kung, you can choose a full daily Musical Theatre Intensive course which is 6 hours a day of performing arts mastery. This option is available for Juniors 6 – 9yrs, Intermediate 10 – 13yrs and Seniors 14+ yrs. All camps end with a showcase of work. Courses run 6 July – 7 August at 4 locations across Hong Kong. For ages 3 – 14+ years.
Learn to juggle, hang upside down from an aerial hoop and perform dance routines from the Lion King; learn how to use programmable LED costumes, create and star in your own Tik Tok video, jump on a trampoline, do some yoga and stretching and finally show off your new skills in a performance at the end of the week long camp – just some of the activities available at 5678 studio. Camps take place in Wong Chuk Hang and start 6 July. They are geared for ages 5 – 7 years and 7 – 11 years. For more information and to sign up for the Early Bird 15 per cent discount, WhatsApp: 57212691 or Email: info@5678studio.net
See also: Top summer sports camps in Hong Kong
Activities include: Ab-libbing, speech drills, music & movement, snippets, prop/costume making, and a special video performance. Helen O'Grady Drama Academy was founded by Helen O'Grady in 1979, in Perth, Australia. Currently, it operates in 27 countries with around 55,000 students attending classes each week. Courses run 20 July – 21 August in Mid-levels. For ages 3 – 7 years.
Keep the creativity alive this summer. Check out Kids' Gallery for drama, musical theatre, storytelling and art classes this summer. Courses run 15 June – 28 August at multiple locations across Hong Kong. For ages 2 – 8 years. See the Kids' Gallery website for more information and be sure to look for discounts.
Back for their 20th season, Faust's summer Theatre and Creative Writing camps are a great way for children to develop self-confidence and engage in teamwork. Theatre workshops will have children exploring different themes, topics or plays each week, ending in a showcase at the end of the week. Creative Writing workshops explore different aspects of creative writing including metaphors, similes, dialogue, poetry, descriptive techniques and genre writing. All camps run morning or afternoon sessions and are suitable for ages 3 – 14. Courses run 22 June – 21 August across 7 different locations. Register now to get the Early Bird discount.
Starlit's summer holiday workshops keep children engaged and excited in the performing arts. Select from long- and short-term workshops designed around different themes. Magical Tales Theatre Camp explores popular musical fables and tales, Communication & Public Speaking builds skills for speaking on stage or in public, and Acting For The Stage teaches techniques for taking the stage. Holiday workshops are offered to ages four and up, with new programmes and scheduling created each summer.  Courses run 15 June – 7 August at Canadian International School. For ages 4 – 10 years.
Read more: The Best Outdoor Camps in Hong Kong
If you have a teen who is passionate about the performing arts, check out ISTA this summer. ISTA is a creative collaboration for students aged 13-18 to develop confidence, creativity, compassion and expression through the performing arts. Week long courses run 6 July – 17 July at Hong Kong Academy.
Dance your way through summer. Explore the Queen of Ice, Superheroes, K-Pop, the Disney Parade and the new Stage Performance Camps. Check out multi-camp and flexi discounts online. Courses run 6 July – 27 August across four locations. For ages 18 months – 12+ years.
Where the belief that dancing is more than just movement to music, Move For Life is about looking at other types of intelligence and building healthier lifestyles with more confidence. The summer camps are loaded with fun and creativity and there is an independent camp for children with special needs. Camps run 6 July – 14 August on Hong Kong island and in Kowloon and are suitable for ages 2 – 19 years. There are also individual summer dance classes. Enroll before JUNE 26th and get a free uniform.
The exciting summer program offer classes in Dance, Visual Arts and Music. The courses are specially designed to encourage creativity and instill discipline, confidence and poise. The Hong Kong International Summer Dance School (ISDS) brings students and teachers from different countries and cultural backgrounds to come to Hong Kong for a 4-week intensive training from 14 July to 11 August 2019. Guest teachers from Russia, USA, Japan, Germany and Spain will be teaching this summer.
Summer School 2020 at Red Shoe includes a taste of Ballet, Jazz, Lyrical, Contemporary, Hip Hop, Tap, and Musical Theatre. Students will dance for 2 hours each day over 5 days, taking different dance styles each day. The morning sessions are for beginner/novice levels and the afternoon sessions are for intermediate/advanced levels. For ages 5-16 years.
In July and August, Island Dance has 4 and 5-day dance camps and workshops at multiple locations across Hong Kong. Try out Freestyle, Jazz, Hip Hop, Jazz Funk, Ballet and Contemporary dance styles. Choose from fun and engaging camps for ages 4-8 years old and intensive workshops for ages 9-12 years old.
(picture credit to the respective website)
Related articles: