Reading Time:
4
minutes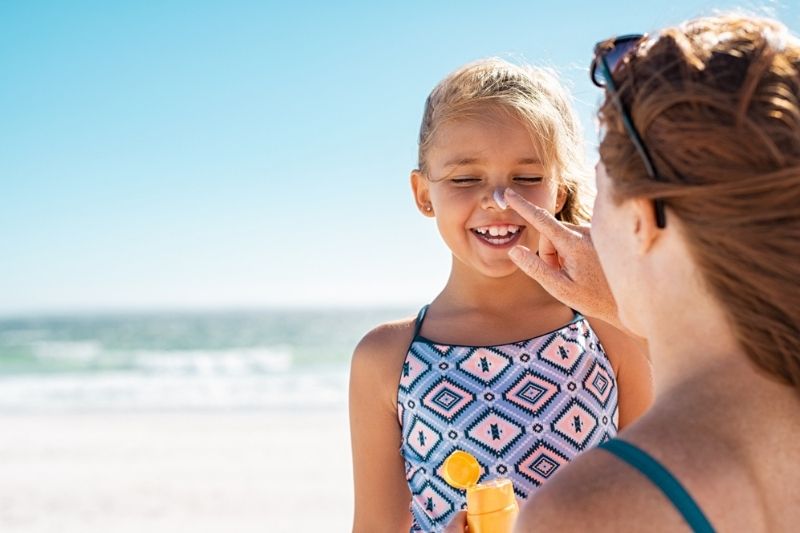 When it comes to protecting yourself from the sun, how you go about it might be key to your long term health. Staying out of the sun during particularly critical times (10am – 4pm) and wearing protective clothing are great ways to stay protected.
But it's summertime and it's not always practical if you're out for a swim or doing a fun beach activity. Enter sunscreen. There are so many to choose from these days it's hard to know which is best. Let us help you with some sun safety tips for kids and sunscreen recommendations that work for the whole family.
Sun Safety Tips for Kids:
A few blistering sunburns in childhood can double a person's lifetime chances of developing serious forms of skin cancer. The best protection is a hat and shirt. After that, protect kids with a sunscreen that's effective and safe.
Infants
Infants under six months old should be kept out of direct sun as much as possible. Their skin is not yet protected by melanin. When going outside:
Cover infants up with tightly woven but loose-fitting protective clothing and a sun hat.
Make shade. Use the stroller's canopy or hood. If you can't sit in a shady spot, use an umbrella.
Avoid midday sun. Take walks in the early morning or late afternoon.
Follow product warnings for sunscreens on infants younger than six months old. Most manufacturers advise against using sunscreens on infants or advise parents and caregivers to consult a doctor first.
Toddlers and Children
Sunscreens are an essential part of a day in the sun. But young children's skin is especially sensitive to chemical allergens – as well as to the sun's UV rays. Follow these sun safety tips for kids:
Test sunscreen by applying a small amount to the inside of your child's wrist the day before you plan to use it. If an irritation or rash develops, try another product. You can also ask your child's doctor to suggest a product less likely to irritate your child's skin.
Apply plenty of sunscreen and reapply it often, especially if your child is playing in the water or sweating a lot. The American Academy of Pediatrics suggests about one ounce of sunscreen per application for a child.
Choosing the right sunscreen
AVOID: Oxybenzone, Vitamin A (retinyl palmitate), added insect repellent.
LOOK FOR: Zinc oxide; Avobenzome; Mexoryl SX
AVOID: Sprays, products that offer SPF above 50 (super high SPF ratings don't necessarily offer greater protection from UV-related skin damage, especially UVA damage, and may lead users to spend too much time in the sun).
LOOK FOR: Cream; broad-spectrum protection; water-resistance; SPF 15-50; European sunscreens seem to provide greater free radical protection because they may contain superior UVA filters.
Want to know more? Visit www.ewg.org/sunscreen
Ingredients in sunscreen
The Environmental Working Group (EWG), a non-profit organisation in the US, has released an updated guide to sunscreen. The guide rates the hazards and effectiveness of roughly 1000 products, including sunscreens, moisturisers and lip products with SPF ratings. Scores range from 1 to 10, with 1 being the best. Ratings reflect the hazardous ingredients listed on the label and the degree of UVA/UVB protection the product offers. EWG recommends products that provide long lasting protection from the sun with ingredients that pose fewer health concerns.
When looking at active ingredients in sunscreens, there are two types of UV filters; mineral or chemical. The most widely used and sold sunscreens contain chemical filters. These products typically include a combination of two to six of the following active ingredients: oxybenzone, avobenzone, octisalate, octocrylene, homosalate and octinoxate. Mineral sunscreens use zinc oxide and/or titanium dioxide. A handful of products combine zinc oxide with chemical filters. Each uses a different mechanism for protecting skin and maintaining stability in sunlight.
According to a US FDA sunscreen report, only two active ingredients allowed in U.S. sunscreens, zinc oxide and titanium dioxide, are considered generally recognised as safe and effective. These are the active ingredients in mineral based sunscreens which protect the skin with a physical barrier to the sun's harmful rays.
Unfortunately, some of the most widely used sunscreen brands appear to employ chemical filters which are known to be endocrine disruptors. Numerous studies have shown that these chemicals affect reproduction and development by altering reproductive and thyroid hormones (Krause 2012, referenced by EWG). Studies found these chemicals circulating in the blood after just a single use.
While the mineral ingredients, zinc oxide and titanium dioxide, are safe in sunblock lotions or sticks, EWG strongly discourages the use of them in loose powder make-up or spray sunscreens due to inhalation risk. Additional tests for powder or spray/aerosol sunscreens are needed to ensure no small particles are released that could damage the lungs.
What to do with all this information? Thankfully, EWG has some guidelines and sunscreen recommendations to help.
EWG's sunscreen recommendations:
Adorable Baby Sunscreen Lotion, SPF 30+
All Good Kid's Sunscreen Butter Stick, SPF 50+ available from iHerb
Badger Baby Active Sunscreen Cream, Chamomile & Calendula, SPF 30 available from iHerb
Erbaviva Organic Skincare Baby Sun Stick, Lavender Chamomile, SPF 30
Just Skin Food Baby Beach Bum Sunscreen Stick, SPF 31
Olita Kids Mineral Sunscreen Sunstick, SPF30
Raw Elements Baby + Kids Sunscreen Lotion Tin, SPF 30
Star Naturals Baby Natural Sunscreen Stick, SPF 25
SunBioLogic Kids Sunscreen Stick, SPF 30+
Suntribe Kids Mineral Sunscreen Lotion, Vanilla Yum Yum, SPF 30
thinkbaby Body & Face Sunscreen Stick, SPF 30 available from iHerb
thinksport Kids Body & Face Sunscreen Stick, SPF 30 available from iHerb
TruBaby Water & Play Mineral Sunscreen Lotion, SPF 30+
TruKid Sunny Days Sport Mineral Sunscreen Lotion, SPF 30
UV Natural Baby Sunscreen Lotion, SPF 30+
Waxhead Sun Defense Baby Zinc Oxide Vitamin E + D Enriched Sunscreen Lotion, SPF 35
For more sun safety tips for kids and parents alike, be sure to read our comprehensive coverage of skin cancer. 
Related articles: