Reading Time: 5 minutes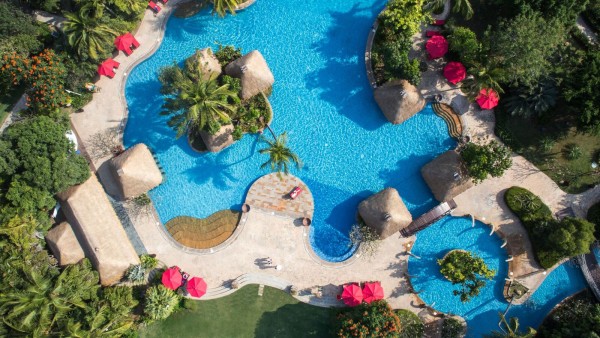 Sanya – just a hop, skip and a jump away from Hong Kong – lies on the tropical island of Hainan and is at the southernmost point of China. It boasts miles of pure white sandy beaches, lush rainforest and the backdrop of the stunning Wuzhi mountain range. Enjoying summery weather all year round, with an annual average temperature of 25C (77F), it has been nicknamed the 'Oriental Hawaii'. In the past, the island has attracted both Chinese and Russian tourists, seeking a break from harsh winter conditions in their home regions. However, with the development of some of the world's best-known hotel chains, tourists are now made up from a wider pool of nationalities.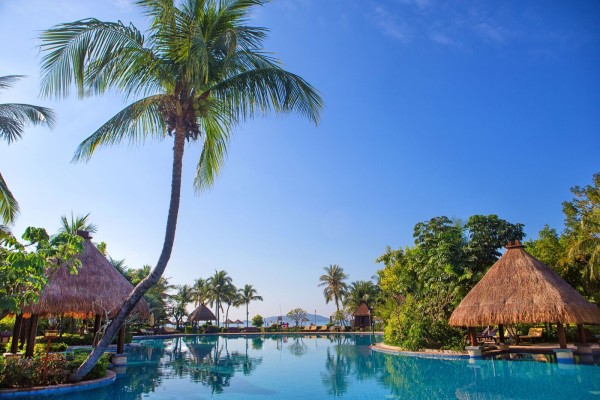 One such name is Club Med, who opened their doors on the island earlier this year, to the welcome reception of many young families living in Asia. Just over an hour flying time from Hong Kong and then just ten minutes from the airport, we thought we would check the place out, as a very convenient option for families seeking a break from Hong Kong's hustle and bustle.
Hainan has several bays with large resorts, sandy beaches (used as the training site of the Chinese national beach volley ball team) and, perhaps most appealing of all, clean warm seas to swim in. Water temperatures remain above 20C (68F) year-round.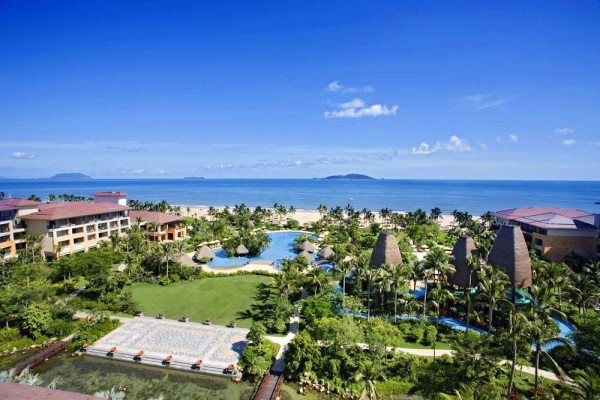 Flower power
With its stunning facilities and a breathtaking location on a pristine beach, we were immediately impressed by what was to become our home for the next two nights. By golf cart, we were taken across the expansive grounds to our rooms – my two boys enjoyed practising their Mandarin with the guide and we took in the verdant surroundings of the tropical setting, where coconut trees, palm trees and frangipani flowers filled the gardens. Frangipani later became the sweet-talking bribe of choice of my two boys, who offered them, along with beaming grins, every time they were trying to win me over. It might not have been an original tactic as I spotted these white blossoms in many other women's hair around the resort – obviously the accessory to be seen with in these parts.
Our adjoining suite and room made a luxurious and spacious set-up for a family of four, with three large rooms, two big bathrooms and two balconies fitted with hot tubs, looking out across the white sandy beach.
As we were aware that there was an overwhelming choice of activities on offer and were only visiting for two days, we thought it wise to take part in the afternoon tour, to suss out the options before committing to too much. The resort is based around what is one of the best hotel pools I have experienced; it's very large – and never felt crowded or busy – and looks out across a stunning stretch of sandy beach. Smaller areas of pool are tucked away off the main pool to entice swimmers to explore under rope bridges and discover twisty waterslides and beach areas, complete with sand for sandcastle making, along with a bar and a grassy bank for sunbathing or simply enjoying freshly cut coconuts.
The pool even has (and this was probably my favourite part) a 100-metre circular ring of swimming pool river, where relaxed adults could spend their time idly floating around, while their little monkeys could enjoy letting the jungle surroundings bring out their inner Tarzan. All three of my 'boys' – big and small alike – took a real shine to the great twisty water slide. They enjoyed this for hours each day, going down in crocodile formation until their skin had turned prune-like and their noses were beginning to burn.
Our insect-loving son loved finding lizards of all sizes and types, hiding in the nooks and crannies in the trees that lined the pools. There were all sorts of tropical varieties that made a welcome replacement to the skyscrapers they are normally surrounded by. Not only does this enormous and multi-functional pool have something to please everyone, there is also an 'adult-only' lap pool tucked away for those who would rather seek complete peace and quiet or the chance to swim for exercise undisturbed.
 Busy kids
The other highlight for my family was definitely the Mini Club – this is the kids club for children aged four to 11 years, and it suited our five- and six-year-old boys well. (There is also a Petit Club for two- and three-year-olds with more age-appropriate activities.) At Mini Club, children are taken out each day to enjoy all manner of fun. My boys particularly fancied themselves as mini Robin Hoods, when they got their hands on bows and arrows out on the archery field, much to the concern of their mother. And then the exhilaration rates continued to rise as they got the chance to fly around on a ridiculously high trapeze at the circus skills centre. Both boys took the plunge and declared they loved it, even if my eldest was a little less sure about taking part in this at first.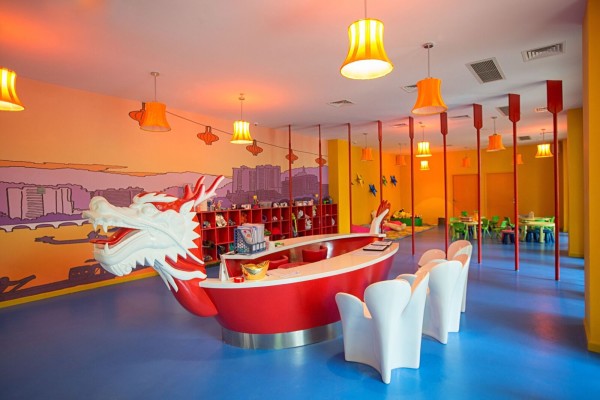 Other activities on offer include: rock climbing, ball games, swimming, water sports and movie nights, not to mention the big shows that the children rehearsed for by day and performed, to delighted parents, by night. These shows, pumped full of energy by pounding music and hyped up GOs (gentil organisateur) took place on a full performance stage, in costumes, with face paint, lights and confetti machines. The children danced enthusiastically to pre-selected tunes and were treated to a candy party with brightly coloured 'mocktails' afterwards. Guests included Elsa from Frozen, Minions and pandas (more busy GOs in costume) who were all there to amuse and charm the mini guests. Our boys went to bed that night worn out and proud of themselves, overwhelmed by the glitz and glamour of the evening.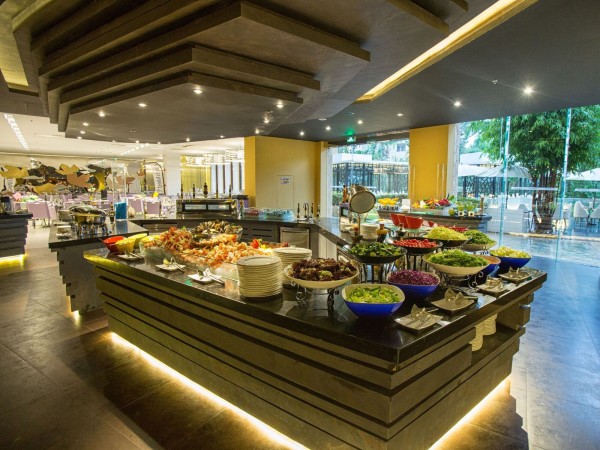 As is the case at all Club Meds, the food was a buffet-style affair, so there is no way of going hungry, but this one was slightly more geared towards the Chinese palate. We found that eating out on one of the terraces provided the most tranquil and pleasant of experiences, as it was calm and took advantage of the surrounding views.
Because we only stayed for two days we didn't have time to venture out on excursions, but if you are there for longer, there is plenty to do – if you can drag yourself away from the resort. Some of the best recommended sightseeing options are the Nanshan Cultural Park (with a three-sided statue of Guan Yin Buddha, Buddhist Temples, spectacular landscape and sea views), the Sanya City Tour (which takes in some of the must-see sites), the Rainforest Immersion, Hot springs and Monkey Island (a natural reserve spanning more than a thousand hectares and home of more than 1,500 macaques), and a trip to the West Island (the second largest island of Hainan Province and home to fishing tribes for generations, with idyllic surroundings of sandy beaches, rocky coves, and an interior filled with palm trees.)
At the end of the two days, we were well rested and hadn't even taken advantage of the spa or exhausted the water sports on offer. The boys' entire experience was fun-packed with a super friendly vibe, thanks to the dedicated GOs. With busy, happy kids, and relaxed, happy parents, this quickest of getaways ticked all our boxes.
---
Between 1 July and 31 August, 2016, there will be a Club Med French summer camp in Bali, Cherating Beach, Phuket, Sanya, Guilin, Dong'ao Island and four other resorts. Children will have the option to join in four extra activities – Petit Chef for French cooking classes, Petit Designer where children will create their own clothes and then perform in a fashion show, French Fragrance where children will explore different fragrances and French Sport which includes tennis, petanque and flying trapeze.
3 Day 2 Night all-inclusive package (Dragon Air), Deluxe Room from HK$3,430 per adult/ HK$2,318 for Child 4-11/ HK$1,100 for Child 2-3 with an additional fee: +HK$230 airport tax + HK$280 Club Med Annual membership fee/ HK$200 for membership renewal.
What's more? Book now to get 2 nights FREE out of your 5-night stay OR 1 night FREE out of your 3-night stay.