Reading Time: 2 minutes
Super Sleepover Party Favourites by Annabel Karmel

Caramel Popcorn
•   Serves 4-6   •   Prep time: 15 mins   •   Cook time: 35 mins
100g/4oz popping corn or one packet of natural
microwave popcorn
55g/2oz butter
100g/4oz soft light brown sugar
2 tbsp golden syrup
2 tbsp water
Pinch salt
Sunflower oil, for greasing
Preheat the oven to 150C/300F/Gas Mark 2. Line a large baking sheet with foil and lightly grease with oil.
Pop the corn according to the instructions on the packet. Transfer to a large bowl and leave to cool slightly.
Put the butter, sugar and syrup in a saucepan with two tablespoons of water and a pinch of salt. Heat gently until the butter has melted and the sugar has dissolved, then bring to the boil and remove the syrup from the heat.
Let the syrup cool slightly, then drizzle over the popcorn. Toss the popcorn carefully using two large wooden spoons or salad servers. Spread on to the prepared baking sheet and bake for 15 minutes, then remove from the oven and carefully stir. Bake for a further 15 minutes, watching closely in the last
five minutes.
Remove the popcorn from the oven and cool on the baking sheet for five minutes, then transfer to a bowl and serve warm (check temperature before serving as the caramel coating can stay hot for a while) or leave to cool completely (it will crisp up as it cools).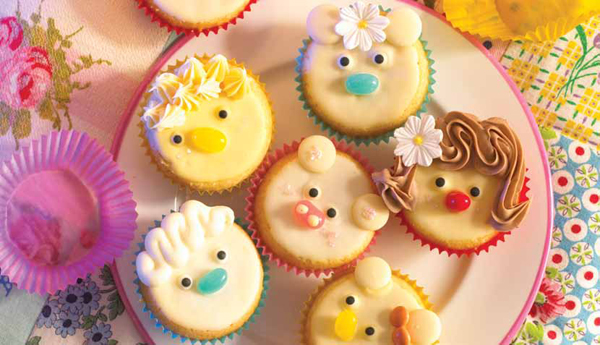 Funny Face Cupcakes
•   Makes 10   •   Prep time: 45 mins    •   Cook time: 20 mins
For the cakes
125g/4½oz butter or margarine
125g/5oz caster sugar
½ tsp lemon zest
2 eggs
125g/5oz self-raising flour
¼ tsp baking powder
For the icing
150ml/5fl oz water
450g/1lb royal icing sugar
Pink and yellow food colouring
For the decoration
Black writing icing
Assorted sweets
Sugar flowers
White chocolate buttons
Tub of ready made buttercream
Preheat the oven to 180C/350F/Gas Mark 4. Line a muffin tin with ten paper cases. Cream the butter in an electric food mixer until soft. Add the sugar and beat until fluffy, then mix in the lemon zest. Add the eggs one at a time, and add a tablespoon of the flour with the second egg, beat continuously, then sift in the remaining flour and baking powder. Divide the mixture between the paper cases and bake for about 20 minutes until golden and springy to the touch. Remove from the oven and cool in the muffin tin for 15 minutes, then transfer to a wire rack to cool completely.
While the cupcakes are baking, you can prepare the icing. Put the water and royal icing sugar into the bowl of an electric mixer. Whisk slowly at first, then gradually increase to a high speed and beat for approximately three minutes.
Divide the icing into three small bowls, leave one plain and colour the other two with a few drops of food colouring. Spread the icing over the surface of the cupcakes. Design your own funny faces using a selection of sweets and pipe on buttercream to make the hair.