Reading Time:
4
minutes
Looking to spice up your next date night or perhaps you need a unique venue to hold your next dinner party, or special celebration? One of the best private kitchens in Hong Kong may just be the thing for you. Usually spread via word of mouth, these unique secret venues offer a chance to dine in somewhat unusual and surprising settings.
Editors Note: Due to the current Covid-19 Pandemic, please check with venues for regular updates.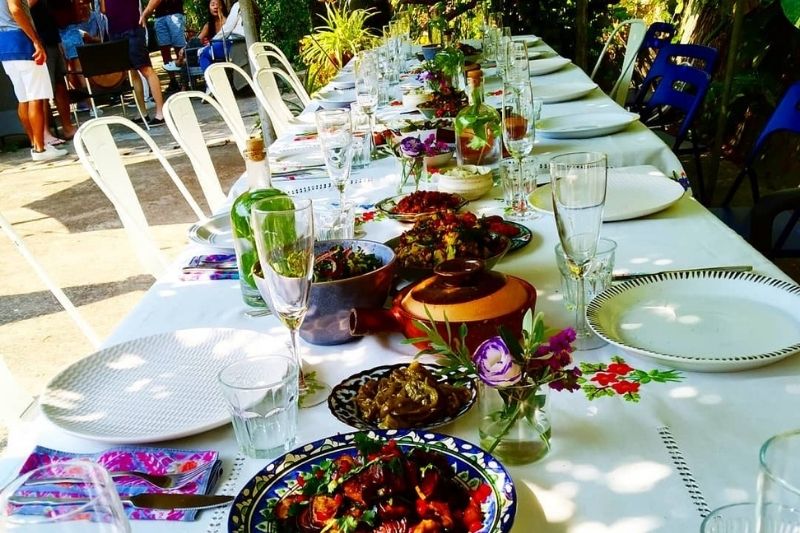 If you want a change from the Island, check out Olive Leaf private kitchen. Ayelet Idan caters the most amazingly delicious and unique vegetarian Middle Eastern food in Pak Kok (on Lamma Island). It's hard to believe that all the wonderful dishes on offer are cooked in her humble kitchen. Inviting you into her home, Aylet's food is colourful, vibrant and definitely won't leave you hungry! Make sure you save room for dessert! Ayelet also offers cooking classes, social dining and catering events. Guests are welcome to BYOB, with no corkage charges.
Olive Leaf, Pak Kok San Tsuen, Lamma Island Pak Kok Tsuen Pier, Hong Kong, 97230459, 
Fancy dinner on a boat? Moored at Aberdeen Typhoon Shelter, Kea's kitchen has been serving up Thai inspired food in this unique setting since 2012. Kea cooks up beautifully fresh Thai food and can adjust the spice to your liking. She also makes a mean mango sticky rice for dessert!
Kea's Kitchen, Row 1, Mooring 5345, Aberdeen Typhoon Shelter, Aberdeen, Hong Kong, 6077 5964, resevations@keaskitchen.com
Whoever said "less is more" never had the pleasure of visiting Gitone. Offering three signature menus with varying courses, an a la carte menu and extensive lunch sets. Gitone's Shanghainese menu is sure to please just about everyone. Also on offer are a variety of ceramic, drawing and painting classes. Why not combine food and art for a truly unique experience!
Gitone, G/F 27-28, 45 Tai Hong Street, Lei King Wan, Sai Wan Ho, Hong Kong, 2527 3448, gitone.hk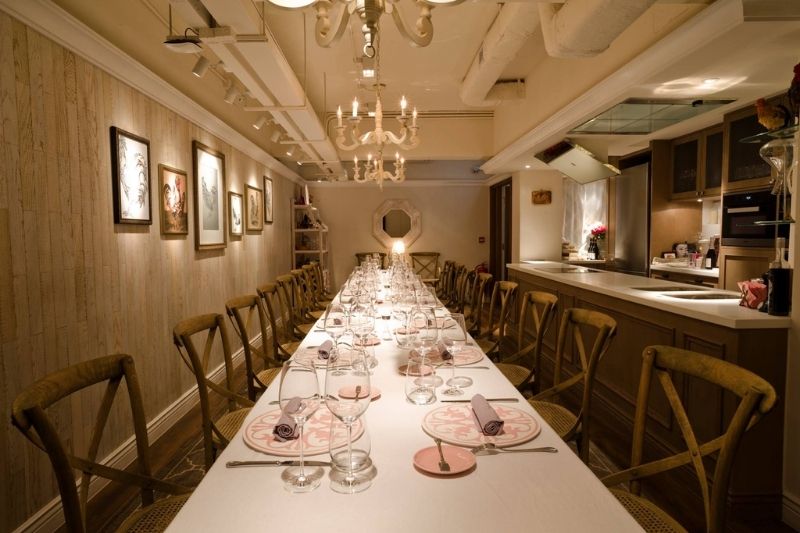 Eight years after its inception as a small private kitchen on Star Street, Ta Pantry returns to a new location in Wan Chai. Guests can choose from an extensive range of menus featuring Japanese, Shanghainese, New American, Korean, Vietnamese, Indonesian, and European cuisines showcasing Chef Esther Sham's signature cooking style. The venue is like walking into an upscale apartment, giving an almost home away from home feel.
Ta Pantry, 1A Star Street, Wan Chai, Hong Kong (enter through Maison ES), 2521 8121, booking@ta-pantry.com
Off the beaten track, and located in a garden beach house in Ting Kau Village, Tseun Wan, Chef Margaret Xu Yuan works with local farms to bring fresh ingredients to the table. Inspired by her adventures with old Hong Kong fishing village cuisine, menus are subject to what produce is available at the time of booking, creating a truly unique and memorable dining experience.
Yin Yang Coastal, House 117, Ting Kau Village, Tsuen Wan, New Territories, 2866 0868, WhatsApp: +852 9784 2280, booking@yinyang.hk, www.yinyang.hk
Located in the heart of Wong Chuk Hang, Dine Art combines a private kitchen with a casual yet classy art space. The five course Italian menu consists of salad and soup followed by a variety of traditional fresh in house pastas and a choice of signature main dishes. You can also let your creative juices flow by creating a piece of art on your place mats in a weekly contest.
Dine Art, Wong Chuk Hang Rd, 40號, Kwai Bo Industrial Building, 16/F, Flat A Hong Kong, 2805 8555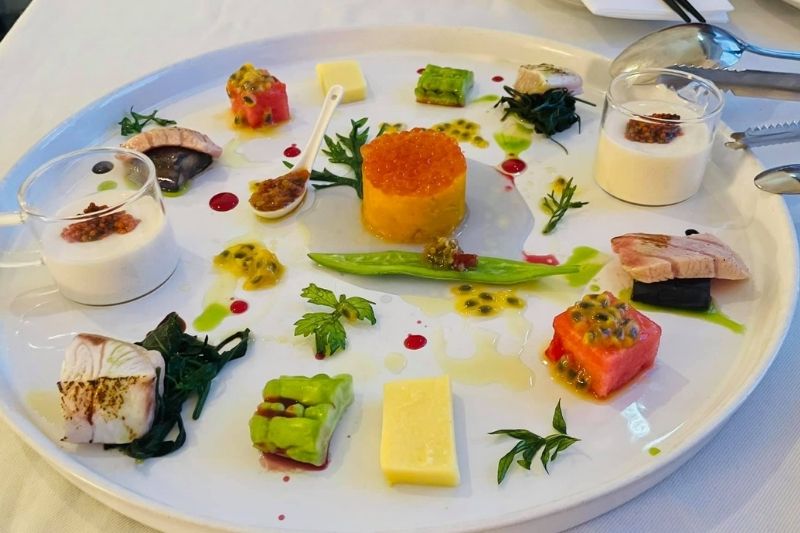 A perfect place if you are looking to host a private dinner party. With an extensive range of menu options and a beautiful indoor or outdoor venue in Wong Chuk Hang, you're free to decorate to your specification. Lebanese chef Maria Bizri will bring you all the flavours of Middle Eastern food. Think casual family-style dining or elegant cocktail party, Pomegranate kitchen will have you covered.
Pomegranate Kitchen, 4B, Sing Tech Factory Building, 44 Wong Chuk Hang Road, Aberdeen, Hong Kong, 2580 0663, info@pomegranate.com.hk
Located conveniently in Kennedy town, family style traditional Catalan food is at the heart of Comilonas. During the meal, host Lluis will talk you through each dish and how to drink wine from a porró! Passionate about food and Barcelona, the menu comprises of six tasting dishes, followed by salad, paella and finally a dessert. BYOB with no corkage, or let Cormilonas suggest some Catalan wines.
one-thirtyone, 131 Tseng Tau Village, Shap Sze Heung, New Territories, Hong Kong, 2791 2684, onethirtyoneinhk@gmail.com, www.one-thirtyone.com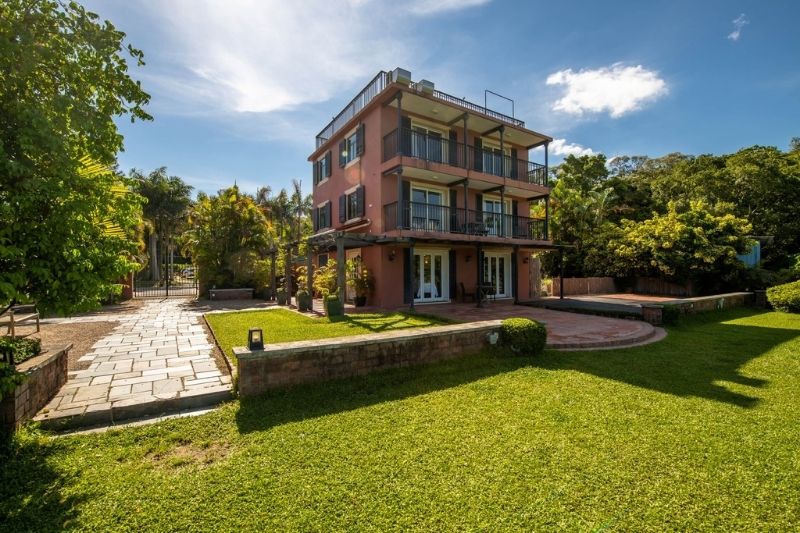 More Private Kitchens you may want to explore
Relish Kitchen, 22D, Yally Industrial Building, 6 Yip Fat Street, Wong Chuk Hang, Hong Kong, 3481 1924, info@relish.com.hk
Da Ping Huo, Shop F & H, G/F, Garley Building, 53A Graham Street, Central, Hong Kong, 2559 1317, info@dapinghuo.com.hk
Sijie Sichuan, 10/F, Bartlock Centre, 3 Yiu Wa Street, Causeway Bay, Hong Kong, 2802 2250
For a truly French experience, head over to Le Marron and be transported not only by the food but the décor as well. Think rich wood interiors, elaborate mirrors, and chandeliers. The dishes are all inspired by French cuisine and seasonal fare. Highlights include baked burgundy escargot with garlic & fresh herbs, pistachio butter and French lamb rack & lamb, and sausage with dijon mustard wild herb crumb.
Main photo courtesy of Shutterstock; photo 1 courtesy of x, photo 2 courtesy ofx; photo 3 courtesy of x; photo 4 courtesy of x, photo 5 courtesy of x; photo 6 courtesy of x; photo 7 courtesy of x; photo 8 courtesy of x; photo 9 courtesy ofx; photo 10 courtesy of x; photo 11 courtesy of x
Related Articles: