Reading Time: 5 minutes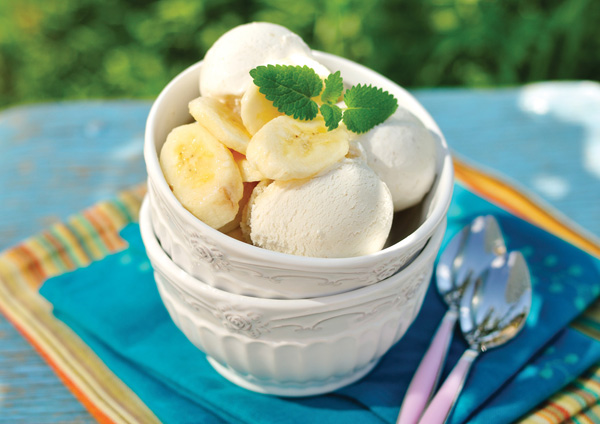 Many years ago, I snagged an ice-cream maker on eBay for $80 and it has rapidly become one of my favourite kitchen appliances and a veritable workhorse. It gets put through its paces for months, even in winter! It really is a great investment and there is no end to the number of combinations of sorbets and ice-creams you can make.
When making ice-creams, it can often be more expensive to use real cream than it is to buy a tub of Haagen Dazs, so I have been experimenting with different bases for my summer delights. Happily, they are not only a fraction of the cost of cream, but far healthier too. Using avocado, yogurt, coconut milk and cream, and bananas, you can make beautifully creamy ice-cream bases without anyone being the wiser! Coconut milk and bananas add a subtle sweetness of their own so less sugar is needed overall. I prefer to use honey or agave nectar instead of white sugar, for the taste and because a little goes a long way. If you don't have ice lolly moulds, do not fear! Use plastic cups or yogurt pots and wooden ice lolly sticks.
If you use an ice-cream maker, be sure to follow the manufacturer's instructions. You can leave it as soft serve ice-cream once out of the machine, or firm it up further in the freezer for another 30 minutes. If you want to try your hand at the old fashioned way, put your ice-cream mix into a large box, freeze for a few hours before you take it out and give it a good mix. This is to break up the ice crystals and you will need to do this a few times every couple of hours, before serving.
For jellies, use gelatin leaves or crystals and experiment with fruit juices, fruit teas, water and sugar (honey and agave nectar lends too much moisture and the jelly won't set). If you have small, silicon ice cube trays in different shapes, perfect! They make a great addition to kids' lunch boxes. The silicon moulds are also great as fun lolly molds.
Easy banana chocolate chunk ice-cream
Bananas make a great base for ice-cream, only needing to be blended. You can change the flavour by adding some cocoa powder or vanilla or coconut essence. I like it on its own with big chunks of good quality chocolate stirred in.
Ingredients
• 4-5 ripe bananas
• 1 tbsp of agave nectar or honey
• ½ cup of fresh milk
• ½ cup of plain yogurt
• 1 big bar of dark chocolate (70% cocoa)
Method
Chop your bananas and mash or blend them with the honey/agave nectar, milk, yogurt until smooth. Break your bar of chocolate into small chunks and add to the banana mix. Pour the mix into your ice cream maker and follow maker instructions. Alternatively, freeze in a box for 2 hours, then remove from the freezer and, using a fork, break up the ice crystals by giving it a good stir. Repeat twice more.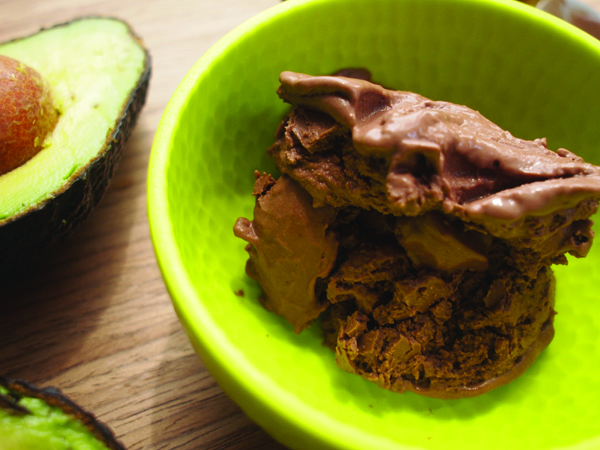 Chocolate chip avocado ice-cream
Avocado does have a distinct flavour so try using it with stronger flavours like coconut or mango. This recipe uses good quality Dutch processed cocoa powder for a nutritious chocolate ice-cream.
Ingredients
• 1 ripe avocado
• ¾ can (300ml) of coconut milk
• 1 box (200ml) of coconut cream
• ½ cup of powdered cocoa
•  one third of a cup of honey or agave nectar
• ½ cup of dark chocolate chips
Method
Blend all the ingredients, except the chocolate chips, until you have a smooth, thick liquid. Then, stir in the chocolate chips. Cool in the fridge for an hour, before putting into your ice-cream maker (follow instructions) or a box and freeze for 2 hours. Remove from the freezer and, using a fork, break up the ice crystals by giving it a good stir. Repeat twice more.
Roselle sorbet
I particularly love this recipe as roselles pack a great vitamin punch to combat those summer bugs that go round. They are very high in vitamin C and can be quite tart; I find them refreshing and delicious as a tea without sweeteners. The base liquid of this can be made into cordial and topped up with cold water or served warm. You could serve this as a sorbet or as lollies for the kids.
Ingredients
• 500g of fresh roselles
• 1.5 litres of water
• 1 cup of honey
• 1 lemon or 2 limes
Method
Wash the roselles well and strip the petals (calyx) off the roselle bud and discard the seed pod inside. Place the calyxes in a large saucepan and cover with water. Bring to the boil and lower to a simmer for 15 minutes, until the roselles are very soft. Strain and discard the roselles, keeping the cooking water. Add the sugar and lemon or lime juice. Bring to a simmer again and stir well to dissolve the sugar. Leave to cool in the fridge for an hour and put in your ice-cream maker (follow instructions) or ice lolly moulds. Freeze overnight.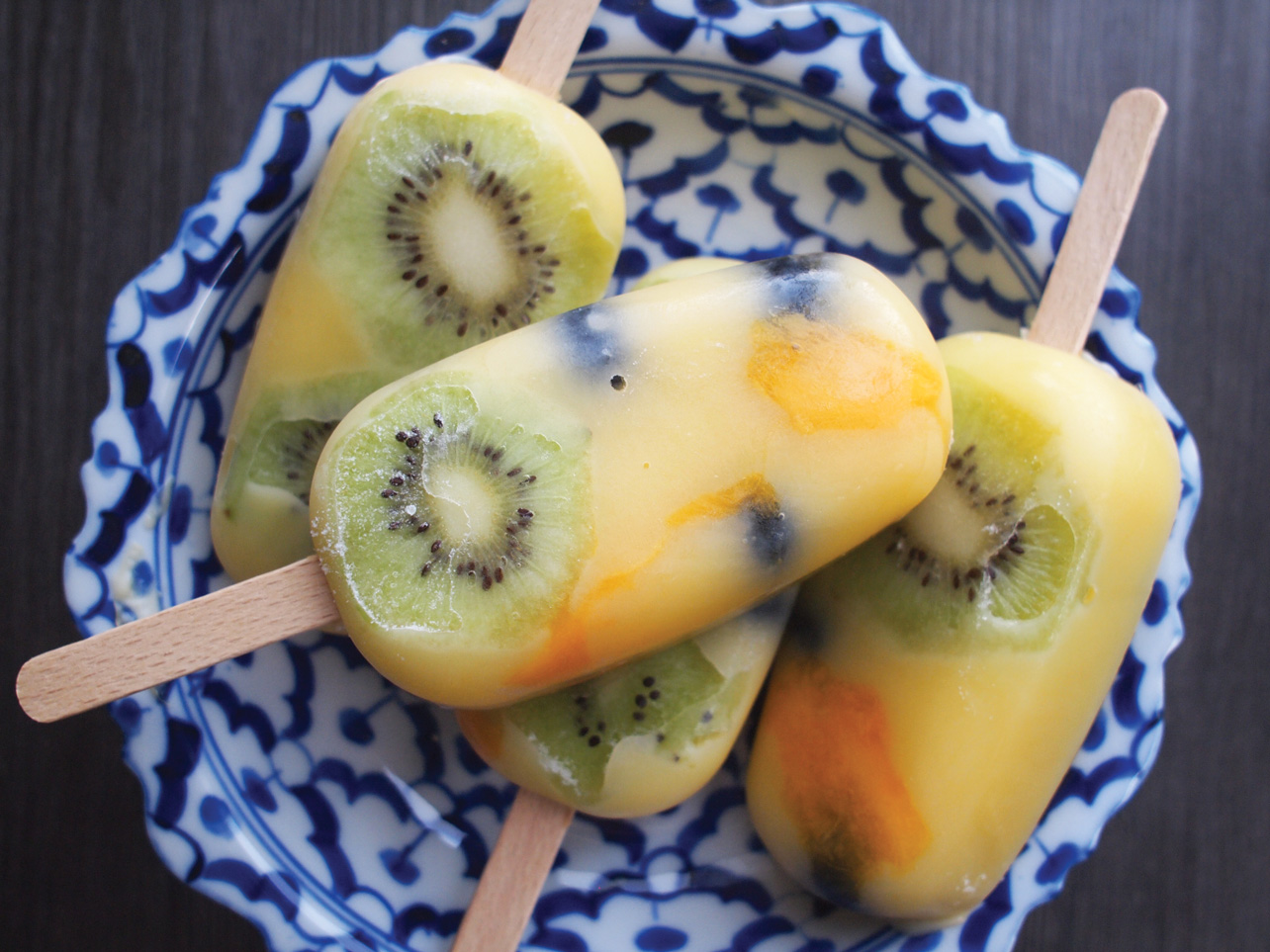 Frozen yogurt fruit pops
The easiest way to make frozen yogurt pops is just to open a tub of fruit yogurt and stick a lolly stick in! Add a little extra fruit and you have a pretty summer dessert ready in hours. This recipe makes four to six ice lollies.
Ingredients
• 500g plain yogurt
• ½ cup of honey or agave nectar
• 1 cup of chopped fruit of your choice – blueberries, bananas, mangos, kiwis, strawberries etc.
Method
Mix the yogurt and honey together. Wash, dry and then slice the fruit carefully and place in your lolly moulds, before topping with the yogurt and freezing overnight.
Coconut and mango pops
Any soft fruit can be substituted here, but summer is definitely mango season in Hong Kong! This recipe makes four to six ice lollies.
Ingredients
• 1 mango
• 1 can of coconut milk
• 1/4 cup of honey
Method
Dice the mango flesh into small cubes, and mix in with the coconut milk and honey. Divide the mixture in half, and blend half the coconut mango mix until smooth. Keep the other half chunky and unblended. Fill your ice lolly moulds with the unblended mix with mango chunks first, then top up with the blended mix. Freeze overnight.
Fruity prosecco jelly
And finally…
…something for the grown ups! A Prosecco fruit-filled jelly perfect for those junk trips or to cap a summer barbecue under the stars. If you don't have Prosecco, use a nice dessert wine instead. For this one, you will have to use white sugar, as honey won't help the jelly set properly. If you use dessert wine, you will need less sugar. Taste as you go and choose the sweetness that best suits you.
Ingredients
• 8 leaves of gelatin
• 750ml bottle of cold prosecco
• 100g of white sugar
• 2 handfuls of soft berries (strawberries, raspberries or blueberries) and pomegranate seeds
Method
Soak the gelatin leaves in water until soft (1-2 minutes). Fill one cup of prosecco and pour into a small saucepan with the sugar and softened gelatin leaves. On a low heat, stir until the sugar and the leaves have dissolved. Leave to cool, then pour the cold prosecco into a jug and mix with the gelatin mix. Pour into a jelly mould and place in the fridge. The bubbles should remain in the jelly. After an hour, put the berries in. Some may float, in which case leave them in the fridge for another hour and push them into the jelly gently. Leave it to set overnight. Serve with cold cream or custard.