Reading Time: 4 minutes
Freya Paleit discovers the charms of Chiang Mai in Northern Thailand, while finding time to sample the region's treats.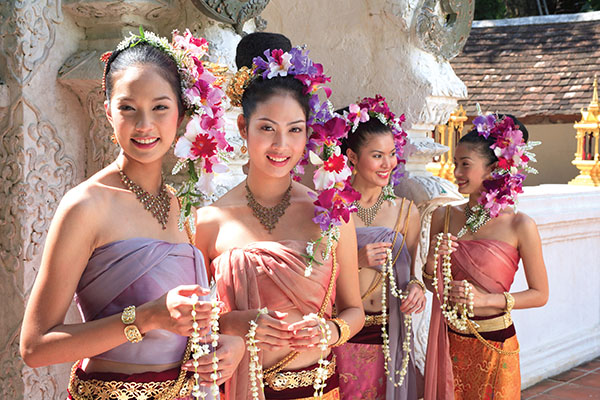 "If you come to Chiang Mai and you don't go up the mountain to the temple, you haven't really been to Chiang Mai,"
the taxi driver told us en route to our resort on the outskirts of Chiang Mai.
"There are 309 steps to the top, but you get a wonderfully beautiful view of the city up there … and Chiang Mai is all about temples."
Nestled in the foothills of northern Thailand, Chiang Mai is Thailand's second city. Though a hub for hikers and gap-year thrill seekers, it is also an ancient spiritual centre, renowned for its hospitality, cuisine, art, culture – and more than 300 Buddhist temples.
It seemed fitting, then, that our four-day mini-break would see us housed in the magnificent Dhara Dhevi, a resort that feels more like an ancient zen-like city set in 60 acres of grounds and dotted with historic-looking prayer halls and palatial structures in various south-east Asian styles. Its vast gardens – most guests get about on bikes or golf carts – are draped with lush, tropical plants and creepers, but it is the ornate palatial structures that really catch your eye and make you feel as if you have been transported not just to another land but also to another era.
The Dhara Dhevi – a painstakingly recreated ancient city complete with moats, fortified walls, gateways and ruins – is a luxurious haven. All the accommodation is top-drawer, from colonial suites around a beautiful lawn to private villas amid banyan trees. Without leaving the grounds, families can wander rice paddies and cycle along brick-paved alleys, travelling from palm-fringed pools and prayer halls (only a lack of monks robs them of full temple status) to delicious restaurants and a famous cake shop with among the best macarons this side of Paris. But this is no cheesy theme park – the spiritual theme really does rub off and the whole place is imbued with an aura of calm. It's not surprising the hotel has become a tourist attraction in itself.
The spa building, inspired by Myanmar's Mandalay Palace and worth a visit for its architecture alone, is an amazing retreat for anyone in need of some TLC, with a comprehensive treatment menu, amazing herbal infusions and gorgeously packaged, homemade scrubs as a take-home gift.
Fun for the kids
As well as the usual kids club fare, your little ones can sample more grown-up activities such as yoga and even muay Thai kickboxing. They can also ride a water-buffalo, learn how to plant rice (a messy and surprising favourite for our boys), feed carrots to the hotel's llamas and miniature donkeys, or play in the outside playground. Some of these activities were too good to ring-fence for the children, and we couldn't resist going along to witness our boys square up to grown men in boxing gloves!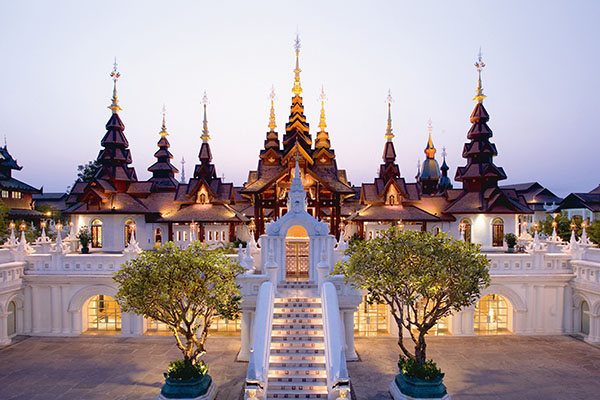 Getting out and about
If there's one downside to pampering and luxury, it's that it's hard to drag yourselves out. That said, I kept my promise to the taxi driver that we would visit the area's main temple, Wat Phra That Doi Suthep, and I wasn't disappointed. We made the half-hour journey just before sunset to see the monks' evening rituals, and the views across the city and the vast plain below were simply stunning. The 309 steps – flanked on each side by immense carvings of the mythical naga serpent – weren't too bad even for our boys (who enjoyed counting the steps), but if you're not keen you can always pay for the lift. We went straight into the temple, (keeping arms and legs covered – and our children quiet!) where the monks rang bells and made their offerings. The ornate, golden structure was a joy to behold, as was Chiang Mai as it began to twinkle in the twilight. A heavenly place indeed.
This little piggy goes to market…
Another top attraction is the night market, a special iteration of which takes place on Sundays. Even if you don't want to buy anything (you probably will), just strolling up and down the thousand metres or so stretch is an amazing experience for children and adults alike. The place is alive with coloured lights, music, tourists bargaining for goods and the aromatic smells of local food stalls.
Food, glorious food
If the children get weary and hungry halfway down the market, a variety of mouth-watering Thai and international dishes can be sampled in the stylish setting of Ruen Tamarind. Dine indoors or out on the pool terrace and take in the ambiance of this cosy restaurant. As well as the usual suspects, it boasts a selection of heritage Northern Thai dishes including delicious but little-known dipping sauces, curries and salads.
Chiang Mai's food is a draw in itself. While children are likely to enjoy the plainer dishes of satay chicken and noodles, I developed a mini obsession with Khao Soi. Nothing says "I'm in Chiang Mai" more than slurping a piquant bowl of this Burmese-influenced soup – a classic Northern Thai dish that is rich, creamy, and packed with uncompromising flavour from a slew of aromatics and shrimp paste. The dish, which combines chicken, beef or prawn in a coconut curry broth with both boiled and crispy noodles, is also a Dhara Dhevi speciality.
For a special family dinner out, Ginger & Kafe is a beautifully styled restaurant full of quirky décor plus a talented chef. With spicy aromas wafting out from the kitchen and a trio of musicians adding some atmosphere, it's a place that stimulates all the senses. And if you're eager to shop and want to avoid the usual tourist tat, it's set in a delightful courtyard with a few independent boutiques sporting all manner of cutting-edge local fashion, accessories and homeware.
Animal rights and wrongs
There seems to be an expectation that all foreigners in Chiang Mai will take their kids to "see the elephants" and other animals – but visitors would do well to avoid the many low-priced shows in which pachyderms play football, chimps ride bikes and children can be photographed next to suspiciously sedate tigers. Some animal sanctuaries in the region, of course, maintain the highest of ethical standards, but our compromise with our children was to go to the insect zoo! So we stifled our creepy-crawly fears – and our sons had a ball. Just a 40-minute drive from the hotel, it was a real hands-on experience. Everything was on display from beetle larvae to tarantulas and chrysalises to butterflies and scorpions. Many of these (including scorpions – parents look away!) can be handled. It's a great option on a rainy day as it is mostly indoors and is very good value.
We felt like we had been away for a lot longer than four days and, in those four days, fell deeply in love with the 'rose of the north' of Thailand – a delightful place for parents and kids alike.
This article appeared in Playtimes December Issue 2015