Reading Time: 4 minutes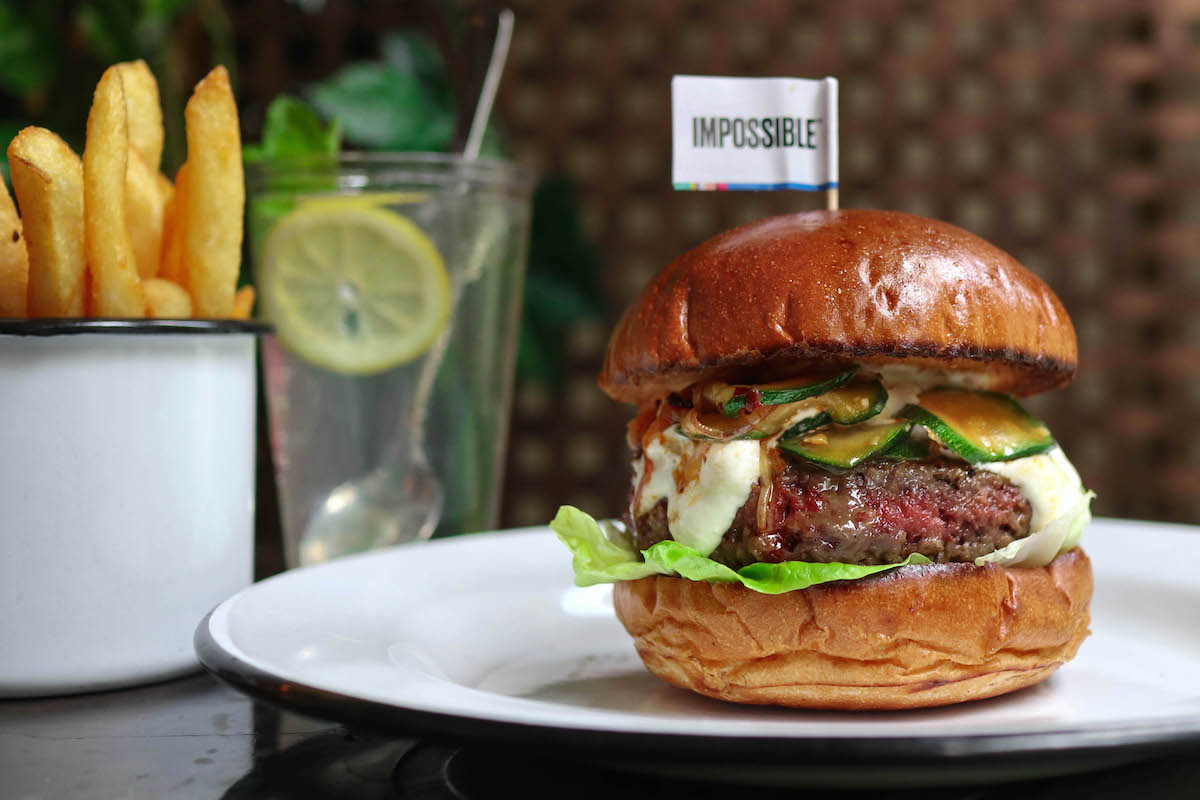 Impossible Foods celebrates anniversaries in Hong Kong and Singapore by showing how individuals' food choices can positively impact the planet
Customers can celebrate Earth Month with limited edition dishes and special Impossible-branded merchandise throughout April at more than 200 restaurants in Hong Kong and Singapore, whether they dine out, or choose to deliver in
At the end of the campaign, the company will showcase the cumulative impact of choosing Impossible™ Burger over beef from cows by unveiling the total savings in terms of water, land and greenhouse gas emissions
Impossible Foods is a planet-first company. Throughout Earth Month, Impossible Foods is helping customers in Hong Kong and Singapore see the positive environmental impact of choosing plant-based meat over it's animal-based counterpart.
The company will reward meat-loving customers who choose Impossible dishes from participating restaurants, whether they dine out, or choose to deliver in, with special limited edition Earth Month merchandise.
At the end of the campaign, Impossible Foods will unveil the total sustainability impact across all of the participating restaurants, driven entirely by the planet-conscious choices made by Hong Kongers and Singaporeans.
"We've been thrilled with our product's growing popularity in Hong Kong since our launch two years ago. We now have over 300 restaurants across the city selling Impossible dishes. Consumers try Impossible because it's a more sustainable choice, or to lower their consumption of animal meat, but what keeps them coming back for more is our delicious meaty taste. This Earth Month, we are launching a campaign to highlight how environmentally impactful our individual diet choices can be," said Heidi Nam, General Manager at Impossible Foods Hong Kong. "Impossible products, compared to beef from cows, use dramatically less water, land and emit far fewer greenhouse gasses."
COME FOR THE TASTE, STAY FOR THE PLANET
Impossible Foods exists to reduce the need for animal agriculture, which is directly responsible for the most immediate threat our species faces: devastating climate change and collapse of biodiversity. Using science and technology, Impossible Foods replicates the meaty taste and deliciousness that people love in meat, using plant-based ingredients with a significantly lower environmental impact. Not only are animals not the only way to produce the world's favorite foods; they aren't even the best way.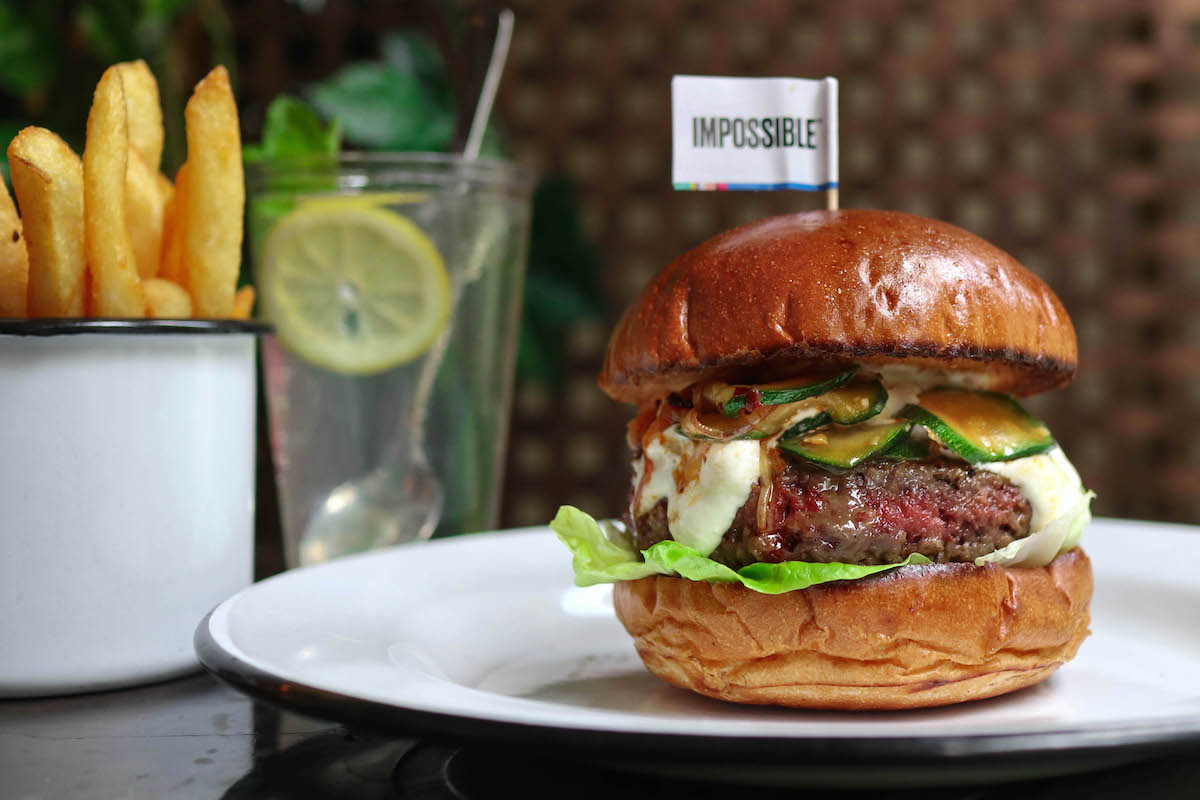 The Impossible Burger (of 113g serving size), compared to ground beef from a cow, uses 96% less land, 87% less water and 89% less greenhouse gasses. For the consumer, this means that eating Impossible meat made from plants saves 7 square meters of land, 3 kg of CO2, and 84 liters of water.
Just in 2019 alone, the impact of Hong Kong consumers choosing Impossible Burger over beef from a cow saves environmental resources equivalent to:
More than 2.3 million square meters, roughly the land area of 328 football fields or 12.3 times the size of Victoria Park
Over 58 million water bottles worth of water (0.5L each)
The greenhouse gas emissions of approximately 4 million km driven
SHOW THE LOVE AND GET SOME BACK TOO
During the month of April, customers who order an Impossible dish* at any of the participating restaurants will get limited edition Earth Month pins and stickers. On Earth Day itself (22 April), key partners including Beef & Liberty, Butcher's Club, Outback Steakhouse and Ruby Tuesday will celebrate the day by giving out exclusive merchandise like tote bags, sustainability cutlery and socks to all customers.
Throughout the month, customers who are eager for more Impossible merchandise can scan QR codes at all of the participating restaurants and share the sustainability savings infographic on their Instagram for a chance to win Earth Month tote bags. For details, head here – https://impossibleearthmonth.com
Special Earth Month dishes include: Ruby Tuesday's classic American style Impossible Lasagne; the Impossible 2nd Anniversary edition spicy Impossible Sichuan Burger served by Beef & Liberty; the Sweet & Sour Impossible Meat served by contemporary Chinese cuisines SHÈ and Redhouse; MO Bar's authentic Sichuan Style Dan Dan Noodles and Little Bao's newly launched mouthwatering Impossible Earth Bao served with vegan truffle mayo and oyster mushrooms.
New restaurant partners BRICK LANE, Cafe Siam, Coyote and NeNe Chicken have also joined the mission to offer a diversified selection of culinary delights. BRICK LANE's Mexican inspired Impossible Quesadilla served with fresh tortilla and melted cheese, Cafe Siam, the traditional Thai restaurant recommended by Hong Kong Michelin Guide, will serve its Sautéed Impossible Mince with Thai Herbs and Garlic; the classic Mexican restaurant, Coyote's Impossible Beef Tacos with Guacamole, Roasted Corn Salsa and Chipotle Aioli and modern Korean restaurant NeNe Chicken's Impossible™ X Quattro Cheese Potato Pizza boast bold, fusionish flavours.
EARTH MONTH PARTICIPATING RESTAURANTS
For more information on the Impossible dishes and merchandise available, please refer to the fact sheet.
Please check in with the restaurant partners, or delivery platforms directly, for Impossible takeaway and delivery options.
1. Beef & Liberty *NEW DISH + KEY PARTNER*
2. Butcher's Club *KEY PARTNER*
3. Outback Steakhouse *KEY PARTNER*
4. Ruby Tuesday *NEW DISH + KEY PARTNER*
5. 2DP – Tea & Veggie *NEW DISH*
6. ASAP As Simple As Possible *NEW PARTNER*
7. Beans
8. BRICK LANE *NEW PARTNER*
9. Cafe Siam *NEW PARTNER*
10. Cali-Mex *NEW DISH*
11. CAMPSITE *NEW PARTNER*
12. Classified
13. Coyote Bar & Grill *NEW PARTNER*
14. Glasshouse *NEW PARTNER*
15. Greenhouse *NEW PARTNER*
16. Little Bao *NEW DISH*
17. McSorley's *NEW DISH*
18. MO Bar *NEW DISH*
19. Modern Majang *NEW PARTNER*
20. My Meat Run Laboratory
21. NeNe Chicken *NEW PARTNER*
22. OM Tapas *NEW PARTNER*
23. OVO Cafe *NEW DISH*
24. PDT (Please Don't Tell) *NEW DISH*
25. Redhouse *NEW PARTNER*
26. SHÈ *NEW PARTNER*
27. Takagi Yakitori *NEW PARTNER*
28. Uoharu *NEW DISH*
29. URBAN Bakery (Landmark)
30. URBAN Cafe Commune *NEW PARTNER*
31. YEARS *NEW DISH*
*Impossible Foods' Earth Month offerings will run from 1st April to 30th April with participating restaurants across Hong Kong. Merchandise available while supplies last.
ABOUT IMPOSSIBLE FOODS
Based in California's Silicon Valley, Impossible Foods makes delicious, nutritious meat and dairy products from plants — with a much smaller environmental footprint than meat from animals. The privately held food tech startup was founded in 2011 by Patrick O. Brown, M.D., Ph.D., Professor Emeritus of Biochemistry at Stanford University and a former Howard Hughes Medical Institute investigator. Investors include Mirae Asset Global Investments, Khosla Ventures, Bill Gates, Google Ventures, Horizons Ventures, UBS, Viking Global Investors, Temasek, Sailing Capital, and Open Philanthropy Project.
#earthmonth #impossiblefoods