Reading Time: 3 minutesLearn more about the British boarding education at the 2nd Annual UK Boarding School iFestival – hosted by Wycombe Abbey School Hong Kong and BE Education
With a long history and impressive legacy, education in the UK has become a benchmark for education standards for other countries around the globe. The UK education system is highly regarded due to its interactive teaching methods, high quality of education and the possibility of heading to top-ranked universities. With respect to boarding schools specifically, children are taught to be independent and responsible whilst learning the skills critical to success later in life.
If you're interested in learning more about the education system in the UK, which schools offer the curriculum in Hong Kong, or how to select the best school for your child, The Wycombe Abbey School Hong Kong UK Boarding School iFestival is your ticket. Wycombe Abbey School Hong Kong and BE Education will be hosting the 2nd Annual UK Boarding School iFestival on Saturday, May 29th, 2021 at 2:30pm HKT.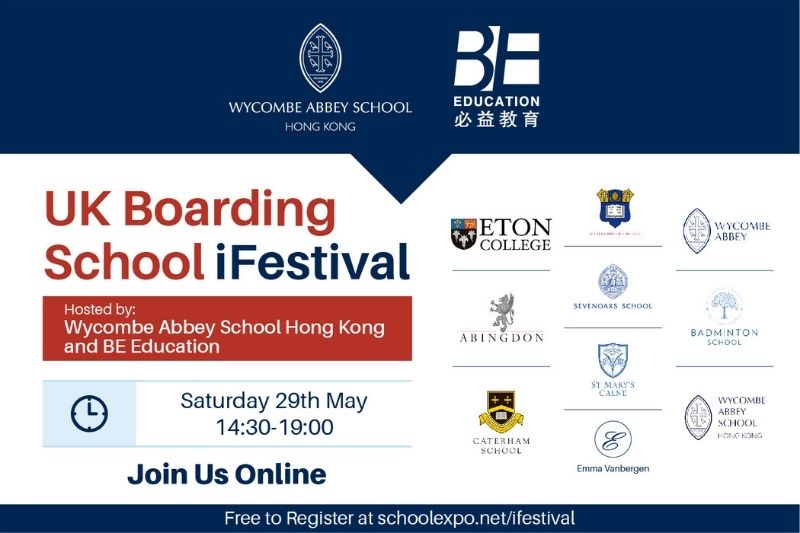 This free public online event is available to all Hong Kong families interested in learning more about British Boarding School Education. The event will provide a platform to connect attendees with the Heads and Senior Representatives of the top boarding schools in the UK, and support families interested in British Boarding Schools for their children. This year, participating schools and organisations include Eton College, Wycombe Abbey School (UK), Marlborough College, Abingdon, Sevenoaks School, St. Mary's Calne, Badminton School, Caterham School, Wycombe Abbey School Hong Kong, BE Education. These schools hold the top 15 spots for academic results in the UK.
By attending the UK Boarding School iFestival, you will have the opportunity to chat with top British Boarding schools online, gain expert insights from top educational leaders, and access valuable advice and resources for entry to the best boarding schools in the UK.  To register, please visit www.schoolexpo.net/ifestival.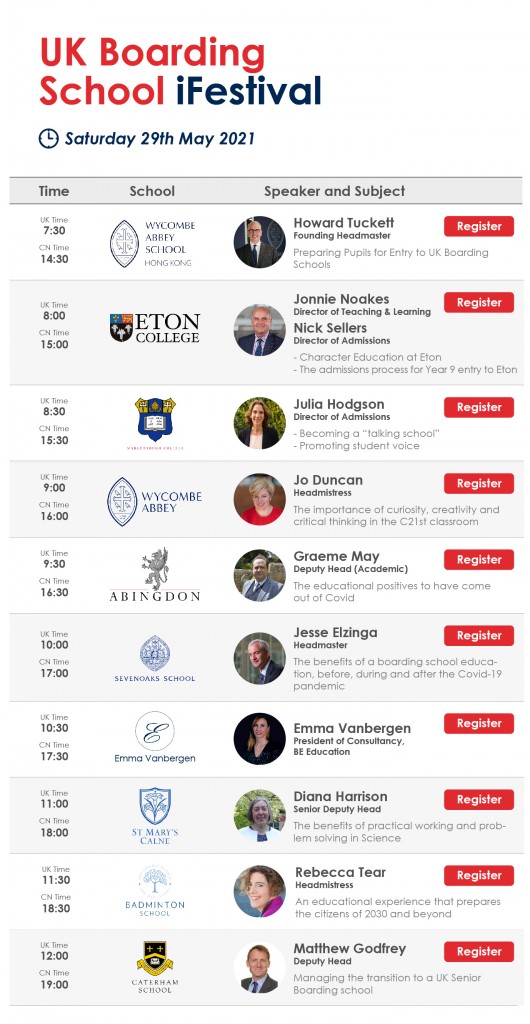 The local host of the event, Wycombe Abbey School Hong Kong (WAHK), offers a quintessentially British Prep School education for children 5 to 13 years old (years 1 – 8) with plans to expand into a through-train school (years 1 – 13). Wycombe Abbey provides a proven holistic education which is complemented by an exceptional Chinese language syllabus. This dynamic combination prepares pupils to excel in the finest secondary schools around the world. They offer several programmes to support the transition to top secondary schools around the world, including their Secondary & Boarding School Guidance Programme and Intensive English Programme.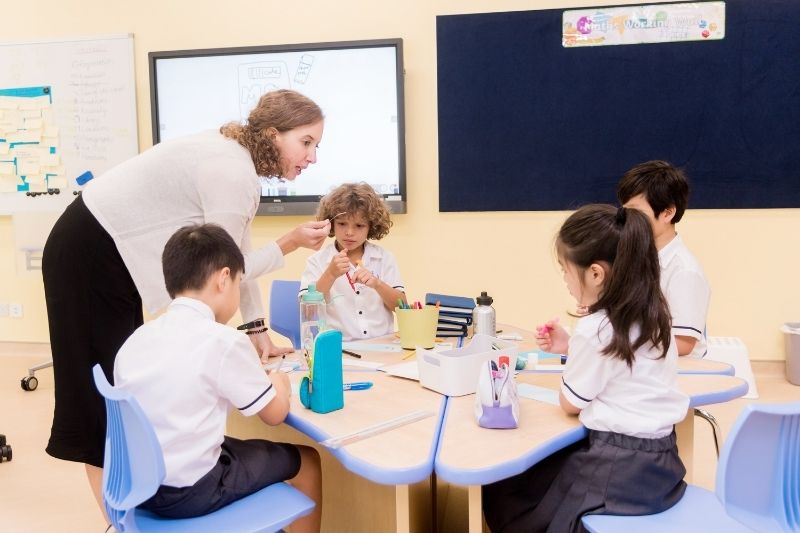 Students of WAHK have full access to the professional guidance programme and entrance exam advice as part of their tuition. This specialty guidance programme starts from year 4 and includes school selection, exam preparation and contact with potential schools in the UK, Hong Kong, USA and China among others. Another aspect of the transition program offered by WAHK is the intensive English language support, a six month program on an as needed basis with ESL courses on offer after school for no additional fees. This allows bright and capable pupils with minimal English to join Wycombe Abbey Hong Kong and acquire sufficient English to join mainstream classes approximately 6 months after joining the school.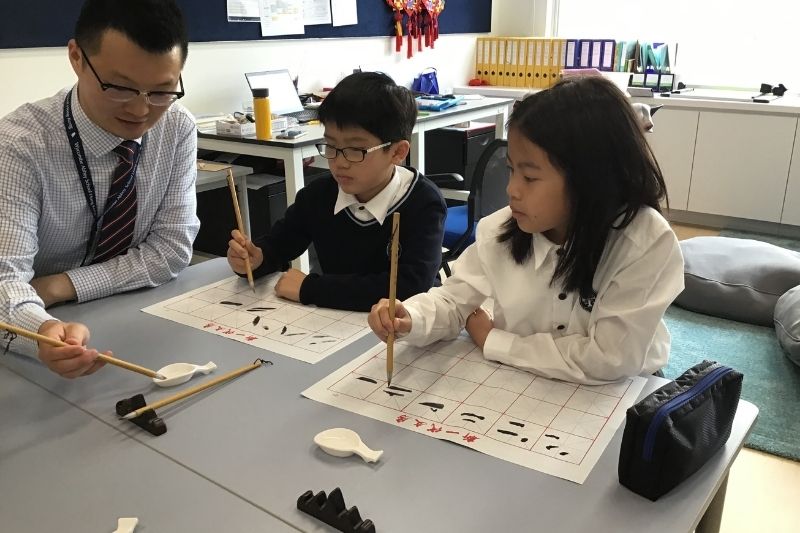 There are also 40 extra-curricular activities to choose from which are provided in-house at WAHK. This makes your school a one-stop shop and provides time-saving convenience for busy parents. Children finish activities around 5:00pm and can then have the rest of the evening for family time. Choose from individual and team sports, creative arts, music, chess, cookery, drama, dance, iSTEAM, as well as a range of teams, clubs, and societies and much more. No wonder WAHK is growing so quickly and expanding their uptake of new students in Hong Kong.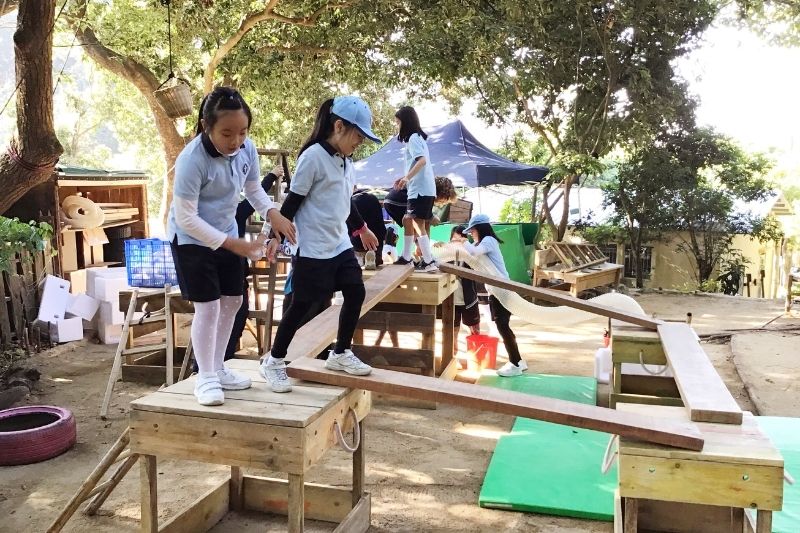 Wycombe Abbey School in the UK was founded in 1896 and is the leading independent boarding school, consistently ranked as a top school for academic results at A Level. Over a third of their graduates receive offers to Oxford and Cambridge. Other graduates receive offers to Russell Group universities and top US universities such as Harvard, MIT, Princeton, Stanford, Columbia & Ivy League schools. Based on the well-established heritage and academic excellence of Wycombe Abbey School in England, WAHK curriculum is drawn from the British National Curriculum. They offer a rigorous Chinese language program, accompanied by strong Chinese cultural immersion. The unique educational model combines the best of East and West.
Additionally, the WAHK school campus is equipped with state-of-the-art facilities including a four-storey indoor rock-climbing wall and a 20,000 square foot outdoor rooftop garden with an artificial turf play area and an exercise track.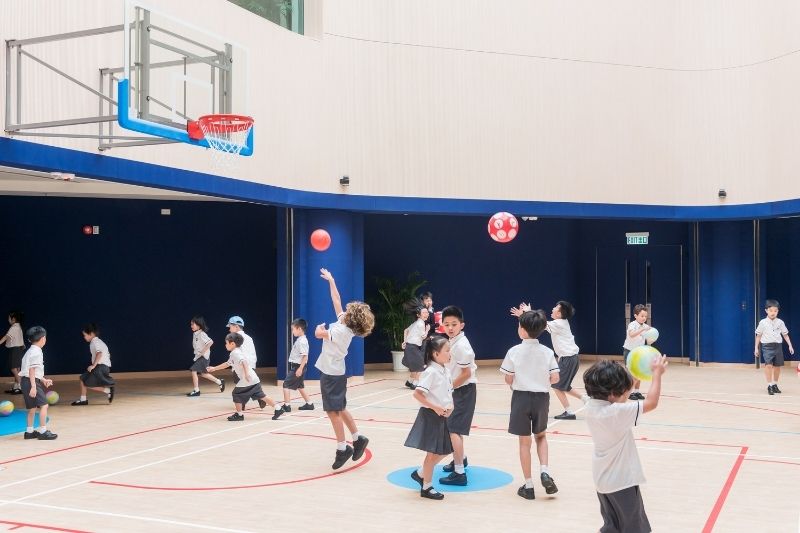 Wycombe Abbey School Hong Kong campus is located at 17 Tin Wan Street, Aberdeen. They are currently open for Year 1 – Year 8 applications for August 2021 entry with limited spaces available.
To apply to Wycombe Abbey School Hong Kong or schedule a school tour, please email admissions@was.edu.hk or call at +852 2129 7100. For more information on the school, please visit our website: www.was.edu.hk. 
Related articles: