Reading Time: 6 minutes
Ever heard of Lady Elliot Island? No? Don't worry, you are not the only one, but if you like snorkelling you should definitely look it up, recommends Louise Drake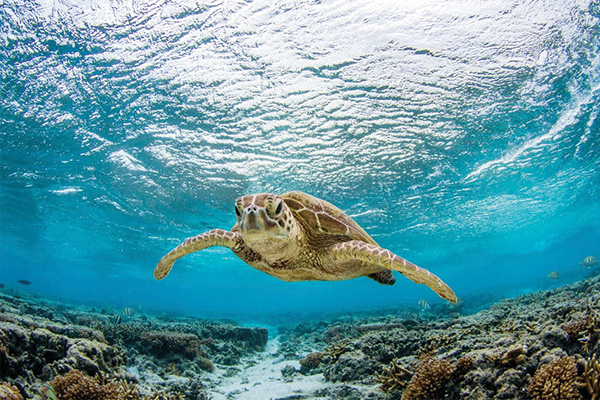 If you were to write a wish list of places to go snorkelling, the chances are Australia's Great Barrier Reef would be pretty high up the list, quite possibly at the top. It certainly was for us. Our children have been desperate to snorkel on the Great Barrier Reef ever since watching Planet Earth a couple of years ago. Travelling with six-year-old Charlotte, eight-year-old Thomas and grandparents of undisclosed age, one of whom gets VERY seasick, we decided that the boat journey from Port Douglas or Cairns to the reef wasn't ideal for us. We really wanted a reef closer to home. We wanted it on our doorstep.
Our research led us to Lady Elliot Island Eco Resort, a small 100-acre coral cay at the southern tip of the Great Barrier Reef and within a green zone (the highest-possible classification designated by the Great Barrier Reef Marine Park Authority). The closest Great Barrier Reef island to Brisbane, Lady Elliot is reached by a 40-minute flight on a small prop plane out of Hervey Bay (famous for its seasonal humpback whale visits) a 30-minute prop flight from Bundaberg, or a two-hour flight from Coolangatta, a suburb of Queensland's Gold Coast.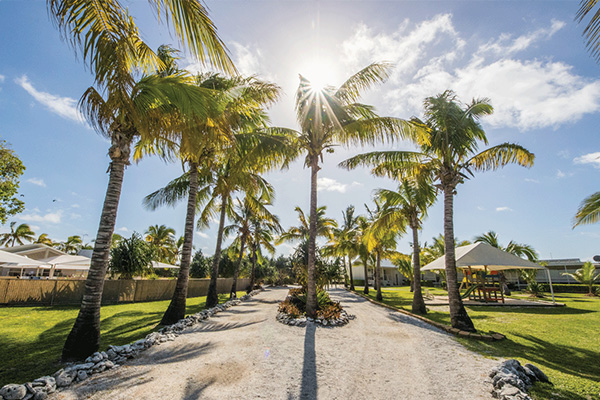 Before boarding the flight we downloaded the Lady Elliot Island app, which enabled us to track our approach to the island. It also has the weather forecast, a map of the island and a stunning image gallery that will have you chomping at the bit to arrive. The chances are your eyes will be glued to the window throughout the flight, though. Look carefully and you may see dolphins or, depending on the time of year, humpback whales. Thomas and Charlotte were enthralled, although watching the pilot in the cockpit was also pretty exciting. More than just getting from A to B, the flight is part of the adventure.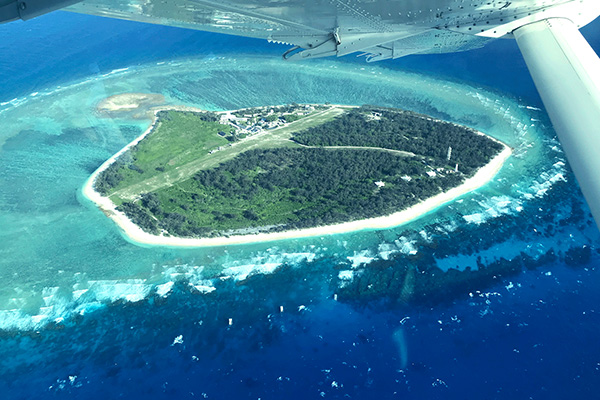 Upon touching down on the grass runway we were taken to the dive shop for an orientation of the island. A member of staff introduces the areas of interest, snorkelling sites, explains tide times and tells us things we should avoid touching – like the cone shell.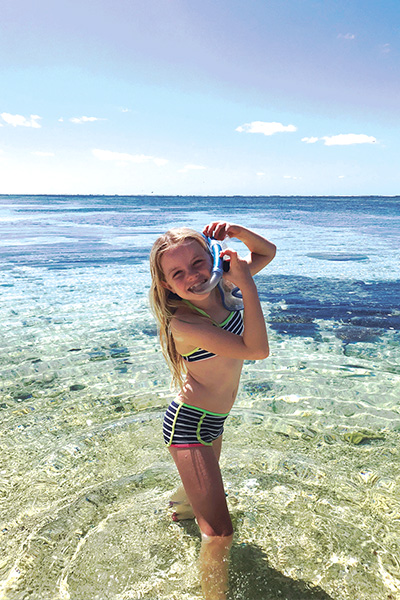 After a tour around the facilities and a welcome drink, we eagerly headed back to the dive shop to pick up some snorkelling gear. We borrowed a mask, snorkel and fins for the whole family (yes, grandparents too) and also wetsuits. We visited at the end of October so the water, compared to Hong Kong, was a bit chilly – and I confess to being a massive wimp when it comes to water temperature! Adult and children's wetsuits were available for hire, but there were only short wetsuits for younger children so if you want a long one it's best to take your own. Needless to say, I had a long one. It's also a good idea to take your own reef shoes, as the coral cay's beaches are made up of broken coral.
Once we were kitted out, it's straight to the water – after all, that's what we came for.
During our three days on the island, we were truly spoilt when it came to snorkelling. We swam with turtles, black tip reef sharks, an array of amazing coral reef fish and even an octopus and manta ray – you can't ask for more than that, surely?
Snorkelling in the lagoon, which is on the eastern side of the island, was very easy. You literally walk into the water and you're away. It's great for novice snorkellers or children, but offers enough diversity to keep more experienced snorkellers happy, too. Snorkelling is only allowed when the water is deep enough to avoid damage to the coral, so you have to look for lagoon "opening times", which are based around high tide. We had heard that rising water temperature has negatively affected much of the coral around the area, but we were still amazed by the variety of coral we saw.
The western side of the island offers deeper water for more experienced snorkellers. This is where manta rays, dolphins, whales and sharks are often found. During our time on the island the wind picked up, making the water very rough on the western side of the island. We managed a couple of snorkels there, but mostly we stuck with the lagoon and a couple of trips to the outer reef via a glass-bottomed boat.
One complimentary glass bottom boat trip is included in your overnight package from Lady Elliot Island Eco Resort. This is great for younger children or visitors who are nervous about swimming in the water, although time is allocated for snorkelling during the trip for those who want to take a dip.
We also signed up for the snorkel safari, which took us beyond the reef, in the hopes of spotting some bigger marine life. Our mission was to see manta rays. Mantas are spotted in the waters around Lady Elliot Island all year 'round, but peak time is between May and August. We were outside of this window so needed a bit of luck – especially in such choppy conditions. On our excursion there were just six people – the four of us (the kids came along but Nanny and Granddad opted for a sunlounger on the beach), another couple, and the instructor. We didn't see much, but we did achieve our objective and saw a manta ray, about 2.5 metres wide, gliding through the water. The kids were awestruck.
There are a number of guided activities available besides snorkelling. There's reef walking at low tide and controlled fish feeding every afternoon (the kids loved this). You can take a historical tour of the island or maybe a bird-watching tour (more on birds in a bit). Also, for such a tiny island, there are quite a few family-friendly facilities. There are a small saltwater swimming pool, a children's playground, a table tennis table, a pool table, a football table and beach volleyball. A reef education centre has a number of displays and videos to educate visitors about the flora and fauna of the island. They also hold a number of talks, including one about manta rays. All in all, the facilities exceeded our expectations.
Accommodation is more perfunctory than luxury, but perfectly comfortable. You really won't spend much time in the room, and it is an eco-resort, don't forget. There are four different options. The most economical are the eco cabins – permanent safari-style tents that sleep up to four people in bunk beds, with communal bathroom facilities. Garden units also sleep up to four but have a fan, mini-fridge and tea- and coffee-making facilities. Reef units sleep two or four, and are a little smarter and closer to the beach – less than 10 metres away. There are also two-bedroom air conditioned "island suites" that have absolute beach frontage.
Going on holiday offers a great opportunity to switch off from your everyday life, so one of the things I love about Lady Elliot Island Eco Resort is the lack of phone and Internet connection. Satellite phone facilities are available in the departure lounge alongside some Wi-Fi connection, but cards must be purchased for this, and it's very slow. You're far better relishing the opportunity to disconnect from the rest of the world and its pressures. Lock the iPhone in the safe and rejoice!
The resort's beachfront café offers buffet-style breakfast, lunch and dinner. For lunch there is also the option of á la carte. We opted for á la carte in order to keep it a bit lighter. The food was a pleasant surprise and exceeded expectations. Enjoying a tasty lunch with a glass of wine in hand and looking out across the reef was a real treat. Although, there are rather a lot of birds eagerly waiting for you to drop a chip …
Onto the birds … there are a lot of seabirds at Lady Elliot Island, and I do mean a lot (Lady Elliot Island was first inhabited by guano – bird excrement – miners back in 1863, which gives some insight to the amount of birds!). Our stay fell during mating season so there were even more than usual, and they are loud … so loud that you are provided with earplugs to help you sleep. You do get used to the noise, and birds sitting in nests everywhere, but it is definitely best to be aware of this before you arrive so that it doesn't come as a shock. Almost as many ornithologists as snorkellers and divers frequent the island.
When a good holiday draws to an end, there is an inevitable air of sadness. When the time came to leave Lady Elliott Island, my daughter was in tears. She was so sad. Both children had "the best time ever" swimming amongst the incredibly diverse sea life. The impact just three days had on them is incredible; their appreciation of nature and the environment has intensified. Rather than ticking the box of swimming in the Great Barrier Reef, a trip to Lady Elliot Island has whet their appetite. They are desperate to return for more; after all there are still humpback whales to see.
For information on packages to Lady Elliot Island, visit www.ladyelliot-island.com
What you'll see and when
Manta ray and turtle sightings happen year 'round, although obviously this is never guaranteed.
November – February
Turtle nesting
February – April
Turtle hatching
May – August
Peak manta season
June – October
Humpback whale migration season
September – April
Seabird season
Eco credentials
Lady Elliot Island Eco Resort was awarded a gold level in the 'Steve Irwin Award for Ecotourism' at the annual Queensland Tourism Awards in November 2017. The award recognises ecologically sustainable tourism with a primary focus on experiencing natural areas that foster environmental and cultural understanding, appreciation and conservation.