Reading Time: 8 minutes
A week split between an ancient town and the coast in central Vietnam, and Freya Paleit and family find their 'peaceful meeting place'.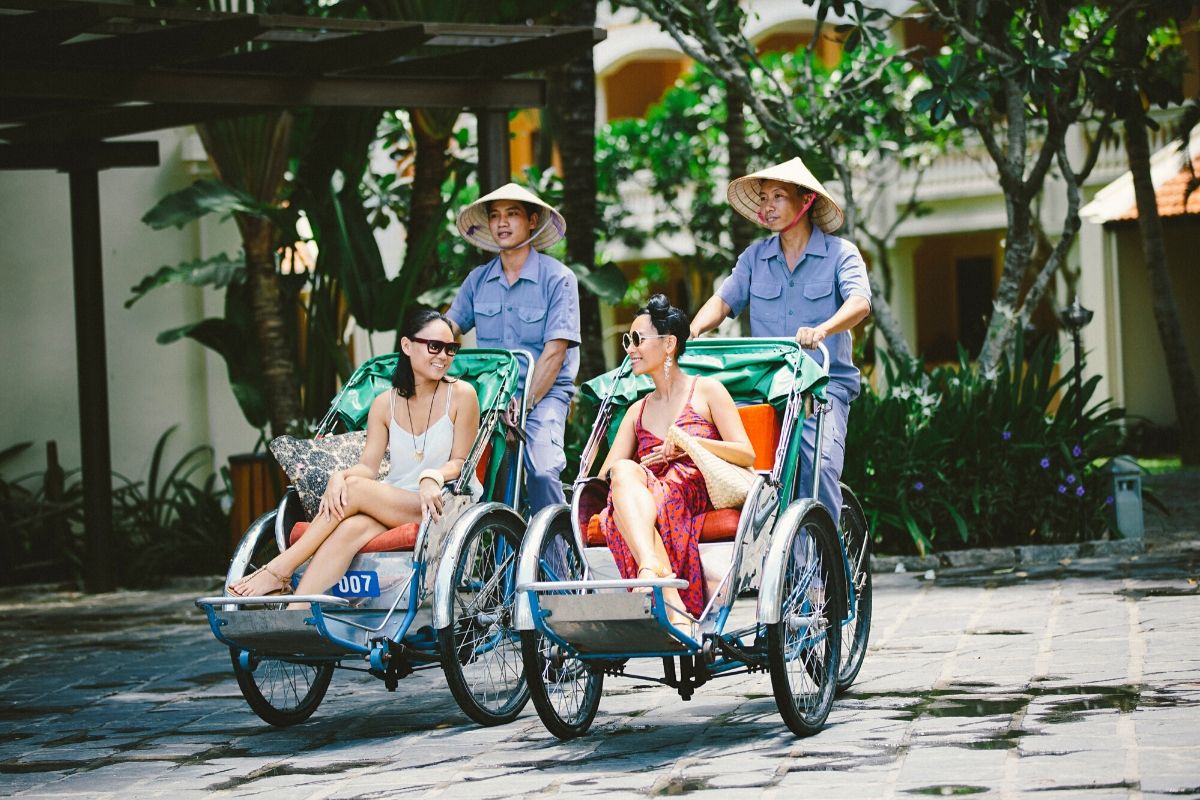 Hoi An translates as 'peaceful meeting place' and as a mother of three children under the age of nine, there aren't many moments I am not dreaming of such a destination. So, with this promise in its name, I was hopeful that heading there would provide a relaxing break as well as some adventure.
Luckily, that's just how it proved to be. Hoi An, on the old silk road trade route, is just a few easy hours from Hong Kong. It is small enough not to be overwhelming or too hectic, but big enough for there to be plenty to explore. And along with a delightful, laid-back atmosphere (Vietnam's ubiquitous swarms of mopeds are banned from the city centre) it's a foodie's paradise, with deliciously fresh food round every corner.
It's all in the past
A slow stroll through the town reveals its gems. By UNESCO decree, more than 800 historic buildings in Hoi An have been preserved, so much of the Old Town looks as it did several centuries ago. Eighteen of these buildings are open to visitors and require an Old Town ticket for admission, with the fee going towards conservation work. It's worth popping in and out of these amazing buildings but it does get hot – and busy – so early morning or early evening are the best times for a wander if you want to avoid your little ones wilting too quickly.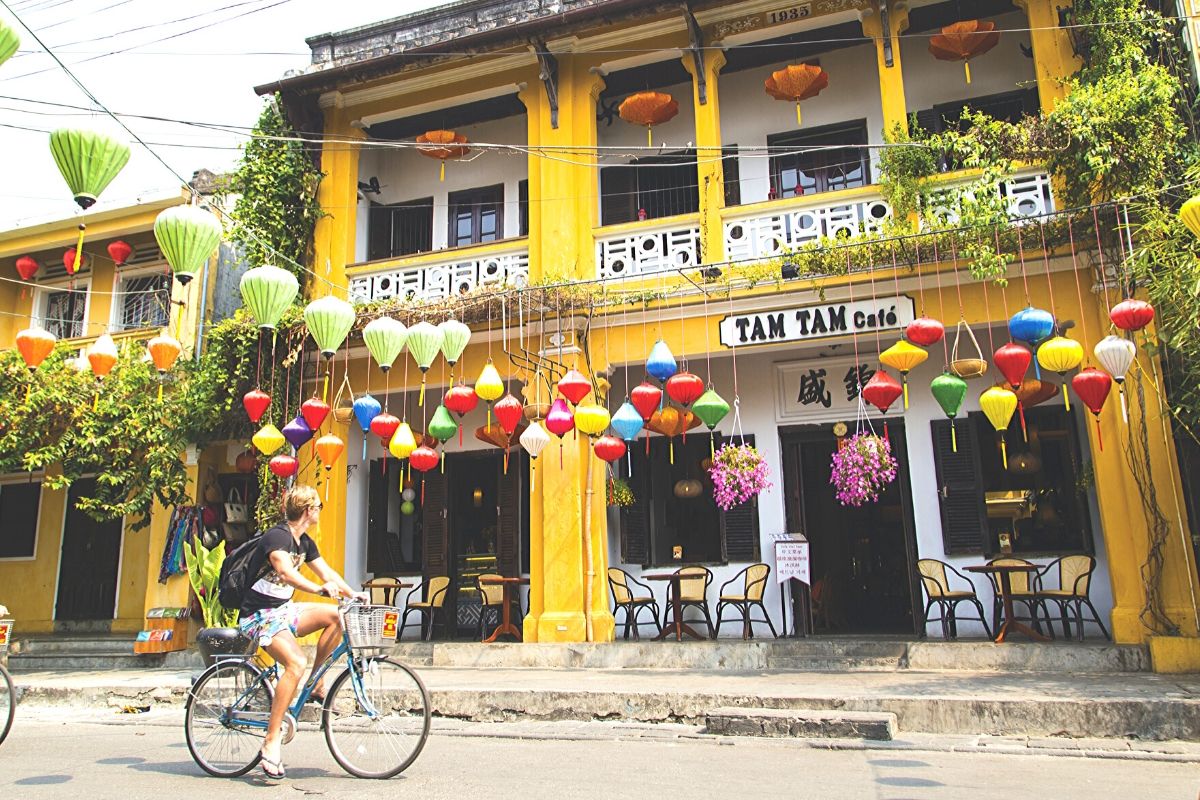 The former port city's melting-pot history is reflected in its architecture, a mix of eras and styles from Chinese temples to colourful French colonial buildings, ornate Vietnamese tube houses and the iconic Japanese Covered Bridge with its pagoda. The bridge is due for a complete removal for repair, so you may wish to check it's open before heading there.
The past's presence is heavy here, and relics abound both from the "American war" and before, so budding young historians will find plenty to explore and learn. The city has four small museums highlighting the history and culture of the region. Guides are also available to take you around them or the town and learn about its past that way.
On wheels and water
A fun way to see the old town if your little ones are growing weary in the heat is to hop aboard one of the cycle rickshaws and enjoy half-an-hour being carted around the ancient streets in the shade. As with many goods in Vietnam, prices are open to negotiation – so don't be too shocked at their opening offer, and be prepared for some good-natured haggling.
The river and canals that cut through the town provide further possibilities for exploration. Whenever you're within sight of water you'll be approached by boatkeepers wanting to give you rides, and it would be a mistake not to take at least one of their offers. Twilight is the most popular time – it's hard to imagine a more charming place than your own personal gondola from which to watch the sun's last rays of the day being slowly replaced by Hoi An's countless thousands of lanterns, strung between trees and across alleys and waterways. The twinkling of the old town is an incredible sight to behold, and somehow the crowds that come out to see it only add to the atmosphere. Our little ones loved lighting candles to set afloat on the river for good luck. This is Hoi An at its most magical and memorable.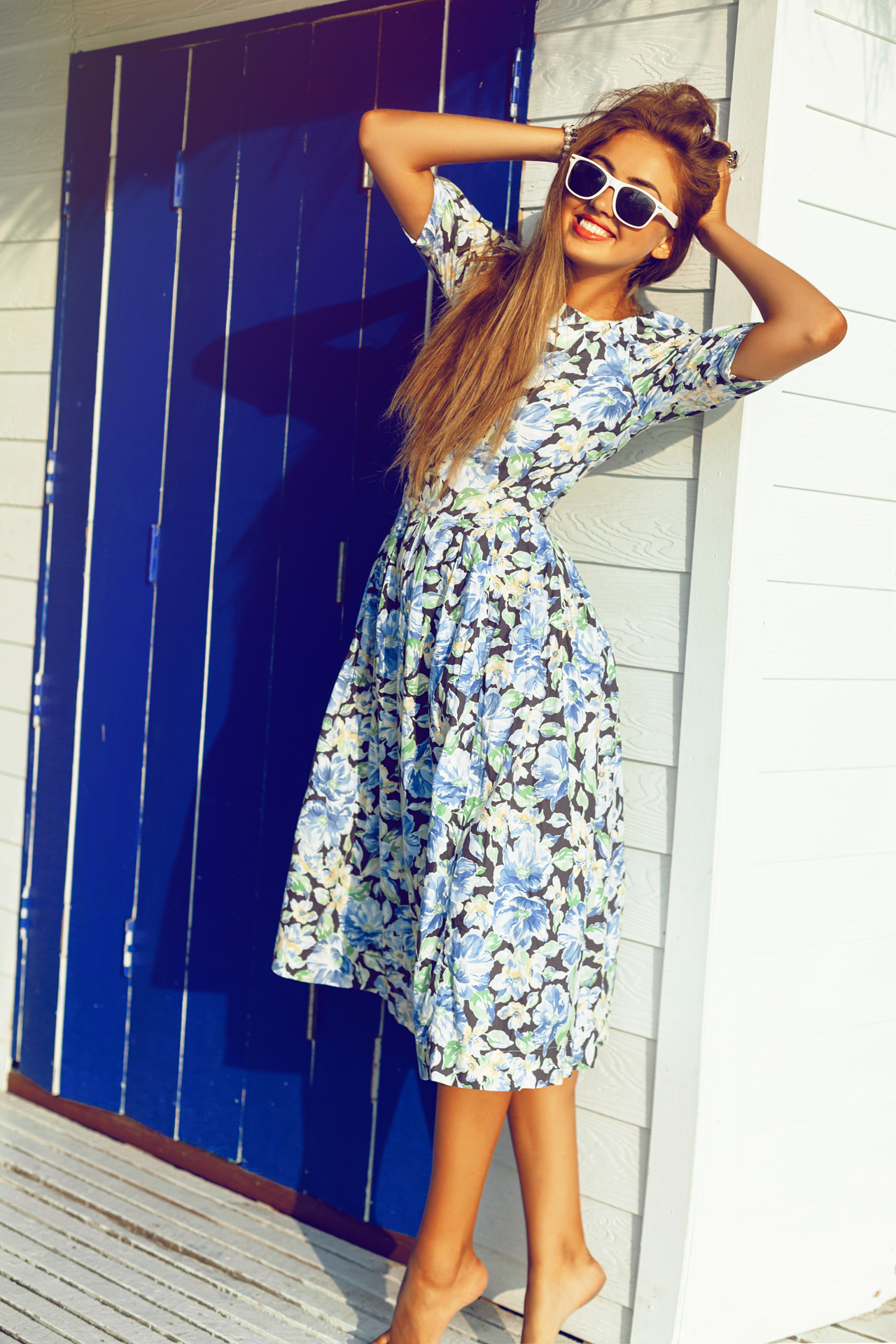 Get your glad rags
If you fancy getting a dress, skirt or suit made to fit your exact frame without the couture price tag, this is the place to do so. There is a tailor on every corner and you can see rooms of women sat at sewing machines working their magic – but of course, the choice of fabric, attention to detail and quality of craftsmanship vary quite a bit.
A few recommended options:
The service, English, fit and facilities are great. They offer a good selection of quality fabrics at a very reasonable price. Website: https://bebetailor.com/
Sarah's Boutique, 398 Cua Dai Street
This is a small shop but they speak good English and ask reasonable prices for accurate copies. It's 10 minutes out of the centre on the road that takes you towards the beach.
Vanda Tailors, 60 Phan Boi Chau Street
One of the best tailors in Hoi An with in-house factory and production. Their factory produces tailored suits and shirts for several established tailor shops and online stores. Website: www.vandatailors.com / E-mail: vandatailors@gmail.com.
Beach bound
If a paddle in the ocean or an afternoon building sand castles with the little ones is in order, the wonderful beach of An Bang is just a stone's throw away. The nearest beach to town is actually Cửa Đại but it has a severe erosion problem, exacerbated by winter typhoons, which has meant most of the sand has been washed away from the seafront. As a result, An Bang beach, further north, is a more appealing prospect. It is one of the few stretches of beach in Hoi An that is relatively unspoiled by development, making it a popular option for soaking up the sun and enjoying an array of seaside activities such as paddle-boarding and surfing. There are plenty of board rentals, surf and stand-up paddling classes offered.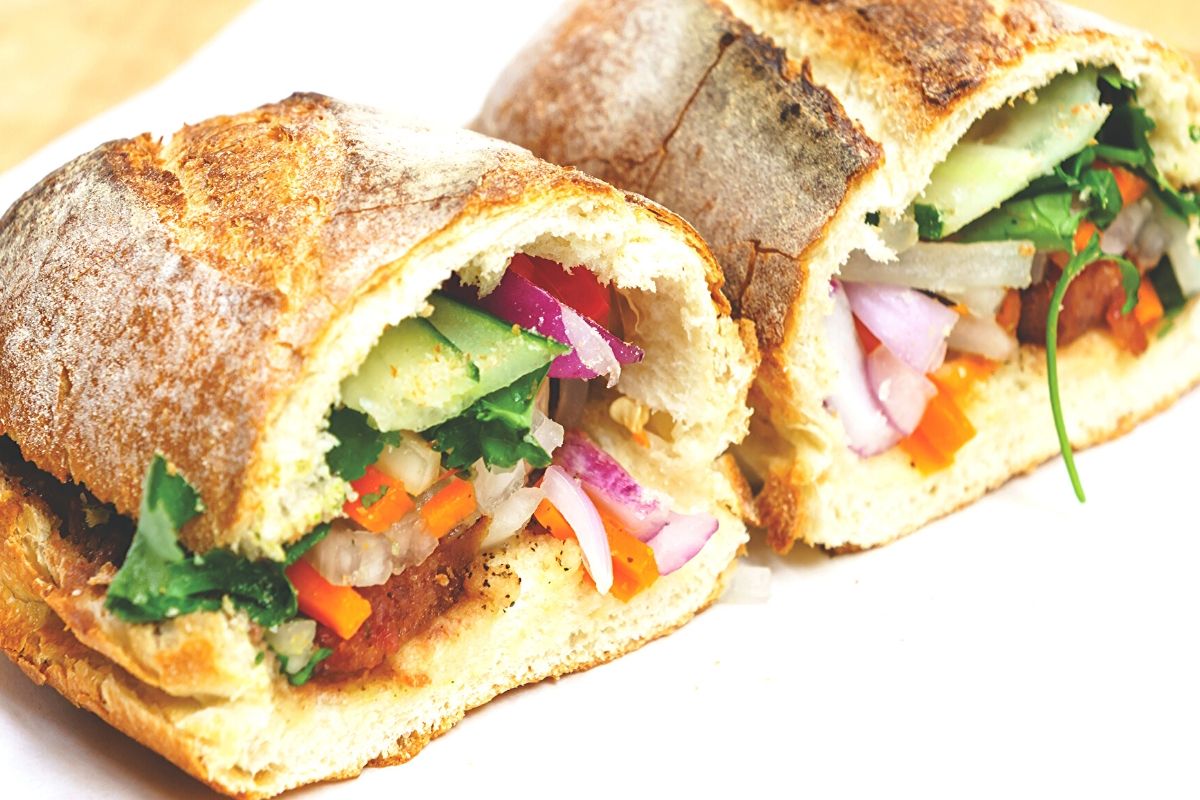 Treat for the tastebuds
One of the best things about Vietnam is the food – bursting with fresh herbs in every dish, it is fresh, fragrant and often comes with a zing that leaves a big smile on your face. And Hoi An is the country's top gourmet hotspot. Among the local specialities are cao lao (hand-cut noodles tossed with sliced pork, crunchy rice crackers, spices, fistfuls of herbs and some super-tasty broth), beef in betel leaves, pomelo or mango salad, and of course the famous pho and banh mi (Vietnamese sandwiches). Our boys became obsessed with sampling all sorts of spring roll-type dishes and their accompanying sauces and dips.
In Vietnam, breakfast and lunch are mainly eaten on the run, making street food a huge part of daily life. Hoi An has some of the best in the country. When it became a UNESCO World Heritage Site, all mobile stalls were relocated to the Central Food Market in an attempt to improve street cleanliness. Head here and you will eat like a king (or a local) for hardly any money – 10-30 HKD a dish.
The city is also overflowing with outstanding restaurants. Our favourite was The Cargo Club, with a terrific riverside location (the upper terrace has stunning views) and fantastic flavoursome food. If you have children not yet ready to try the unfamiliar, there is a western menu but the Vietnamese specialities are mouth-watering and offer plenty of choice.
Ms Vy's market is another great option, offering a sanitised street-food-style experience for those slightly wary of the real thing (but even here you can get a taste of the exotic – silk-worm salad, anyone?). This huge place has food stations cranking out Vietnamese favourites from all around the country. You sit on benches in a courtyard-like space and pick dishes from an extensive menu of food from the numerous market-like stands.
Meanwhile, if you want to enjoy a lunch or dinner away from the hustle and bustle of the city centre, go to The Field just out of town – surrounded by tropical gardens and rice paddies, there is plenty of space for adventurous children to roam while adults enjoy a cold cocktail.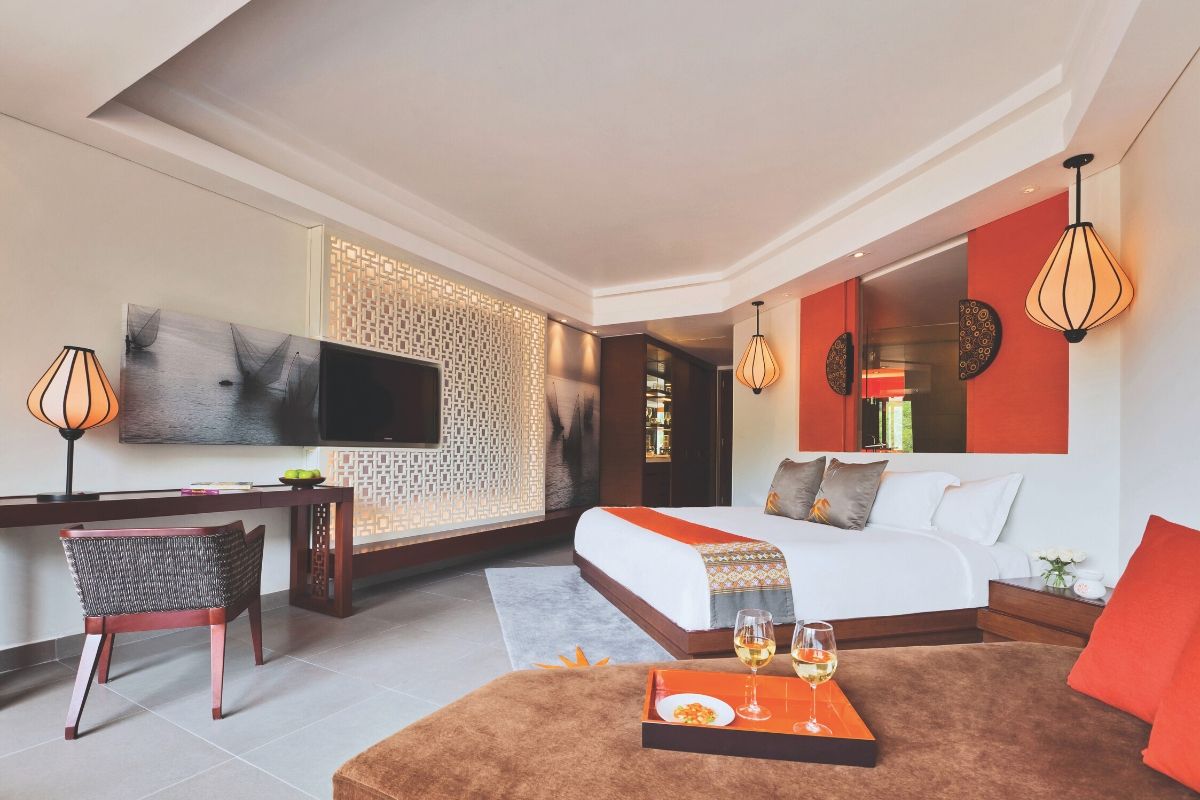 Where to base yourself?
Anantara Hoi An, an elegant boutique hotel on the banks of the River Thu Bon, provides the perfect base from which to see the old town – an easy stroll to all the sights but far enough from the busy thoroughfares to be a refuge from the masses when you need some down time. An exceptional breakfast helps you pluck up the courage and the energy to head out of the door, where you'll find yourself in the heart of the Old Town before you've even started to sweat from the morning sun. If your children are confident riders, you can also hire bicycles to see the town on two wheels.
Featuring French colonial architecture with open walkways and tropical gardens flanking the river, it's like a country hotel in an urban setting. There's a large family-friendly pool, a gym and a garden used among other things for outdoor morning yoga classes. And the spa is first-class – important in a country where the general quality of massage isn't up to the standards of regional rivals such as Thailand or Bali. Also available are cookery classes – I only hope our sons, who were fascinated by the processes and the sheer number of ingredients, will remember how to put their new skills to work. With babysitting and child-friendly activities on offer, there is really no excuse not to give yourself a little TLC after a hot, sticky morning of sightseeing.
Escape from the city
After a few days of Hoi An life, it's well worth the effort to travel up the coast, where you can escape town and city life and surround yourself with some of central Vietnam's most enticingly laid-back scenery. You'll pass the Marble Mountains en route, which are worth a visit with small boys who like an adventure. The cluster of five marble and limestone hills, named after the five elements: Kim (metal), Thuy (water), Moc (wood), Hoa (fire) and Tho (earth), boast numerous caves and numerous tunnels, and have a mysterious, Indiana-Jones quality. If you're keen to take some souvenirs back with you, you'll find plenty of stone sculptures for sale too.
Continuing north, you zoom past built-up, modern Da Nang with its dragon bridge (it even breathes out fire if you go past on a weekend evening) skyscrapers and nondescript hotels, past snoozing fishermen in rickety round boats and pho sellers on the side of the street. Turning inland through the longest tunnel in south-east Asia (6.28km) you are suddenly met with jaw-dropping panoramic views of reflective waters, deep green mountains and bright blue skies and, if you're lucky, you'll end up at the Angsanga Lang Co resort.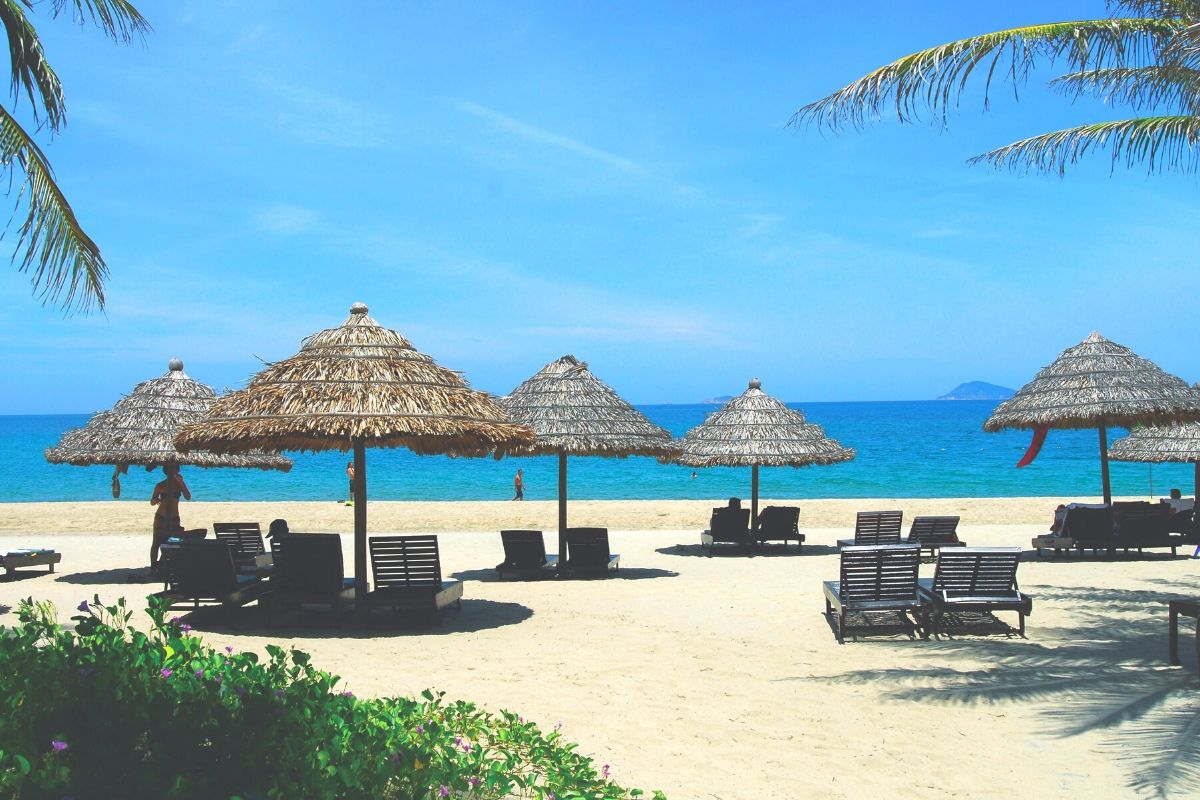 At this paradise sandwiched between the Truong Son Mountain Range and an endless expanse of unspoiled golden sand and azure blue sea, you'll find yourself surrounded by unspoiled, stunningly beautiful nature but will be treated like royalty. It's remote enough to feel like you're a million miles from your daily worries – but close enough to civilisation for you to go on easy day trips to central Vietnam's other two UNESCO World Heritage Sites. The former imperial capital, Huế boasts temples, tombs and the Purple Forbidden City – and a vibe unlike anywhere else in Vietnam, while the fabulous ruins of My Son's Cham Kingdom Sanctuaries consist of a cluster of abandoned Hindu temples constructed between the 4th and the 14th century by the kings of Champa.
From water sports to arts and crafts, kids' club to its incredible 300m long serpentine pool, Angsana Lang is a family paradise – with plenty to offer the grown-ups too. So, while one of you joins the kids for sea kayaking, bungee trampolining or even golf, the other can hop on a golf cart to sister property, the Banyan Tree, for a spot of early-morning yoga – or you can leave the little ones in the kids club and play a round of golf (the course is designed by Sir Nick Faldo).
The rooms are top notch and perfect for families, with many of the suites boasting private plunge pools – and the views of the South China Sea are breathtaking.
For those with itchy feet, there's no need to worry about things to do – there is an extensive menu of activities for guests of all ages and any inclination. There's something for everyone, yet the wide range of activities on offer does not come at the price of a busy hectic place; at least, thanks in part to the design, it never feels busy.
All in all, a week in Vietnam divided between Hoi An's urbane and charming style and Angsana Lang Co's away-from-it-all luxury makes for a perfect family getaway, with something for everyone from culture-vultures to thrill-seekers. And after just a week away we all felt like we'd had a real and varied adventure.
Fast facts
When to go?
Though it has two distinct seasons, Hoi An is warm all year round, with an average temperature of 29C (84F). However, rainfall varies quite dramatically, and it's worth being aware of when the wettest times are. February to May enjoys comfortable temperatures and low humidity, June to August is when the temperatures are at their hottest, reaching as high as 38C (100F) and September to January are the wettest months.
Where to stay?
Anantara – luxurious, family-friendly hotel on the edge of Hoi An (www.hoi-an.anantara.com)
Hoi An Ancient House Village Resort and Spa – family friendly, good value for money, near Hoi An (www.ancienthousevillage.com)
Angsana Lang Co – luxury hotel, remote and family friendly, north of Da Nang (www.angsana.com)
Hyatt Regency Danang Resort and Spa, luxury hotel, remote and family friendly
Getting there: There are several flights a day from Hong Kong to Da Nang. The flight takes 1 hour 50 minutes. Check Cathay Dragon's and HK Express' website for flights.
This article appeared in Playtimes September Issue 2017 and was updated in February 2020.